Asian YouTube channels have exploded in popularity over the past few years. From make-up tutorials and workout videos to music and comedy videos, these Asian creators are mainly delivering content that is both accessible and appealing to English speakers worldwide.
Here are some of our favorite YouTubers that just happen to be Asian.
Some of the best Asian YouTubers include:
These are only some of the great Asian YouTubers, though. Let's look at them all in more detail.
1. Ajey Nagar (CarryMinati)
Ajey Nagar is an Indian rapper, gamer, and comedian.
Ajey's YouTube channel, CarryMinati, was so successful he was included in the Forbes 30 under 30 Asian lists. He has over 36 million subscribers and is only 23.
He loves sharing satirical parodies and live gaming, so you will be entertained when heading to his channel.
2. TingTing ASMR
TingTing is Korean and currently lives in Los Angeles. She has over two million subscribers and makes some of the best ASMR videos!
If you don't know what ASMR is, it stands for Autonomous Sensory Meridian Response. It is characterized by a tingling sensation on your scalp, back of the neck, and upper spine triggered by specific sounds like whispers, tapping, and crackles.
She goes above and beyond for her videos. Most videos range from 20 minutes to 3 hours. So, head to her channel if you want to sleep or relax.
3. Cassey Ho (Blogilates)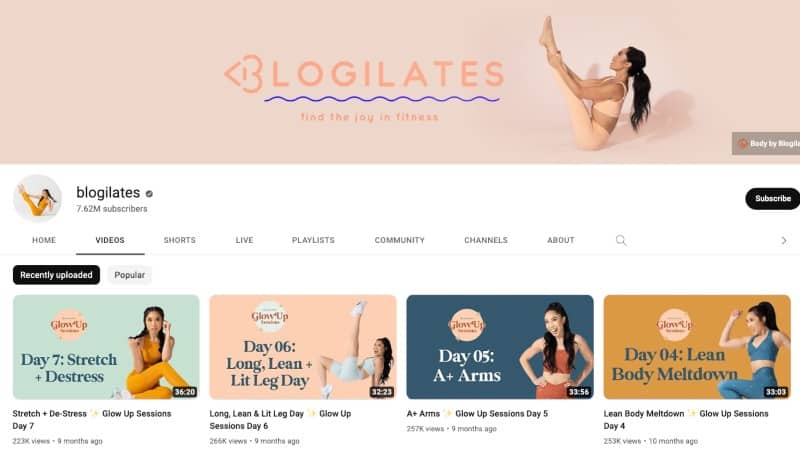 Cassey Ho is a fitness entrepreneur living in Los Angeles. She is the child of Vietnamese immigrants and the creator of "Blogilates," one of the top fitness channels on YouTube.
She creates free workout videos with a monthly 30-day calendar detailing which workouts you can follow to get fit and healthy.
She also has healthy recipes and 30-day challenges on her blog. Furthermore, Cassey has her own line of workout wear called PopFlex, selling leggings, crop tops, yoga mats, accessories, dumbbells, and bags.
Cassey also trains people to become pilates instructors. Besides that, she has also authored several books on fitness and recipes. If you want to have fun while getting fit, her youtube channel is one you have to subscribe to.
4. Charlotte Cho (Soko Glam)
Charlotte Cho is a Korean-American author, entrepreneur, and aesthetician.
She co-founded Soko Glam, which brings you the best Korean make-up and skincare, K-beauty trends, and products.
Their youtube channel features skincare advice and skincare routines! So, if you want to learn more about keeping your skin flawless, go to their channel.
5. Heart Defensor Telagaarta (ThatsHeart)
Heart Defensor was born in the Philippines and currently lives in California.
She is best known for her YouTube channel ThatsHeart, where she posts beauty product reviews, hair and make-up tutorials, and nail art.
6. Hajime Syacho
Hajime Syacho is a Japanese YouTuber with the largest number of subscribers in Japan (over 10 million subscribers).
His channel features fun challenges and experiments, guaranteed to make you laugh.
Unfortunately, his channel is not in English, but if you understand Japanese, go over to his channel and take a look.
7. Park Hye-min (PONY Syndrome)
Park Hye-min, known as Pony, is a South-Korean makeup YouTuber.
Her YouTube channel, PONY Syndrome, has over five million subscribers.
She frequently posts make-up reviews, tutorials, and other beauty content.
She also has English subtitles for you to follow along to.
8. Wong Fu Productions
Wesley Chan, Ted Fu, and Philip Wang are the creators of Wong Fu Productions, and their channels feature short films, sketches, and clips ranging from thoughtful to comedic pieces.
They are all Asian-American and have over three million subscribers.
9. Ridhwan Azman
Ridhwan Azman lives in Singapore. He is an actor and YouTube content creator with over 600,000 subscribers.
Ridhwan regularly posts comedy skits, parodies, music, and collaborative content.
10. Weylie Hoang
Weylie Hoang is a Chinese YouTuber who regularly posts lifestyle content on food, fitness, mental health, growing up Chinese-American, and even camping.
She also uses her channel to encourage others to embrace their Chinese culture.
11. Hana Lee
Hana Lee is a Korean-American YouTuber, with a huge part of her videos referencing K-POP, Korean dramas, and Korean culture.
She has a playlist that features outfits inspired by K-POP groups and her favorite anime characters and posts beauty and make-up content.
12. Ryan Higa (Nigahiga)
Ryan Higa is based in the United States and is one of the most famous Asian YouTubers in the US.
He creates comedic content and has over 21 million subscribers. He is also an actor and musician.
13. Triggered Insaan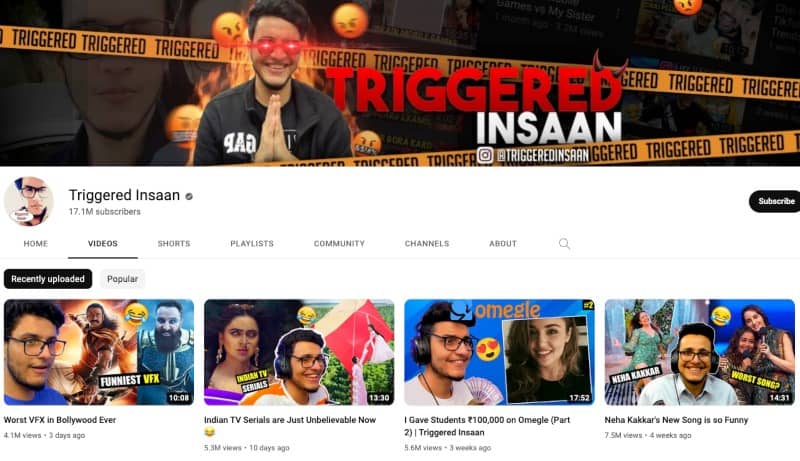 Nishchay Malhan is an Indian YouTuber based in Delhi, India.
He is an engineer turned content creator and has over 14 million subscribers. He frequently posts hilarious commentary, rants, roasts, and comedy skits on his Triggered Insaan.
Nishchay also has a second YouTube channel, Live Insaan, where he focuses on gaming only.
14. Chloe Ting
Chloe Ting is a fitness personality in Singapore. She posts free weekly workouts on YouTube and also has numerous challenges you can do, ranging from 2 to 4 weeks.
While not a certified personal trainer, her workout routines are great for those beginning their fitness journey and completely free.
She is extremely popular, too, with over 24 million subscribers.
She has workout videos for your arms, back, abs, legs, and glutes. She also has cardio and HIIT workouts! Apart from fitness videos, Chloe also uploads fashion and travel videos.
15. Matt Kido (GokuFlex)
Matt Kido is an Asian-American fitness coach who loves cosplaying his favorite anime characters.
He has multiple free workout videos on his YouTube channel, GokuFlex, where he also shows off his cosplays and unboxing videos.
However, if you want more workout videos, you must email for online coaching or purchase his training programs on SuperSaiyan.com.
16. Jenn Im (Clothes Encounters)
Jenn is a Korean-American with over three million followers on her channel, Clothes Encounters, where she gives lifestyle and fashion advice.
Her videos feature styling advice, clothing, travel videos, fashion, back to school, motherhood, pregnancy, thrifting, hauls, and relationships.
17. Sam Tsui
Sam Tsui is an American singer and songwriter. His father is Cantonese who emigrated from Hong Kong.
Sam's YouTube channel has over three million subscribers and features covers, medleys, and mashups.
He also opened for famous artists like Bon Jovi, Ariana Grande, and DNCE. He has released five albums, including covers of popular songs.
Sam has toured ten cities across Asia, making him a singing sensation.
18. Judy (ItsJudy'sLife)
Judy is an Asian-American with a popular YouTube channel called It's Judy's Life.
On this channel, she uploads vlogs almost daily, documenting her life with her husband and children.
Her videos range from camping and vacations to her pregnancy journey.
She has almost three million followers. Check out her channel if you want a peek into a relatable content creator's life.
19. QPark
QPark is a South Korean-American YouTube personality with almost 10 million subscribers.
If you want to laugh until your cry, run to his channel. His videos feature him dancing while singing popular public songs without context.
The onlookers' expressions will make your day.
Final Thoughts On The Best Asian YouTubers
Asian YouTubers are some of the most diverse and interesting content creators on the internet.
Whether you want fitness advice, fashion tips, or just a good laugh, there's an Asian YouTuber out there for you.
Be sure to check out some of our favorites listed above.