With over 5.3 million subscribers on his main YouTube channel, FaZe Rain is a popular vlogging YouTuber, who was formerly more well known for his Call of Duty gameplay. As he has risen to fame in the spotlight on YouTube, it is no surprise that so many people are eager to know how much he is worth.
So let's break it down:
FaZe Rain has an estimated net worth of around $3 million. He has earned most of this through his YouTube channel, through ads appearing on his videos, and his various brand deals and sponsors.
In this article, we're going to dive further into his net worth to give fans an inside peek at FaZe Rain's YouTube rise, as well as look at how he's managed to build up this impressive fortune at such a young age.
Who is FaZe Rain?
FaZe Rain is a professional YouTuber known initially for his Call of Duty videos and trick shots. As he has been on YouTube for a good number of years, the topic of his channel has changed over time, with reaction videos, challenge videos, fan mail openings, and general vlogs all making an appearance over the years.
His real name is Nordan Shat, with the name FaZe Rain coming from his membership in the most popular esports organization, FaZe Clan.
Other famous members of FaZe Clan include FaZe Banks, FaZe Apex, FaZe Jev, Nickmercs, FaZe Sway, FaZe Temperrr, etc.
FaZe Rain is 26 years old and was born on May 29th, 1996.
The Canadian YouTuber is of Syrian and black ancestry but was born in Toronto, Canada.
His height is 5 foot 11 inches, which is around 180 cm tall and while he struggled with being overweight in years gone by, he now weighs in at a healthy 175 lb (79 kg).
As for his relationship status, FaZe Rain is currently single, although he has had some public relationships, most notably with his ex-girlfriend Taylor, whom he has spoken about a few times on his channel.
Where does FaZe Rain live?
The exact location of FaZe Rain is unknown currently.
He previously resided in the FaZe House in Los Angeles but was kicked out due to substance abuse and mental health issues. The substance abuse was so bad that he was paralyzed in a wheelchair for a prolonged period of time.
He is now however back healthy, happy, and on his feet.
Nordan likes his sports cars and owns a black McLaren 570s. The supercar starts retailing at $191,100.
How much is FaZe Rain worth?
FaZe Rain has a net worth of approximately $3 million.
He has around 5.3 million subscribers on his main YouTube channel and earns through YouTube ads, and brand deals across his various social media profiles.
FaZe Rain is a co-owner of FaZe clan (legacy FaZe), but his shares are worth less than 5% ownership meaning his exact ownership numbers are not disclosed, with it likely being around less than 1%.
When did FaZe Rain start on YouTube?
FaZe Rain created his YouTube channel on December 29th, 2010. It was only until August 29th, 2011, however, that he uploaded his first video titled "FaZe Rain | Let it Rain – Ep. 9 [ 1000 Likes? ] – Dislike bot FTW =)".
To date, his most popular video is "VAPE LORD NORD goes to VAPE CON" uploaded on 19 July 2016, and has already garnered over 26 million views.
Other popular videos include his new Audi R8 video, with over 4.9 million views, and his new vape trick video which has gained over 4.7 million views since it was uploaded on 28 March 2017.
How much money does FaZe Rain make on YouTube?
FaZe Rain has over 5.3 million subscribers on his main YouTube channel and over 1.06 billion views. In total, FaZe Rain has made approximately $4.25 million from ads appearing on his videos, this does not include donations, channel memberships, affiliate marketing, sponsorships, and his other business ventures.
His second channel, Nordan Shat, has over 1.7 million subscribers, with lifetime views totaling over 156 million views. This comes to approximately $780,000 from YouTube ads appearing on his videos.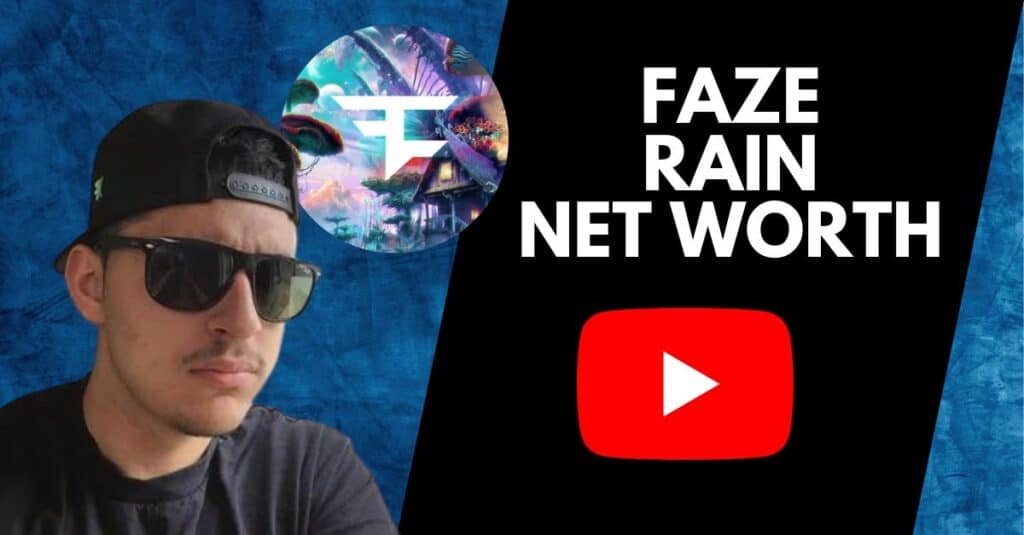 Note: The above YouTube income estimates have been made using our YouTube Money Calculator, the most accurate YouTube calculator that factors in the most critical variables that affect how much a channel can earn.
How much money does FaZe Rain make per month?
FaZe Rain generates around 276,000 views per month on YouTube (on both of his channels) currently as he is not very active right now, these views are worth around $2,200 per month in YouTube ad revenue.
Across his various social media channels, he also promotes brands like G Fuel and Fan Duel.
In total, it's estimated that FaZe Rain makes approximately $5,000 per month from his various income streams, even though he isn't very active at the moment.
Final thoughts on FaZe Rain's net worth
FaZe Rain is a young and successful YouTuber and professional gamer who made an impressive fortune at a very young age.
FaZe Rain has a net worth of around $3 million, and it's safe to say that this is only the beginning. We can expect to see much more from this modern online gamer and internet entrepreneur.
Nordan Shat has moved with the trends of YouTube, and overcome a number of challenges to get to where he is today, he's sure to make a positive return to YouTube sometime soon, and continue spreading his message of positivity.