Since everyone has an Instagram account, why not make some money from it?
The answer is yes if you've ever wondered if you can monetize your social media following. In this article, we're going to look at exactly how Instagram models make money.
Below are six ways Instagram models make money and some answers to the most important questions.
6 Ways Instagram Models Make Money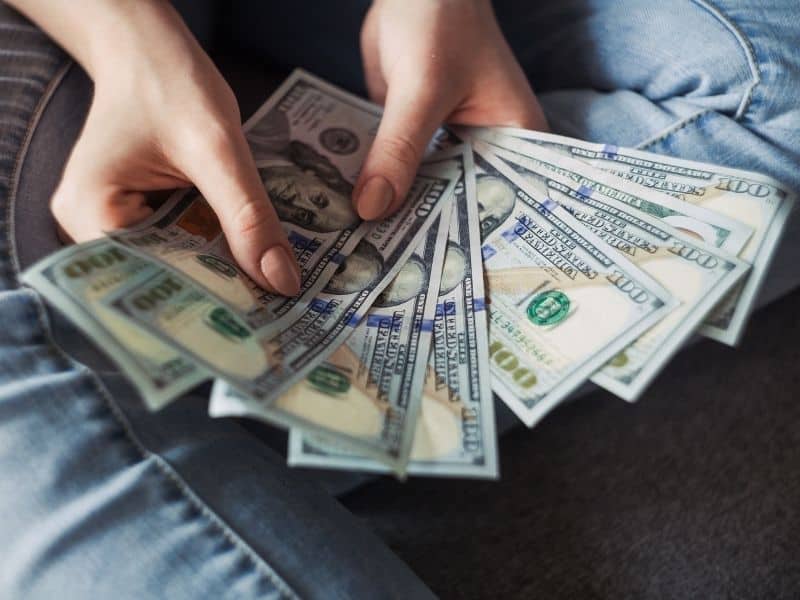 Sponsored Posts and Stories
One of the most common ways influencers get paid on Instagram is through sponsored posts and sponsored Instagram stories.
This works because brands reach out to influencers (or vice versa) and discuss rates for a sponsored post and/or story.
Typically, brands will purchase multiple posts, videos, or stories at a time. 
The brand and influencer negotiate prices depending on the package and budget of the brand. Once a price is agreed on, the influencer creates a post or multiple posts highlighting a product submitted by the brand.
There are usually strict guidelines established by the brand as far as what the influencer can say in the post. Once it is posted, the brand pays the influencer.
Brand Ambassadors
Becoming a brand ambassador is like sponsored posts and stories, but it's a long-term relationship.
A brand ambassador partners with a brand for a set amount of time or posts and shares their products. Typically, this deal is more for someone with a strong following in the brand's niche. 
When an influencer becomes a brand ambassador, they become the face of the brand.
They market a product (or products) to their audience consistently. Depending on the brand and how large the audience is, the influencer may get paid with free products, affiliate commissions, or just a set amount of money. 
Marketing Their Own Products
Surely, you've heard of Kylie Jenner and her Lip Kits. Even non-makeup gurus typically know about it.
This is a prime example of an influencer marketing their own product. People with a large following of people who love them just based on who they are doing very well selling their own products.
The traditional influencer route involves partnering with a brand and launching its own line. This may be a line of shoes with Nike or a makeup brand.
Influencers can also create their own products from scratch. Another form of a product in the digital sense used today is online memberships and courses.
Affiliate Marketing
Affiliate marketing is widely used with Instagram influencers today. It is a way for influencers to talk about products they love and get paid for them.
When you tell your mom about the pair of shoes you love, wouldn't you like to get paid for it?
How affiliate marketing works: An influencer applies to become an affiliate partner with a brand. The brand gives the influencer trackable links that show exactly how many clicks and sales he or she gets.
The influencer makes a small commission when a sale is made through that link. The typical rate is anywhere between 10%-20%. 
OnlyFans
OnlyFans is used as a way to provide exclusive content. Influencers set up their page to be paid, with OnlyFans keeping 20% of the earnings fee.
Each person's content is protected and cannot be shared outside the platform. 
OnlyFans sets their subscription rates: their monthly range is $4.99-$49.99. Creators also can get tips starting at a minimum of $5.
OnlyFans also offers a referral program where influencers can earn up to 5% of the referred creator's earnings in the first 12 months.
Directing traffic to another income generator
Influencers on Instagram often have other social media or places to find them online, such as a blog, YouTube channel, etc.
They often have a social media marketing strategy where one source gets redirected to another.
For example, an influencer may announce on Instagram that her newest YouTube video is live. Her Instagram audience goes to YouTube to watch the video. She makes money off of the ads on the video as well as any affiliate links listed in the description (as well as other ways that they may be monetizing their YouTube channel).
Influencers often drive their traffic from site to site. An example would include traffic being taken from Pinterest to a blog, from the blog to Instagram, and from Instagram to YouTube.
With ads and affiliate links on every platform, this is another source of income for many influencers.
Final thoughts on making money as an Instagram model
There are many different ways to make money as an Instagram model. We've covered the most popular and effective ways, including:
Sponsored posts
Sponsored Stories
Brand Ambassadorships
Marketing your own products
Affiliate marketing
OnlyFans (or Patreon)
Directing traffic to other income generators (like a website)
If you're looking to build your Instagram following and monetize it, you should incorporate multiple income streams into your planning.
If one source disappears for whatever reason, you won't be out of an income because of your other income streams.
I hope this article has helped answer how Instagram models make money.
FAQs
How Much Does an Instagram Model Earn?
This varies depending on how well-known the influencer is and how large the audience is. Celebrities such as Kendall Jenner earn over $500,000 for one sponsored post. Other popular models make $10,000 – $50,000 per post.
Micro-influencers typically earn around $1,000 per 100,000 followers.
How Much Does Someone With 1 Million Instagram Followers Make?
How Many followers Do You Need To Make Money On Instagram? 
You can make money with just a few hundred followers if you promote your own products. Digital products such as online courses and e-books are great ways to start making money with a small following. You will need at least 1,000 followers to make money with sponsorships.