This post may contain affiliate links, which means I may earn a commission, at no cost to you, if you make a purchase through a link.
So, you are thinking of starting a blog? Awesome, first of all, you've come to the right place! In this step-by-step tutorial, we're going to cover everything you need to know about how to start a blog and making it successful. We're going to be looking at all of the good stuff, including monetization & how much it actually costs to run a blog. Before we get into all of that though…
Why start a blog?
Starting a blog can be an amazing experience. One that takes you out of your regular 9 to 5 job and gives you the freedom to do the things that lie close to your heart. Maybe that means spending more time with your kids, traveling, networking with like-minded people, or helping other people with your knowledge. You could of course also start a blog with no intention of quitting your job if that's something you also enjoy & want to continue.
Blogging has many benefits (and some negatives as with all things) one of which is it is good for the soul. Getting all of the information stored in your head out into some form of text. That could, in turn, help others in similar situations. You could even use your blog as a complement to your current job or to back up your expertise.
I strongly recommend thinking about, what are your reasons for starting a blog.
It's much easier to build a house if you already have the blueprints & the determination to succeed. Whilst I give you the blueprints down below, you're ultimately responsible for your determination and that is what will separate your blog from the rest and determine whether or not it is a success.
Starting a blog was one of the best decisions I've ever made. I have my own platform where I can help new content creators, business owners, bloggers & people that are looking to find ways of living outside of their regular 9 to 5.
It is not an easy journey to get your blog off the ground. It takes an awful lot of discipline, hard work, and dedication before you start to reap the benefits of your work. Once you've reached that point, however, it can be an extremely satisfying and rewarding experience in more ways than one. You may even go on to create different blogs to satisfy your newly found blogger's instincts. 😉
There are tons of articles on the internet about starting blogs and how to go about it. The majority of these brush over the topics quickly and paint an image of blogging that doesn't show all of the workings, costs & behind-the-scenes that actually goes into running a successful blog.
An image that bloggers just write a couple of hundred words every few days & then sip on cocktails in some paradise beach. Now there may be some that could get away with this, but the majority of bloggers I know work extremely hard on making their blogs a success.
Having seen these articles, I decided to make a complete tutorial with everything you need to know when you start your successful blog. We're going to go through picking your niche & name, organizing your host & making your site look professional & just plain awesome. Then we'll look at graphics, which plugins you need on your site, learning how to be a better blogger, how bloggers make money, starting your journey & what it actually costs to run blogs of different sizes.
Boy, that was a mouthful. I've set up this tutorial to make it as easy as possible to get started with your new blog today.
To make things clear, this article is for those that are willing to take blogging seriously (& want to earn an income from their blog), as some of these steps will involve having to spend some money. If you're just looking to blog as a hobby, that's perfectly fine and a great way to get comfortable writing. There are plenty of places where you can start a blog for free, like WordPress.com or Wix. If you're interested in earning an income with your blog, however, keep on reading!
Enough beating around the blogging bush though, let's get straight into it!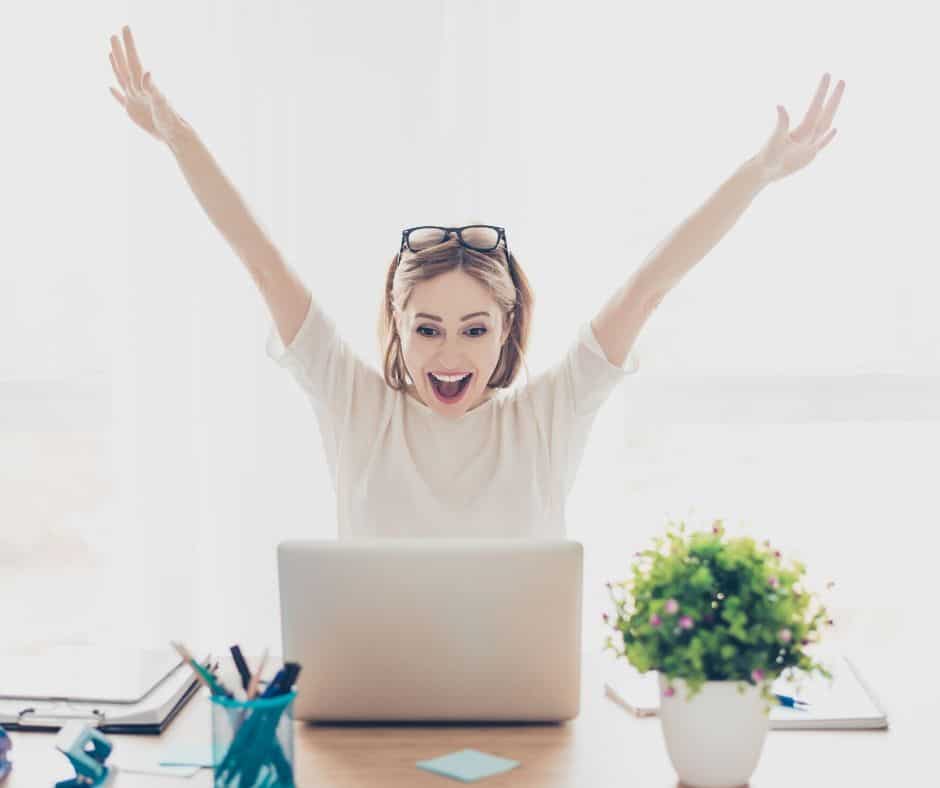 1. Choose your Niche
Before we can get started setting up your blog, it's best that you decide on a couple of things first, like your niche.
A blogging niche is the main topic that your blog is going to be focused on. It can be a really specific niche, like kettlebell weight loss, or something as broad as fitness.
By having a niche, you give your website structure. You also provide an incentive for readers to follow your blog, as they then know what benefit you are providing them with & what they can expect.
You can settle on a niche by answering these 4 questions.
Do you have any passions?
What can't you stop talking about?
Can you come up with 3+ subtopics for any of the niches from the first 2 answers?
How can I monetize these niches?
Check out the How to make money blogging section down below for some ideas!
Choose a topic that you cannot shut up about & can come up with at least 3 subtopics. Even if you have more than 3, your readers will, later on, help you decide on which subtopics are best for your particular blog.
This is just the tip of the iceberg though. If you want to go into more detail about picking a niche & which niches are the most profitable, I've got a complete article covering it here: How to find your blogging niche in 5 easy steps.
2. Pick a Name
Now that you've got your blogging niche all wrapped up, you're going to need a blog name & the associated domain name.
A domain name is your website URL, I.e. yourwebsite.com. If you can't get a .com or .co with your blog name, then you may want to consider changing the name. The new extensions, like .online, etc. are not things people generally associate with professionals they're not quite as easy to remember like a .com.
Since you want to start a blog, you've probably already put some thought into your niche & your blog name. If you haven't however, here are some tips to come up with an awesome blog name that just rolls off of the tongue to the top of search! 😉
Think about who your target audience is. Smartpassiveincome.com is a website that teaches people how to build up passive income streams. The name is a reflection of the target audience. Heck, even this website is a reflection of the target audience! 😉
Keep it short. If your name has only a few syllables, it will be easier to remember.
Write out some keywords, grab a thesaurus & note down a few slang words relating to your niche.
Try creating some of your own words, using portmanteau or a wordoid.
Once you've got a decent amount of words or phrases, try throwing them into a name generator like this one or by using a naming formula.
You've got a few name ideas? Check which ones are available using Bluehost's Domain Checker.
These are just a few tips that can lead you to an awesome name.
For a more detailed guide to picking a great blog name, check out this article: How to come up with an Awesome Blog Name in 4 Quick Steps.
There are a lot more tips & tricks to finding the best name for your site.
Now, you've found an awesome name that's available, and you've double-checked that there are no typos. Great! But hold onto your horses before you go claiming that domain. If you're registering a new domain name, you can get it for free in the next step!
3. Set up Hosting for your blog
What is hosting you ask? Think of hosting as renting space on the internet for your blog. Here all your data, images, blog posts, etc. are stored, & allows people all over the world to access it through a unique website address: Your domain name.
Setting up a domain can be an intimidating task at first. It is, after all, the first real step that involves spending actual money on your blog. It should be exciting though, and by taking out all the tricky set up procedures & any extra complications, Bluehost makes it super easy to get started with your blog today.
I use Bluehost for all my sites & highly recommend them.
They are very affordable, you can get started from as little as $3.95 per month with this link… That's cheaper than most drinks at Starbucks!
They also have some of the best support staff I've come across & when you sign up for one of their plans, they'll include your domain name registration for free!
I've used a number of hosts throughout the years, but Bluehost is by far the one that I recommend the most.
I've written another post that goes into more detail on Bluehost & 3 other popular hosts/platforms, you can read it here.
If Bluehost is still for you, then use this link, save, & only pay $3.95/pm & I'll guide you through the actual setup process to make your start as easy as possible.
Once you're on the Bluehost home page, you will see this screen.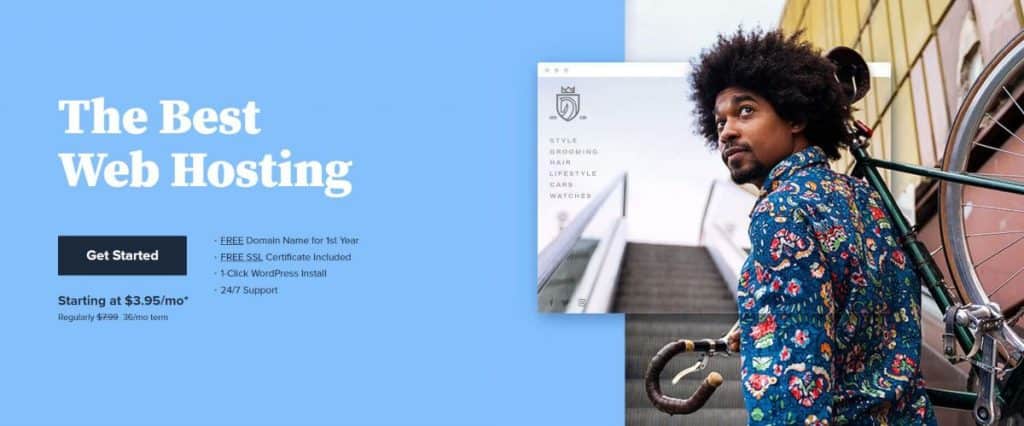 Click on the get started now button & you will be taken to the next page that highlights the different plans.
When you're just starting out, I recommend their basic plan of $3.95 per month. You'll get a free domain & 5 custom email addresses (example@yourwebsitename.com) along with your website hosting.
Click on select below the basic plan and you'll be taken to the following page.
Here is where you're going to put in your website URL, the domain name. Type the name into the field on the left & once you've made sure there are no mistakes, hit the next button.
P.s. If you purchased a domain name already, enter that into the right box instead.
Next, all you have to do is enter your contact, plan & payment details.
I recommend taking the 36-month plan. Whilst it may seem like a lot of money at first, but that is the hosting costs for your blog covered for the next 3 years! Instead of paying the normal $7.99 per month for a 12-month plan, you can save approximately 50% with the 36-month plan. That's over $100 in those 3 years.
This will also put you in the right mindset if you're looking to start a successful blog from the very beginning.
If you can see yourself blogging in 3 years' time, it's more likely to happen!
Once everything is filled out, click on the submit button.
That's it.
You've successfully set-up hosting for your blog & registered a domain name. How easy was that??
4. Auto-Install WordPress
WordPress is the undisputed champion in the world of blogging. It's so good that you'll even find many large companies use WordPress for their websites, like Sony Music, BBC America, Mercedes-Benz & many more.
Setting up WordPress with your Bluehost account is automatic, making it extremely easy.
After setting up your Bluehost account, you're going to have to set up your password to access your account.
Once you've logged in, Bluehost will ask you to pick a theme that you like. Don't put too much thought into this as you can change it later & it's just acting as a placeholder for now.
Once you've picked a theme, click on the Start building button & let the Bluehost & WordPress elves do their thing!
On the next screen, you're going to be taken to your WordPress dashboard.
Here you will be asked a few simple questions.
Is your site business or personal? If you're looking to start a money-making blog, click on that business button.
Next, you'll be asked to input your site title & description. This will be your blog name & you can add a motto or a brief description of what your blog is going to be about in the description.
The last questions are layout related & if you're looking to sell online.
Select the options that you like the most, and when it comes to the option of selling online, select not now. If you do want to sell things on your blog, you can install WooCommerce at a later stage.
And now congratulations are in order. You're the owner of a brand new blog.
Now you can pin this post for later & take a well-earned break or we can get straight to the good stuff and get to work on your blog!
5. Familiarise yourself with the WordPress dashboard
First things first, you need to log in to your WordPress dashboard. This is the behind the scenes area of your blog where you will be running your business and dealing with everything blog related.
The easiest way to do this is to head to the website address: https://www.yourdomainname.com/wp-admin and then type in your username & password.
Welcome to the WordPress Dashboard!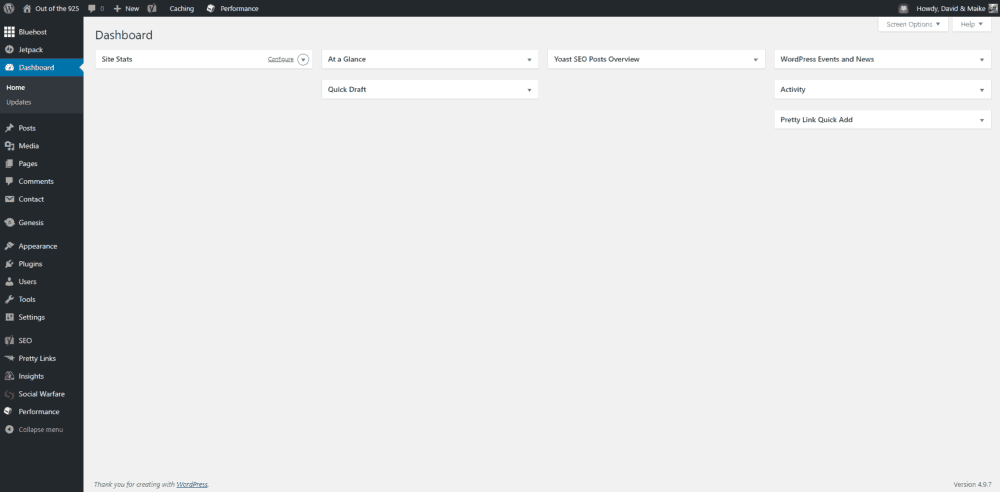 Don't worry if my layout looks a little bit different from yours. Those are additional plugins that we'll get to a little bit later on.
Now that you're here, I'm going to give you a little overview of the basics & show you around.
The top bar has a group of shortcuts on the left. These can be used to visit your site, add a new page or post, etc. On the right-hand side of the top bar, you can edit your profile or log out.
The column on the left is where all the fun stuff happens!
Posts – Here you can add blog posts.
Pages – The static pages that you can create for your home, about, or contact pages. These will be connected to your navigation bars & menus, giving your readers easy access to important information about your site.
Comments – Where you can approve, delete & reply to comments on your blog.
Appearance – Here you can edit the appearance of your site. You can do this by changing or editing your theme, adding widgets & menus, or even custom HTML & CSS.
Plugins – You can think of these as 3rd party apps that you can add to your website to improve functionality, appearance & much more.
Settings – Quite self-explanatory. You can change a large number of site settings here, one of the first I recommend changing for bloggers is the permalink. By default, it will show the date of your post in the URL. To keep your content evergreen, I always change the permalink option to only show the post name.
Now WordPress may seem daunting at first, but once you've gotten used to where everything is and what it does, using WordPress will become second nature.
There is plenty more that you can do with WordPress, far too much for me to include it all here. If you're looking to learn a little bit more about WordPress, I recommend going through the WordPress Lessons archive.
6. Get a professional Theme
Now that you're starting to get the hang of the WordPress dashboard, we can start making your blog look awesome.
Remember earlier when I said not to worry about that free theme as it was only a placeholder? Well, now it's time to replace it with a theme that has the power to bring your words to life.
You may now be thinking, why would you need a professional theme when you already have a free theme? Free themes can only do so much and they're actually great to play around within the beginning. Professional themes, however, bring about a whole new level of functionality & can greatly improve the look & usability of your site.
Professional themes can cost anywhere between $25-$120 and are usually a once-off payment. You should make sure you purchase a theme that includes free support. Support just means that if you run into any problems changing designs or editing parts of the theme, the developer will assist you in fixing them without charging you. Web developers can charge a fortune! All of the themes I mention here have some form of support & I haven't run into any problems with any of them just yet. 😉
There are a few great places to look for awesome and affordable themes, my favorite themes are all built with the Genesis Framework though.
Genesis Framework themes are lightning-fast, which help your blog rank in Google search results and just makes your user experience all the much better because your pages load faster.
What I also like in particular about the majority of the Genesis Framework themes is that they are NOT set up like page builders. There's a clear structure that you can implement, so find a theme that you like and you can just get started straight away, without having to be a graphic designer.
Next up, Install your theme.
Once you've gotten an awesome theme to use on your blog, you will need to install it.
Your theme will come with detailed installation instructions & if you have any problems you can contact customer support to help you through it.
Installing a new theme on your WordPress site generally means you'll get a .zip file that contains the theme from your supplier. You will then log into your WordPress dashboard, click on appearance > themes > upload & then you will upload the .zip file & click on install.
You're now well on your way to an awesome website.
7. Design a logo
One of the next things you may be wondering about would be branding.
Does a blog need branding from the get-go? No, it doesn't. But by setting up some basics your site will look better & readers will start to associate certain colors, patterns & pictures to your blog.
You are going to need a logo, however. It doesn't have to be something fancy. You can easily put something together even if you're not a graphic designer. Your logo can be quite simple, I.e. the name of your blog in a readable font. Or if you have the time & expertise, it can be something much more elaborate.
Some useful tools or sites for creating a logo can be found here:
Canva is a favorite of many bloggers because of its free service, powerful tools & ease-of-use. It is a really intuitive platform and makes creating blogging graphics a walk in the park. The same can be said for creating some simple logos for your blog. 😃
Adobe Photoshop or Illustrator
The Adobe range of software is not free & it is certainly not something that can be considered beginner-friendly. If you are experienced in image or photo editing, however, & you already happen to own Photoshop or Illustrator, these are by far the most powerful tools to create custom graphics for your site. That includes creating your logo.
Fiverr
If you do not have the time, patience, or creativity, you can always outsource the design work. Fiverr is a good place to find cheap logo designs. Shop around before you settle on a gig and check out the reviews that the seller has to make sure you're dealing with a good reliable seller.
Another option for outsourcing your designs & most probably the option that will return the best designs. 99Designs is more expensive than Fiverr, but you tend to receive much higher quality work, both creatively and in your final design.
If you're going to design your own logo, visit Canva and have a look at some of the other graphics options for bloggers. You can create awesome banners, sidebar images, blog post pictures & all sorts of graphics for your social media accounts.
8. Download useful plugins
Next up we're going to look at some useful plugins that will improve your website's functionality, reader experience, and even social presence.
You get free plugins and paid for ones, you can think of a plugin as a 3rd party app that gives your blog additional features. Some plugins offer both paid and free plans and a lot of the time the free plan provides everything that you would need as a new blogger.
Here are my 5 must-have plugins for your new WordPress blog:
This plugin comes in a free and a paid version, you probably won't need the paid version as the free one is already so powerful. Yoast helps with all things SEO (Search Engine Optimisation… A.k.a. getting found on Google, Bing, etc.). My favorite feature is the on-post optimization. Whenever you write a blog post, Yoast SEO will tell you what you've done right & what you should change to be found better in search and to improve the readability of your posts.
Grow allows you to easily place social sharing buttons on your blog posts (and anywhere else on your website). This plugin comes in both free and pro versions. With the pro version, you have the extra capability of linking a specific image to your blog post along with a description of your choosing. This means only the best images are shared along with searchable terms that you've included in the description. This can increase the odds of your posts going viral on Pinterest tremendously and other social platforms.
You will also be able to add Pinterest save buttons over images making it a lot easier for your readers to pin your posts.
Grow by Mediavine (formerly Social Pug) only costs $34 a year… Yes, that's per year. Which is less than $3 a month. That's also why it's the only plugin I recommend paying for when you're starting out.
These are just some of the basic features, for more information, check out this detailed comparison I made on Grow (then Social Pug) and Social Warfare.
P.s. I previously recommended Social Warfare here, Grow, however, has arisen and surpassed them IMO.
Pretty links allow you to create custom URLs to websites that you do not own. This can be a great way to personalize an affiliate site you're advertising, or if you find yourself linking to a long URL constantly, you can customize it. You can turn pretty much any URL into yourdomainname.com/anything 😉
Viewers don't stick around on new sites if they don't load quickly. That's just the reality of the times we're living in. W3 Total Cache helps out in this regard by caching your blog which speeds up your load times for site visitors.
Akismet is your silent defender. Protecting your blog from malicious login attempts & spammers flooding your comments with harmful content. It's sort of like Batman, working silently in the background catching and removing spam without you having to ever bother with it. You may not see spam on your blog, but as your site grows, so will the spam. It's best to install it from the get-go.
These are only a few of the best plugins for your new blog, find out more about the rest here.
Honorable mention
Grammarly
Grammarly isn't a WordPress plugin. It's a browser extension & a must for anyone that writes anything on the internet. Think of it like spell check for the internet. 😉
These are only a few of the plugins I use & recommend, you can have a look through the plugins section in your WordPress dashboard for more useful plugins. Don't go too crazy with them though, the more plugins you have installed, the slower your page load times will be and some plugins can cause conflicts with others. A best practice is to delete any plugins you're not using immediately and install one at a time so that you can pinpoint any potential conflicts.
Next up we're going to look at blogging, how to get started, how to get better & the business of blogging.
9. Enroll in a blogging course
I am a firm believer in learning through doing & learning from your mistakes. One big problem arrives though when you consider how much your mistakes have cost you in time & money.
This is where blogging courses come in. Good ones teach you everything you need to know to avoid the big costly mistakes whilst showing you what to do in order to become a successful blogger. I still believe in learning through doing, but your learning becomes a lot more efficient and effective with the correct guidance. Why learn from your own mistakes when you can learn from others? 😉
If you're at the very beginning of your blogging journey and finding it tough getting started… Even though I've really tried to make your start as seamless as possible with this guide. I recommend the Launch Your Blog Biz course from Alex & Lauren at Create & Go. This course guides you through setting up your blog with WordPress, customizing themes, creating graphics, how to write blog posts, blogging fundamentals, building your list & many more useful & professional tips & tutorials. In addition to the blogging stuff, you'll also learn how to monetize your blog through affiliate marketing, sales & email funnels, how to convert readers into buyers, using social media to get traffic to your posts & much more.
If you want to get started making money with your blog, I highly recommend the course. You'll probably even run into me in the private support group lending a hand. 😉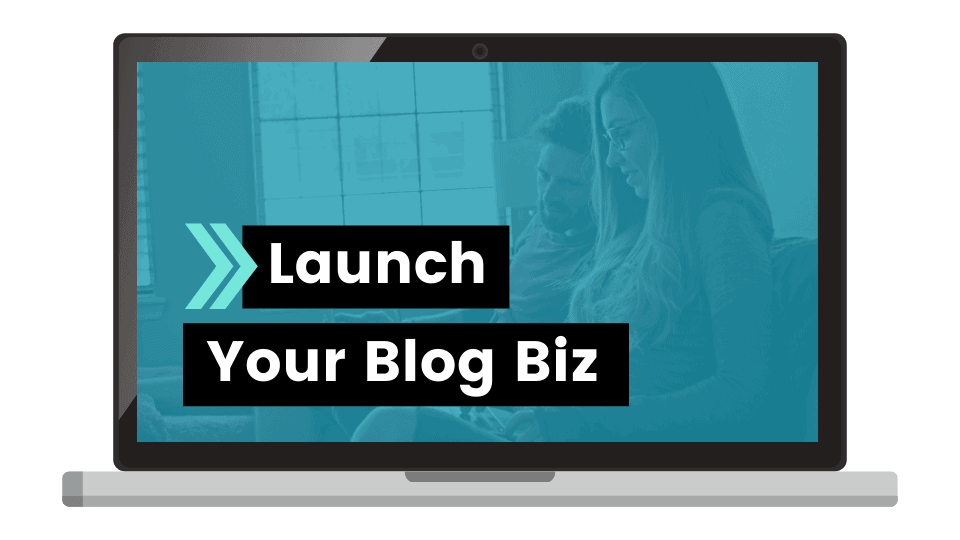 Find out more about the Launch Your Blog Biz here.
This is a niche-focused course, as the name suggests, taught by Matt Kepnes a.k.a. Nomadic Matt & Chris Richardson, the tech wizard behind Nomadic Matt.
There are tons of travel blogs out there, but you'll be surprised by how few are actually run effectively enough to be a successful business. This is how the Business of Blogging Course was born.
For anyone that has an interest in travel & blogging, Nomadic Matt should come across as a very familiar name, he does, after all, have one of the most popular travel blogs in the world. Who better to teach you about travel blogging than the Number 1? 😉
This course is a complete top to the bottom course that covers just about everything in the world of travel blogging. From setting up your website & building your brand, to getting readers through social networks & advanced SEO, even including how to create your own products, affiliate marketing & partnering with brands. All of this plus much more!
Find out more about the Business of Blogging Course today.
The Pinterest Traffic Avalanche is another course provided by Alex & Lauren over at Create & Go. This course is designed to increase your blog traffic through proven Pinterest traffic techniques. Pinterest is one of the best sources of traffic for blogs & this course teaches you how to create an incredible Pinterest account that will drive targeted traffic to your blog.
It is safe to assume that I love the Create & Go courses, not just because of the content in the course, but the real-time updates & answers you get from the over 1000 members of their support groups.
Find out more about the Pinterest Traffic Avalanche here.
Are any of these courses essential? Of course not, but they can all help you on your journey to starting a successful blog. I was apprehensive about taking courses myself, as the internet seems to be able to provide so much information for free, but eventually, I took the plunge & can safely say that it was money well spent. Why? Because these are bloggers that started out just like you or I and have since gone on to prove that what they teach you actually does work.
P.s. I've put together a free 7-day Instagram Growth Course, check it out here & start growing your account with engaged followers that actually care about your brand today.
10. Take your first steps
The last few steps are to put all of your ideas to work and start creating content. You should start off by creating the following:
An About Us page
This is vital for when new readers visit your blog. A lot of the time if a reader lands on one of your posts when they're done reading they'll head over to your about page to get to know you a little better. This page allows you to tell them a little bit more about you, what you do, what your blog is about, and, most importantly, why they should follow along on your journey.
Don't forget about your contact page, follow this guide to getting one set up easily using Contact Form 7.
Legal pages
You're going to need legal pages to disclose affiliate links, cookies, disclaimers, tracking, etc. It's just one of the pains of blogging. Luckily you won't have to spend too much time on them once they're complete.
Legal pages can be tricky, which is why I recommend going directly to a professional lawyer, but one that happens to be a blogger and will have your best interests in mind (and doesn't want to hit you hard in the pocket if you know what I mean 😉)
Amira over at Aselfguru is who I recommend, she is a professional lawyer and blogger with a legal bundle that will have all your blog legal pages covered in one package (and at a very reasonable price).
Write your first post
Your 'about' page is set up and you've gotten all of your legal pages set up as well? Then it's about time you get started with your first blog post.
You can write an introduction post, letting the world know who you are and what you're going to be doing. Or you can just get straight into writing about your niche and leave the introductory stuff to your about page.
Create your Social Media Accounts
Facebook, Instagram, Pinterest, YouTube, LinkedIn, Twitter, etc. whichever tickles your fancy.
Pick a social network that fits with your niche, I.e. Fitness is very popular on Pinterest. If you can create videos you can share them on YouTube, visual brands also do amazingly well on Instagram.
Whichever network you choose to go with put the majority of your effort into only one or two social media networks at first. Each network has its own way of promoting your content and you will have to invest some time getting to know each platform and how to create content specifically for each one.
Once you have gotten one of the social networks under control, you can start experimenting with another one.
I've put together some guides that will help you get started with my favorite (& some of the most lucrative) social networks:
These are the aspects you need to take care of first, but once you've gotten that under control, here are a few handy guides to take your blog to the next level:
Starting a blog – How to make money blogging
You're probably wondering now, how can I earn an income with my blog? There are numerous ways that bloggers earn an income from their blogs, but it's very important to put your content first. People will only read your blog if you provide value. That can be information, entertainment, or some other form of value. The value has to come first and it will have to be sustained if you want to run a successful blog long term.
That doesn't mean you can't start monetizing your blog from the very beginning, though.
Some of the best ways bloggers earn an income are:
Affiliate marketing
Some of the best companies to get started with affiliate marketing is Amazon & Clickbank. You can recommend products on your blog and if someone purchases through your link, you will earn a small commission & this doesn't cost the buyer anything extra, sometimes they could even get a saving!
The most important aspect of Affiliate marketing is to be ethical. Be honest about products & only recommend products that you actually use & like. If you've noticed some flaws with a product but still like it, mention the flaws anyway. If you really dislike something, don't recommend it just to earn some cash from your readers.
For example, there's a hosting company that offers a larger commission than Bluehost, I even used them for two years, but I did not like their pricing & their limited features so I moved over to Bluehost. They're still a good hosting company & I was satisfied with their service, but they didn't check all of the boxes for me as well as Bluehost does. For that reason, I don't & wouldn't recommend them to you & I am in no way affiliated with that other host/platform.
All of the affiliate links in this post are products/services that I use and I am confident in recommending them to you because I think they're awesome, & I think you will find them awesome too. 😉
Ad revenue
One of the easiest ways to earn money blogging is through Ad revenue. You can sign up for AdSense, input the ad settings you want & then download an ad inserter plugin to place the ads wherever you'd like on your blog. It's that simple.
I wouldn't recommend starting with Google AdSense though, instead, wait until you've reached the minimum traffic required for advertising networks like MediaVine or AdThrive.
These premium networks provide a much higher CPM ($ per 1000 page views).
Sponsored posts
These are pretty self-explanatory. A company will offer free products, money, discounts, or other benefits for either mentioning them in one of your posts, creating a review on their product, service, etc. These can be one-off deals or even long-term partnerships.
You will, however, first need to build up an audience before you can approach brands or before they start approaching you! 😉
Create your own products or courses
eBooks, courses, videos, guides, etc. Creating your own courses may not be for everyone, but what if you have a photography blog? You could very easily sell your own set of Lightroom presets or prints. It doesn't have to be typical products or services, you can offer some things that you thought of way outside of the box.
If you're looking for inspiration on how you can monetize your blog, look at similar blogs in your niche, and see what they're doing.
Find out more about how bloggers make money here.
Starting a blog – How much does it cost to start a blog?
The simple answer is whatever you can afford. You don't need a professional theme, paid plugins, or even to host your own domain. They make a huge difference in increasing the searchability and popularity of your blog, however. I'm yet to come across any full-time bloggers that have been successful without a good theme & self-hosted website (I.e. yourdomain.com instead of yourdomain.wordpress.com). This is because self-hosted sites allow you to install plug-ins, AdSense, etc. A lot of the features are not possible with free hosting sites.
Below you'll find 4 sections, ranging from cheapest to most expensive.
Free
There's nothing wrong with starting off with a free blog if you're only looking to see if blogging is right for you or if your only goal is to share your experiences with family & friends. You can get started for free with Blogger, Wix, Weebly, etc. As Blogger is owned by Google, you're able to use AdSense on your site, which isn't normally possible without self-hosting.
Basic
If you don't have much money to invest in your blog you can get started with the basics.
$3.95 per month for hosting + $30-$120 for a theme. You can look through ThemeForest for a variety of different themes, you may even find a cheaper one that speaks to you.
Paid plugins, graphics & courses can be avoided for the time being, until you start gathering some momentum & making money with your blog. Look out for free resources, like Canva, to create your own graphics & logos.
Essentials
You're interested in starting a successful blog & you're not interested in cutting corners.
You'll need Hosting, a theme, Grow by Mediavine (formerly Social Pug), an email marketing service & social media scheduling tools.
I fall into this category, so I'll just give you what I pay. 😉
$5 per month for hosting.
$120 once off for the Genesis Framework Theme (Child Theme Included).
$100 once off for another theme (after a year and a half using a Genesis theme).
$99 per year for W3 total cache – an optimization plugin to improve loading times & SEO ranking.
$34 per year for Grow by Mediavine (formerly Social Pug) – the only other plugin I pay for.
$50 per month for ConvertKit, they are the email marketing service I use & recommend if you want to monetize your blog.
Lastly, I also pay $120 per year for Tailwind, the best Pinterest scheduling tool out there (that's $120 for Tailwind + $360 for the unlimited tribes and looping plan, both of which you don't need when you're starting out, and I have canceled because it didn't provide me with the requisite value beyond the general plus plan).
Throw all of that into a calculator & you'll see that this blog costs me around $75 per month.
For a breakdown, check out this blog income report of how I made $631.19 in December 2020.
Beyond…
If your blog is making a good amount of money, you can spend more on hosting for the increased traffic, better sales funnels, additional social media tools, paid advertising, expert contributors, etc. It really all comes down to what your blog can afford and what you feel you need.
As you're reading this article, you are most likely just starting out on your blogging journey. Don't worry too much about this last category, it's only here to highlight that you can pay more for functionality or convenience once your blog is running successfully.
How much does it cost to start & run a blog? As you can see, whatever you can afford. 😉
The most important thing when starting a blog = Don't give up
Blogging can be a journey full of highs and lows, especially as a new blogger. My first few blogs failed, and I mean failed spectacularly, but learn from failures & celebrate the wins.
That first bit of income your blog makes can be a massive win & then you may be knocked right back down with your first truly negative comment. The key to starting a successful blog is to just keep on going and don't give up. Seeing what works for you & using any drawbacks as a learning experience to make your blog better.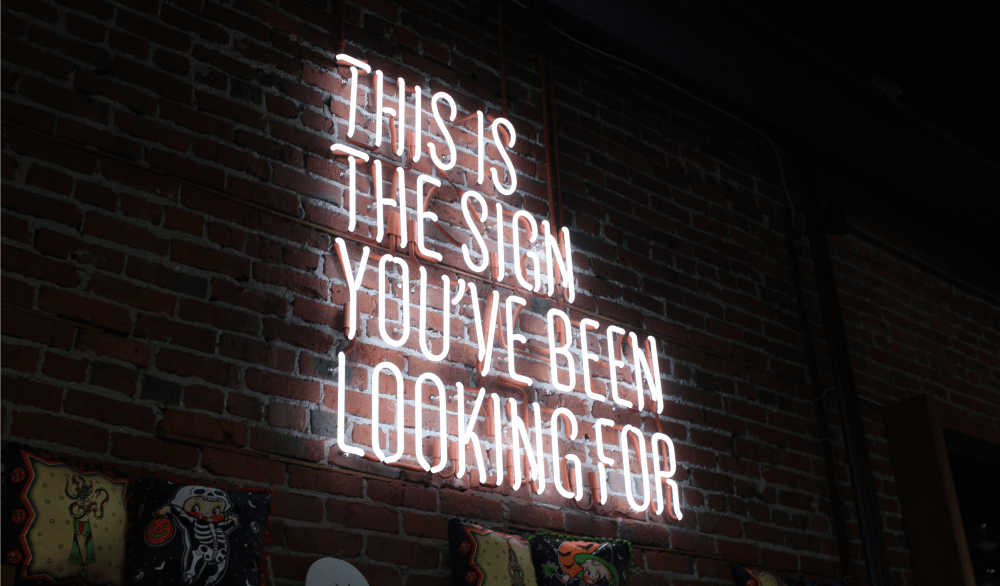 Rome wasn't built in a day, & even if it was, no-one would know about it until some of the population started networking with the inhabitants of other towns… Hmmm, that makes sense, right? (maybe sounded better in my head… 😉)
How to start a money-making blog – Summary
Choose a blogging niche.
Decide on a blog name.
Sign up for hosting with Bluehost.
Auto-Install WordPress.
Get to know WordPress.
Install a professional theme.
Design your logo.
Download some useful plugins.
Enroll in a blogging course.
Create the "About Us" & legal pages, & write your first blog post.
There has never been a better time to start a blog.
No really, with affordable services, accessible ways to monetize your blog & a whole host of people looking for solutions online… the real question that needs answering is, why haven't you started your blog yet?
If you have any questions, leave them in the comments down below or shoot me an email.
The following two tabs change content below.
David Woutersen
Hey! I believe awesome content should be seen and heard, which is why I want to help you share yours! You can find out more
about me here!
Latest posts by David Woutersen (see all)