Creating an educational YouTube channel can be rewarding, whether you're a teacher, an expert in a particular field, or someone passionate about sharing knowledge.
In this article, I'll guide you through the process of starting a successful YouTube channel in the education niche.
How To Start An Educational YouTube Channel
The best way to start is often to glimpse what is currently working within the specific industry, and YouTube is no different. Study existing educational YouTube channels in your niche to understand what works and what doesn't.
Create a content plan or editorial calendar to organize your video ideas and ensure a consistent posting schedule.
Here are some key elements to consider when starting your educational channel:
8 Top Tips for Promoting Your Educational YouTube Channel
Promoting your educational YouTube channel effectively is crucial for attracting viewers and growing your audience.
Here are some top tips to help you promote your channel:
1. Optimize Your Content for Search (SEO)
One of the most important things to remember while creating content is search engine optimization or SEO. Imagine you are a student in college searching for an academic essay writing service to help you with your essay writing assignments or school papers.
Similarly, put yourself in the shoes of your audience and imagine the words you would search to get a favorable result. Use relevant keywords in your video titles, descriptions, and tags to improve search engine visibility.
For this, I recommend using Tubebuddy.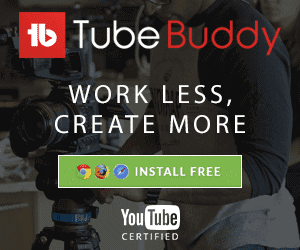 Create Eye-Catching Thumbnails
Design custom thumbnails that are visually appealing and represent the content of your videos. Use clear, large text and images that grab viewers' attention. Maintain a consistent style and color scheme for your thumbnails to make them instantly recognizable as your content. This helps build brand identity.
Use high-resolution images that are clear and visually appealing. Avoid using pixelated or low-quality visuals. Use large, easily readable fonts and position text near the top or bottom of the thumbnail to ensure it's visible on different devices.
Engage with Your Audience and Fellow YouTubers
Respond to comments on your videos to build a community and encourage interaction. Ask questions in your videos to prompt viewer engagement.
Engage with other creators and viewers on YouTube's community features, such as comments, discussions, and live chats. This can help you tap into their audiences.
Cross-promote each other's channels and videos. Participate in or host live streams to connect with your audience in real time.
Consistency is Key
Maintain a consistent posting schedule, whether weekly, bi-weekly, or monthly, so viewers know when to expect new content.
Consistency helps with audience retention and subscriber growth. Regularly review YouTube Analytics to understand which videos are performing well and which need improvement.
Adjust your content strategy based on viewer preferences and metrics. Maintain a consistent posting schedule and content style. Regular uploads help keep your existing audience engaged and can attract new subscribers.
Leverage Social Media and Offline Events
Share your YouTube videos on your social media platforms, including Twitter, Facebook, Instagram, and LinkedIn.
Join relevant online communities and forums to share your content (while respecting their rules). Attend relevant industry events or conferences and network with people who might be interested in your content.
Consider creating business cards or promotional materials with your channel information.
Use Email Marketing and Targeted Ads
Build an email list of subscribers who are interested in your content. Send out regular newsletters or updates when you release new videos.
Consider using YouTube's advertising platform to promote your videos to a wider audience. Target your ads to reach users who are interested in educational content.
Sign up for an email marketing platform like MailChimp, Constant Contact, or ConvertKit. These platforms provide tools for creating and managing your email list and sending newsletters.
Create a Website or Blog
Set up a website or blog to post articles, summaries, and additional resources related to your videos. Include links to your YouTube channel on your website. Organize giveaways or contests to encourage engagement and attract new subscribers.
Ensure the prizes are relevant to your niche to attract the right audience. Choose a CMS to build your website. WordPress is a popular choice due to its user-friendliness and flexibility.
For fast and reliable hosting, I recommend GreenGeeks.
Be Patient and Persistent
Building a successful YouTube channel takes time. Don't get discouraged by slow growth in the early stages. Stay committed to producing quality content and promoting it effectively.
Focus on creating high-quality, valuable content rather than rushing to produce a high volume of videos. Quality content is more likely to gain traction and retain viewers. Stay true to your passion and interests.
Authenticity resonates with viewers, and your enthusiasm for your niche will come through in your content.
Final Thoughts
Remember that building a successful YouTube channel takes time and effort. Consistency, quality content, and audience engagement are key factors in growing your educational YouTube channel.
Be patient and persistent; your channel can become a valuable resource for your target audience.
Building an audience and establishing your channel as a valuable resource can take time, but you can achieve your goals with dedication and strategic promotion.