Jake Paul is an American social media personality turned professional boxer. Originally Jake Paul rose to fame on the short video app called Vine in 2013 but really shot up through YouTube. He's become one of the few YouTubers that have become household names, like Casey Neistat, James Charles, or Emma Chamberlain.
It is estimated that Jake Paul currently has a net worth of around $310 million. This income stems from his YouTube channel, acting jobs, professional boxing, and other ventures.
In this article, we're going to look further into how Jake Paul amassed this wealth, where it all started, his career, notable achievements, and of course, the many controversies.
Who is Jake Paul?
Jake Paul was born in 1997 to Pam and Greg Paul and grew up in the Westlake Ohio area. He has an older brother, Logan, who is also a YouTube creator and celebrity.
In 2013 Jake Paul began posting short videos to the Vine app. When Twitter purchased and closed Vine in 2017, Paul had amassed over 5 million followers and 2 billion views on his videos.
While several current stars, like Lele Pons, have gotten their start on Vine, Jake Paul is one of the most famous celebrities to do so.
Career
Jake Paul, albeit so young, has already had a career that has spanned almost 10 years. His YouTube channel which was launched in 2014 features Paul playing pranks, controversies, and his early rap career videos.
In the world of YouTube content creators, Jake Paul is certainly one of the most controversial creators that have risen to fame on the platform.
Let's explore Paul's decade-long career further.
2014 – 2016: Early Career
After becoming popular on YouTube and Vine, Paul was offered a position on the series of the Disney Channel show Bizaardvark, where he played a character who took risks and then did them.
When the second season of Bizaardvark was being made, the Disney Channel said that Paul would be quitting the show.
A report from KTLA said that Paul's neighbors had complained about the noise from his pranks and parties as well as hazardous conditions and the massive gatherings of fans who came to his neighborhood.
On Twitter, Paul later said that he was going to focus more on his personal brand, which meant he was going to work more on his YouTube channel, his business activities, and more adult roles.
Paul later told The Hollywood Reporter that he was fired from Bizaardvark by Disney because of the KTLA segment. Disney wanted to speed up the process of getting him off the show because of that.
Though Disney has never directly confirmed this, it would appear the timing of these events did in fact lead to his departure from Disney's show to maintain their family-friendly reputation.
2017 – 2018: A Burgeoning Music Career
On Paul's 20th birthday, January 17, 2017, Paul announced that he had started an entertainment company called Team 10 with $1 million in financing. The company would manage influencer marketing and be a creative agency for teen entertainment.
During this time, Jake Paul released several music tracks and videos. Some of the more notable tracks that Paul released are:
It's Everyday Bro – May 2017. This track, much to the dismay of Paul, quickly rose to fame and became the third least liked video on YouTube.
Also in 2017, Paul released the songs Jerika, Ohio Fried Chicken, That Ain't on The News, Litmus, and No Competition. These songs were released and later removed from YouTube for various reasons.
Malibu, released in April 2018.
My Teachers, May 11th, 2018.
Randy Savage and Cartier Vision were both released in May of the same year.
Champion, a diss track aimed at Deji Olatunji (brother of KSI) was released in August 2018, with Paul's first boxing match against Olatunji coming just days later.
2019: Achievements
"I'm Single" was released on March 1, 2019. It came out with the music video, which was also released at the same time. The song was about how Paul felt about being single and how he broke up with Erika Costell.
On July 12, it was said that Paul had formed a new music group after Team 10 broke up.
In December 2019, Paul released a new single called "These Days", but he took it off all of his streaming platforms less than a year after he released it.
2020: More Music from Paul
On July 24, 2020, Paul released the single "Fresh Outta London," which came with a music video. This came out on the same day.
For the video shoot, he threw a party at his home in Calabasas, California, on July 11, 13 days (about 2 weeks) before the shoot.
When videos and pictures of the party surfaced online, Calabasas mayor Alicia Weintraub called him out for it. This was because it was the beginning of the Covid-19 pandemic, and everything was shut down across the state of California.
Paul never apologized for his blatant disregard of state rules and regulations.
At the end of September, Paul released a new single called "23". It came with a music video that featured his older brother Logan Paul. The title refers to the number of Michael Jordan's jerseys and Jake Paul's age at the time.
On October 15, Paul released "Dummy", a song with Canadian rapper TVGucci. TVGucci is signed to Drake's record label, OVO Sound. After six days, on October 21st, Paul put the lyric video on his YouTube channel.
2021 and Beyond
2021 saw a lot of investing for Paul. He started a group called "Boxing Bullies" to help young people fight against bullying. Paul also started a venture capital fund called the "Anti Fund" in 2021 with Geoffrey Woo, who is a long-time entrepreneur.
Anti Fund focuses on Pre-Seed, Seed, and A rounds (but will back outstanding people working on any opportunity at any stage) for companies in these verticals:
crypto-asset,
creator economy, and
e-commerce enablement start-ups.
Other Professional Ventures
In August of 2018, Jake Paul started his amateur boxing career. His first match featured him and his brother Logan against Deji Olatunji and his brother, KSI.
The first match was considered a white-collar exhibition match in which Paul defeated Olatunji by way of technical knockout in the 5th round.
After his first match, Jake Paul went on to make his professional boxing debut and has had 5 more professional fights since. While no one thought Paul would be a serious contender in the ring, with 5 wins and no losses, he has changed a lot of opinions.
How much money has Jake Paul made from boxing?
Jake Paul's Boxing career has earned him around $51 million already from his first 5 professional fights. The majority of this has come from his marketable brand, as over 80% of this figure has come from the PPV sales and other activities, and not the actual purse.
Ali Eson Gib – Won – Jake Paul earned approx. $1 million
Nate Robinson – Won – Jake Paul earned approx. $10 million
Ben Askren – Won – Jake Paul earned approx. $10 million
Tyron Woodley – Won – Jake Paul earned approx. $10 million
Tyron Woodley (Rematch) – Won – Jake Paul earned approx. $20 million
Jake Paul's brand is clearly able to generate interest and bring a lot more viewers to the world of boxing. In his fight against Ben Askren, allegedly 1.5 million PPVs were sold, generating $75 million.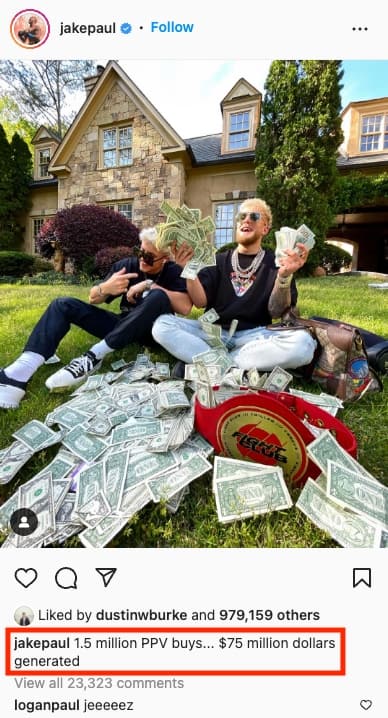 How much money does Jake Paul make on YouTube?
The majority of Jake Paul's income comes from YouTube, or at least the majority of his popularity has come from his YouTube activities, which in turn have helped him grow an impressive fortune.
Jake Paul has over 7 billion views on his YouTube channel, which has brought him in approximately $35.9 million from YouTube advertising alone.
Paul has become so popular, that he can earn upwards of $150,000 per social media post/video for sponsored posts.
Note: The above YouTube income estimates have been made using our YouTube Money Calculator, the most accurate YouTube calculator that factors in the most important variables that affect how much a channel can earn.
Personal life
Perhaps no other YouTube star has been involved in as many controversies as Jake Paul.
The first notable one involved Jake and other YouTuber Erika Costell, then Paul's girlfriend, who created a video titled "I lost my virginity". The cover photo for the video featured a nude Paul and Costell.
YouTube slapped a content warning on the video and many other YouTube creators called the pair out for their inappropriate content.
Notable Achievements and Controversies
Whether you like Jake Paul or not, one thing is certain, he knows how to turn his brand into a business.
As an early participant in video content, one can consider Paul a founding father of the influencer movement. Paul has been known for creating content that has a shock factor, and controversies that he's been involved in only add to his notoriety.
Scam Allegations
Jake Paul has been involved in multiple scam allegations throughout his career.
One of the first came from a program called EdFluence in which Paul created a workshop for $7 that would teach young fans how to successfully create content for social media.
Users called out Paul for his misrepresentation of what the $7 fee would give access to and EdFluence shut down shortly after.
In 2019, Paul came under heavy fire for his involvement in a Mystery Box company. The premise of the program was to let users open a digital mystery box for a chance to win a real one.
Many users who supposedly won a mystery box have complained that they did not receive any items.
And with the world of NFT and crypto scams exploding in 2022, Jake Paul managed to get involved in many of these with allegations of him making over $2 million in the process.
Party Complaints, Lawsuits, and Covid 19
Jake Paul has been the subject of many parties and public nuisance complaints over the years. His first public complaint came in 2017, which led to his dismissal from Disney and came from his neighbors in the Beverly Grove neighborhood in California.
The neighborhood filed a class-action lawsuit against Paul after he made his address public which caused hordes of fans to camp outside of the house.
During the Covid 19 shutdowns in early 2020, Paul was criticized heavily by government officials and his peers alike for his behavior during a pandemic. Paul hosted multiple huge parties and screamed that Covid-19 was a hoax and all news was fake.
During an interview with Howard Stern, he doubled down on his claims before saying that Stern only wanted clickbait and Paul had never heard of Stern. His comments were widely condemned by many acquaintances of Paul.
In 2022, Jake Paul was one of many celebrities being sued in a class-action lawsuit for the cryptocurrency project SafeMoon.
Looting and FBI Raid
Later in 2020, Paul was in a mall in Arizona where he was attending demonstrations related to the murder of George Floyd. While in the mall, looters came into the stores and chaos ensued. Paul stayed in the riot and started filming. Though he said later that he was only there to document.
The FBI conducted a raid on his home shortly after with charges stemming directly from the riot. Paul was charged with criminal trespass and unlawful assembly, but the charges were later dropped.
Puerto Rico Controversy
In early 2021 Paul was investigated by the Puerto Rico Department of Natural and Environmental Resources for apparently riding a scooter on a beach, which is illegal due to the disruption of the flora and fauna that it creates.
Paul has since apologized to the Island and its inhabitants and removed the video that was filmed. Charges are still pending.
Sexual Assault Allegations
Paul has been accused of sexual assault twice during his career.
Once from Justine Paradise, a TikTok creator, with Paul strongly denying the allegations.
Railey Lollie has also accused Paul of sexual misconduct stemming from her time working for him when she was 17.
Final thoughts on Jake Paul's net worth
Jake Paul's net worth is about $310 million currently. He has been involved in many controversies throughout his career, leading to him being one of the most controversial figures on social media.
His involvement with scams, lawsuits, and riots has shown a pattern of taking advantage of others when given the chance.
He has a penchant for drama and is one of the leading YouTubers that can ride what would seem like any type of publicity into a payday. Now, focusing on boxing and possibly MMA, he's taking his brand into the sporting world and cashing in even further.
As a YouTuber, he's amassed an impressive fortune, with the ads from YouTube views alone amassing approximately $35.9 million.
As an influencer, he's able to command upwards of $150,000 per post on Instagram.
With his boxing career, he's making even more money from pay-per-view events, and this is all without taking into account his massive merchandise empire.
It's safe to say that Jake Paul's net worth will continue to grow in the coming years.