This post may contain affiliate links, which means I may earn a commission, at no cost to you, if you make a purchase through a link.
Rich Pins are Pinterest's way of associating a Pin to a specific website. When looking at a Rich Pin, you'll see the Website name & the Pinterest account that has claimed that website. That way you know exactly who the source is & you can easily follow them. It can be quite a confusing process when it comes to activating Rich Pins, however, especially if you're not used to editing metadata on your site (which most of us bloggers aren't actually that good at!). There is a much easier way to do it though, in fact, I'd even go as far as calling it the easiest way to activate Rich Pins on Pinterest!
Rich pins are one of the most powerful ways to increase your reach on Pinterest.
When Rich Pins are activated, Pinterest pulls extra information from your website that can help your Pins rank & get found easier, whilst also attributing that pin to your account & website.
Things like article & page names, extra descriptions, the date published, recipe information, etc. Plus, the Pinterest account associated with the website will appear under the title and users that aren't following you, will have the opportunity to hit that follow button. Meaning Rich Pins allow more people to find you, follow your account & establish your account & website as an authority figure for that subject.
If you want to read this later, please save it to Pinterest.
The Easiest way to Activate Rich Pins on Pinterest
To get started, you're going to need to make sure you have a business account. If you don't, you can convert your account to a business account for free here. Otherwise, you can also set up a new Pinterest business account, also for free.
Now that we've gotten that out of the way, this isn't going to take very long at all. Seriously, this setup won't even take 5 minutes! So, let's begin. 😉
[callout]Install the Yoast SEO WordPress plugin.[/callout]
Remember that confusing metadata I mentioned earlier? Pinterest needs to add meta tags to your site in order to activate Rich Pins. This is where Yoast SEO comes in. This awesome plugin takes care of all of the technical stuff so you don't have to worry about it.
Yoast SEO is a Search Engine Optimization plugin, meaning it helps your posts & pages rank in Search Engines. Pinterest is a picture-based search engine, but by installing Yoast, you'll be able to optimize your posts for the other search engines as well, like Google. The free version is packed with useful features, which is also why it's one of my favorite free tools for blogging.
For this quick tutorial, there are a few things you'll need to do.
Download, install & activate the Yoast SEO plugin on your WordPress site.
[callout]Enable Open Graph[/callout]
In your WordPress Dashboard, head to the Yoast SEO tab & navigate to the social button.
In order for Pinterest to access your metadata, you need to make sure that Open Graph is enabled.
To do this, open the Facebook tab & make sure the Open Graph section is enabled.
Woah, what does Facebook have to do with this?!
Don't worry, it's just the method in which Pinterest accesses your Site, you won't actually be allowing Facebook any access unless you want them too. This just to allow Yoast SEO to use this specific method when Pinterest comes calling about those Rich Pins. 😉
That's the complicated part sorted out! I know right, so easy.
Activating Rich Pins has never been easier!
[callout]Validate & Apply.[/callout]
Open up the Rich Pin Validator & paste in a link to any of your blog posts in the URL field next to the Validate button. It can be a link to any post but NOT TO YOUR HOME PAGE. You'll also only have to do this once, as Pinterest will activate Rich Pins across your site if approved. Once you've copied your blog post URL into the field, hit Validate.
You'll receive a confirmation that your pins have been validated, but don't close the screen just yet. You still need to apply for Rich Pins.
Click apply now, your website domain should then appear with a few options beneath it. We want to make sure that HTML tags are selected & then hit Apply now & you're done!
No really, that's it. 😲😃
All that's left is to wait a day or two for Pinterest to approve it. Once it's approved, you can check back in the validator & you should see something like this:
Related: 30 Tips to Master Pinterest Today! 
Note: You need to have claimed your website BEFORE you can apply for Rich Pins. Luckily Yoast makes this super easy as well.
[callout]How to claim your website on Pinterest with Yoast SEO.[/callout]
First, make sure the Open Graph section is enabled, follow the earlier steps to do that.
Next, you want to get your confirmation code from Pinterest. Open Pinterest & head to your settings. Scroll down to the claim website section, type in your full domain name & hit claim website.
A pop up will then appear, select HTML tag, and then copy the set of numbers & letters found in the second set of quotation marks. The numbers I've blocked out in the image below.
Once you've got this set of numbers copied, leave this page open & head to your WordPress dashboard in a new tab.
Open Yoast SEO & select the social tab. Click on Pinterest at the top & paste the code into the field marked Pinterest confirmation. Hit the Save changes button & then it's time to head back to Pinterest.
Hit next & you'll see a popup asking to submit for review. Click on Submit & that's it.
You'll see a stay tuned message once completed, and Pinterest may take 24-48 hours to confirm your website. If you return to your Pinterest profile settings again before your website is claimed, it may look as if you haven't tried to claim it. Pinterest will only change that section once it's claimed, so leave it be for about 48 hours before trying again.
Once your website is claimed, it should look something like this:
[callout]You can now apply for Rich Pins following the steps above. 😃[/callout]
[columns]
[col]


[/col]
[col]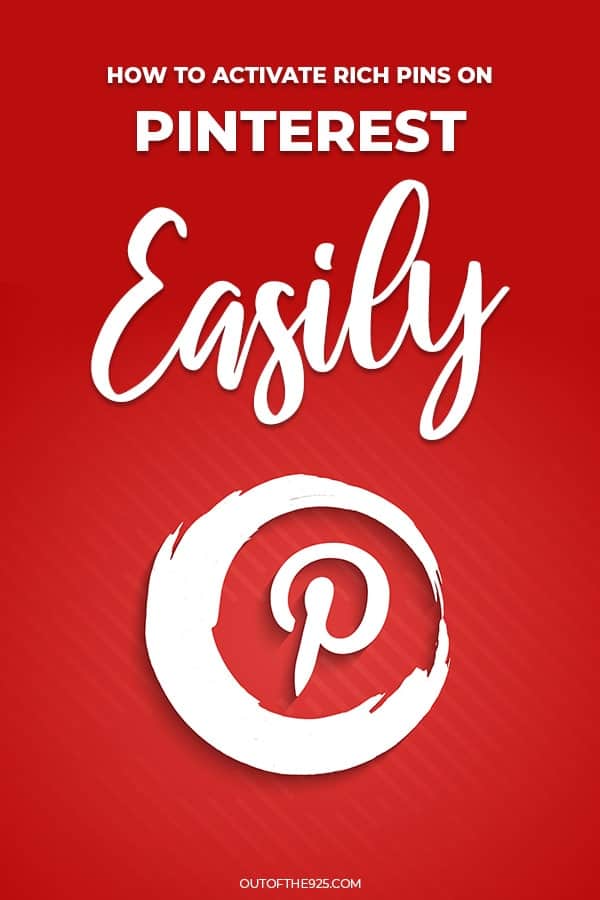 [/col]
[/columns]
If you enjoyed this article, please save it to Pinterest.
Have you set up your Rich Pins for Pinterest yet?
As usual, if you have any Pinterest related questions, drop them in the comments below! 😊
Cheers,
David Woutersen
Outofthe925.com
The following two tabs change content below.
David Woutersen
Hey! I believe awesome content should be seen and heard, which is why I want to help you share yours! You can find out more
about me here!
Latest posts by David Woutersen (see all)