When I say made simple, I really do mean it! Tailwinds Hashtag Finder 2.0 has been revamped and renewed, with some awesome new tricks and features that make adding powerful hashtags to your Instagram posts an absolute walk in the park!
Early in 2018, Instagram opened up their API, allowing automatic posting and giving users a break to step away from their smartphones & create even more amazing images. Tailwind gave marketers a chance to schedule images days, weeks & even months in advance without having to worry about their feed drying up.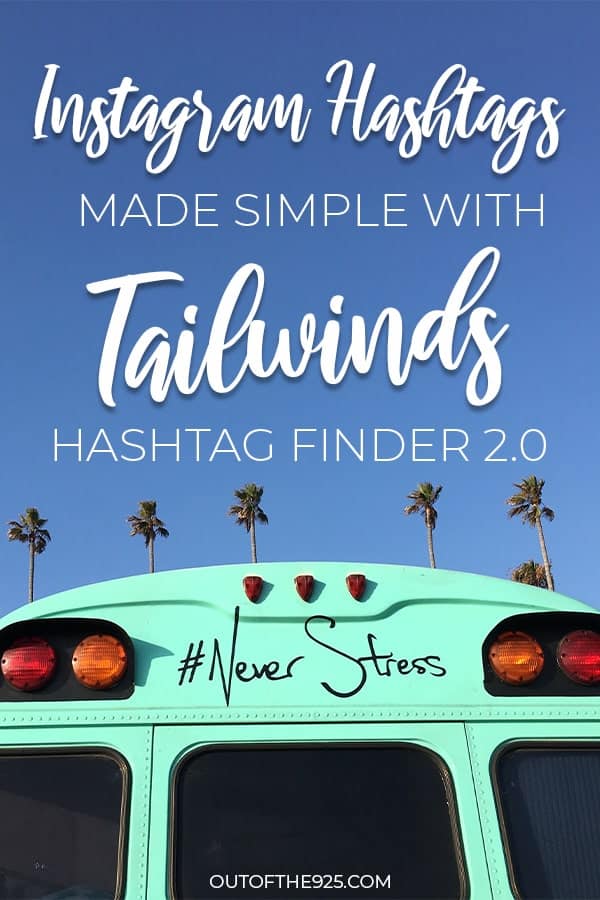 The one big problem that I always ran into with scheduling posts was the work and effort involved in finding a large variety of good hashtags to use in all these posts. Using the exact same hashtags over and over is a big no-no for the Instagram algorithm. This made hashtagging posts a very time-consuming experience & I could never really schedule more than a week out. ☹
That was until Tailwind introduced their updated, upgraded & simply awesome Hashtag Finder… Let's just call it Tailwinds Hashtag Finder 2.0. 😉
Instagram Hashtags made simple with Tailwinds Hashtag Finder 2.0
Let's look at what makes this new feature just so darn awesome.
If you're having trouble playing the above video, you can watch it directly on YouTube by clicking here.
Whilst you're there, don't forget to smash that subscribe button. It seems like the YouTube subscribe button only works if you smash it. 😉
Anyhoo, back to the Hashtag Finder!
What's New?
You no longer need to have any hashtags in your caption for suggestions to appear.
You'll get a fresh selection of hashtags suggested to you for EVERY new post.
Hashtags suggestions will appear & update in real-time as you type.
Shuffle or delete suggestions if they're not the right fit & move on quickly!
Hovering over a hashtag will show you how popular it is, helping you craft your Hashtag strategy.
Whilst these may not be new, there are some more noteworthy features to mention with the Hashtag Finder that you may not be using, to boost your profile.
There's a live hashtag count, so you never exceed 30 & always fill out your quota.
(If someone gives you 30 lottery tickets, are you just going to take 3 & tell them to keep the rest?!)
Put together some great Hashtags? Save them to a list!
Easily distinguish between competitive & niche hashtags thanks to color-coded hashtag suggestions.
How to use Tailwinds Hashtag Finder 2.0 for Instagram
Tailwinds Hashtag Finder 2.0 is remarkably easy to use.
Whether you're uploading your images or regramming them from across the internet using the Tailwind extension. Simply start typing in a caption as you would normally & the suggestions start popping up!
I prefer to gather all my images together in my drafts & then go through all the captions & hashtags in one go.
To do this you can drop your photos into the drafts section of the Tailwind Publisher. If you're regramming from the internet, just select the images & click the tailwind schedule icon that appears in the bottom left corner of the image. A new window should then open up, but you can ignore it as the Tailwind extension has now sent that image to your drafts automatically!
How cool is that?!
Anyway, I digress.
Now that we're in the drafts & your images are uploaded, start typing in your captions & watch the suggestions start populating automatically.
I recommend writing out your complete caption before selecting hashtags so that the Hashtag Finder has some good data to work with. 😉
It will then update with fresh related hashtags as you select or remove hashtags.
You can select the shuffle button for a completely fresh list of suggestions or individually delete hashtag until you find the perfect set of tags.
Hover over the hashtags to see how many times each one has been used. Depending on your profile size & engagement rates, pick the hashtags that you will have the most chance for ranking for, as well as a few big hashtags & niche tags.
Once you're happy with your selection, you can either save the tags to a list or add your post to your queue where it will be posted at an optimized time.
To save a list, you need to click on the hashtag icon, give the list a name & then select the copy from caption icon, or type out your own.
That's it! Pretty simple right?!
[socialpug_tweet tweet="Looking for the easiest way to find hashtags for Instagram? Look no further." display_tweet="Looking for the easiest way to find hashtags for Instagram? Look no further."]
How can Tailwinds Hashtag Finder 2.0 (& scheduler) save me time?
You may be thinking, how this can save you time?
I like to think that it does this in 3 ways:
Bulk Uploading
Just found 15 great photos, quotes or promotional posts?
Upload them all at once & let Tailwind take care of publishing them for the next 2 weeks!
Add your captions, location, hashtags & then add them to the queue & you're done!
That means you don't have to think of a new caption every day or make sure you're active on Instagram on that day when you're feeling under the weather. Tailwinds got your back. 😉
Easily find great Hashtags
This is the biggest time saver as far as I am concerned. Whilst captions & location can be rather intuitive to come by, researching & finding great hashtags can take quite a lot of time & even then you may only find 30 for your post. But what about the next post? And the next one? ☹
The Hashtag Finder 2.0 never stops coming up with suggestions. The more information you give it, the more related hashtags it will find you!
Posting at the optimal time
Whilst you're probably not going to be setting your alarm to 2 am so that you can post an image to Instagram just because it happens to be the time your audience is most active, Tailwind will take care of it.
Optimal time, every day, without you having to worry about push notifications or your followers missing your posts because they happen to be sleeping, or anything else that may get in the way.
Related: 7 Tips to increase your Instagram reach today!
How to grow your Instagram account with Tailwinds Hashtag Finder 2.0
First & foremost, when selecting your hashtags, make sure that they're always related to your image.
If they're not related, you could get shadow banned, marked as spam, etc. Not exactly things that are conducive to growing your Instagram account. 😉
Next up is to mix your Hashtags.
What I mean here is to select a variety of Hashtags that your account could rank for.
This could be tags with 100k posts, 500k posts, or even just 10k posts. This maximizes the visibility of your posts for longer. Allowing you to get more likes & followers & may even help with the next point.
Which is to add a couple of competitive hashtags. Think hashtags with 1 or 2 million posts. If you can get a good amount of momentum within the first 30 minutes, maybe your post can even rank for one of these hashtags. Just don't go overdoing it. 😉
Save a few spots for some very niche or very specific hashtags, these could be your own brand hashtags, something trending in your niche, area, etc.
Rotate your hashtags.
This simply means to use a good variety of hashtags in your posts, not the same 30 tags in each Instagram post.
Luckily enough, Tailwinds Hashtag Finder 2.0 does a great job of providing you with plenty to choose from. Save lists of well-performing hashtags and rotate through them, updating them every couple of weeks.
Some of the main benefits to rotating your hashtags are the increased exposure to potential followers that may have previously never come across your account. You'll be able to find which hashtags are the most productive for your account. Plus, you'll stay on the Instagram algorithms good side. 😉
If you've enjoyed this article, save it to Pinterest. 😊
What I'd like to see introduced in the next update
Whilst Tailwinds Hashtag Finder 2.0 is pretty awesome, there was one thing that struck me that I hope can be addressed in the next update.
A Hashtag posts preview.
A practical example of my problem I can take from our travel blogs Instagram. When you're traveling, you're visiting different countries, which inherently have different languages… I think you can see where this is going. 😉
I don't speak many of these languages fluently enough to utilize some possibly great hashtags, and photos don't bear language barriers, making them still relevant.
It would be absolutely amazing if you could however over a hashtag and a feed would appear so you know exactly what the hashtag is about. That solution may be rather tricky for the developers though. An open in new window button next to the close button could be another easier solution.
I hope either way that something like this would be under consideration for the next update.
You could bypass this by just copying the hashtag & pasting it into an Instagram search in a separate window. This does work quite well, but a minor change could improve the user experience.
Would you like to see this in the next update? Let me know in the comments.
That's it for the Hashtag Finder 2.0, a new way to streamline your Instagram experience & get your posts the attention they deserve!
All that is left to do is give it a go…
Try Tailwinds Hashtag Finder 2.0 & Scheduler for free.
And what better way to give it a go than to take it for a test run for free!
Start your trial today & schedule up to 30 posts free of charge. You don't even need to give the generous folks at Tailwind your credit card details, free really does mean free.
P.s. Tailwind is an official Instagram Partner, making it completely safe to use with your account.
Get started with Tailwind today!
As usual, if you have any Instagram or Tailwind related questions, drop them in the comments down below & I'll do my best to answer them. 😊
Cheers,
David Woutersen
Outofthe925.com