Instagram has recently launched a new feature, and it's a big one! No really, it even has its own app! In this article we're going to get down to the nitty-gritty with the ultimate guide to IGTV, how to use this awesome new addition & the 8 best practices & top tips for a successful IGTV channel!
Now Instagram itself has been with us for a while now. Slowly becoming a part of modern culture. When on holiday you won't be surprised to hear someone needing to quickly take a picture for their feed or to just snap a quick selfie. It's something you tend to hear or see in your regular day-to-day life as well. If it's being captured with your smartphone, it's probably going to end up on the gram.
One of Instagram's previous BIG updates introduced Instagram Stories to the world. With over 300 million users every day, it has changed the way people, brands & businesses use Instagram for good. It's not only changed Instagram, but it has captured a majority of Snapchat's users in the process. Although Snapchat is still popular amongst teens, Instagram is largely the social network of choice for most 18 to 35-year olds.
The Ultimate Guide to IGTV
Now IGTV is another huge step in Instagram's attempts to cover just about everything mobile. Hey, we might even see an Instagram version of Amazon soon! Come to think of it, shoppable feeds are already here, so that may already be happening.
Having just reached the magic billion mark for monthly users, Instagram is upping their game in the video department. That's where IGTV comes in. Launched towards the back end of June 2018, it's quite raw but brimming with great features. Could IGTV mean the end of YouTube?
Spoiler: No, it won't, I'll let you know why in a bit.
What is IGTV?
IGTV is a new feature that allows users to upload videos between 15 seconds and 60 minutes in length. To do this, users need to create their own IGTV Channel. You can think of these channels being Instagram's version of YouTube Channels, or like your Instagram profile but with awesome videos.
Now I know I already said that videos can be up to 60 minutes long, but unfortunately, that is only for large or verified Instagram accounts currently. Regular users can upload up to 10 minutes, however. This is still plenty more than what users could previously upload in one post on Instagram or in their stories.
One of the interesting aspects of IGTV is that you need to upload vertical videos. This separates IGTV from YouTube & other video platforms that all seem to favor horizontal viewing. There are some positives & negatives that this brings about. For example, you won't have to hold your smartphone in landscape mode in order to create a video, but it's going to take some extra work if you want to post the same video onto both Instagram & YouTube.
IGTV also has a stand-alone app that you can download from the play store or app store, but it doesn't really have any current features that make it worthwhile downloading. You can just as easily access IGTV by clicking on the IGTV button from the Instagram App.
P.s. Make sure you've got the latest Instagram version.
What are the differences between IGTV & normal IG videos & stories?
Videos posted to your Instagram feed or Instagram Story can have either a vertical or horizontal orientation. IGTV videos, however, have an aspect ratio of 9:16 and are meant to be watched vertically.
Videos posted to your Instagram Story can be up to 15 seconds in length & videos posted to your feed reach can be up to 1 minute in length. With IGTV you can upload videos up to 10 minutes in length, although some large accounts and verified accounts can upload videos that are up to 60 minutes in length.
Getting started & creating an IGTV Channel.
Log into your Instagram account & click on the IGTV icon found in the top right-hand corner.
Welcome to IGTV! ? Now to create a channel all you need to do is click on the cog on the right side of your screen. Then select 'Create Channel', follow the prompts and there you have it, you now have an IGTV Channel!
Instagram will automatically pull all of your information from your Instagram bio. Your description, profile picture & follower count. If you want to change anything, just edit it as you would normally edit your Instagram profile.
How to upload an IGTV video using your smartphone.
Instagram allows you to upload videos to IGTV from your computer or smartphone. To upload via your smartphone, follow these steps.
Go to your newly set up IGTV Channel by tapping on your profile picture on the right of your screen.
Next, you're going to select the 'plus' icon on the right of the screen.
Select a vertical video longer than 15 seconds that you want to upload.
Review the video & then tap 'next'.
Note: You can only upload finished videos to IGTV. It's not like Instagram's other video functions where you can trim the size, use filters & insert emoticons etc. IGTV videos are similar to YouTube videos in that sense.
Now you're going to fill out the title & description of your video & you can choose whether or not you want it to show on your connected Facebook Page.
To change the cover picture, tap 'Edit cover' & then select an image from your gallery or a frame from the video.
Once all that is done, hit the post button and your IGTV video will be uploaded.
How to upload an IGTV video using your computer/laptop.
To upload a video via your computer, the process is quite similar.
First, you're going to have to open Instagram up in your browser. Click here or type www.instagram.com into the URL field.
Log in to your account and navigate to your profile page.
Click on the IGTV tab located above your images & then click on the 'Upload' button.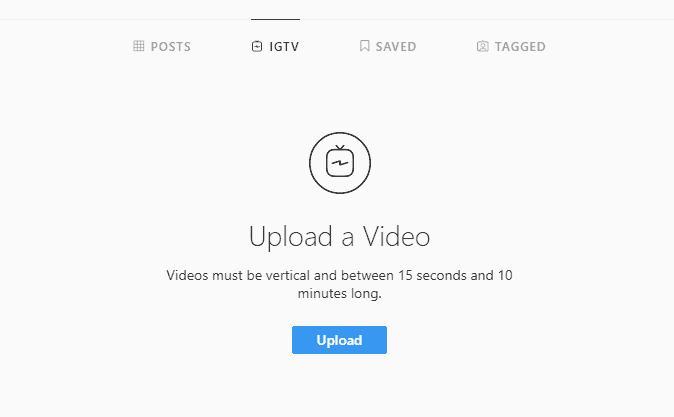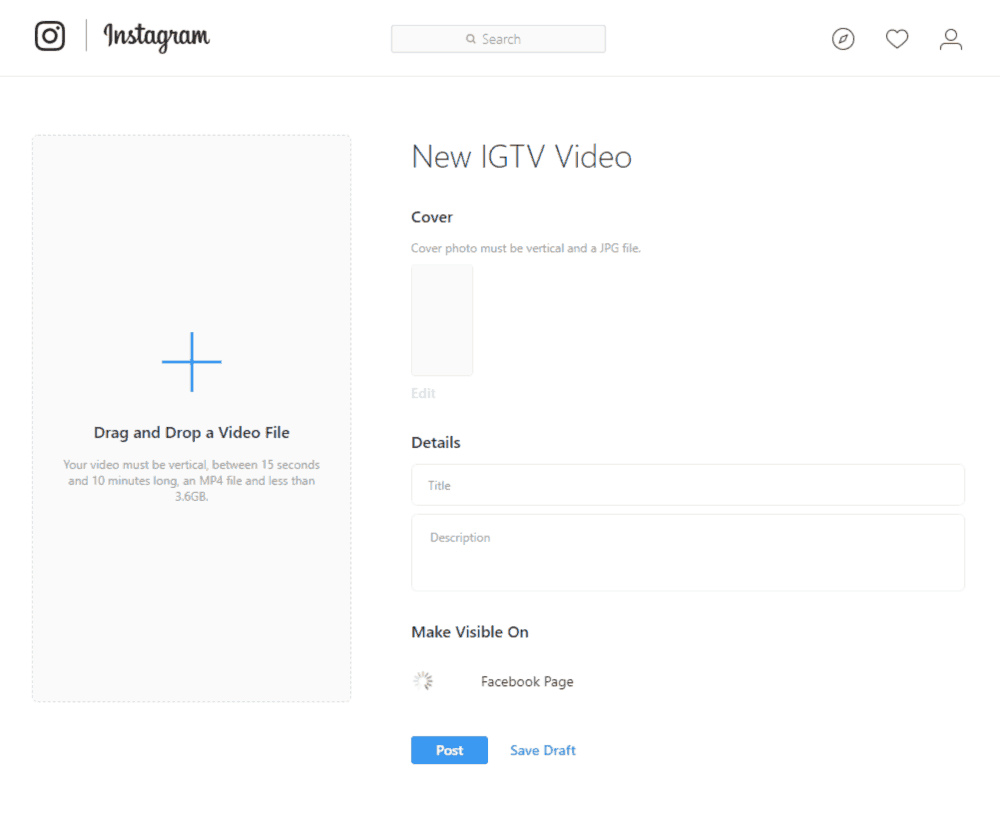 Add your video, fill out your title & description, add a cover image & choose whether or not it should be posted to your Facebook Page as well.
Tap the post button & your video will start uploading. Once complete, your video will be live and you will be able to see it on your IGTV channel.
Your followers will receive a notification at the top of their home screen when you upload a new IGTV video, however, it may not last very long if they're following other accounts that have also uploaded recently.
The Ultimate Guide to IGTV: How to access your analytics.
Your IGTV Analytics provides a wealth of information regarding your IGTV videos.
Your engagement & audience retention analytics show you;
Views – How many people have watched more than 3 seconds of your video.
Likes – How many users have liked your video.
Comments – How many comments have been made on your video.
Average percentage watched – This is the average length of your video watched by all viewers
Percentage of plays at a particular time – Here you can see what percentage of viewers were still watching at a specific point in your video.
To access analytics, head to your IGTV Channel.
Tap on a video that you want to see the analytics for.
Tap on the three dots icon and then select Insights.
You can use these insights to alter your approach to IGTV videos, see where your audience is dropping off, which videos are popular, etc. The percentage of plays at a particular time is especially useful as you can see where you may have a big drop off. You can then either try to create curiosity at this point in the video or to make your videos shorter.
The Ultimate Guide to IGTV: 8 Best Tips
1. Quality beats quantity.
It is better to create good quality and engaging content than to just upload subpar videos constantly. You may lose viewers this way and by uploading quality content, your engagement will increase, along with your watch time & you will be on your way to creating a strong IGTV channel.
2. Use your computer to edit descriptions.
If you made a typo in your description or would just like to edit something, don't panic. You cannot edit descriptions on your smartphone as of yet, but you can do so via your computer.
Pro tip: If you don't have a computer nearby, you can edit your description opening a web browsing app like Google Chrome & activating 'desktop site' from the settings. Now you'll be able to visit web pages as If you were on a desktop computer.
3. Design clear custom covers.
Create clear and concise vertical covers specifically for your IGTV videos. This will make your video stand out from the crowd and a click-worthy cover will bring in more views. The optimum cover size is 420 x 654 pixels, I recommend using Canva for creating custom images easily.
You're currently not able to edit your IGTV Video cover image, so make sure you're posting a good one.
4. Go Vertical
IGTV videos are meant to be viewed vertically. Stick to the 9:16 aspect ratio and output videos with an aspect ratio of 1080 x 1920 pixels for the best quality possible. Videos up to 10-minutes in length can be a maximum of 650mbs. Keep that in mind when creating your videos for IGTV.
5. Add links in your IGTV Videos
It is possible to insert clickable links in your IGTV video descriptions. You can link to your website, a freebie you're offering, your shop or course, etc.
6. Link from your Instagram Story.
Instagram sends notifications to your followers whenever you upload an IGTV video. These can sometimes disappear quite quickly, however, if your followers are following a lot of other users that have also uploaded recently.
To make sure your IGTV videos get as many views as possible, you can link to a video via your Instagram Story. Posting a short clip from the IGTV video will create intrigue, just don't post the entire punchline.
Note: Links (external & to IGTV videos) in your Instagram Story are only available for accounts with at least 10 000 followers.
7. Engage with your community.
Respond to comments left on your videos and create a welcoming community. When you receive comments on your IGTV videos, Instagram will push notifications to your Instagram notification tab just like normal posts.
8. Don't overdo it.
IGTV is still very new and can add an extra workload that may not pay many dividends right now. If your content is better suited to long-form videos, go ahead and take the IGTV bull by the horns. This goes for anyone really that can fit posting to IGTV into their schedule.
Do what you can, but don't worry too much about yet if you can't find the time for IGTV. Search features are currently very limited as you can only search for other IGTV channels. There is no way of directly monetizing your views, like how you can on YouTube. Some of these features & most likely a lot more are bound to be coming soon though!
Conclusion
The platform has the potential to be something great, but it is still very much in its early stages.
With a few additional features and functions, IGTV can become another pillar for Instagram and a great way for regular users & companies to get their brand to their target audience.
That being said though, it's not there yet. Don't worry too much about jumping on board if you haven't quite got the time to dedicate to creating content purposely for IGTV. Right now, it can be quite a large workload without providing a reasonable return on your time invested.
The big question though is, should you start posting to IGTV? Yes, you should.
If you can jump on board with it now, you will be a few steps ahead when the new features arrive & you can set yourself apart from the competitors in your niche.
The best is to simply try it out and see if it brings you results.