This post may contain affiliate links, which means I may earn a commission, at no cost to you, if you make a purchase through a link.
Do you ever wonder how some Pinterest users seem to constantly hit the jackpot with viral pin after viral pin? Maybe it's just dumb luck. Or maybe these power pinners follow a set of strategies to create and post these viral Pinterest Pins.
Sure, some may get lucky with a viral pin or 2, but the best way to consistently have your pins reach their full potential is to follow a few simple tips that will make your pins pop. That's not to mean every pin will be a hit if you follow these tips, but you'll be greatly increasing your chances of making it happen.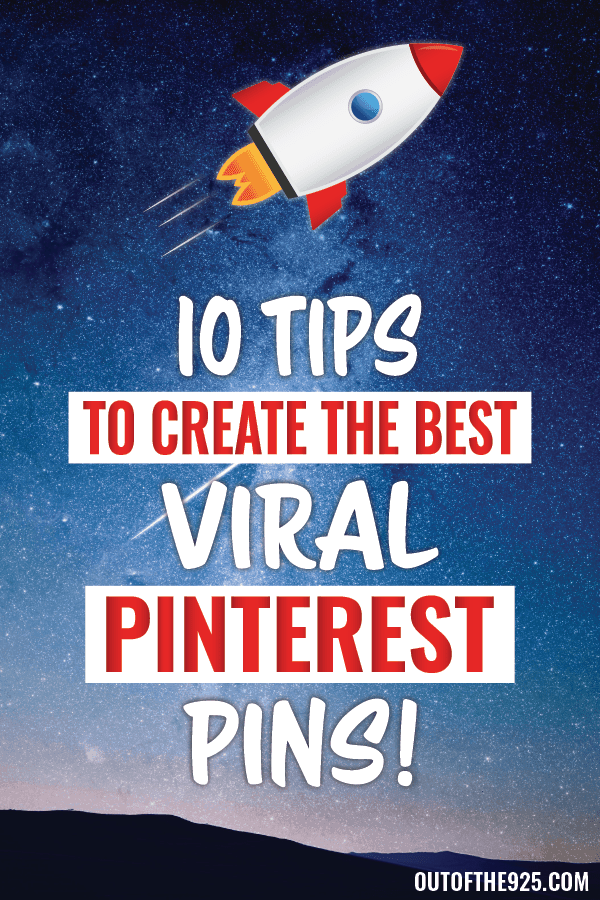 In this article, we're going to look at what factors into making a great pin and how you can increase the chances of your next pin going viral.
The perfect pin size & dimensions.
Pinterest is different from other social media platforms in that it favors vertical posts as opposed to horizontal or square posts. Pinterest themselves recommend using pins with a ratio of 6:9. That relates to pin dimensions of 600 x 900. You can still post images larger than this, as long as they stick to the same image ratio. I.e. 735 x 1102 is also 6:9 and this is the automatic pin dimensions offered by Canva.
Canva is a free-to-use online service and a very powerful tool for a wide variety of social media content creation. You can test Canva out by clicking here.
These aspect ratio rules should apply to your general pins, but you can also mix it up with slightly longer pins if it will work better with your composition. A lot of power pinners (ourselves included) create longer pins with the dimensions 735 x 1500 and even 735 x 1700 when we have long content or when creating lists and infographics that just won't satisfy the regular 6:9 ratio.
What not to do:
Horizontal or square images will not be seen on Pinterest, save those posts for Facebook & Instagram!
Use an Image in your pin.
Pins with images have a higher chance of being repinned and clicked on than a pin without any graphics present. By including an image, you can also express visually what your post, article or your link represents. A picture can say a thousand words, which is why it's perfect for creating curiosity and highlighting your post.
Insert a text overlay.
Text lets viewers know exactly what they can expect in your post. You can also create curiosity and build a sense of intrigue through good use of text in your posts. Stick to short sentences and phrases as too many words can be overwhelming and hard to read whilst scrolling.
High-quality images.
Image quality is important in all social media graphics, and especially so on Pinterest. Poor quality images will cause more people to skip your posts than anything else. A good rule of thumb is to use uncompressed images when creating pins and if your pin is 600 x 900, make sure your image is larger than this (if it's a full pin-sized image).
Bold & Readable Fonts.
When including text in your pins, make sure to clear and readable fonts. Script & calligraphic fonts can be very attractive; however, some can be quite difficult to read. Make sure you choose a font that someone will be able to clearly read whilst scrolling through their feed.
The best way to create readable fonts is by using bold and large fonts. In general, the bolder the better! 😉 If someone needs to click on your pin to see what it says, they'll just skip over it.
Related: 30 beginner tips to master Pinterest today.
Red, Orange & Yellow.
The colors red, orange & yellow are the colors present in the most repinned pins on Pinterest. This can have a lot to do with purchase psychology and peoples association of colors to feelings, but all you need to know is that red, orange & yellow are the colors that get the repins rolling! 😉
Stick to warm colors & avoid warmer colors like blue, green & purple. This does not mean that your particular audience will prefer warmer colors. You may find yourself having better luck with cooler colors. It all comes down to finding the perfect balance with your audience.
Contrasting Colours.
Contrasting colors are a good way to make text, images and even cooler colors pop. Make your pins stand out by highlighting key points and bringing attention to important areas of your pin.
Contrasting colors catch the eye and are clearly defined. They do not have to be exact opposites, light vs dark for example, but they should be different enough to clearly see the variety of color and graphics. Pastel colors may be the last thing that you think of when considering contrasting colors, however, there is a good enough difference between light pink & a light yellow to create a great pin.
Good Composition.
Good composition means that your pins should be well organized. Your Images should clearly show what you're trying to represent in your pin. The text in your pin should be well spaced out and be clear enough to read without difficulty. Any other graphics you use in your pin, like a background overlay, for example, should be evenly spaced throughout your pin.
The easiest way to maintain a good composition throughout your pins is to design them with center-align in mind. This means your text and graphics are located in the middle of your pin. It's important to use images that present enough blank space for your text and graphics in these cases.
Branding
The process of branding is to create similar sets of pins that share similar qualities like font size, color, etc. Branding allows your audience to easily recognize your pins. This means that when you create a new pin, your existing followers can give it that initial push that can help it reach the realms of virality.
Create an Infographic.
Whilst this may seem like it goes against some of the previous tips, infographics are some of the most repinned images on Pinterest. The image dimensions can be quite long, which is acceptable as long as the top of the pin creates a sense of intrigue. This should be designed to get a viewer to open the infographic and view the entire pin.
Good infographics should present a good amount of information clearly and apart from the dimensions, they should follow the rest of the tips presented in this article.
You can create infographics using Canva or Venngage. We prefer Venngage when creating Infographics as they provide a wide variety of graphics, templates and have an easy to use interface that is built for infographics and information related graphics.
Create awesome infographics like the one above using Venngage, try it out for free by clicking here.
Now if you follow these 10 tips with some consistency, you'll be the next to benefit from getting viral Pinterest pins!
Keep on testing new designs and once you've found a style that fits with your brand & your audience, keep on going! 😊
---
If you're ready to take advantage of everything Pinterest has to offer and to get a windfall of Pinterest traffic, check out the Pinterest Traffic Avalanche course from Alex & Lauren at Create & Go.
It covers everything you need to know about getting targeted traffic using Pinterest; how to set up your account, using group boards, which pins convert, etc. Plus much more that will take your Pinterest account to the very top of search! This is the course that helps me reach MILLIONS of people on Pinterest every month for free.
If you've enjoyed this article, I'm very glad. If you really enjoyed it, I'd greatly appreciate it if you share it on Facebook, Twitter, Pinterest, Whatsapp, or wherever else your audience may be hanging out.
If you have any questions or struggles with Pinterest, let me know in the comments, or just shoot me an email directly. 🙂
Cheers,
David Woutersen
Out of the 925
The following two tabs change content below.
David Woutersen
Hey! I believe awesome content should be seen and heard, which is why I want to help you share yours! You can find out more
about me here!
Latest posts by David Woutersen (see all)