Creating a YouTube channel that runs on auto-pilot without you having to record videos is the dream of many creators. While it may seem far-fetched, there is a way to do it: YouTube Automation.
In this article, we'll cover everything you need to know about YouTube automation so that you can start a faceless YouTube channel that earns you income while you sleep.
Let's get started.
What Is YouTube Automation?
YouTube automation is using software and freelancers to outsource the creation and uploading of your YouTube channel's content. This includes creating thumbnails, video scripts, voiceovers, editing, uploading, and optimizing the content.
YouTube automation is also referred to as faceless YouTube channels or YouTube cash cow channels. This is because, most of the time, there are no onscreen personalities, and videos can be easily outsourced or created in bulk at an affordable price.
Is YouTube Automation Allowed?
YouTube automation is a legal way to create videos and a channel without showing your face or creating any videos yourself.
The same legal requirements that affect a YouTube automation channel affect a regular YouTube channel.
As long as you are not plagiarizing any of the content, you should not have any problems uploading outsourced and automated videos to a YouTube channel.
10 YouTube Automation Channel Examples
While some of these channels may not be entirely automated, they are the types of channels you can easily make by outsourcing the work, which is perfect for YouTube automation.
1. Facts Verse
Facts Verse is an excellent example of an automated YouTube channel.
In another video, one of the owners broke down how it costs approximately $125 to make one video and how they make over $100k in profit every month with this channel.
2. TopCars TV
TopCars TV is another great example of a successful channel that can be run through YouTube automation.
This channel focuses on automotive content, and almost all of its videos are listicles, which are easy to make and easy to outsource to cheap writers.
3. Animaltube.TV
Here is another channel focusing mainly on listicles, although this YouTube automation channel is in the animal niche.
These videos are outsourced with no onscreen personality and a very generic voiceover.
4. Glame TOP 5
As the name suggests, Glame TOP 5 is a faceless YouTube channel that uploads top 5 listicle videos.
This channel focuses mainly on cheap luxury items, but they haven't nailed down a niche entirely, which is why a lot of their videos are rather hit or miss.
5. WatchMojo.com
One of the most well-known faceless YouTube channels is WatchMojo.
The channel creates top 10 lists on various entertainment-based topics, such as "Top 10 Movie Villains of All Time" and "Top 10 Awesome Animated TV Shows".
Videos are around 10-20 minutes long and use a mix of professional voiceover, clips from the movies or shows being discussed, and still images.
You can create a similar channel using some simple YouTube automation techniques.
6. TechGumbo
TechGumbo is another listicle-focused channel that creates tech and TV show-based faceless videos. While the creator still does the voiceovers himself, it is a great example of a channel you can automate by using freelancers to write scripts and then paying another freelancer for a high-quality voiceover.
7. Top5Gaming
Another large YouTube channel is Top5Gaming, with over 5 million subscribers. As the name suggests, this channel is in the gaming niche, and they also focus on listicle videos.
These are by far the easiest types of videos to make when creating a YouTube automation channel.
With over a million views per video, this channel is doing very well and making a lot of money.
8. Animal Insider
Like the other YouTube automation channel that focuses on animals, Animal Insider focuses on listicles and versus videos, mainly on dogs.
These are very easy to put together and can easily be outsourced from start to finish.
With UGC content, images, and a simple voice-over, if you're into animals, you can start a similar channel with better content using the tools we'll share later on in this article.
9. Law of Attraction Coaching
The Law of Attraction Coaching YouTube channel is in the motivation and self-help niche.
This channel makes motivational videos, which can be easily outsourced as all of the video and audio material is either gathered for fair use or you can hire a voiceover artist with an epic-sounding voice.
This is also a very high CPM niche as there are many course creators whose ideal customers are people interested in this topic.
10. Economics Explained
Another channel that will be earning high CPMs is the Economics Explained channel.
This channel covers various finance topics but does not have to be on camera to do so.
All of the video footage is stock footage, and you can get a script written and voiced for less than $100.
How To Make Money With YouTube Automation
As you can see, you can create a YouTube automation channel in various niches very successfully.
Listicle videos are the easiest to outsource, and by using animation software or stock footage, you don't have to be on camera.
Outsourcing the voiceover and scriptwriting will make it completely hands-off, and then you have a completely automated YouTube channel.
To start making money with YouTube, you need to grow your channel to a point where you get a good amount of views per video.
Once you have at least 1000 subscribers and 4000 hours of watch time, you can join the YouTube Partner Program and monetize your videos with ads.
You can also start working with brands directly, bringing in a lot more money, and include affiliate links in your descriptions if a product or service is mentioned in a video.
How To Start a YouTube Automation Channel
First, you need to decide on a channel niche, this can be anything from pets to finance, but I recommend sticking with something you have an interest in as this will make researching video ideas a lot more interesting.
And you'll stick with it for longer.
Once you select a niche, you can pick a name for your channel. Don't spend too long on this; try to stick to obvious and understandable words so potential subscribers can easily recognize what the channel is about.
Then, you can follow this guide on how to create your YouTube channel.
Once you have a list of video ideas, it's time to find video script writers. You can use most freelancer platforms to find a talented writer. When outsourcing your script, you can also include a section that can be used in the description of your video.
The next step is getting your script voiced; again, you can use the freelance platform of your choice. Fiverr is a great place to start, as you can quickly listen and find a voice-over artist you like.
After the voiceover comes editing the video, again, you can find online video editors through platforms like Fiverr and Upwork quite easily.
Before uploading your video, you will need a high-quality YouTube thumbnail. You can easily outsource this area, which can make a massive difference to your video clickthrough rate.
Once you have everything together, you can upload the video or have a virtual assistant do it.
If you're looking for a completely hands-off channel, you can hire a cheap virtual assistant to upload videos, respond to comments, and link to new videos in older ones for a couple of dollars an hour.
You just have to rinse and repeat this process until you've built a nice library of content that will generate views for months and years to come.
Best Tools For YouTube Automation
The following tools will help you grow your YouTube automation channel, regardless of whether you want to outsource everything or do it yourself before it starts generating income.
If you do plan on doing most of it yourself, you should also look into some of these free tools for YouTubers.
TubeBuddy
This is an excellent tool for optimizing your videos and channel. It has a free and paid version, but the paid version isn't necessary unless you're already getting a lot of views.
TubeBuddy is great for keyword research and finding topics you should cover on your channel. The free browser extension is also helpful in seeing what tags others are using on their videos.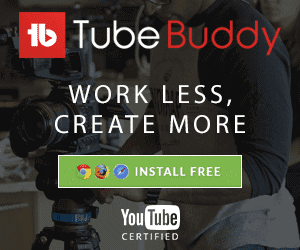 VidIQ
VidIQ is similar to TubeBuddy in that it is primarily a keyword research tool for YouTube. It also comes with a free browser extension or a paid plan, but the free extension is usually enough to get you started.
VidIQ has some useful features directly on their dashboard, like AI Title recommendations and keyword opportunity suggestions.
Jasper AI
If you plan on writing video scripts yourself, but you're not a great writer, then you can get a helping hand from Jasper.
This AI writing assistant can help you produce great content for your YouTube channel quickly and easily. Listicles are the ideal format for AI tools as they do not need to go into too much depth while still covering the topic sufficiently.
You will need to verify any facts, and it will be best if you research the actual subheadings yourself first, but Jasper will help you fill in the gaps and is great at creating call-to-actions, introductions, and conclusions.
AppSumo
AppSumo is a marketplace, but I'm listing it here as it is a great place to find affordable text-to-speech tools that do a remarkably good job.
If you can't afford a voiceover artist, a quality text-to-speech tool can be a great alternative to get you started.
Once you hear the TTS tools on AppSumo, you'll be surprised how many videos you have already seen using them!
Canva
Canva is an all-in-one graphic design tool; recently, though, they have also introduced an easy-to-use video editor.
Most features are free to use, including the video editor, which makes it another good tool to get your channel started.
I also recommend using Canva to create your YouTube banner and thumbnails.
Envato Elements
To create faceless videos, you need to either animate them, screen record them or use stock video footage. For stock video footage, this is where Envato Elements comes in.
It's an all-you-can-download service that includes video footage, photos, graphics, fonts, and more.
The stock video footage is a goldmine for a YouTube automation channel.
InVideo
InVideo is an online video editor with a twist. Here you have a bunch of proven templates to use to get your videos started; all you need to do is add your content.
The integrated media library makes video production for faceless channels much quicker. With it, you can produce higher-quality content than you would if you used free stock videos and pictures.
Doodly
Doodly is an excellent tool for creating whiteboard animations. It's affordable and easy to use, making it ideal for those just starting out.
Animation tools are growing in popularity, and there are also quite a few quality Doodly alternatives available, but Doodly is generally considered the market leader.
Final thoughts on YouTube automation
YouTube automation uses software and freelancers to make the creation and publishing of videos easier.
This can be a great passive income stream as it doesn't require much active work once you have everything set up correctly. As you can see, with some planning and preparation, it's not difficult to start with YouTube automation.
Suppose you want to DIY it in the beginning. In that case, several software options can help you with various aspects of the process, from video editing to keywording and everything in between.
And, if you've got a bit of a budget, plenty of freelancers can help you get the job done.
So, if you're looking for a way to make money on YouTube with minimal effort, YouTube automation is something you should consider.
Just be sure to research and plan everything out carefully before getting started. With a little effort, you can soon start seeing great results from your automated YouTube channel.
FAQs
What Is a Video Listicle?
A video listicle is a type of online video that combines the format of a listicle (a list-based article) with the format of a video. They are usually presented as a countdown or top 10 list and can be about any topic. Video listicles are popular because they are easy to consume and often funny or entertaining.
Can You Farm YouTube Views?
It is against YouTube's policies to artificially inflate metrics like views, subscribers, comments, watch time, or video likes. Not only can this cause your channel to be deleted, but these tactics provide no benefit to growing your channel; these will most likely cause your channel to stagnate due to how the YouTube algorithm recommends content.
Can YouTube Detect Fake Views?
Yes, YouTube can detect fake views. Not only that, but YouTube will also penalize your channel if they catch you buying fake views. This can result in a loss of monetization, strikes against your channel, and even deletion.