Sometimes, life can feel a little dull. It's easy to get trapped in the routine of work, preparing dinner, and taking care of the day-to-day things of life.
Before you know it, weeks or months have gone by without a memorable event, leaving you longing for something more.
At such times, read and be inspired by these adventure quotes.
11 Inspirational Adventure Quotes
"Adventure Awaits, go find it." – Unknown
"The greatest adventure is what lies ahead." – Unknown
"Do more than just exist" – Unknown
"Adventure is not outside man; it is within." ― George Eliot
"Spontaneity is the best kind of adventure." – Unknown
"Attitude is the difference between an ordeal and an adventure." – Bob Bitchin
"If happiness is the goal – and it should be, then adventures should be top priority." – Richard Branson
"Adventure is worthwhile in itself." – Amelia Earhart
"There is no certainty; there is only adventure." – Roberto Assagioli
"Every day is an adventure." – Joseph B. Wirthlin
"There are far better things ahead than the ones we leave behind." — C.S. Lewis
16 Adventure Quotes About Life
"The danger of adventure is worth a thousand days of ease and comfort." – Paulo Coelho
"The biggest adventure you can take is to live the life of your dreams." – Oprah Winfrey
"Let us not become so cautious that we forget to live." ― Elizabeth Gilbert, City of Girls
"Adventure is not outside man; it is within." – George Eliot
"It's never too late in life to have a genuine adventure." – Robert Kurson
"Life is either a great adventure or nothing." – Helen Keller
"The purpose of life, after all, is to live it, to taste experience to the utmost, to reach out eagerly and without fear for newer and richer experience." – Eleanor Roosevelt
"To live would be an awfully big adventure." – J.M. Barrie, Peter Pan
"Adventure isn't hanging off a rope on the side of a mountain. Adventure is an attitude we must apply to the day to day obstacles of life." – John Amat
"Don't die without embracing the daring adventure your life was meant to be." – Steve Pavlina
"We live in a wonderful world that is full of beauty, charm and adventure. There is no end to the adventures that we can have if only we seek them with our eyes open." – Jawaharlal Nehru
"If you think adventure is dangerous, try routine; it's lethal." – Paulo Coelho
"Fill your life with adventures, not things. Have stories to tell, not stuff to show." – Unknown
"One way to get the most out of life is to look upon it as an adventure." – William Feather
"What is life but one great adventure?" – Unknown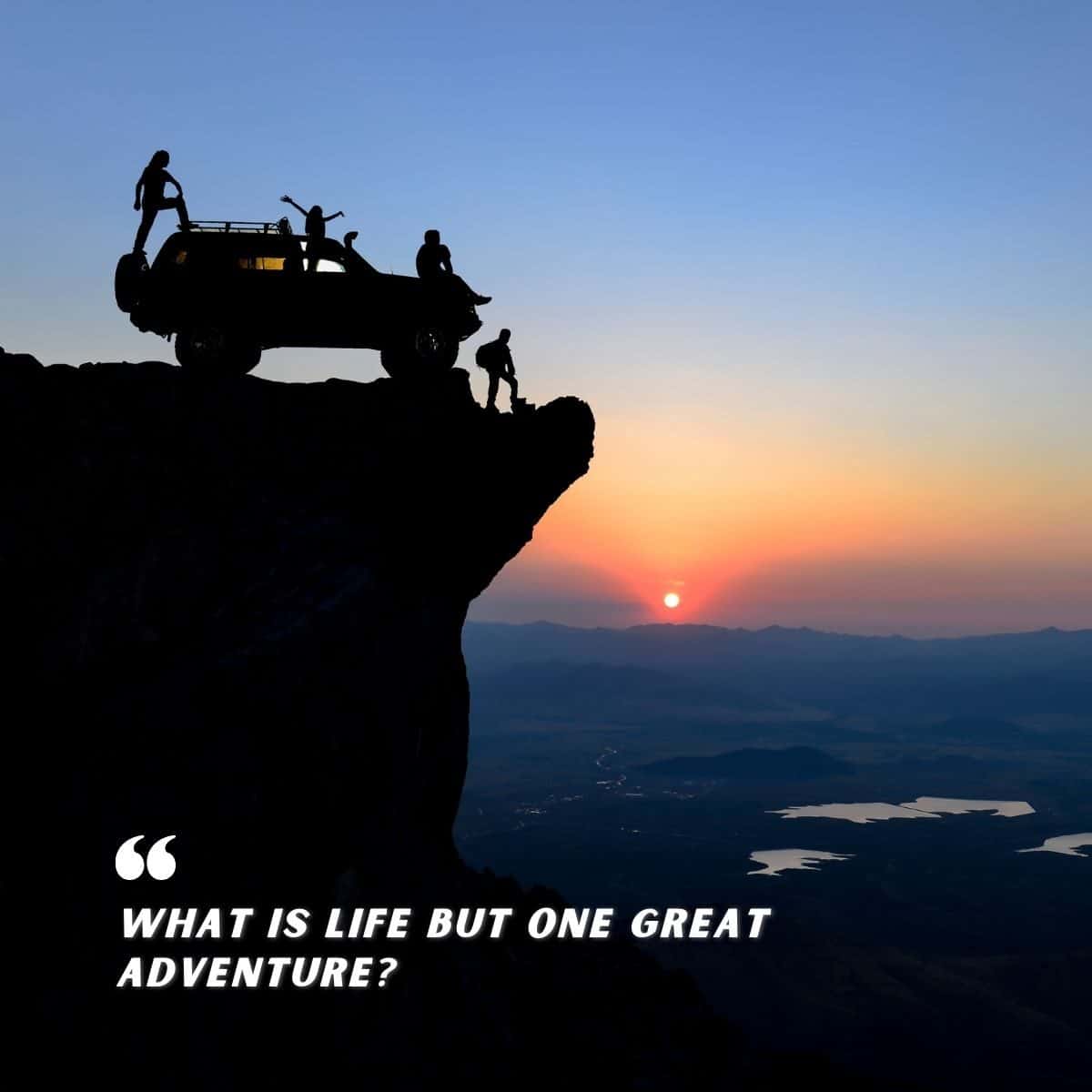 "The most dangerous thing you can do in life is play it safe.'" – Casey Neistat
20 Adventure Quotes About Travel
"The world is big and I want to have a good look at it before it gets dark." – John Muir
"Until you step into the unknown, you don't know what you're made of." ― Roy T. Bennett
"If we were meant to stay in one place, we'd have roots instead of feet." – Rachel Wolchin
"There's only one place I want to go and it's to all the places I've never been." ― Nikki Rowe
"You must go on adventures to find out where you truly belong." – Sue Fitzmaurice
"I travel because I become uncomfortable being too comfortable." – Carew Papritz
"You cannot discover new oceans unless you have the courage to lose sight of the shore." – Andre Gide
"Live your life by a compass, not a clock." – Stephen Covey
"Only those who risk going too far can possibly find out how far they can go." – T.S. Eliot
"I travel because I'd rather look back at my life, saying 'I can't believe I did that' instead of 'if only I had'." – Florine Bos
"Oh, the places you'll go." – Dr. Seuss
"I may not have gone where I intended to go, but I think I have ended up where I intended to be." – Douglas Adams
"The very basic core of a man's living spirit is his passion for adventure. The joy of life comes from our encounters with new experiences, and hence there is no greater joy than to have an endlessly changing horizon, for each day to have a new and different sun." – Christopher McCandless
"The end of all exploring will be to arrive where you started and know the place for the first time." – T.S. Elliot
"It feels good to be lost in the right direction." – Unknown
"Travel is never a matter of money, but of courage." – Paulo Coelho
"Better to see something once than to hear about it a thousand times." – Asian proverb
"The world is a book, and those who do not travel read only one page." – Saint Augustine
"A ship in harbor is safe, but that is not what ships are built for." – John Augustus Shedd
"Travel far enough, you meet yourself." – David Mitchell
15 Adventure Quotes About Hiking And The Outdoors
"Wilderness is not a luxury but necessity of the human spirit." – Edward Abbey
"The best view comes after the hardest climb." – Unknown
"It's not the mountain we conquer, but ourselves." – Sir Edmund Hillary
"Every mountain top is within reach if you just keep climbing."― Barry Finlay
"In every walk with nature one receives far more than he seeks." – John Muir
"The mountains are calling and I must go." – John Muir
"Everyone wants to live on top of the mountain, but all the happiness and growth occurs while you're climbing it." – Andy Rooney
"I now walk into the wild." – Jon Krakauer
"Some beautiful paths can't be discovered without getting lost." – Erol Ozan
"Because in the end, you won't remember the time you spent working in the office or mowing your lawn. Climb that goddamn mountain." – Jack Kerouac
"A journey of a thousand miles must begin with a single step." – Lao Tzu
"Two roads diverged in a wood, and I – I took the one less traveled by." – Robert Frost
"There is no such thing as bad weather, only inappropriate clothing." – Sir Ranulph Fiennes
"You are not in the mountains. The mountains are in you." — John Muir
"All good things are wild and free."— Unknown
10 Aventure Quotes About Love And Friendship
"We love because it's the only true adventure." – Nikki Giovanni
"Marriage is really an exciting adventure." – Ruby Dee
"People don't take trips, trips take people." – John Steinbeck
"Then one day, when you least expect it, the great adventure finds you." – Ewan McGregor
"Love, like everything else in life, should be a discovery, an adventure, and like most adventures, you don't know you're having one until you're right in the middle of it." – E.A. Bucchianeri
"May your adventures bring you closer together, even as they take you far away from home." – Trenton Lee Stewart
"Being soaked alone is cold. Being soaked with your best friend is an adventure." – Emily Wing Smith
"Go where you feel most alive."— Unknown
"Life was meant for good friends and great adventures" – Unknown
"As soon as I saw you, I knew adventure was going to happen" – Winnie the Pooh
As you embark on your next adventure, take a moment to be inspired by the beauty of nature. The sunflower, with its bright petals and uplifting spirit, can serve as a reminder to stay positive and open to new experiences.
If you're looking for more inspiration to brighten your day, check out our collection of sunflower quotes.
And if you're feeling the need for adventure, take a look at our adventure quotes to spark your wanderlust. Remember, life is an adventure waiting to be explored!