Let's take a look at 11 of the best YouTube Channel ideas for Introverts. These channel niches are perfect for those that don't want to perform on camera.
Something that many people struggle with when starting out on YouTube is just the early phase of getting started and making their first videos. Often this is because people feel introverted and are too shy to appear on camera themselves.
Being an introvert shouldn't pose any problems though, there are many different YouTube Channel niches and video ideas that you can do without having to show your face, or even appear on camera.
We're going to cover 11 different YouTube channel ideas for Introverts in this article, and my best advice would be to just try some out and see if there are any that fit your style and message.
YouTube Channel Ideas for Introverts
Now, let's just get into it.
1. Animation
The first YouTube channel idea I want to suggest is to create animated videos. If you have an artistic touch, want to play around with characters, or just turn stories into cartoons, then animation may be something you can try.
The animation "quality" is often not the main criterion of success, so even if you're not able to animate the next Pixar film, if you can carry some value into your videos, then you can be successful.
Some animation channel examples would be GradeAUnderA, Andrei Terbei & Jaiden Animations. Clearly some very different animation types.
While it's not quite animation, another storytelling technique you could try is to make videos using stop motion.
2. Travel Videos
If you enjoy traveling and seeing new places, and happen to have a camera, then travel videos may be the ideal YouTube channel for you as an introvert.
Travel videos do not have to showcase yourself or someone in the scene, some of the best travel videos put the location in the center point without any distractions.
One of the best things about travel videos is that you don't need to start off by traveling to the other side of the world.
There are most likely at least 5 or 6 towns/cities/attractions within a few kilometers radius of where you live, each providing multiple video topics and ideas to start growing your YouTube channel.
3. DIY, Tutorials & Hacks
DIY, Tutorials & life hack videos often don't need you to do much on-camera work, more often than not, simply showing how to achieve an objective provides value to the viewer.
These types of videos could be showing how to build something, a cooking recipe, how to get things down more easily, and the list just goes on and on.
4. Time-lapse YouTube channels
Another YouTube Channel idea for introverts is to create time lapses.
This could be in relation to the previous two points, so travel time-lapses or DIY build time lapses (I know van build time-lapses were quite popular in 2019 & 2020).
Time lapses can also be a variety of different things, like construction sites, traffic, growing plants, snow melting on mountain peaks or changing of seasons, sunsets, storms, etc.
The main thing that you want to pay attention to is showcasing some form of change through your time lapses.
5. Gameplay & Walkthroughs
Quite a popular topic on YouTube is gaming, but new channels can still be quite successful purely on the basis of providing value through the gameplay.
This could be showcasing your skill, doing game walk-throughs to help viewers get past obstacles (or even to see if the game would be something they might enjoy), or even tutorials on how to accomplish specific moves in games.
These don't even have to be the most complicated moves as you'll find a lot of people looking for tutorials on even the simplest of things. For example, how to do a chip pass on FIFA.
6. Compilation videos
Compilations are one of the most popular video types on YouTube and it's easy to see why. Viewers are given instant satisfaction for whatever genre the compilation is based on.
You can compile videos on humor, motivation, goals, tricks, and just about anything else you can think of. In order to make these clips, remember to reach out to the creators first to ask for their permission to use them in your videos.
And once you've built up a bit of a following, you can set up a submissions page, or email address, so that people can submit their videos directly to you, making the permission and searching process all the more convenient.
Whatever type of channel you make, use the free TubeBuddy browser extension to optimize your videos to the top of search results.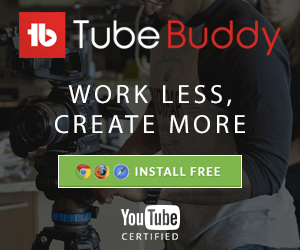 7. Whiteboard videos
A great way to showcase educational content on YouTube is through whiteboard videos. These videos can be put together quite easily using software like Videoscribe or Doodly.
You can narrate these videos yourself and write up a full script for a smooth delivery, or you can send off the script to have a voice-over artist perform it for you. This can also be done at quite an affordable price using sites like Fiverr or Upwork.
Personally, I think you should try to do this yourself though, connecting more of you to your audience, and it adds consistency if you have to change voice-over artists for whatever reason.
8. Screen recorded Tutorials
Similarly, to all the other tutorials, screen-recorded tutorials are just you showing your audience how to achieve an end result using some form of software.
This could be program shortcuts, full tutorials on how to use a program, how you achieve a certain look, for example, how you edit photos using lightroom, and so on.
These can be narrated, or you can simply show where you are clicking and what keys you're pressing to get the job done.
9. Product-focused reviews
Reviews can seem quite daunting, especially if you're an introvert, but a review doesn't have to be you holding the product and explaining what makes it special.
You can focus specifically on the product, with only product shots and showing the object in use.
Again, here you can choose to narrate the different specifications, for example, in a lens review you can explain the features of the lens whilst showcasing product images & videos and some photo examples.
Or you can let the product do the talking and just add some relevant facts on screen for viewers to draw their own conclusions.
10. Music YouTube Channel Ideas for Introverts
If you're musically talented but too shy to get onto camera just yet, then try playing or singing with a static image in the background. Or better yet, some light B-roll with lyrics on display.
These can be instrumentals, you can sing covers, or you can even upload and create your own music.
If you're uploading your own music, reach out to larger creators and let them know they can use your tracks in their videos.
Try to find creators where your music would fit in and then write them all. Email, Instagram, and their website contact page find the best way to reach out and get your content in front of them.
11. Fitness YouTube Channels for Introverts
Not exactly the first niche that would come to mind if you're an introverted person, but fitness videos are very similar to tutorial videos.
Whilst you will most likely need to be on camera, this doesn't have to be you actually "performing" on camera, rather just you recording your workout routines, how to do variants of some exercises, and so on.
In post-production, you can then decide on whether to just add some text overlay to highlight important things or maybe you can then add in some narration.
Some great examples of channels with fitness videos would be Pamela Reif or NEXT Workout.
Final thoughts on YouTube channel ideas for introverts
Now, I myself am a very introverted person, so what I would also advise is to just go out and make videos to overcome whatever it is that's holding you back.
If you get some mean comments, don't let other people's opinions affect what you do, they don't know you. And just imagine how sad they must be to spend their time writing those types of comments.
If you have value to share, then just share it, it will reach the people that need to hear it, and for those that don't need to hear it, well they just do not matter.