In this article, we're going to look at exactly how to make a YouTube Banner (a.k.a. YouTube Channel Art), while covering the most important things for you to know.
YouTube channel banners aren't only important for new channels. I've examined thousands of channels that do not get many YouTube views and subscribers, and the majority of these channels have had poor channel art that can easily be fixed.
So, if you're looking for help creating, uploading, or changing your YouTube banner, then you've come to the right place.
Let's get started, but before we can work on how to make the best YouTube banners…
What is a YouTube banner?
YouTube Channel Art, which is sometimes called your "YouTube Banner", is the image that appears right at the top of your YouTube channel.
This is only visible from your YouTube channel, and not from individual videos, but it is an important part of your channel that should help convert viewers into subscribers.
Here are a few good examples:

Here are some bad examples:
As you can see, the good YouTube banner examples clearly show what the channel is about, and if you've watched a video on their channel and decided you want to see what other content they have.
This reinforces your opinion that they're a channel you would be interested in and viewers are more likely to subscribe, which is key to getting your first 1000 YouTube subscribers.
What size is a YouTube Banner?
YouTube banners need to be designed to cater to a number of different screens, as when you view the banner on a smartphone or TV, the banners are cropped very differently.
Here's the YouTube banner cropping for the most common devices:
TV Screen: 2560 x 1440
Smartphone: 1546 x 423
Desktop PC: 2560 x 423
Tablet: 1855 x 423
As you can see these are all very different and with YouTube TV views growing, it's important to also take these dimensions into consideration.
For this reason, the recommended YouTube banner dimensions are 2560 x 1440 pixels.
To make sure that all of your important information is visible across devices, keep it central and with a maximum size of 1546 x 423 pixels.
This is the safe zone that's visible across all devices.
NOTE: Unfortunately, GIF files do not animate when uploading.
For the best quality, you'll need to upload your channel banners in PNG or JPG (JPEG) formats.
The maximum file size is 6MB, so be sure to keep your channel art under this size.
When exporting a high-quality PNG file, you may often find that it exceeds this size, either reduce the quality or try exporting in JPG format.
YouTube Banner Ideas
To help with inspiration and to create a YouTube banner that generates the most subscribers, focus on including these 3 things:
Video Content Topics – What type of videos can viewers expect to find on your channel?
Your Upload Schedule – When do you generally upload your channel videos?
A Call-to-Action – What should viewers do? (Hint: Subscribe!)
These are aspects you should consider including in your channel art, as for the main imagery, try to keep things simple with a background, possibly including an image of yourself, your logo, what you do, etc.
For businesses, like the YouTube watermark, this is also a great place to include your branding, whether that's in the form of your brand colors, typography, imagery, or brand message, this is up to you and your particular business.
Where to find a background for your YouTube banner
If you do not have access to high-quality background imagery, there are a number of great places you can visit to find the perfect image or photo.
You can use free stock photo sites like:
Or even visit one of the free stock video sites here, as these often also have a collection of free stock images as well.
You could also of course go out and create a graphic yourself, or take a photo yourself, considering the great quality available within most smartphones these days as well.
Another option is to use Canva, the free online graphic design tool that we'll discuss a little bit more about below. Canva is great as there are millions of graphics that you can then use in your YouTube channel art designs for free.
Some of the images from the free stock sites, like Pixabay, are even included in the image library, which saves you time not having to download and then upload images to Canva.
Free YouTube Banner Maker (YouTube Channel Art Templates included)
As alluded to in the previous point, the free YouTube banner maker I recommend is Canva.
On Canva you can find YouTube Channel art for gaming, anime, tech, lifestyle, and much more. The collection of channel banner templates is quite extensive and serves as a great starting block.
All of the designs are completely customizable, so you can create a banner that's completely unique to your channel.
Canva is a free tool (there are some paid options, but you don't need any of them to create a great banner) and the user interface is quite intuitive, meaning you can get started today and start exporting your designs in no time.
Just type in "YouTube Channel Art" in the search bar and you'll be given some options to get started.

NOTE: Create a rectangle with the dimensions of 1546 x 423 and then align it to the middle of your design so you have a visible safe zone where the important information should go.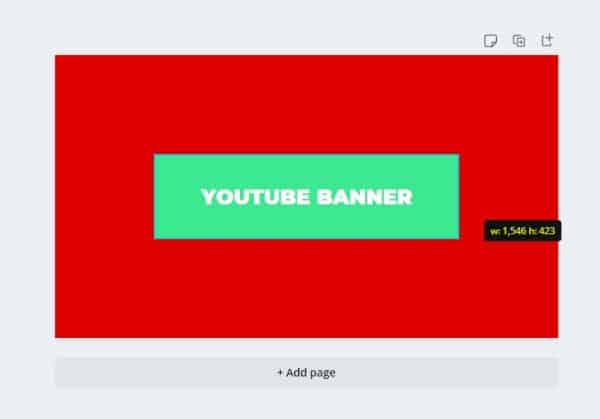 Before you export your design, you can then delete the box so it isn't visible in the banner that you upload.
How to upload a YouTube banner (or change a banner)
Uploading your YouTube channel art, or changing an existing YouTube banner is a very quick process.
Step 1. Export your design if you're using Canva, or create your banner in whichever software you prefer, making sure that it has the dimensions of 2560 x 1440 and is no larger than 6MBs.
Step 2. On a desktop PC, once logged into your YouTube/Google Account, open the YouTube Studio in the top right corner.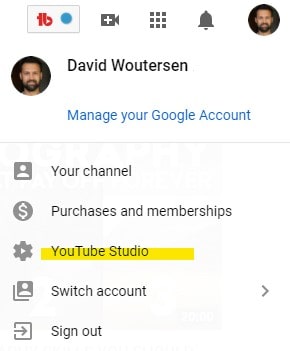 Step 3. In the menu on the left, select customization.
Step 4. Select the "Branding" tab at the top.

Step 5. Under the "Banner image" section, select upload.
Step 6. Select your banner, and then select done.
Step 7. Lastly, hit the Publish button in the top right corner to save your changes.
Why is my YouTube banner blurry?
There are generally two reasons why your YouTube banner may look blurry.
The first is immediately after uploading your banner, when you visit your YouTube channel, the banner image may look blurry.
This is normal as it hasn't been processed completely so it renders a lower resolution image that is blurry. After a few minutes, it should be fully processed and clear.
To speed things up though, you can do a hard refresh (Ctrl + F5 on Windows, CMD + R on Mac) and your banner should look fresh and crisp.
The second reason why your banner may look blurry is that you resized it when uploading. When adjusting in YouTube Studio, your design gets shrunken, reducing the quality and your picture can look blurry and unprofessional.
If your design doesn't quite fit as planned, then make the adjustments in the actual design, instead of resizing it to fit in YouTube Studio.
Final thoughts on making a YouTube banner
A high-quality YouTube banner can go a long way in persuading viewers to subscribe to your channel.
Creating a banner/channel art can be done completely for free and you don't need any design skills to make a professional looking one if you're using one of the many free templates available on Canva.
Keep in mind that your banner will be viewed on multiple devices, so take that into account when designing it.