In this article, we're diving into how to get your first 1000 YouTube subscribers.
It may seem like a daunting task when starting out, but I'm going to help you through it.
I know how it feels to start and grow, the energy and enthusiasm may be there, so you create your YouTube video and then another one. You wait eagerly, anticipating those likes, subs, and comments to start rolling in.
You wait, wait, and wait some more, only to hear the sounds of crickets in response to your efforts.
This can be very disheartening and everyone that's started from scratch knows this feeling. The first 100 or 1000 subscribers can be the most difficult to get and can also be the most important subscribers for a YouTube Channel.
But that's what we're covering today, looking at exactly how to get subscribers on YouTube fast.
How to get your first 1000 YouTube Subscribers fast
The problem with a new channel is that YouTube hasn't yet recognized you as being relevant. This means your videos won't be ranked very easily and you have a real tough time getting viewers to your channel because of this.
There is a way to solve this though. So let's take a look at you can get your first 1000 YouTube Subscribers fast.
1. Niche down your YouTube Channel
A lot of the time when people start out on YouTube they create a wide variety of different videos that they think people will like. They try to appeal to everyone, but whilst doing this they alienate the rest of their viewers that aren't interested in that type of content.
Focus your efforts on a specific audience and create videos that they will like. You can cautiously branch out later!
Look for other channels that create similar content, find keywords & look at what's popular in your niche & then create focused content for those viewers.
For inspiration, here are the 20 most popular niches you can start on YouTube.
2. Upload your videos more consistently
Subscribers love consistency & structure. They want to know when your next video is going to be published & YouTube's algorithm is also more favorable to channels that upload regularly & consistently.
Create a video schedule for your channel. Then display this on your channel's banner & on your About page to let your viewers know exactly when they can expect to see more of your content. Decide on what type of schedule you are capable of delivering & then stick to it.
Some channels upload weekly, bi-weekly, or even daily videos. For channel growth, I'd recommend uploading at least one video per week. If you can create more, great! Let your new visitors & subscribers know when they can expect your next video!
P.s. Uploading consistently doesn't only mean how often you upload, it also means the videos you upload should have a level of consistency, i.e. the video niche, quality of the video (gradually improving), and delivery method.
3. Design an organized channel home page
A lot of the time viewers look at a channel's main page to see what type of content they create and to gauge if they are worth subscribing to.
This is why you need to create an attractive & organized channel to highlight what your channel is about & to encourage viewers to watch more of your content.
4. Upload a YouTube channel trailer
A channel trailer is a short video, normally under 2 minutes in length, that automatically plays when new viewers visit your channel.
Your trailer should be short and exciting, highlighting what you or your channel is all about, and should end with why they should subscribe to your YouTube channel.
5. Write an interesting About page
The About page is an often overlooked and forgotten page that can be extremely beneficial to getting potential subscribers.
This is a space where you can sell yourself to potential subscribers by letting them know what they stand to gain by subscribing to your YouTube channel.
Another useful feature to note is that the keywords used on your About page also help your ranking in search results.
All the more reason to niche down.
6. Use a YouTube subscribe watermark
Found in your channel customization settings, YouTube allows you to easily add a watermark to your videos so that viewers can subscribe to your channel with one easy click.
This article covers how to create and upload a YouTube watermark.
7. Create more clickable thumbnails
Your thumbnail is normally the first thing people see when they're looking through search results or YouTube. If your thumbnails don't catch their attention, they'll never click on your video & you'll have lost a potential subscriber.
Your thumbnails should catch potential viewers' attention by standing out from the competition & creating intrigue or clearly showing what you can expect from watching your video.
Bright, high-quality thumbnails, with large clear text, generally perform the best. Test different thumbnails & look at your competition to see what works & how you can stand out to get your first 1000 YouTube subscribers.
Protip: Use Canva to create engaging and clickable thumbnails easily.
8. Optimize your titles, tags, and descriptions using TubeBuddy
Optimizing your video titles, tags & descriptions is one of the most effective ways of getting more viewers and subscribers through search results. One of the best tools to help you optimize your videos is TubeBuddy.
You can install the free browser extension & TubeBuddy will recommend keywords & terms that you can use to help rank your videos higher in search results.
TubeBuddy comes with a number of free features that can help with your channel growth, including detailed video analytics & their video upload checklist.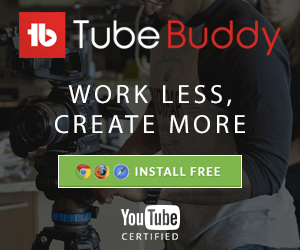 9. Comment on other YouTubers' videos
One of the hardest challenges of starting a YouTube channel is getting people to view your content.
A good way of getting more views is to put your channel in front of as many people as possible… In a non-spammy way of course.
By commenting on other videos in your niche, you're increasing the chances of potential viewers clicking on your channel & subscribing.
The most important aspect of commenting on other videos is to provide actual value with your comments. No one is going to click on someone's channel if you're spamming the comment sections of your competition!
By writing good comments on videos, others will upvote your comment. Meaning it will be seen by more people. After a while, you'll find yourself with the top-ranking comment on a popular video that can bring in hundreds, or even thousands, of potential subscribers.
P.s. If you're lucky & you create really good comments; the video creator may even pin yours to the top of the comment section!
10. Share your videos on social media
Another place to get your videos in front of other people is to use social media. Pinterest, Instagram, Twitter, Facebook, etc. These are all social media platforms you can use to try and drive traffic to your YouTube channel.
If you have an existing following on any of these networks, leverage it to get more viewers and subscribers to your YouTube channel.
Even if you haven't got an existing following, you can use the specific benefits each platform provides. Pinterest, for example, is particularly useful for DIY & make-up channels.
11. Respond to your comments
The best way to create an engaging community is to reply to comments left on your videos. These can be questions, praise, or criticism.
Don't let any critique get you down, and look at it as a way to make your videos better.
If it's plain uncalled for hate, you can either delete the hate comment or if you have a supportive community, they'll take care of the troll for you.
An active and engaging community means, more of your subscribers will be shown your new videos, and with it, more will like & comment. This then will help your videos get pushed to further potential subscribers!
P.s. The YouTube Studio app makes it easy to reply to comments directly from your smartphone.
12. Create YouTube Playlists
Playlists are a massively underutilized tool that most creators overlook whilst trying to grow their channels.
Not only can you organize groups of videos into a sequence that may make more sense, but playlists also show up in search results!
If you are starting out and you don't have much content, you can curate other creators' content to your playlists for your potential subscribers to enjoy. This is another way to fill up your channel during those first few weeks.
13. Add End screen cards in your videos
End screen cards are a great call to action for your target audience to either subscribe to your channel or watch another one of your videos. Leave 10-20 seconds at the end of your video for the end screen cards & then don't forget to add them once your video has been uploaded.
You can find the end screen options in your; Creator Studio -> Content -> Select the specific video.
14. Use YouTube's free built-in analytics
YouTube provides a wealth of free analytics built right into the platform. One of the most useful for your channel is the viewer retention graphs.
Here you can find out how your videos are doing with your target audience.
Are viewers clicking away? When are they clicking away? Maybe you need to shorten your intro or switch things up in your videos. The longer viewers watch your video the better your videos will perform in search results.
Better performance in search results means more views, which in turn means more subscribers!
15. Translate your titles and descriptions
Another useful feature in your analytics is the ability to see the average percentage of countries and people that speak a particular language, that watch your videos.
You can translate your video title & description into multiple languages in your video. By using multiple languages, your videos can rank for keywords in other languages as well as that of your primary language.
If you can speak multiple languages then you are already one step ahead, otherwise, you can use translation apps like google translate, or hire someone on sites like Fiverr or Upwork.
Translating your titles & descriptions work best if your videos aren't language-dependent; mainly visual content. For example, travel highlights with music or How-to videos where you show your viewers how to achieve something.
P.s. TubeBuddy also has a whole host of useful translation tools in some of their paid plans.
BONUS TIP: Just ask.
Don't just assume that people will click on that subscribe button if they've liked your video. Don't be shy to end your video off by inviting your viewers to subscribe for more awesome videos like the one they've just watched. You've provided the viewer with some form of value, you're allowed to ask them to subscribe!
As you can see, there's quite a lot that you can do to speed up the process of reaching 1000 subscribers.
Focus on providing your potential subscribers with value, follow these tips and they will come.