YouTube is a platform with many different options that help YouTube video makers connect with their audience and market their channels.
One easy way to increase your branding and the number of people that subscribe to your channel is by using a YouTube watermark.
This article will cover everything you need to know and show you how to add your own YouTube watermark, so it appears on all of your videos, as well as some other watermark and branding tips.
So, let's get started.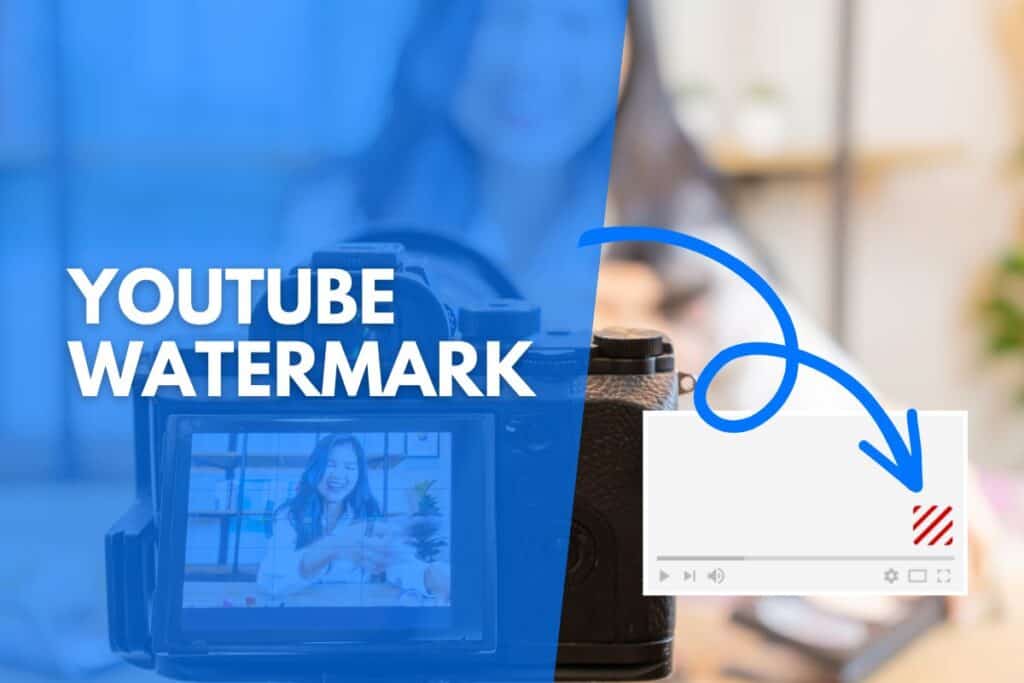 What Is a YouTube Watermark?
A YouTube watermark is a feature on YouTube that allows you to add a small branded image across all of your videos.
This can be used as a way to incorporate your logo across videos and reinforce your branding, or it can be used as a call to action to turn viewers into subscribers.
You can alter your watermark whenever you'd like and it only takes up a small area in the bottom right of the screen. The main benefit of a YouTube watermark is that it is clickable and viewers can subscribe directly from the watermark.
Do You Need a Watermark For YouTube?
You do not need a watermark for your YouTube channel, but if you want to grow your YouTube channel then it is highly recommended.
It's a free feature and it may only result in a couple of viewers subscribing to your channel, but every subscriber counts, and those subscribers might be the most engaged which triggers more growth for your channel.
If you're a business, using a YouTube watermark with your logo as opposed to putting the logo in the video manually is recommended. This makes it easier to change your logo if you do make an update in a year or two, or if you sell the channel/business, change names, etc.
The branded watermark can be changed easily, whereas having videos that are already ranking and bringing in views with an outdated logo isn't quite as simple to fix.
YouTube Watermark Size
The optimum YouTube watermark size is 150 x 150 pixels.
The image can be larger, but it must be smaller than 1MB and be in JPG, PNG, BMP, or GIF (no animation) format.
Make sure your watermark is also saved in a square aspect ratio, otherwise, you will have to crop it into the image.
Transparent backgrounds are also accepted and recommended when using a subscribe button or your logo.
YouTube Watermark Ideas
Here are a few tips to help you decide what type of watermark you should use.
Choose a channel logo or brand logo if the primary goal of your YouTube channel is to increase brand awareness. As I mentioned before, this is better than manually adding a logo to each video, as when your business or channel develops, the videos may still be relevant, but your logo will not be.
By using your logo, people will see the logo and reinforce your brand in their memory whenever they watch your video.
However, one big downside to using your logo is that most people don't know that you can actually click on the icon to subscribe. So you will naturally see fewer people subscribing from your YouTube watermark.
If channel growth is your primary concern, and you know that viewers will build up brand recognition/get to know you by watching more videos, then using an icon that entices (and notifies) people to subscribe will be your best bet.
You can use a subscriber button similar to what many YouTubers use, as it is quite obvious to the viewer that it acts as a button, and if they click on it, they can subscribe.
Alternatively, you can try to capture their attention. Oftentimes, the subscribe button on the screen may seem like it's something done by YouTube, as so many people use it. So, viewers may ignore it.
To capture their attention, try something slightly different that still indicates that they can click for something to happen. For example, one of my watermarks is currently "What's This?" as a test.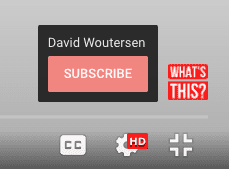 How to make a YouTube watermark for free
To create a YouTube watermark, you can use any graphic design tool, like Adobe Photoshop, Illustrator, etc. But if you don't have access to any of these tools, you can make a YouTube watermark for free using Canva.
Canva is a free online graphic design tool that's very intuitive to use, meaning there is a much easier learning curve, compared to something like Photoshop.
Try Canva out for free here, and this is how to create a watermark for your YouTube channel for free.
Once you've logged in, click on "Create a design" in the top right and then "Custom size".
Now in the width and height boxes type "150" and then click on the "Create new design" button.
A new tab will open up with a blank canvas and you can put together an image that you want to use as your YouTube Channel watermark by selecting elements or text from the menu on the left.
Once your design is complete, you can click on the download button in the top right corner. If you would like a transparent background with your watermark, then check the transparent background box when downloading as a PNG file.
Please note, that the transparent background option is only available with Canva Pro, the paid version. You can still make a solid background and download it for free with the free version.
If you'd like a subscribe button to download, I've put together a Canva template for you to download.
First, you'll need to create a Canva account here if you have not done so already, and then come back to this screen and click here to access the free YouTube watermark template.
You can edit the design however you wish, including your brand colors, etc., or download it exactly as it is.
How to add a YouTube watermark to your channel
Once you have a watermark ready to go, this is how to add it to your YouTube channel.
Open YouTube in a browser and navigate to the YouTube Studio.
From the menu on the left, select "Customization" and then select the "Branding" tab at the top.
Scroll down to the "Video watermark" section, and then here you will have the option to upload a watermark if you have not done so already, or to change/remove a watermark if you already have one set.
To upload a YouTube watermark, click on the "Upload" option and then select the watermark image.
Once selected, you can crop the image, but if it's square I recommend making your image so that it doesn't need to be cropped as this can cause the picture to lose quality. Once satisfied, select "Done".
Now you will have some options to select when the watermark should appear in your videos. You can set it to appear at the beginning, meaning it will appear throughout the entire video. You can select a specific time when it should start, or you can choose to only show it at the end of your videos.
Select whichever one you prefer and then click "Publish" in the top right corner for your changes to go live.
When's the best time to start the YouTube watermark?
Depending on how your videos are set out and what goal you have with your watermark, there may be better times for you to have it start.
If you have an introduction at the beginning of each video that lasts 5 seconds, then it would make sense for the watermark to start at the 5-second mark, just after your intro finishes.
Suppose you have graphics and text that may appear in the bottom right corner during the video. In that case, it will be better for the watermark to only appear at the end of your videos (although, you would be better off trying to move that text/graphics somewhere else so you can use the space for your watermark).
And if the main goal of your watermark is to convert viewers into subscribers, then you should set it right to the beginning of the video, so it is present throughout.
Final thoughts on using a YouTube watermark
Adding a YouTube watermark to your channel is a simple and effective way of branding your channel and making it look more professional. It's also a super easy and fast way for those serious about building an audience on YouTube to convert those viewers into subscribers, as well as keep brand consistency across all platforms.
Finally, if you're interested in making branding for YouTube even easier and including your channel art as part of the process, check out this article on how to make a custom YouTube Banner/channel art for free.
Ready to up your branding game? Get started now!