Nowadays, it is easier to develop your art skills from the comfort of your home, with many artists offering free, high-quality YouTube videos to enjoy and learn online.
This article will explore a few of the best artists YouTubers, each representing a different style of art.
The best Artist YouTubers include:
These ten artists are ranked according to the number of subscribers. They are all equally good sources of inspiration.
1. Josiah Alan Brooks (aka Jazza) – Best For Mixed Media Art
The artist Josiah Alan Brooks (known as Jazza) makes the top of the list with over six million subscribers on his YouTube channel. He joined YouTube in 2012 and offers viewers content that includes tutorials, speed paintings, streams, competitions, challenges, and so forth.
Some of the art challenges he takes on are, for example, creating Pokemon cards, using 3D pens, painting with sand, a mop, and melting candles.
What makes Jazza so popular is that he does not focus on only one media or style but explores various mediums that cater to all audiences.
His videos are diverse and educational, and his presentation of the information is fun and engaging.
2. Mark Crilley – Best For Manga And Anime
Mark Crilley is an American artist and illustrator whose YouTube channel has over three million subscribers. He offers his audience how-to-draw videos on almost every topic you can imagine, including highly detailed photorealism. However, he is best known for his manga and anime tutorials.
The real value of Mark Crilley's tutorials is the pace at which he presents them, making them accessible and easy for beginner artists to follow. He also thoroughly explains each drawing step, ensuring his audience understands the technique.
Besides Mark Crilley's tutorials, his channel also includes interesting time-lapse challenge videos and even videos on how to create comic books.
3. Stan Prokopenko (aka Proko) – Best For Anatomical Art
If you want to learn how to draw the human body with realistic gestures and anatomical detail, you should follow the artist Proko on YouTube. He is famous for a good reason, with over 2.6 million subscribers.
Proko's standout feature is that he offers videos that will interest and teach a broad audience, regardless of artistic ability.
His content includes art fundamentals, catering for beginners, and tutorials that speak more to experienced artists. Proko's new series also includes short masterclasses from recognized artists.
4. Baylee Jae – Best For Non-digital Illustration
Baylee Jae has grown in reputation, with over one million subscribers since she launched her YouTube channel in 2011.
This artist offers her audience vlogs based on her life as an artist and shares art techniques while busy with her various creative projects, such as illustrating with markers.
Baylee Jae's art is mainly traditional, but she also touches on digital art in several videos. Her channel includes speed painting, product reviews, tutorials, and videos where she takes on various challenges.
Baylee Jae is an exciting host and creates personal videos, which is perfect if you are looking for an artist who is honest about their artistic strengths and weaknesses.
5. Hieu Nguyen (aka Kelogsloops) – Best For Watercolor Art
This artist's YouTube channel, Kelogsloops, reads like a beautiful portfolio of his exquisite watercolor work. Hieu Nguyen is known for the sense of visual movement that he creates in his artworks and his beautiful female figures. 
What is worth noting on Kelogsloops is that the artist includes video tutorials that get right down to the very basic building blocks of watercolor art, taking you step-by-step through techniques to help you build your skills. It won't be long before his channel reaches 1 million subscribers.
6. Ethan Becker – Best For Digital Character Design And Animation
Ethan Becker is a digital storyboard artist and animator known for his work on Voltron: Legendary Defender and Batman: The Long Halloween. He has also worked with Netflix, Dreamworks, and Warner Bros., giving weight to the career advice in his videos.
Some of the videos on this YouTube channel are somewhat edgy and might not be to everyone's liking, but with a subscriber list of over 800K, it is worth visiting.
Ethan Becker's animated characters show strong linework and color, making them powerful and hard to miss. Once it comes to life, it transforms into truly engaging storytelling.
7. Lena Danya – Best For Oil Painting
Lena Danya, originally from Ukraine, is a full-time artist based in Florida, U.S., working primarily with oil paint.
Her YouTube channel, followed by over 800K people, consists of painting and drawing time lapses, video tutorials, art talks, and some gallery visits that she records as part of her 'art diary'.
If you are constantly inspired by nature, specifically the ocean, you will find a kinship with Lena Dany and her work.
Her tutorials with tips and techniques for beginner painters are worth watching, and if you are keen to be inspired, you will be in awe when you see her Water series.
8. Alphonso Dunn – Best For Ink And Pen Art
This artist not only has an art YouTube channel but has also published a book on pen and ink drawing techniques. When you first visit Alphonso Dunn's channel, it is evident his focus is on making his content educational and helping you develop your drawing skills.
Alphonso Dunn offers content ranging from easy-to-follow videos and tutorials on various topics and subjects to tips and tricks for drawing based on fundamental principles and elements.
Regardless of your experience level, you will find some handy advice through his instructional videos, which are very conversational, honest, and a pleasure to observe.
9. Marco Bucci – Best For Digital Painting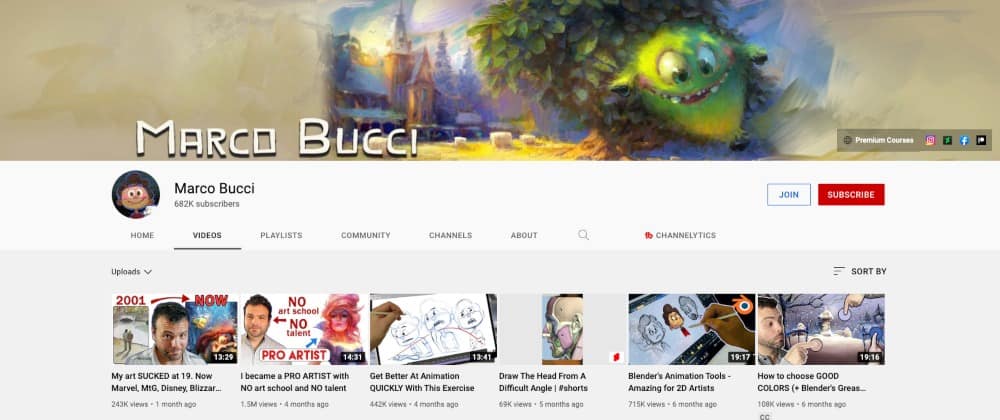 Marco Bucci is a great YouTube channel to subscribe to if you want to take your 2D art skills one step further into 3D by using digital software like Blender.
He is the real deal, with 15 years of experience as a concept artist and illustrator in the film, TV, game, and print industries
Marco Bucci started his YouTube channel, which is just shy of 680K followers, about 14 years ago, making him one of the longer-standing YouTubers on this list. His content includes videos on painting basics, demonstrations, and advice on developing as an artist.
If, for example, you are unfamiliar with software like Blender, it is worthwhile to familiarize yourself with it before accessing the tutorials since the pace might be slightly fast for beginners.
10. Aaron Blaise – Best For Disney Illustration
Many might not immediately recognize his name, but Aaron Blaise was at the heart of most people's first desire to become an artist.
Having worked for Disney for over 20 years, he boasts an impressive resume having worked on much-loved animated movies like Beauty and the Beast (1991), Lion King (1994), and Mulan (1998).
Aaron Blaise has a passion for wildlife animation; you can see this through his many video tutorials on animating animals.
His tutorials are unique because he takes his time with them, showing you each step in the digital drawing process in detail to understand the fundamentals better.
His channel also includes live demos, time-lapse videos, and some tips and tricks of the trade.
Final Thoughts On The Best Artist YouTubers
As you can see, if you're looking to improve your art skills or simply want to be inspired by some of the best artists, check out these ten amazing YouTubers.
Between them, they offer a wealth of knowledge and tips, from painting and drawing basics to digital software usage and wildlife animation.
Who knows? You might just find your new favorite artist.