Asana can be an invaluable project management tool, although it does have several drawbacks.
So, if you are searching for a great alternative that is affordable, feature-rich, and aids efficient collaboration for your remote team – read on!
The best Asana alternatives include: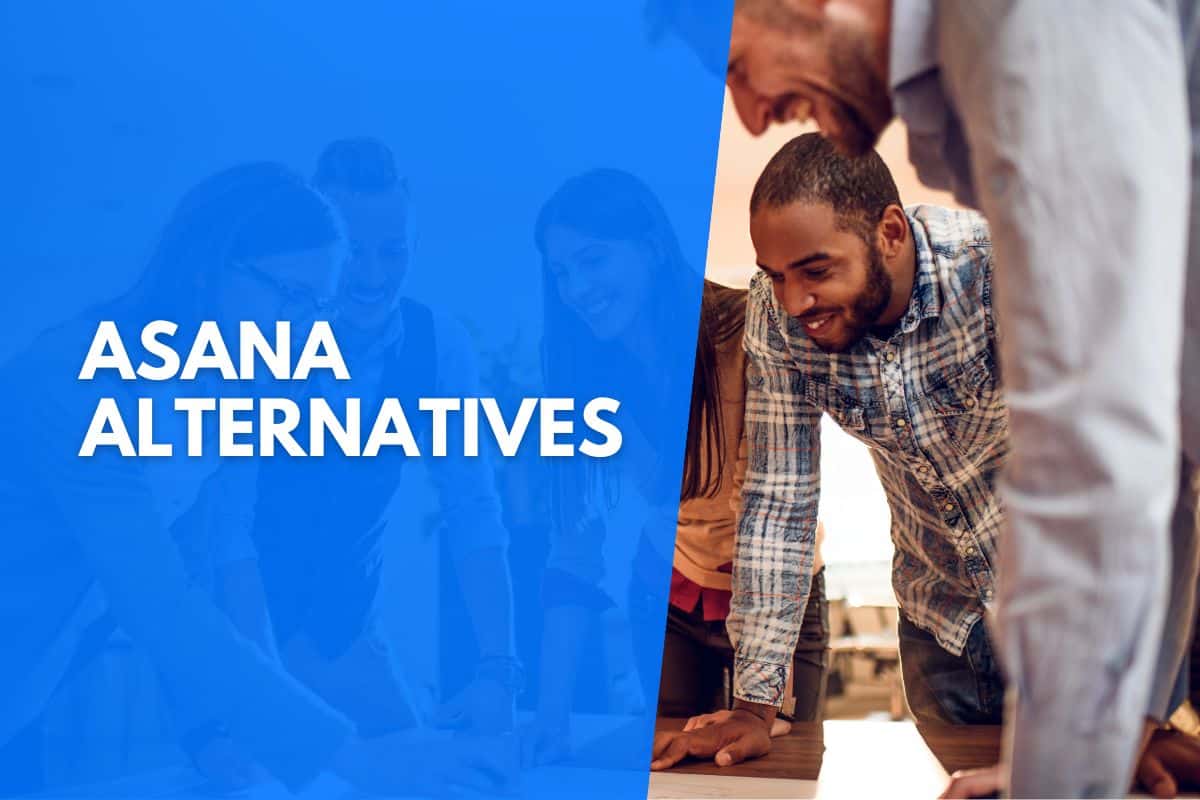 Monday.com – Most User-Friendly
Monday.com is a visually appealing, user-friendly project management tool that can easily be implemented.
Setting it up is a simple process, as you only need to create an account, choose a suitable template, and add your projects and tasks.
The monthly user fee for a basic version is roughly $8 per user, with limitless board views, so it's a cost-effective alternative to Asana.
Monday.com also has features that Asana lacks, like file transfers and event management, including data imports.
However, it does not include essential project management features like tracking several projects and milestones or a platform to create important project notes.
ClickUp – Best Free Alternative
ClickUp is an excellent alternative to Asana as it's easy to use and shares a similar bold color scheme. And you have the option to customize views which is very useful for teams with differing project management roles.
ClickUp is also continuously refining its software with new features that enhance productivity. But its most outstanding quality is that it is seamlessly integrated with various communication tools like emails with outside parties.
The ClickUp forever plan is free, which is excellent if you are on a tight budget. It includes more than a thousand assimilations, and you can manage an unlimited amount of project tasks.
Although, the time tracking feature when tasks are assigned needs some refinement, and it may initially be more challenging for some new users.
Airtable – For Skilled Users
Airtable is a perfect alternative for skilled users adept at using project management tools like Asana.
It's incredibly useful as you can customize a table and organize your tasks according to the deadline, priority level, department, or assignee.
The primary view is in a grid format, and it's like a spreadsheet combined with a database all rolled up in one. Airtable also includes Kanban views, a form, and a handy calendar gallery. It integrates seamlessly with the likes of Gmail, LinkedIn, and Slack.
However, Airtable does not include the following Asana views of the user's workload, tasks, progress, timeline, list, portfolios, or inbox. And it lacks Asana's approval and feedback features. So it might not be ideal if your team needs the previously mentioned features.
Smartsheet – Best Workplace Automation
Smartsheet is a cloud-hosted spreadsheet project management tool suitable for all-sized teams. It allows users to assign, monitor, and use filters to manage their tasks. It also includes helpful workplace automation, Gantt, and file-sharing options.
In addition, Smartsheet includes functions that Asana lacks, like budgeting, resource management, and time-tracking features essential to efficient project management.
Although bigger dispersed teams might find the need for a central Smartsheet communication platform to deal with. And unlike other Asana alternatives, there's no free version, and the user fees are relatively expensive.
Teamwork – Best Time-Tracker
Teamwork is one of the best time-tracking alternatives to Asana. So, no wonder it is so widely used by the likes of PayPal, Disney, Netflix, and HP to manage big teams or freelancers who need to bill per hour.
Like Asana, it includes file sharing, task management, commenting, and subtask features, albeit it consists of a handy document collaboration feature that Asana lacks.
There is also a free Teamwork plan for up to five users, although it is much more limited than the paid subscriptions, and you can't add several teams.
The only downside of using Teamwork is that loading times can be slow if you use large volumes of data.
Trello – Best For Small Teams
Web-based Trello is ideal for smaller teams as it provides a collaborative and flexible project management platform based on the Kanban task visualization method. Enabling managers to create projects and workflows in three steps.
While Trello is advantageous for new team members as the various tasks are visually clear to follow. It lacks some essential project management functions and features like project reports and document management capabilities.
Trello is also limited in that you will not be able to display, customize your data, or amend your project's format.
Nifty – Best Messenger
Aptly named Nifty is an affordable, user-friendly, flexible, and feature-rich advanced project management tool, with the added advantage of granting guests as freelancers or clients access to specific projects without incurring additional user fees.
While Nifty includes all the standard project management features, it also has impressive added features like a Direct Messaging function. Including Google docs that can be edited by two team members simultaneously.
Nifty also includes an Asana importing function, so it's far easier for previous Asana users to transition to the new platform, which also shares many UX features.
The only downside for some teams might be Nifty's metric-focused reporting style. However, it is still a fantastic user-friendly alternative to Asana.
ProofHub – Overall Alternative
ProofHub is a great alternative to Asana, as it offers a range of features necessary for project management and team collaboration at one centralized location under a flat pricing structure with no per-user fee. 
ProofHub has an intuitive, user-friendly interface that simplifies the onboarding process and saves your teams a ton of time. You get the flexibility to either pick from pre-designed workflows like Agile project management, Client management, remote work, and more or create customized workflows that suit your individual processes.
One of the things that makes ProofHub a preferable choice is its wide variety of features. You get time tracking, custom roles, custom reports, a built-in chat and file-sharing system, proofing, and discussions in one tool.
Although ProofHub doesn't offer a free plan, they have the Essential and Ultimate Control plans with a flat fee structure for unlimited users. This means you can expand your teams without worrying about any additional costs or hidden fees. Additionally, you can try out ProofHub with its 14-day free trial without registering your credit card.
Wrike – Best Productivity Tracker
Wrike is one the best productivity tracking and project management solutions, as it allows managers to streamline, plan, and track their team's progress individually and individually.
Wrike also has a free version that can accommodate five users. And their paid subscription fee is also reasonable if you consider the benefits of managing your team's productivity.
This comprehensive project management tool includes various functions that Asana lacks, like resource management, task needs, and a helpful Gantt view. Although, it could be more visually appealing and user-friendly compared to Asana.
Basecamp – Best For Large Teams
Basecamp is an excellent alternative to Asana. Especially for big teams that need to collaborate, with valuable features like message boards," Campfire" group chats, automated check-ins, and easily accessible project schedules for team members.
There is a free option with limited features, although it allows for 20 users and 1GB of storage space, and you can manage three projects. 
In stark contrast, the monthly paid subscription includes unlimited users, projects, and client views.
While your storage space will be limited to 500 GB, the paid version also includes added benefits like VIP support and useful project templates. And you won't have to pay more for client collaborations on the platform.
NGOs qualify for significant discounts, and teachers and students can access free accounts with unlimited users, so it's ideal for large teams or dispersed remote workers.
Although it must be said that Basecamp has fewer integrations than other leading project management tools, with fewer plan subscription options.
Microsoft Planner – Best For Office 365 Users
Last but not least, Microsoft Planner, included in all Office 365 subscriptions, is a budget-friendly alternative to Asana.
Microsoft Planner seamlessly integrates with Outlook, SharePoint, and OneDrive, which is useful as your team can create tasks via their emails and add project notes, including attachments.
Compared to Asana, it has additional useful features like weekly email progress reports and the ability to view future project tasks on the calendar.
However, Microsoft Planner does not offer project templates, a standard Asana value add. So, you will need to create your own templates, which can be time-consuming.
The main benefits of Microsoft Planner are that it is far more affordable than Asana. Includes several other Office 365 products and is compatible with Android and iOS technologies.
The downsides of using Microsoft Planner include fewer integrations than other leading project management tools, and you need an Office 365 subscription.