Short and professional videos are a great way to communicate your business ideas or work done with both colleagues and clients. Loom is one of the market leaders; however, there are outstanding alternatives with a range of valuable features.
If you're looking for alternatives to Loom you can try VEED, Snagit, Clip, CloudApp, Soapbox, Vidyard, and Camtasia for your video capturing, editing, and sharing needs.
This article lists seven of the best video editing Loom alternatives. You will also find overviews of their features, as well the features that set them apart from the competition.
What is Loom?
Loom is video recording software and a communication platform that you can use to create short videos with your computer screen, webcam, and microphone.
It was created to eliminate the need for long and uninteresting team meetings and work emails by making video creation a simple and quick process.
Loom's features include:
One-click video sharing capability
Automatic video saving to the cloud
Security settings for viewing restrictions
Time-stamped comment capability
Notifications when your video is viewed or commented on
Video transcripts
And no editing is required to add your webcam video to your screen recording video.
Loom is by no means perfect and its useability is limited by:
Its unintuitive interface
Its restricted editing functions
A maximum video length of five minutes (free version)
7 Best alternatives to Loom
The market for video recording software is crowded and there are many Loom alternatives to choose from. Here are seven of the best.
1. VEED
VEED is both a screen recorded and digital editor that allows you to use your everyday screen and webcam to record and edit your videos.
Its features include:
Multiple layouts that allow you to record videos in split-screen
A webcam insert option
The ability to swap out your backgrounds
An online editing tool that allows you to add subtitles, crop your videos, eliminate background noise, and include video effects such as VHS filters and black and white
The best bits:
The intuitive useability
The easy way to add audio transcriptions
The ability to edit many formats including gif, mp4, mov, and avi.
The worst bits:
It is expensive, at $16/month for the basic package
You have to put up with the VEED watermark on all of the free videos
2. Snagit
Like VEEP and Loom, Snagit's software enables you to capture images and record videos using your screen and webcam quickly and easily, and then share what you have created.
Its useability centers around three basic functions: capture, edit, and share.
First, you capture an image or record a video with Snagit Capture.
Then you edit your capture with Snagit Edit, which allows you to resize the file, annotate the content or add special effects such as borders and panoramic scrolling.
Lastly, you share your creation with your colleagues and clients.
The best bits:
The text annotation feature adds an extra degree of clarity to your video.
Snagit estimates that you could save an average of over six minutes per day by switching to video communication
The worst bits:
The capture and record function are stacked with features and it can overwhelm new users
It doesn't offer a free plan and the pricing makes it unsuitable for small businesses
You need to use Screencast.com to distribute your link
3. Clip by ClickUp
Clip is a video capturing function by ClickUp, one of the world's largest cloud-based work communication and project management platforms.
Once you have finished capturing, recording, and editing your video, you can send it to anyone with a simple shareable link that will play directly into the browser.
The best bits:
You can create a task from your recording by assigning team members and providing them with instructions
The recording is a simple and intuitive process
You can integrate your video with other viewing options like YouTube, Google Drive, and Loom
The worst bits:
Clip has fewer features than other video recording options
It lacks editing features and the ability to record videos using the webcam
4. CloudApp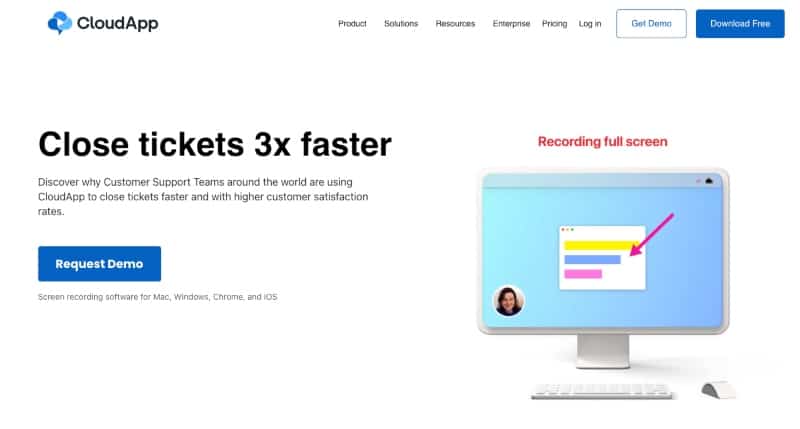 As its name suggests, CloudApp allows you to capture screen images and make video recordings which are then instantly uploaded to the cloud and shared.
With its webcam recording function, you can incorporate your face and voice into your videos. You can also annotate with text and create GIFs using your screen captures, videos, and audio.
The best bits:
It has a simple link-sharing function which makes the sharing feature quick and easy to use
You can edit your video with sophisticated techniques such as real-time video annotation, delayed screenshots, and optional audio
The individual pricing plan costs only $9.95/month
The worst bits:
You can only record 90 seconds worth of video using the free plan
The editing function doesn't allow you to crop your videos
It can be difficult to navigate the user interface
5. Soapbox
Soapbox is free video recording software for Chrome that allows you to record, edit and share short videos quickly and easily.
What sets Soapbox apart from its competitors is its editing collaboration function that lets all members of the team participate in the process.
For those of us who need a hand getting started, the website also provides tutorials on how to create:
Explainer and draining videos
Demonstrations and tutorials
Educational videos
Virtual conferences
Customer stories
Vlogs
The best bits:
Soapbox provides analytics on how well the video is tracking with viewers
There are many easy-to-use video options such as facetime, split-screens, transitions, and screen sharing
The worst bits:
You cannot view yourself while you record your video
There aren't many ways to edit your video after you have recorded it
6. Vidyard
Like Soapbox, Vidyard is video and screen recording software that is used as part of a Chrome browser extension. It is marketed as a sales tool that allows salespeople to make interesting and innovative videos that perfectly suit the all-important sales pitch or cold-call inquiries.
The best bits:
Vidyard videos can be sent in an email, embedded in websites, and easily shared on social media
You are alerted when someone views your video
You can add captions to your video
You have many video recording options including your whole screen and your browser tab
You can create videos in many formats includingmp4, mov, and wmv
The worst bits:
With paid plans starting at $15/month, it is more expensive than most other options
It can be difficult for beginners to navigate
7. Camtasia
Camtasia's screen recording and video creation software allow you to record all or just some part of your screen, including websites, software, video calls, and PowerPoint presentations. And with its video templates, making your own video can be much quicker than other options on this list.
The best bits:
It has a library of royalty-free music that you can add to your videos
You can add interactive elements to your videos like surveys and quizzes
The worst bits:
Camtasia does not have a free version and the license costs as much as $187.40.
It will take time to master the video creation tools.
Final thoughts on the best Loom alternatives
Loom provides some great video-sharing options and makes work-related communications a breeze, but the interface can oftentimes be lacking.
There are many other options out there though, which can provide you with the usability you require.
The 7 best Loom alternatives are VEED, Snagit, Clip, CloudApp, Soapbox, Vidyard, and Camtasia. These offer a variety of features at different price points, perfect for your video capturing, editing, and sharing needs.
We hope this article has helped you find an alternative that suits your requirements.