There are a lot of lead capture and opt-in plugins and services out there. Optinmonster is one of the industry leaders when it comes to these types of tools, but it can be quite expensive.
In this article, we will be looking at 14 of the best Optinmonster alternatives on the market.
1. ConvertBox
ConvertBox is a very similar tool to Optinmonster and is just as easy to use. It comes with a wide range of templates and integrations, as well as A/B testing and detailed reporting.
One of the main benefits of ConvertBox is the feature-rich platform and the once-off fee. While it isn't the cheapest alternative we suggest here, it is one of the most feature-rich.
If you need a popup and call-to-action generator for the long term, then ConvertBox's once-off fee makes it a great Optinmonster alternative. You'll find a number of ConvertBox pop-ups on this site, so if you're looking to see how it is in the wild, visit some more pages. 😉
Key features
Mobile editor
Multi-choice and multi-step forms/funnels.
Built-in timers
A/B Testing
Referrer detection
Site activity detection
Drag and drop builder
Quiz scoring triggers
Progress bars and analyzing screens
Pricing
ConvertBox is available for a once-off fee of $495, including use on up to 10 websites and up to 250,000 views per month.
If you need more, you can upgrade on the checkout page for $95 more, making a total of $590 once-off, which allows you to use ConvertBox on up to 50 sites with up to 500,000 views per month. This is a great option if you're doing client work or have a large portfolio of sites.
P.s. They say they're in "early access" now, so this price could go up in the future.
2. Convert Pro
Convert Pro is a powerful lead capture tool with many features, including pop-ups, slide-ins, welcome mats, and exit intent forms. It also integrates with all of the major email marketing platforms, meaning you won't have to migrate your list and can hit the ground running.
Unlike Optinmonster, Convert Pro is a WordPress plugin, and you're not limited to the number of sites you can use it on, or the number of page views your forms and pop-ups receive.
You can do almost everything you do with Optinmonster using Convert Pro, and the plugin nature means you can manage everything directly in your WordPress dashboard.
Key features
Mobile editor
Complete customizability
Exit-intent and timed triggers
A/B Testing
Referrer Detection
Site activity detection
Pricing
Convert Pro is available as a standalone plugin or a bundle with Astra Theme and other Brain Force products.
Convert Pro alone costs either $99 annually, or you can grab a lifetime deal for $399; this allows you lifetime access to updates, and you only have to pay once.
The Bundle is also available for an annual fee of $249/year or a lifetime deal of $699.
3. OptiMonk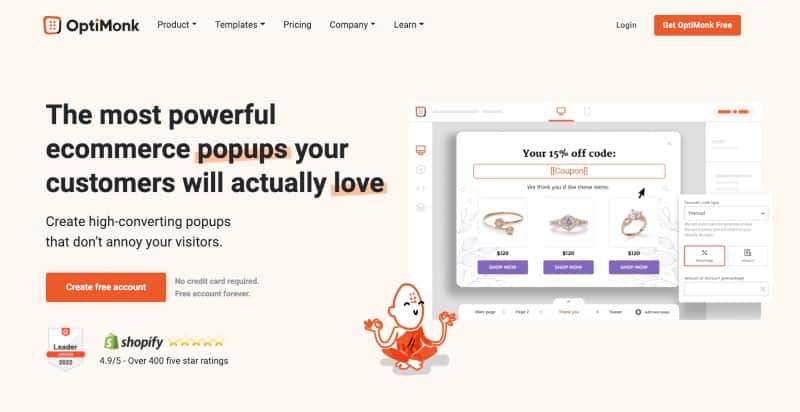 OptiMonk positions itself as a tool for eCommerce sites, but its intuitive popup building tools can be used for all sorts of email list building and call-to-actions for a wide variety of different types of sites.
OptiMonk has some fun and interesting features that will engage your site visitors and these can lead to better conversions.
When compared to Optinmonster, OptiMonk is very similar and the pricing suggests the same. We do think that OptiMonk has a more user-friendly interface though.
Key features
Exit Intent triggers (including mobile)
Advanced targeting
Spin the wheel and scratchcard options
Drag and drop builder
Countdown timers
Multi-variant quizzes
Pricing
OptiMonk has a free plan that allows up to 15,000 monthly views and use on one site. You are limited with some of the features, like no A/B Testing for example is not available on the free plan and you will have to get one of the paid plans to use it.
The paid plans start at $29/month and are broken down as follows:
Essential – $29/month or $290/year – 30,000 page views – 2 domains
Growth – $79/month or $790/year – 100,000 page views – 4 domains
Premium – $199/month or $1,990/year – 500,000 page views – 10 domains
4. Kadence Conversions
If page speed is your top priority, then Kadence Conversions could be the ideal Optinmonster alternative for you.
Kadence theme is one of the fastest loading themes available for WordPress and the Kadence team has kept that logic with their popup/call to action plugin, Kadence Conversions.
Built with the native WordPress editor, it's lightning-fast and won't slow down your website.
As this is WordPress dependent, you will need to have a site built with WordPress in order to take advantage of it.
Key features
Lightning fast
Exit intent triggers
Scheduling
Useful upsell features
Repeat visitor triggers
Pricing
Kadence Conversions is available individually, or in a bundle with the entire Kadence collection.
Individually, Kadence Conversions costs $69 for the first year and renews for $89/year thereafter. With Kadence Conversions, you're not limited to a certain number of views and you can use it on an unlimited number of websites.
If you want to bundle, the full Kadence Bundle costs $199 for the first year and renews at $219 per year thereafter.
5. Hello Bar
If you have just started a website, or are generating around 5,000 page views per month to your site, and want to test the waters of popups, then Hello bar has an excellent free plan to suit your needs.
It's not just useful for its free plan though, with useful features to help convert your visitors, it is a good alternative to Optinmonster and many of the options on this list.
It may not have all of the features of some of the other tools, but it has all of the right ones to convert visitors into subscribers or to lead them to an offer.
Key features
A/B Testing
Yes/No questions
Advanced targeting
Compatible with most website builders
Pricing
Hello Bar has a free plan that allows up to 5,000 views per month and unlike most free tools, you can use A/B testing in the free plan (albeit only 1 live test at a time).
For more popup views, and more features, there are 3 paid plans available:
Growth – $29/month (or $288/year) – 50,000 views per month
Premium – $49/month (or $492/year) – 150,000 views per month
Elite – $99/month (or $996/year) – 500,000 views per month
6. Thrive Leads
Thrive Leads is a powerful WordPress plugin that is compatible with basically all of the email marketing tools available. It has a number of powerful features that will increase your email subscriber count and lead more people to the pages and products you want them to see.
Thrive is a part of the Thrive Suite, which is a bundle of WordPress themes and plugins from Thrive. Most notably in the Suite, you will have access to Thrive Quiz builder, which allows you to build high-converting quizzes easily to maximize your subscriber growth.
For anyone that has used Thrive though, the plugin can feel a bit heavy and can slow down your site, but if that slight drawback doesn't deter you, it could be a great option to look into.
Key features
Advanced targeting
A/B Testing
2-step opt-in form
Content lock
Multiple choice forms
Mobile-specific opt-in forms
Pricing
Like most of the other pop-up plugins that are made by companies that also develop WordPress themes, Thrive Leads is available as a standalone WordPress plugin, or as a part of the entire Thrive suite, which is Thrives complete bundle.
The complete Thrive bundle is $299 annually, while the standalone plugin costs $99 annually.
The standalone plugin, however, can only be used on one website, whereas Thrive Suite can be used on up to five sites.
If you have multiple sites, then Thrive Suite would be a better option than the standalone plugin, but on the other hand, if you have multiple sites, I would recommend one of the other options that allow use on more sites, like Convert Pro.
7. LeadPages
LeadPages is more than just an opt-in and popup-creating tool. With LeadPages, you can create landing pages, websites, sales pages, and more.
If you're looking for an all-in-one eCommerce solution that provides integrated popups, opt-ins, bars, and banners, then LeadPages is a great alternative to Optinmonster and most of the other tools mentioned here.
Key features
Exit Intent triggers
Drag and drop builder
All-in-one solution
Alert bars
Mobile-friendly
Pricing
LeadPages comes with a 14-day free trial and has two plans available depending on your needs.
The Standard plan costs $49/month (or $444 when paying annually) and can be used on one website.
The Pro plan costs $99/month (or $888 when paying annually) and can be used on up to 3 websites.
8. Ninja Popups
Ninja Popups is a standalone WordPress plugin that does one thing but does it very well.
If you have a WordPress website and are deterred by Optinmonster's pricing, the affordable once-off fee of Ninja popups provides a great option.
Create popups, yes/no forms, slide-in forms, perform A/B tests, and more.
Key features
Drag and drop builder
A/B Testing
Exit Intent
Content locker
Social locker
Over 60 templates
Pricing
Ninja Popups is available from Code Canyon and is one of the most affordable pop-up plugins on the market.
You can get the Ninja Popups plugin for $24 and can be used on one site. As you are hosting the plugin on your own site, you aren't limited to a certain number of page views.
If you're looking for an affordable and powerful popup plugin but don't want to be drawn into lengthy subscriptions, then Ninja Popups is the plugin for you.
9. Getsitecontrol
Collect emails, conduct surveys, promote deals, upsell, and reduce cart abandonment with Getsitecontrol.
In particular, the survey features of Getsitecontrol make it an excellent alternative to not just Optinmonster, but also paid survey tools like SurveyMonkey or Typeform.
While the standard templates are quite basic looking, the style is can be used straight away if you have a minimalistic design.
Key features
Exit Intent triggers
Sticky buttons
Integrated surveys
Advanced targeting
Scheduling
Advanced upsell popups
Pricing
Getsitecontrol comes with a free 7-day full feature trial so that you can test the software out for yourself. After that the are 3 plans available:
Creator – $9/month – 20,000 page views/month
Pro – $19/month – 100,000 page views/month
Pro Max – $29/month – Unlimited page views
All of the plans with Getsitecontrol are for one site, if you have multiple sites, you will need to add extra plans.
10. Bloom

Bloom is a popup plugin created by Elegant themes, the team behind one of the most popular WordPress themes: Divi.
Bloom is purpose-made for collecting email addresses and for leading visitors to specific pages, like your special offers, or affiliate promotions.
You can create automatic opt-in popups, fly-ins, inline forms, below content forms, widget area forms, and use Bloom as a content lock so that visitors need to give you their email address in order to access the content.
While there are a lot we like about Bloom, the lack of an exit intent trigger really lets it down.
On the other hand, the after-commenting trigger can be a great way to entice readers to leave a comment in exchange for a special discount.
Key features
Advanced targeting
Over 100 templates
After commenting trigger
Pricing
Bloom by Elegant Themes has a very straightforward price plan. You can get Bloom (as well as Divi, Extra, and Monarch) for $89 annually, or for $249 once-off.
Both licenses give you full access to all of the Elegant Theme and Bloom features and you can use it on an unlimited number of websites.
11. Gist
Gist is an all-in-one email marketing solution. While it may be overkill for your everyday blogger, if you're running a SaaS business, consultancy, or agency, then Gist provides a lot of useful features to help convert your visitors into customers and clients.
With a healthy variety of popup types, like Exit intent popups, Fullscreen overlays, welcome mats, sticky bars, and slide-ins, Gist is a great B2B alternative to Optinmonster.
Multi-step popup funnels help you increase conversions and get to know your readers better, and automated chatbots can automatically qualify your leads while they're on your page. Not quite the same as a popup, but nonetheless a great feature to engage and convert.
Key features
Exit-intent triggers
Multi-step popups
Built-in email automation
Drag and drop builder
Surveys
Pricing
Gist offers a lot more than just popups and therefore comes with many pricing options. Popups and lead generation tools can be found in their Marketing section and there are three plans available here:
Free – $0 – Up to 200 contacts
Professional – $19/month – Up to 1,000 contacts
Premium – $29/month – Up to 1,000 contacts
The pricing increases as your number of contacts increases. If you have 5,000 contacts, for example, the professional plan will increase to $59/month and the Premium plan will cost $79/month.
12. ConvertKit
ConvertKit is another tool that offers a lot more than popups. As this tool was designed mainly for email list building, this tool doesn't offer many redirection Call To Action, but if you've been using Optinmonster for building your list, then ConvertKit is a great alternative and has many more features for managing your email list and monetizing it.
If you're a blogger, and most of your popups are designed to get people to sign up for your email list, then ConvertKit is one of the best tools on the market.
Designed for bloggers, you get access to a wide range of templates designed to convert visitors to email subscribers, and you can also use the software to sell your own digital products, monetize a newsletter, or just accept tips for a job well done.
The popup and landing page creator is not drag-and-drop, which means you're quite limited to the design, but this also means you can create good-looking opt-ins fairly quickly.
Key features
Exit intent targeting
Custom landing pages
Sell digital product
Automated email funnels
Mobile optimized
Pricing
ConvertKit has three plans available, and the pricing is dependent on how many subscribers you have on your email list.
The free plan is limited to 1,000 subscribers.
The Creator plan starts at $15/month (or $108 annually) for up to 300 subscribers, and then $29/month (or $290 annually) for up to 1,000 subscribers, and it continues from there.
With the highest plan, Creator Pro, the pricing starts at $29/month (or $290 annually) for up to 300 subscribers and then increases to $59/month (or $590 annually) for up to 1,000 subscribers. It increases again when reaching 3,000 subscribers, and so on.
A free trial is available for 14 days on either of the paid plans to test out the extra features.
13. Icegram
Icegram lets you catch your visitor's attention, convert them to subscribers, and lead them to the right pages that matter the most to them (and you).
You'll find great templates to get you started, even if you're not a natural marketer. Simply swap out the content for your own, or start from scratch.
Key features
Exit intent
Behaviors triggers
Retargeting
A/B testing
Geo-targeting
120+ templates
12 different message types
Pricing
Icegram has three plans available, Free, Pro, and Max.
All plans are only for use on one site. The free plan has limited popup options, while the Pro gives you access to Exit intent and user behavior targeting. The Max plan adds the ability to do A/B testing and geographical targeting (and more).
Icegram pricing is broken down as follows:
Free plan – $0
Pro plan – $97 annually
Max – $147 annually
14. Wisepops
Wisepops is a great alternative to Optinmonster when all you are looking for is a well-designed popup creator with powerful targeting features that are very easy to use.
It may not have the extra bells and whistles of some of the other tools we've mentioned here, but if you want a popup plugin that does the job well, then Wisepops is definitely one of the top contenders.
Wisepops is especially good for eCommerce stores, with useful upsell features that can provide an almost immediate ROI if your site is already generating an income.
Key features
Drag and drop builder
Exit-intent targeting (and mobile exit)
Location-based targeting
30+ advanced targeting options
A/B Testing
Easily adapt to mobile devices
Pricing
Wisepops pricing is based on the monthly page views you receive. They have five plans available:
100,000 – $49/month – 1 website
250,000 – $99/month – 2 websites
500,000 – $149/month – 3 websites
1,000,000 – $249/month – 5 websites
Enterprise – Starting at $250/month – 5 websites and upwards of 1,000,000 page views
There is a 14-day free trial for you to see if Wisepops is a good fit for your site.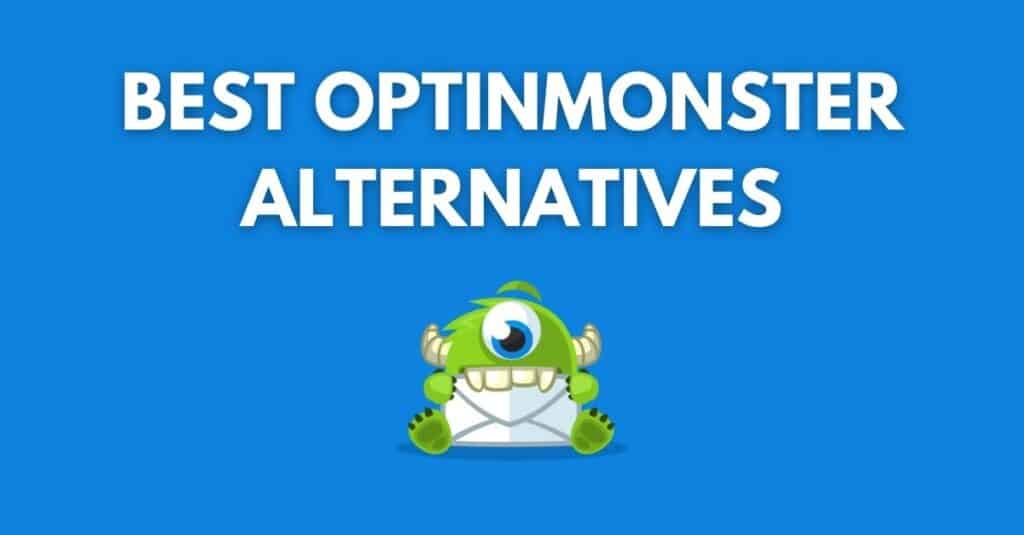 Final Thoughts
There are many different alternatives to Optinmonster and that is what makes it so difficult to choose the right one.
The best alternative is ConvertBox, which is why we also use it on this site and all our other projects as well.
Other viable options include Ninja popups for those who need an affordable long-term solution, while ConvertBox is a great mix of affordability, website integrations, and functionality.
If all you need is a tool to collect email addresses, then ConvertKit provides the best value with their additional email marketing-centered product.
Ultimately, the best Optinmonster alternative will come down to your personal needs and what you are looking for in an opt-in form tool.
We hope this guide has helped you to decide which tool is best for you.