Finding great stock footage can be difficult, which is why I've put together this resource of the best websites for free stock video footage for YouTube videos.
Whether you're just playing around with some social posts, looking for some great B-roll, or putting together your own film, A quality clip can really elevate the look and feel of a video. The problem is, sometimes you just cannot create that clip yourself at that moment, or the effort involved may not exactly be worth it.
One of the best ways to work around this is to use the free stock footage made available by generous videographers from around the world on a few websites.
To save you time, these websites for free stock video footage can help you easily find the right clip to match your future YouTube videos, social media posts, or any other future projects.
These websites all do pretty much the same thing, providing you with valuable free stock videos, so we'll keep the descriptions short, but you can find a mix of different videos on each of these websites, so make sure to check them all out.
Now let's get to it; here are the best websites for free stock video.
The best websites for free stock video are:
1. Coverr
Coverr is completely free, meaning that no attribution is required when using the free stock footage from this site, you don't even need to sign up with your email address.
On Coverr you'll find a good variety of different types of videos, all ranging from business, and backgrounds to travel B-Roll. These royalty-free videos are mostly in 1080p HD, with some also available in 4k.
2. MixKit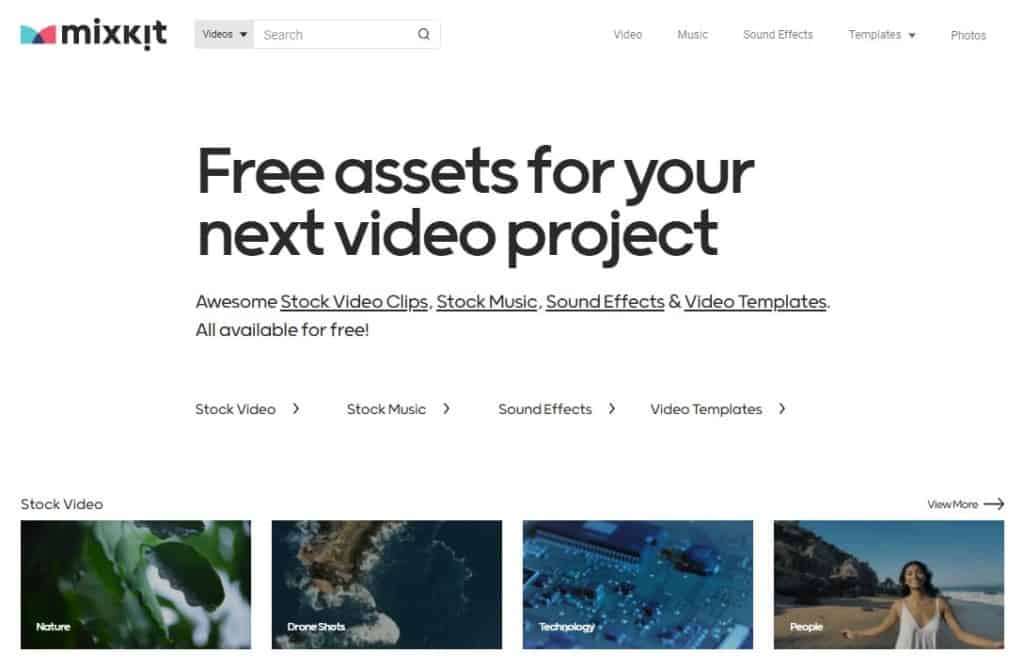 Like Coverr, MixKit.co requires no signup & no attribution in order to download & use the high-quality videos available on the website.
On this website, you'll not only find a great variety of different types of royalty-free videos, but you'll also be able to download an assortment of great free music & sound effects that you can use in your videos.
The footage is available in 1080p HD resolution, so whilst it isn't quite 4K, the quality is more than good enough for YouTube & social media.
3. Freepik 
Wanna add some oomph to your creative projects? Check out Freepik's video collection. With over 24,000 free videos up for grabs, you're sure to find something that matches your vision.
Attribution is required for free users, but that's small potatoes when considering the vast selection of top-quality footage. Of course, if you're keen to upgrade to a premium membership, you'll have access to even more exclusive videos without the fuss of attribution. 
And the best part? You can choose the resolution (yes, even 4K!), video type, and browse by category. In addition, you can download low-quality previews to test them in your projects first.
4. Pixabay
With Pixabay, you'll find a great collection of completely free videos and images that require no attribution to the creator or site when used in your videos. Signing up is also not required.
One of the benefits Pixabay holds over Pexels is that you can also find a great selection of vector graphics in case that's something you want to work into your YouTube thumbnails, include as a transparent object in your video, or whatever else you'd like to do with vector graphics.
5. YouTube Creative Commons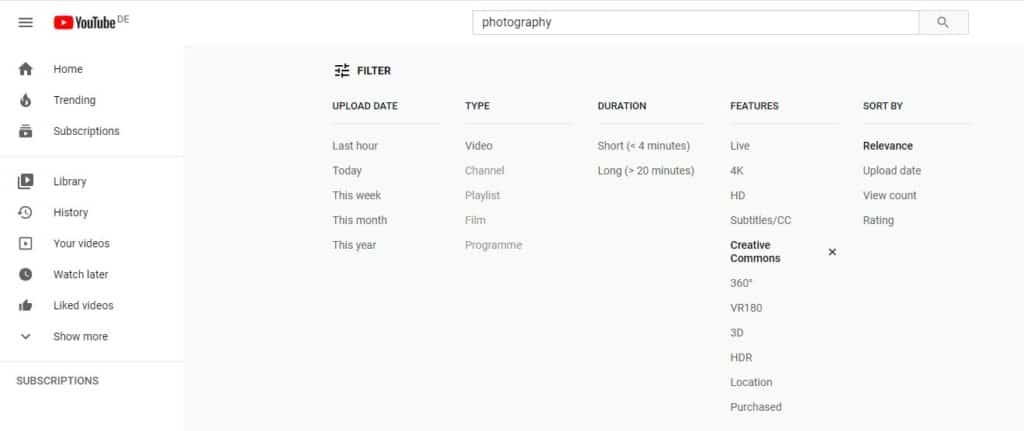 A great place to find quality videos of just about any topic is through YouTube itself. Many don't know this, but YouTube has the option of allowing video creators to set their videos to be allowed for creative commons purposes.
When searching for videos, you can then filter these results to only show creative commons videos.
What I do recommend is to always link back to these creators & the video, as well as reach out to the creator to ask & make sure they're ok with the video being used. This has the added benefit that they may even share your video afterward as it contains their clip. Win-win.
6. Videvo
On Videvo you'll find a large collection of free stock video footage, you will need to provide attribution… Btw, always check yourself on the individual website & video clip the specific license terms, as to what you can & cannot do for yourself. If you're unsure, write the website with the specific video URL whilst outlining what you want to do & you'll receive a definitive answer.
Back to Videvo, on this site, you'll also find some great motion graphics, music & sound effects that you can use in your YouTube videos.
7. Lifeofvids.com
This website has some beautiful videos, unfortunately, they're made more for website use. You can include a max of up to 10 videos on your websites or on landing pages.
There's a variety of categories; city, clouds, drone, water, food, nature, office & people, available in a high-quality resolution up to 4K.
8. Splitshire.com
On Splitshire you'll find another great collection of high-quality videos with a resolution up to 4K. These videos are free to use without having to provide attribution, although it's always appreciated when you do, & no signup is required.
The video collection is of great quality, but what really makes Splitshire special is its large resource of photos.
9. Distill
You can find Distill on wedistill.io. With this site, you can receive 10 free curated HD videos every 10 days that can be used for personal & commercial projects.
No attribution is required, the videos are of exceptional quality, but one of the drawbacks for me is that you cannot see the video resolution before downloading the file.
10. Dareful
Dareful is home to high-quality 4K free stock video footage. This small collection of beautiful videos you may recognize the formerly being stockfootageforfree.com.
You'll find mostly nature-based drone videos here, great for video B-roll.
11. Vidsplay
On Vidsplay you'll find over 300 clips currently, with new videos added on a weekly basis. These videos are available in 1080p HD & some are available in 4k resolution.
12. Free Nature Stock
This website is quite self-explanatory – Here you can find some great, free, nature-based stock video in 1080p & up to 4K.
The nature videos here are anywhere between 10 seconds & a minute & a half in length, making them great if you have some type of outdoors channel or want to tie in a natural element seamlessly into your video.
This is another site that is completely free to use, with no attribution required, with everything being created & maintained by one-man, Adrian Pelletier.
13. Motion Elements
On Motion Elements, you can look forward to new content every week.
Whilst the layout can be a little bit less intuitive, you can still find some great videos in 1080p HD, & sometimes even in 4K.
14. Motion Places
Another motion-based site name, Motion Places is a niche free stock footage website with videos of places from all around the world.
If you need B-Roll from a famous city & can't hop into a plane to fly halfway across the world, then this is the website for you.
Videos are in 1080p HD & they have a high-quality feel to them, as does the website.
15. Mazwai
On Mazwai you'll find approximately 300 video clips in HD & 4K quality. The stunning free stock footage clips are hand-picked by their in-house team of video professionals, so you know you're getting a good clip.
16. Nature Stock Videos
On this niche stock footage site you'll find a plethora of nature-related stock videos.
Whilst the collection isn't updated as often as some of these websites, on naturestockvideos.com all of the videos are available for free, without having to provide attribution, in high-quality 4K resolution.
17. XStock Video
With around 550 videos, XStock Video may have a modest-sized collection of videos, but they're quite an interesting collection and the variety, in this case, may pay off for you.
The videos are also available in 1080p HD video resolution & you won't have to link back to the site if you do use one of their clips in your videos, on your website, or on your social media.
18. FOCA Stock
FOCA Stock may have a limited number of videos as well, but they offer a few additions that could make for an interesting & useful tool, not only for their video collection.
If you need additional graphics, then their free editor & templates can help you get the job done quickly & professionally.
19. Pikwizard
Here you'll find a large variety of different types of videos & categories to find the perfect clip. Pay attention though, like on all these sites, to check the licenses of any piece of video material you may want to download as not all licenses on Pikwizard are the same.
Even though premium content is mixed in with free content, which can be confusing, you can still find some great free video clips, in up to 4k video quality.
20. Canva
Canva is one of my favorites as a tool for just about everything digital. You can create just about any design/video with this free graphic design tool.
You can even find free stock video footage built right in, making it easy to add video clips to social media posts & to YouTube Intros. Canva is great for YouTube, not only for the video feature though, you can also use it to create high-quality YouTube Thumbnails, Channel art & even an end screen to get more people to subscribe to your channel or to keep watching.
21. Pexels
On Pexels you'll find another great collection of completely free videos & images that require no attribution to the creator or site when used in your videos. Signing up is also not required.
One of my favorite features with Pexels is that you can search for videos in 4K quality, so if you need 4K, this website makes it very easy to find a fitting video.
Not only is it easy to use, but you can also find a very diverse & large collection of videos & free stock photos that can be used in your videos and as the background of your thumbnails.
---
My Favourite Affordable Stock Footage Websites
With a small budget, you can elevate your videos with some premium stock footage without spending an arm and a leg.
These are the two sites I use and recommend.
Canva Pro

I previously mentioned Canva as a free option, but they also have a paid plan that comes to about $10/month when billed yearly ($120). This is a fraction of what normal stock video can cost, & with Canva, you get access to millions more pieces of content.
If you create more than just videos, then Canva provides more benefits in the form of hundreds of thousands of premium templates, 75 million premium graphics, videos, fonts & stock photos, the ability to remove backgrounds with the click of a button, & you can even resize designs quickly with the included elements adjusting their size accordingly.
Try Canva for free & you can even try Canva Pro (without limitations) to see if it's worth it for you. Get started here.
Envato Elements
Envato Elements is what I like to consider the ultimate digital creator's toolbox. You'll find just about everything anyone that's creating digital content could need:
Stock Video (over a million clips)
Video Templates
Music
Sound Effects
Logo Graphics
Infographics
Mockups
Social Media Templates
Presentation Templates
Photos
Fonts
WordPress Themes
Website Plugins
Expert Ebooks & Courses
And Much More
All of this for around $16.50/month + Local Tax (when billed yearly).
---
Even more websites for free stock video footage
Wave.video
Videezy
Production Crate
CuteStockFootage
Motion Array
Bottled Video
Clipstill
Ignite Motion
Motion Backgrounds
Beachfront B-Roll
Fancy Footage Club
Mitch Martinez
Pond5 (Public Domain Footage)
Movie Tools
Monzoom
Clip Canvas
OpenFootage
Dissolve
Bigstock (7 Day Free Trial = 35 videos)
OrangeHD
123RF
There you have it, a list of 42 of the best free stock video websites for your YouTube videos and other projects.