Call of Duty is the best and most well-known first-person shooter game in the world. However, it can be a real challenge.
Luckily some talented gamers take their gameplay online. Some players show their achievements, while others provide helpful tips and tricks in their videos.
As a result, there is plenty of content to consume on YouTube.
The best Call Of Duty YouTubers include:
1. NoahJ456
NoahJ456 is at the top of the list with the most subscribers on his YouTube channel.
His success came after he finished the Cold War Zombies live stream and found all of the Easter eggs in Black Ops II: The New Colossus.
He has been streaming and uploading videos since 2007 and is also famous for playing a few other online games.
He has been uploading gaming-related content to his primary YouTube channel since February 2010.
As a result, YouTube has awarded him with many silver play buttons and even a golden play button for reaching various subscriber milestones.
Among Noah's four YouTube channels, the most popular one boasts 5.18 million subscribers and features gameplay footage for games like Call of Duty.
2. Dr. DisRespect
Since 2010, Dr. DisRespect has been one of the most influential figures in YouTube's Call of Duty community. However, in 2020 he gained much more popularity in mobile gaming.
Dr. DisRespect almost became the most-watched Call of Duty streamer that year. Not only did he stream, but he also made a map for Rogue Company called Arena.
In addition, he mentioned his desire to work on Warzone's Gulag map specifically.
His unique style, which includes a mullet wig, mustache, and sunglasses, has made him highly popular. He started working with Sledgehammer Games in 2011 and became an expert in online games.
At this time, he, while playing "Halo 2" on Xbox, conceived his Dr. DisRespect character.
Thanks to Xbox, he could voice chat with and interact with other online gamers and quickly rose to the top of the gaming community.
3. Hollow
Hollow, also known as Rey Gonzalez, is an American gaming YouTuber.
His instructional, horror, and multiplayer gaming videos have made him a popular name in the YouTube community. Before playing Fortnite, he uploaded Call of Duty gameplay videos.
Since the start of his YouTube account in 2014, he has received a silver and golden play button from YouTube.
He has roughly 5,649 videos and focused on his Call of Duty videos when starting his channel.
His first upload to his channel was titled "Call of Duty: Ghosts: Best Class Setup for Beginners." After that, he became famous on YouTube and then used that platform to sell merchandise
Now he doesn't just play COD anymore. He also plays Fortnite and various horror games.
4. Nickmercs
Nickmercs first created his channel in 2011, where he made videos of Call Of Duty and later branched out to Outpost.
He co-owns the FaZe Clan (with others like FaZe Banks and FaZe Apex) and is a top-tier Twitch and YouTube personality and streamer.
In addition, he is a Gears of War prodigy who won three MLG titles and eventually switched to competitive Halo play. Now he is a famous Call of Duty streamer.
Nickmercs is a first-person shooter expert who focuses on all Call of Duty content. However, he also won three titles in Major League Gaming.
Furthermore, he broke several records in the world of competitive Fortnite play. In addition, he was also a part of three esports teams during his outstanding career, Team EnVyUs, 100 Thieves, and FaZe Clan.
5. iFerg
iFerg is a famous YouTuber and online gamer known as Luke Ferg. He has gained a lot of attention through his mobile Call of Duty playthroughs and has also won various tournaments.
His most watched videos include "NEW 35 Kills World Record in Rules of Survival" and "WINNING with 59 KILLS in SOLO on Rules of Survival!". He hailed from Ireland and launched his YouTube channel in 2012.
When not competing for Tribe Gaming, iFerg was a member of Cloud9 Esports. In addition to playing Call of Duty, he also plays Cyber Hunter and Rules of Survival.
iFerg posts videos in which he analyzes and comments on many aspects of the game he is currently playing. Advice tailored to making you a better player is what he offers.
6. Chaos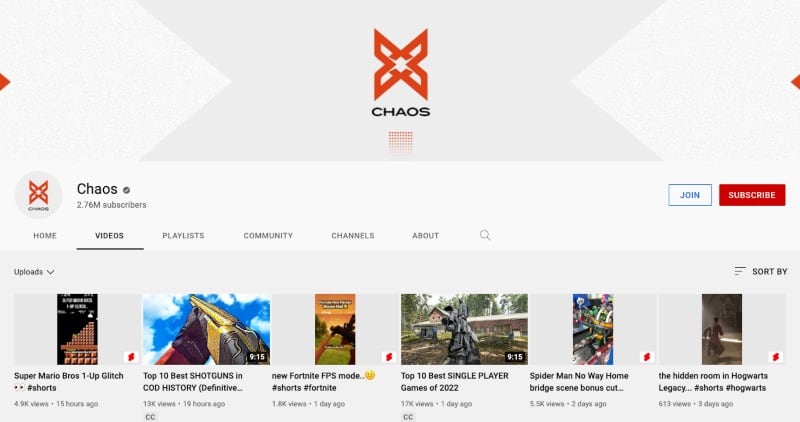 Chaos has one of the most watched channels on YouTube, which has been live-streaming Call of Duty games since 2010.
In addition to Fortnite and God of War, he regularly uploads footage of himself playing other video games.
You can find the latest gaming news, gameplay videos, and other fascinating content on the Chaos YouTube channel.
Chaos is the perfect channel if you want mainly Call of Duty footage and still want some content from other games.
The millions of people following Chaos might come across information about Call of Duty maps, weapons, and other bits of trivia.
He also covers several other games and often includes the latest gaming news.
7. PrestigeIsKey
PrestigelsKey is a top-rated channel focusing on Call of Duty content and has uploaded gameplay videos since early 2010.
The most incredible thing is that he uploads the latest content and videos from any gaming news. You can also find tutorials and reviews on his channel regarding Call of Duty.
There are over 3200 gaming videos that cover most of the relevant topics.
PrestigelsKey is famous for being one of the most up-to-date YouTube channels and uploads new content almost daily.
In addition to Call of Duty, PrestigelsKey has a range covering numerous games, including Apex, Minecraft, and Battlefield.
Furthermore, PrestigeIsKey uploads videos that include reviews and walkthroughs of the hottest newly released games and updates.
8. BennyCentral
BennyCentral is an excellent location to begin your search for material with high kill counts. It shows professional or semi-professional players competing in lethal squads.
This channel provides hints, strategies, and other helpful information to help you enhance your Warzone gameplay. Before, he devoted all his time and energy to his YouTube channel.
In 2011, he uploaded his first video to YouTube, leading to his successful career as a professional Call of Duty player.
Over time, the channel's popularity skyrocketed and grew immensely with over 600k subscribers.
He has posted around 800 videos throughout his career, collectively receiving over 78 million views.
9. HawksNest
Finally, we have HawksNest. He was born in 2000 and has been a gaming YouTuber since 2015. As a result, he is one of the most popular influencers in the mobile gaming community.
However, he only has a fraction of the subscribers of other renowned YouTubers.
Therefore, his meteoric rise to fame is all the more impressive HawksNests channel is full of tricks and tips that most viewers find helpful through gaming.
HawksNest contains content that features games like PUBG Mobile, Call of Duty Mobile, and Fortnite.
Final Thoughts On The Best Call of Duty YouTubers
We've reached the end of our list of the best Call of Duty YouTubers. We hope you've found it helpful and that you take some time to check out a few of these channels.
Keep in mind this is just a taste of what's out there and that each person on this list has their unique style.
If you don't find someone on this list which matches your gaming style, be sure to explore on your own.
The Call of Duty community is vast and filled with talented content creators who will keep you entertained for hours.