Most of us are not morning people. Yet, it can be absolutely wretched to wake up after a short night's sleep to the sound of your alarm going off.
Hopefully, these good morning quotes will make you smile or inspire you to get out of bed each morning.
Find your morning inspiration:
16 Funniest Good Morning Quotes
"Some people wake up drowsy. Some people wake up energized. I wake up dead." – James Marsden.
"There should be a rule against people trying to be funny before the sun comes up." – Kristen Chandler.
"Good morning world! Your little ray of sarcastic sunshine has arrived." – Unknown.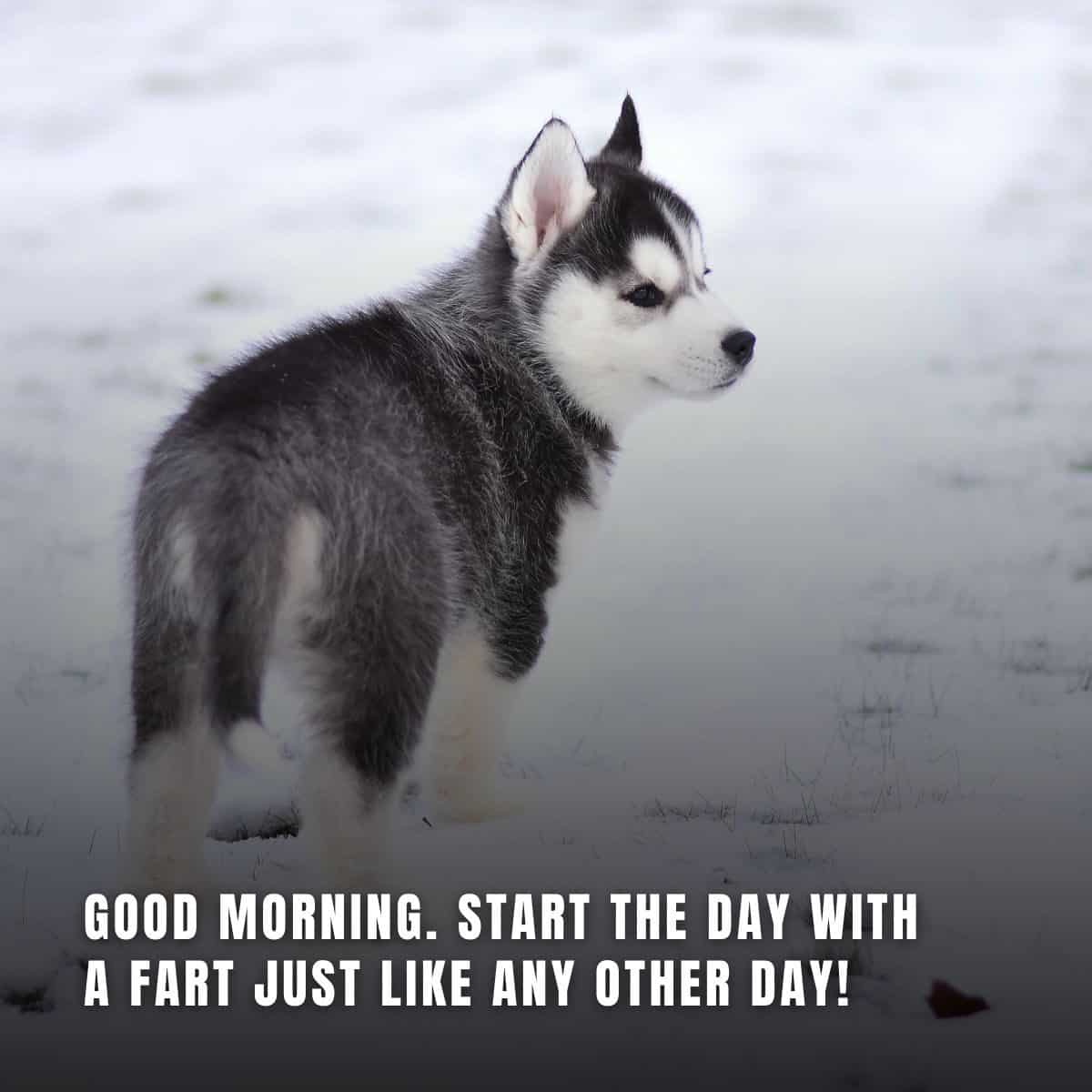 "Good morning. Start the day with a fart just like any other day!" – Unknown.
"Life is full of stress and troubles. Don't get off your bed if you want a good day. Keep sleeping until you die and stop life from happening to you!" – Unknown.
"I will rise, but I don't shine until I have had my coffee." – Unknown.
"There are two ways of waking up in the morning. One is to say, 'Good morning, God" and the other is to say, 'Good God, morning!'" – Fulton J. Sheen.
"My morning routine includes ten minutes of me sitting on my bed and thinking of how tired I am." – Unknown.
"Everyone wants me to be a morning person. I could be one, only if morning began after noon" – Tony Smite.
"Dracula is a morning person compared to me." – Kim Dallmeier.
"Good morning. Close your eyes, take a deep breath, open your arms wide, feel your heartbeat and say: It's too early, let me sleep again." – Unknown.
"Do you wish me a good morning, or mean that it is a good morning whether I want it or not; or that you feel good this morning; or that it is a morning to be good on?" – J.R.R. Tolkien.
"Every single day I wake up and make up my mind that I am going to work really hard. Then my mind laughs at me and says 'Good joke.' Then we laugh for some more time and I go back to bed." – Gehenna Toss.
"Good morning is a contradiction of terms." – Jim Davis.
"Getting up early is the first step in the wrong direction." – Unknown.
"I hate mornings, they start so early." – Janet Evanovich.
21 Most Inspirational Good Morning Quotes
"It is in the early morning hour that the unseen is seen, and that the far-off beauty and glory, vanquishing all their vagueness, move down upon us till they stand clear as crystal close over against the soul." – Sarah Smiley.
"Every sunrise marks the rise of life over death, hope over despair, and happiness over suffering. Wishing you a delightful morning today!" – Unknown.
"Make each day your masterpiece." – John Wooden.
"For each new morning let there be flow of love. Let there be light of happiness in every direction." – Amit Ray.
"When I first open my eyes upon the morning meadows and look out upon the beautiful world, I thank God I am alive." – Ralph Waldo Emerson.
"There was never a night or a problem that could defeat sunrise or hope." – Bernard Williams.
"When you arise in the morning, think of what a precious privilege it is to be alive—to breathe, to think, to enjoy, to love." – Marcus Aurelius.
"Our greatest glory is not in never falling, but in rising every time we fall." – Confucius.
"The sun is a daily reminder that we too can rise again from the darkness, that we too can shine our own light." – S. Ajna.
"Something special awaits you each day. All you need is to recognize it and make the most of it. Have a positive attitude throughout the day and then that today is going to be the best day of your life." – Unknown.
"If you're changing the world, you're working on important things. You're excited to get up in the morning." – Larry Page.
"The rays of the sun are nature's way of telling you that you are loved. So, never feel disheartened." – Unknown.
"Now, you see, your life whispers to you all the time if you're paying attention, from the moment you open your eyes in the morning until the moment you go to bed at night. It's just speaking to you." – Oprah Winfrey.
"When you arise in the morning, think of what a precious privilege it is to be alive—to breathe, to think, to enjoy, to love—then make that day count!" – Steve Maraboli.
"Outside the open window, the morning air is all awash with angels." – Unknown.
"Old friends pass away, new friends appear. It is just like the days. An old day passes, a new day arrives. The important thing is to make it meaningful: a meaningful friend – or a meaningful day." – Dalai Lama.
"The fact that you woke up this morning is proof that this day has already been predetermined in your favor." – Russell Kyle.
"I love sunrises. They always signify something new and something beautiful. The darkness fading away." – Michelle N. Onuorah.
When we first wake up every morning, there's a calm in our minds. The challenge is to keep it there all day." – Ron Baratono.
"To greet a lovely morning, we must leave the night behind." – Tarang Sinha.
"The morning was full of sunlight and hope." – Kate Chopin.
17 Motivational Good Morning Quotes
"Great attitude is like a perfect cup of coffee – don't start your day without it. Good morning." – Unknown.
"Don't predict the condition of the entire day by the state of the morning. You don't judge a book by its cover. A cloudy morning is no guarantee for a rainy day!" – Israelmore Ayivor.
"I get up every morning, and it's going to be a great day. You never know when it's going to be over, so I refuse to have a bad day." – Paul Henderson.
"Smile in the mirror. Do that every morning, and you'll start to see a big difference in your life." – Yoko Ono.
"The day will be what you make it, so rise, like the sun, and burn." – William C Hannan.
"Waking up this morning, I smile. 24 brand-new hours are before me. I vow to live fully in each moment." – Thich Nhat Hanh.
"Now that your eyes are open make the sun jealous with your burning passion to start the day. Make the sun jealous or stay in bed." – Malak El Halabi.
"Morning is an important time of day because how you spend your morning can often tell you what kind of day you are going to have." – Lemony Snicket.
"No matter how bad things are, you can at least be happy that you woke up this morning." – D. L. Hughley.
"I wake up every morning literally with a smile on my face, grateful for another day I never thought I'd see." – Dick Cheney.
"Some people dream of success, while other people get up every morning and make it happen." – Wayne Huizenga.
"You've got to get up every morning with determination if you're going to bed with satisfaction." – George Lorimer.
"Success is the sum of small efforts repeated day in and day out." – Robert Collier.
"Rise up, start fresh, see the bright opportunity in each day." – Unknown.
"With the new day comes new strength and new thoughts." – Eleanor Roosevelt.
"Even if you're not ready for the day, it cannot always be night." – Unknown.
"Some mornings you have to remind yourself that you got through yesterday and you will get through today too." – Lidia Longorio
Starting your day with a positive mindset can make all the difference in achieving your goals. Our collection of good morning quotes is a great way to kick-start your day with motivation and inspiration.
But remember, it's not just about starting strong – it's about keeping that momentum going. When the going gets tough, turn to our consistency quotes for a reminder to stay focused and determined.
With a positive attitude and a commitment to your goals, there's no limit to what you can achieve.