Everyone on Instagram wants the perfect post and an aesthetically pleasing profile. So if you are cringing over a caption, forgot to tag a friend, or accidentally chose the wrong picture; your post may still be salvageable.
This is how to edit Instagram posts:
Open the post you wish to edit
Press the three dots on the top right corner of your post
Select the "Edit" option.
Now you can change your caption, location, tag people, etc.
In this article, we will go through all the aspects of your posts that you can tweak and how to do so (as well as some troubleshooting for things you can't change).
How to edit Instagram post [5 steps]
Editing your Instagram posts is pretty common nowadays (looking at you, Twitter). No one gets notified of your changes, so you do not have to feel embarrassed about them.
The process of editing your posts is pretty straightforward; this is how to do so:
Step 1: Open the post you want to edit
Open your IG profile and find the post on your profile you want to edit.
Step 2: Click on the three dots
Click on the three dots in the top right corner of your post.
Step 3: Select "Edit"
A menu of options will appear; select "Edit."
Step 4: Make your changes
From here, you can make your necessary changes.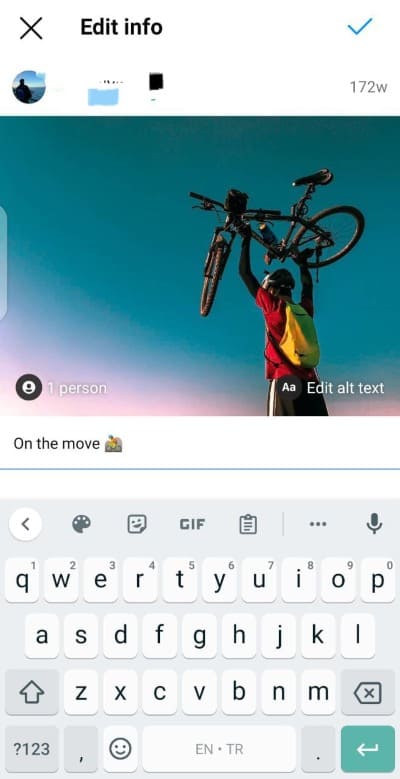 Step 5. Select "Done" or choose "✓"
Select the option "Done" in the post's top right corner or choose "✓" if you see the symbol.
Your changes will now be saved.
Note: The process of editing posts is similar in all formats of Instagram.
What can you edit after posting on Instagram?
You can modify only a few aspects of your post, these include:
1. Captions
You can tap on the previous caption and rewrite it as often as you'd like.
2. Tagged people
If you've forgotten to tag someone or you want to remove a tag, tap on the bottom left corner of your post to tag or untag new accounts on your post.
3. Location
Tap under your username to add, change or remove the location geotagged on your post. If you upload multiple photos as one post, you can only tag one location on them.
4. Removing a picture
You can remove any image from a carousel except for the first image. The order of the photos does not change; the unwanted picture simply disappears.
Select the trash icon in the top left corner of your image to remove it.
Note: Once an image is removed, it can't be reuploaded onto the same post.
5. Edit alt text
Select the "Edit Alt Text" option in the bottom right corner of your picture. Now you can edit, remove or add to your alt text.
The exact process of editing applies to your posts, whether the post is a picture or a video.
What can't you edit after posting?
Unfortunately, you can't edit everything; here are some things you can't alter once published:
Change your filter
Replace a photo
Add a new photo to a carousel
Change the order of the Instagram posts in a carousel
You must delete your post and upload it again if you need to change anything mentioned above.
This can affect your post reach and remove the accumulated likes and comments a post has already received, so double-check your posts before publishing.
Final thoughts on editing Instagram posts
Editing posts is a blessing in the current age of technology (looking at you again, Twitter).
If you want to make an edit, you can change just about everything except the image itself (for that you'll need to delete and reupload).
We hope this article helped you figure out how to edit your posts.
FAQs
Is there a limit to how many times you can edit your post?
As far as Instagram has revealed, there is no limit to the number of times you can edit your posts. However, Instagram is known to block bot-like behavior. If you make too many changes too fast, IG may stop you from editing your post.
Can other accounts see if you have edited your post? 
If you have edited your caption, the words "Edited" may appear under your post, signifying that your post was edited after posting it. This will notify others that your post was edited after you posted it, but they will not know what you may have changed in your post and will not receive a notification.
Why can't I edit my Instagram post? 
If you cannot edit your Instagram posts, it might be an internet issue, or Instagram is known to experience downtimes. You should also keep your Instagram updated because outdated versions tend to glitch. If you used a third-party app to upload your post, it might also be causing the problem.