When times are tough, the tough find ways to make money fast. It is possible to make money in one hour, and we have put together some of the best and quickest ways to help you come up with what you need in record time.
Our ideas mix old-school, online, and regular, and you should find one or more here to have you counting the dollars you need. You may not have all day, but even an hour is enough time to get a few funds to help you on your way.
Here's how to make money in one hour:
1. Do Online Surveys
One accessible way to make money fast is by doing online surveys. Several platforms will readily take you on and provide surveys, videos, and more.
The best way to use an online survey gig is to register with a few and access them in times of need. That way, you save time when you only have an hour to come up with funds.
Complete as many as you can. Most take around five minutes, and you can make as much as $45 depending on how quickly you work and how many matches you can find.
A few companies to try include:
Swagbucks
Rakuten Insight
InboxDollars
Kashkick
Opinion Outpost
MyPoints
Depending on your lifestyle, age tastes in entertainment, and other factors, you may not be a good match for every survey. Keep searching, though, and you are sure to find a few to complete.
2. Allow Companies To Track Your Data For A Fee
We all know marketers and companies use our data to improve customer experience and product offerings. While we typically spend our energy trying to block these companies from spying on us, there could be a way to use them to make money.
Did you know that some people voluntarily offer up their online data in exchange for money?
Depending on the company, you can make between $10 and $50 when you sign up to have your data watched.
Your data is sent to the relative parties and is kept anonymous, so you are relatively protected in that way. Once you have signed up, simply use your device as you would usually have and enjoy your fast-earned money.
Two companies to contact include:
Mobile Xpression (only for mobiles)
Be sure to research how long they have access to your data and how you can opt out of the process should you wish.
3. Make Deliveries With Your Vehicle
If you are over eighteen and have your own transport, you might consider doing deliveries to make money fast.
Companies like DoorDash and Uber typically let you start working shortly after signing up. Depending on how quickly you can get your deliveries done, you could easily make an excellent earning within an hour.
If you anticipate needing to make money in an hour in the future, try signing up with the company of your choice ahead of time. Once all the paperwork is out of the way, it is then a simple matter of jumping online and getting that client when you need to.
Some people do this job full-time and make enough to earn a living, so it is a legitimate option for earning side-hustle money, too.
You can earn $500 per week with DoorDash following a few tips or even $1000 per week with Uber Eats under the right conditions.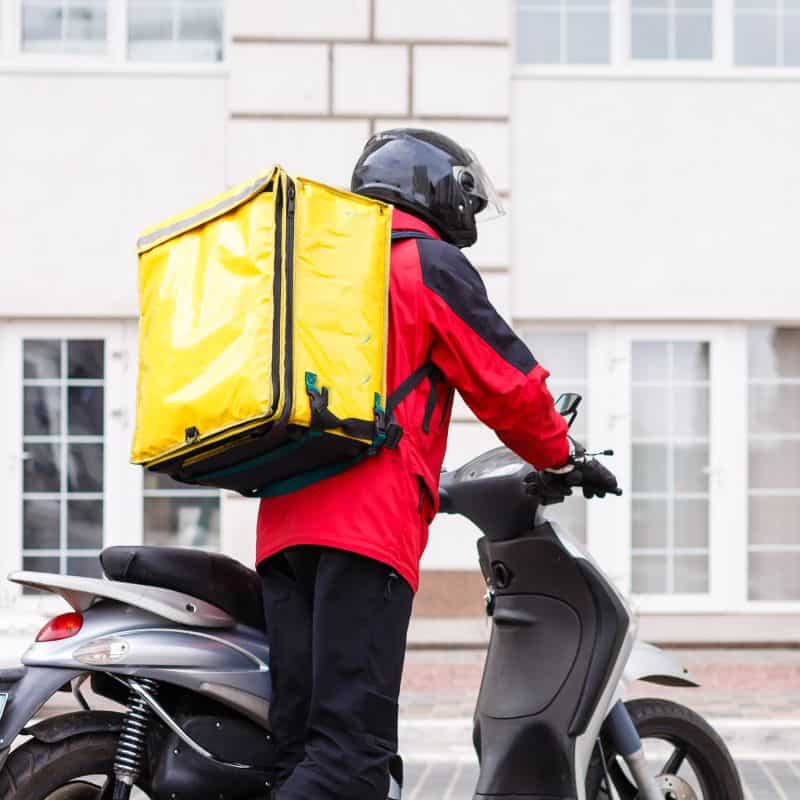 4. Helping People Out With Menial Tasks
While you are out on your deliveries, peek inside people's homes. You will likely find inspiration for ways to help and get paid to do it.
Most of us definitely do not have the time or energy to tackle the mundane tasks of home life often enough. Because we are overworked, we tend to leave menial jobs until the last minute or too late.
Consider offering help with things like picking up dog mess, taking out the trash, ironing, cleaning, and tending to the lawn. You might be surprised how much people are willing to pay to have a little help around the house.
Be sure to assess the situation in the home if you will be helping inside. Always consider your safety first, and do not stay in a position that does not feel right.
Great ways to help outside include ironing clothes in your own home and returning them when done. Assisting in the yard, taking out the trash, picking up dog mess from the yard, and cleaning windows from the outside.
Decide on a fee before beginning the task, and ensure you get paid the whole amount on completion.
5. Host A Car Wash
Hosting a car wash is a fantastic way to raise money quickly. If you are willing and capable, you may even get return customers and make money on an ongoing basis.
Advertise your car wash before the event, or even during. Make posters, and post on Facebook, Instagram, Twitter, community chat groups, and TikTok to let people in your community know where and when they can have their car washed.
Be clear about the cost upfront, or ask for a donation, and it may help to explain what the money being raised will be used for.
Do your best job, and work quickly to ensure you clean as many cars as possible during your allotted time.
Hosting a car wash can be a lot of fun, primarily if you work as a team. Play music and offer inside and outside washes for different fees.
You can add a raffle or lucky draw to the event to increase the excitement and provide a sponsored prize to the lucky winner.
6. Hold An Auction Or Raffle
Raffles and auctions are quick and relatively easy ways to make money, provided you have a prize exciting enough for people to enter.
For a raffle, consider providing a sponsored prize, something valuable from your home, or a ticket or gift card with which you are willing to part.
Be sure to advertise the raffle winner once selected so that all who participated know it was a legitimate competition.
Auctions require something a little more valuable. Try to get something sponsored or sell something from your home that you will not miss.
You can auction an expensive bottle of wine or whiskey, concert tickets, vintage posters, or LPs. Anything you can bare to part with that could fetch you a reasonable price will do the trick.
Auctions also work well when you have a willing teammate. You can auction off a date with them, a hug, or even a few days of homework done for the highest bidder.
Another type of raffle you could do is make participants guess how many sweets are in a jar. It will cost you a jar and candy.
Each person pays a fee to write their guess down. At the end of the hour, the person who guessed closest to the number wins the jar.
If you get enough participants, you will definitely break even and likely make a profit.
7. Start Proofreading
Proofreading is a fantastic job when you have limited time or can only work at odd hours.
Sign up to established platforms and start scanning for jobs. A few platforms you can register with include:
Fiverr
Upwork
Facebook groups for proofreading and editing
You do not need to be the proud owner of an English degree to proofread for money. A good understanding of the language will help, and you should have above-average grammatical knowledge.
Use a program like Grammarly, but be aware that all automated programs make errors that only a human would pick up on.
When proofreading a client's work, go slowly and thoroughly. Proofreading is the last stop for a manuscript before it gets ready to print. You would not want your client to have their book returned with multiple errors after you have helped them.
Proofreading is designed to pick up on errors in punctuation, grammar, spelling, typing, tense, and the like.
You can research the job on Google or YouTube before you start or take a short course if you are dedicated to providing top-notch service.
8. Start Tutoring
Tutoring is a highly underappreciated way to make money. In college, you can approach a professor and ask to be favored when students are struggling and need extra help.
If you are highly knowledgeable in any area, consider advertising and offering tutoring in that area. The opportunities are endless, and students often need extra help.
From primary school all the way up to university, you are sure to find a student that needs help with their homework or extra lessons in a particular subject.
Contact schools in your area and ask if you can place a poster or distribute flyers to their students. Consider doing a flyer drop in your neighborhood for parents to find as they collect their mail.
Always be respectful when tutoring a student. Be punctual, be prepared and give the best service you can.
Building good relationships with your students and making lessons as fun as possible is essential to keep them returning for more of your expertise and excellent teaching skills.
9. Our Best Extra Ideas For You
There are countless ways you can make money in one hour, and we have gone into detail for a few. Here are a few extras you may find exciting enough to research:
Donate platelets
Walk dogs
Groom dogs
Rent space with Neighbor.com
Sell unwanted belongings online or in a yard sale
Watch pets and houses over the vacation periods
Babysit
Offer to clean out kennels, cages, and fish tanks
Clean pools
Look around your home, under couch cushions, beds, trouser pockets, glove compartment of your car, and anywhere else you can think of. There is usually loose change lying around, and it adds up.
Offer lessons in painting, drawing, playing a musical instrument, throwing a ball, anything you are good at
Offer to sort and reply to necessary mail for elderly people or people with visual impairment
Take recyclable goods to a recycling center to receive a small sum of cash instantly
Make something and go from door to door to sell it.
Offer a home-cooking takeaway. Advertise in your neighborhood and offer a set menu for each day of the week. Forty-five minutes of cooking and preparation, fifteen minutes of collection or delivery, and you have made money in an hour.
When you need to make money in an hour, the world is truly your oyster.
You are limited only by your imagination and your energy, so get out there and try a few different ways to collect money in a hurry.
Always be safe and respectful when offering a service, and remember to thank your patrons for their contributions.