Reacting to messages has been a feature that has been available on Facebook and Whatsapp for a while now, so it's about time that Meta (the parent company of Facebook, Instagram, Whatsapp, and more) brought this over to Instagram as well. Rather than sending texts or emojis as a message, you can now react to a specific Instagram message with different emojis.
This is how to react to messages on Instagram:
Open the Instagram message to which you want to react.
Tap and hold the message. Multiple emojis will appear.
Select the emoji you want to use to react to the message.
In this article, we'll dive deep into reacting to Instagram messages and do some troubleshooting if you don't have access to this feature just yet.
How to react to messages on Instagram
If you want to take advantage of this update to Instagram messages and add reactions to your conversations, follow these steps:
Step 1: Head to your DMs and open a message
Open the relevant conversation and find the message to which you want to react.
Step 2: Tap and hold the message
Press and hold the message you want to react to.
Five or six emojis will appear, and a "+" sign will be at the end. You can click that sign to find all the emojis available and then use your favorite to react to the message.
Protip: To react directly to an Instagram message with a heart, you can also double-tap it.
Why can't I react to Instagram messages? [SOLVED]
If you are one of the Instagram users with difficulties reacting to messages, this section will cover the troubleshooting measures you can take to enable this great feature.
Solution 1: Update your Instagram app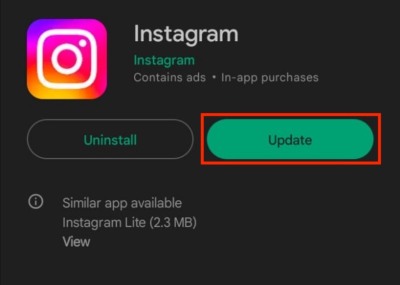 Instagram rolls out new features with updates to their app; if you do not have access to reactions yet, then this is the first thing you should try.
Go to the Google Play Store or App Store and check if your app can be updated.
If you still do not have access to reactions, you can try joining the beta program. You will see an option titled "Join the beta" near the bottom of the update page. This will give you access to the most advanced and recent features of Instagram (albeit sometimes with the bugs accompanying beta testing).
Solution 2: Reinstall your Instagram app
If you can not access the react feature even after updating the Instagram app, delete the app and reinstall it from Google Play Store or App Store.
Sometimes, Instagram gets corrupted, and you can lose access to features. In such cases, removing and reinstalling the latest version of an app can help solve this issue.
Solution 3: Connect Messenger to Instagram
You can only access the reaction feature of Instagram if your Facebook Messenger and Instagram are connected, as Instagram messages and Facebook Messenger are interlinked.
However, if you have not connected your Instagram and Facebook Messenger accounts, you can do so as follows:
Click "Accounts Center" from the "Settings" menu in the Instagram app, and tap "Add Facebook Account."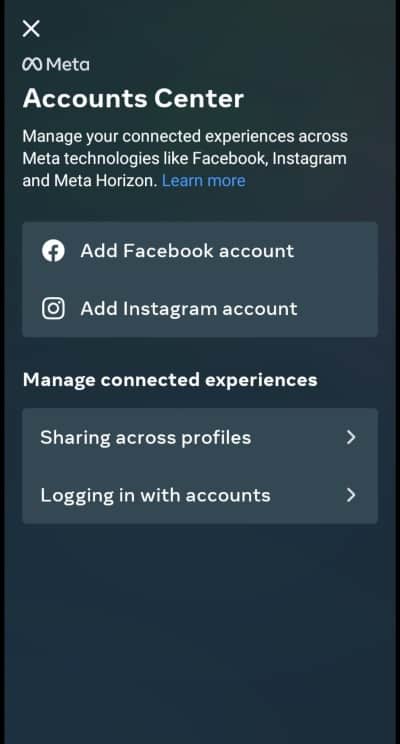 Solution 4: Try reacting to another message
If all the updates and reinstalls are not working, the problem might be the message to which you are trying to react.
A simple way to confirm this is by trying to "react" to a different Instagram message.
If you can react to other Instagram messages, the problem lies with that message, in which case, you can try starting a new conversation with the user or getting them to update their app.
Solution 5: Install a VPN
Often, Instagram rolls out updates to specific countries/regions in stages, meaning that this feature may not yet be available in your country.
If the previous methods did not work, this could be your case.
To fix this, use a VPN (Virtual Private Network). This will change your current IP address, and you can "move" your IP address to another location that supports the reaction feature; generally, try the USA first.
Like updating your Instagram passwords frequently, using a VPN also adds another layer of security to your account, hiding your internet usage from your ISP and others with access to your IP address.
Final thoughts on reacting to Instagram messages
Reacting with emojis is a must-have feature in almost all social media apps. Expressing your reaction through emojis is very convenient.
If someone sends a meme, you can react using a laughing emoji. If it is something emotional, you can react to the message with a red heart.
We hope this guide has helped show you how to react to Instagram messages, and if you were having trouble, hopefully, we helped you solve it.
FAQs
Can you change the emoji you sent as a reaction?
Yes. Tap and hold the message and select a new emoji with which you want to react.
Can you react to an Instagram story?
Yes. Open the Instagram story to which you want you to want to react. Click "Send message" at the bottom. Select an emoji with which you want to react to the story, and the story creator will receive the reaction in their DMs.
Can you react to an Instagram comment with different emojis?
No. This feature is not available for comments yet. You can only react with a heart (like) on Instagram comments.