I've been using Bluehost for a few years now and in that time, I've gathered enough experience with them to provide a real-world Bluehost review and to answer the question, Is Bluehost good for blogging?
Having spoken to a number of different bloggers and website owners of sites both big and small, this review will have you covered if you're considering Bluehost for your website hosting needs.
Cons of Bluehost
Before we take a look at my experience and the 12 main benefits I've established by talking to other website owners, I want to talk about the negatives of Bluehost.
As I've had an overwhelmingly positive experience with Bluehost, this is a section I don't really have any feedback to provide from my side. From what I have seen online, however, the major complaint people seem to have with Bluehost is their customer support.
This is very much in contrast to my actual experience with the support team. I prefer to make contact via email or online chat, and maybe this has something to do with it. These contact methods make it much easier to send through specific problems and reduce the amount of confusion the support staff encounter, which optimizes the whole process and saves you time.
It may be that others have gotten in touch with a few rotten apples, but this is just something I'm yet to encounter.
Benefits of Bluehost for Bloggers
As I haven't got any complaints myself, let's dive into the Bluehost review, and answer the question: Is Bluehost good for blogging? And look at the 12 reasons why Bluehost I think is the best web host for your website(s).
1. Affordable Price
The first thing I generally look at when I plan on purchasing a product or service is the price. That way, I won't be convinced about the features and benefits I may get from the product and service and my mind won't be able to strong-arm me into making a decision that I may regret. Instead, after seeing the price, I can assess the features and benefits whilst taking into consideration the financial outlay.
Now that I've explained why I do that, hopefully, it can help you in assessing the features and benefits of Bluehost throughout this review.
Bluehost has a variety of affordable plans, which is particularly useful when you're starting a new blog or launching a small business.
Best Value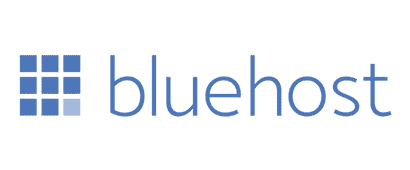 Get your website up and running with a simple one-click WordPress install using Bluehost.
Sign up for their hosting and get a free domain name and start a money-making blog for only $2.95/month (save 71% with the link below).
And when your site begins to grow, Bluehost has the capacity to grow with you.
2. Free Domain Name for your New Blog or Website
As mentioned in the previous point, when choosing a hosting plan with Bluehost, you'll receive a free domain name registration for one year valued at $15.
Try finding a .com domain, this avoids confusion when people try to find your website and is a lot more professional looking compared to many of these new domain extensions (like .travel for example).
3. Unlimited Email Addresses and Storage
If you have a business or a website, you want a professional-looking email address with your domain as the main extension. There's nothing that looks professional about a @gmail.com or @hotmail.com email extension.
This is one of my favorite features from Bluehost as I previously had used iPage & GoDaddy as a website host and had to pay extra for additional email addresses or for more storage. There's nothing quite as frustrating as not receiving messages back because your inbox is full, and no one likes going through old emails, archiving, and deleting (and then needing it later).
4. Why is Bluehost good for blogging = Security
Security may be one of the biggest factors that people look into when choosing a web host and this is one area where Bluehost is at the top of their game.
With all of their plans, you get three layers of protection; Spam Experts, Spam Hammer, and Apache Spam Assassin. You don't have to worry about your email either with it being very easy to set up filters.
Bluehost also has one-click integration with Cloudflare, which can add even more security to your site and increase your site speed as well (an important aspect of SEO and reducing bounce rates).
They even throw in a free SSL certificate.
5. Automatic Daily Backups – A Bloggers Essential
Backups are often overlooked by website owners until it is too late.
Rest assured with Bluehost however as across all of their plans, you get daily backups and site restorations if anything were to go wrong.
This is such a vital part of your business and website, however, that I recommend also using a third-party plugin to create additional backups. For this, I use the free version of UpdraftPlus and highly recommend them.
For an easy-to-follow tutorial with a few different backup options, have a look at this article by Brenda Barron.
Best Value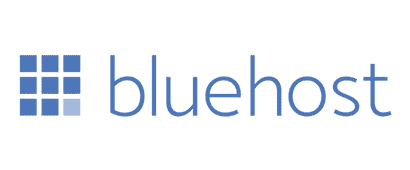 Get your website up and running with a simple one-click WordPress install using Bluehost.
Sign up for their hosting and get a free domain name and start a money-making blog for only $2.95/month (save 71% with the link below).
6. One-click WordPress Install – Perfect for new bloggers
When it comes to starting a blog or launching a website, you cannot go wrong with WordPress. The CMS (Content Management System) is a giant online and odds are, the majority of the websites you visit use WordPress (This one included! ?).
Bluehost makes WordPress integration a one-click affair and makes setting up a WordPress website a seamless process. You can literally get your website up and running in under 20 minutes.
Is Bluehost good for blogging? If you're new to blogging then for this reason alone it will probably save you plenty of time & stress.
7. Unlimited Websites
Whilst this may not be something you're thinking about when you're getting started, later on, adding additional websites and domains to your portfolio may be something you really start to consider.
When using Bluehost (plus plan), adding additional sites, subdomains, etc. becomes an easy task.
If you plan on venturing out into different niches, or your business covers multiple sectors, then this feature makes a whole lot of sense. Furthermore, just the peace of mind of having that flexibility to grow and become as large as you want makes this something I highly recommend.
8. Bluehost is easy to use.
Getting started with hosting your own website and all the different internet jargon used online can be difficult at the best of times.
Bluehost takes those hassles away by providing an easy-to-navigate interface with many one-click installations to get your site up and running fast.
9. Recommended by WordPress
I've already spoken about WordPress earlier in this article, but I didn't mention that it powers over 35% of all websites and holds 62% of Content Management Systems.
This means WordPress is trusted by a lot of people and businesses to keep their websites running smoothly. Businesses like Vogue, Rolling Stone, Walt Disney, and many more.
If you head over to WordPress's recommended web hosting providers, you'll find that Bluehost is the first on the list, make of that what you will
10. Server Uptime
Uptime is the amount of time that your website is online and available. This means people can visit your website, read your articles, buy your products and book your services.
If your website is down, this can negatively affect your income and business, as well as provide a poor user experience for site visitors.
The industry standard for uptime is 99%, which sounds impressive, but that 1 percent can make a massive difference. Bluehost leads the industry with an impressive 99.9% uptime.
And, if your website is down, Bluehost claims on their network/server uptime agreement page, that they resolve most issues related to server downtime within 15 minutes.
For myself on two websites over the last 2 years, I can only recall two occasions where my site was down and the issue was resolved within 5 minutes.
11. Great Customer Support
At the beginning of this article, I mentioned how my experience with the support at Bluehost has been nothing but superb. I stand by that and I'm going to share some tips to make sure your experience is always as good as mine.
Use the online chat/email support. This more often than not gets put through to the correct person that can help you solve your problem. It's also easier for the support staff to identify your problem and then resolve it.
If you feel that the person you are talking to doesn't understand your problem, ask to speak to a technical person in whichever field your problem lies, or to speak to someone else. I've done this a few times to speed up the process when I knew it would need to be handed to someone in tech support anyway. Also, the person you're talking to doesn't want to deal with problems they don't understand anyway, so you'll be doing them and yourself a favor at the same time.
Be patient. Yes, it may seem like 5 minutes has turned into 5 hours, but sometimes things just take time to manually correct or assess.
These tips have helped me always get a positive experience with the support staff at Bluehost, resolving minor email problems all the way up to major website issues where they had to go in and take care of the issues for me.
This is why I'm giving them a raving review. ?
12. 30-Day Money-Back Guarantee
If you are unsatisfied with Bluehost for whatever reason, you can claim a 30-day money-back guarantee.
You will have to cancel within the first 30 days to get a full refund on your hosting. Please note: If you claimed the free domain, the value of the domain will be deducted from the refund amount.
This is something I haven't had to use, so here's the full refund policy for more information.
Is Bluehost good for blogging? Here's an overview of Bluehost's Features
Unlimited disk storage
Unlimited domain hosting
50 GB of SSD Storage (unlimited in Plus plan)
A new free drag and drop site builder
A free domain name for the first year
Support for international domain names
POP3/POP3 secure email support
IMAP/Secure IMAP email support
3 different webmail solutions
Forwarding email accounts and unlimited email addresses
Add-on domains
Parked domains
Subdomains
cPanel account control panel
FTP access
Web file manager
Secure shell (SSH) access
Hotlink protection
Override .htaccess support
MySQL database
LOD files
Side statistics
Customizable error pages
Custom Cron Jobs
Spam assassin protection
$200 marketing credit
Bluehost Review 2023: Conclusion
After looking at the wide range of features, the support, additional free services, and the affordable pricing plan, I cannot think of any reason why you shouldn't try out Bluehost web hosting for yourself.
If you're just getting started or a small business, Bluehost provides the best solution. With the different plans, you can scale as you grow and you won't have to pay for any features you don't need yet.
Uptime and security are possibly the most important things that people overlook, and with Bluehost's incredible uptime and great security features, including a free SSL certificate, you can rest assured that your website is in good hands.
Throw in the ease of use, WordPress integration, unlimited domains and emails, great customer support, and one of the best pricing plans in the industry, you can see why I recommend Bluehost, and when asked is Bluehost good for blogging, I always give a definitive "Yes".
Best Value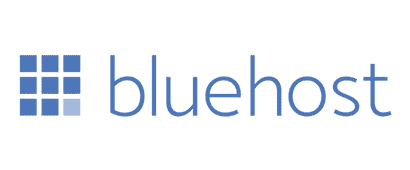 Get your website up and running with a simple one-click WordPress install using Bluehost.
Sign up for their hosting and get a free domain name and start a money-making blog for only $2.95/month (save 71% with the link below).