Keeping a journal or diary is one of the best ways to remain calm, even when your world feels chaotic. However, you don't need a physical journal to jot down your thoughts and feelings – there are plenty of fantastic journaling apps that can be installed on your iPad.
You'll love the following iPad journaling apps if you're ready to start journaling today.
The best journaling apps for iPad are:
1. Evernote (Best Free App)
While Evernote is a powerful note-taking app, you can also use it as a dedicated journaling app on your iPad. This app gives you all the tools needed to remember everything and anything.
You can make journal entries and even add text, images, audio, PDFs, documents, and scans to them. You can also find notes and entries fast with powerful search capabilities.
While you can craft your own journal in Evernote, there are also plenty of free templates that can be used and customized.
For example, you can download Evernote's free Daily Mental Health Journal template to record your thoughts, find inspiration, and work with your own mental health journal prompts. This free template will help you get through the tough days and work towards better days.
If you're ready to take your diary or journal to the next level and organize all your ideas, you can install Evernote on your iPad from the Apple App Store.
However, you can also install Evernote on your iPhone and other devices for a cross-platform journaling experience. Your data will automatically be synced across your different devices.
2. Day One (Best Paid App)
If you're looking for a fantastic paid journaling app, look no further than the award-winning Day One Journal app. With this powerful app, you can capture memories from anywhere about anything.
The stunning design means you can block out the noise and focus on your entries. You can also add photos, drawings, videos, and audio files to tell your story in your own way.
There's also a fantastic "On This Day" feature that helps Day One users take a trip back in time to revisit past journal entries.
Users can also rest assured that their data is safe. With this app, you can protect your journal with end-to-end encryption and biometric security. Your data will automatically be backed up to ensure you don't lose any important memories.
With so many fantastic features, it's no wonder Day One was awarded the Apple Design Award! If you're ready to start capturing moments and memories on your iPad, you can install the app from the Apple App Store.
You can also install Day One on your iPhone, Apple Watch, and MacBook for a powerful cross-platform journaling experience.
3. Dabble.me (Best Web-Based App)
While there are many great journaling apps for iPad, Dabble Me is a web-based app. Of course, that means you can use this great journal software on any device, including your iPad.
This app is designed to help users guide, organize, and remember their lives. Dabble Me also allows users to get inspired with their writing and rediscover great memories from the past.
Like many other journaling apps, this app allows users to attach multimedia files to their journal entries. You can also tag your entries with unique hashtags for seamless navigation.
You can even use the calendar view to see an overview of your journal entries. While this app is free to start using, you can subscribe to Dabble Me Pro for advanced premium features.
4. Diarium (Best Cross-Platform App)
If you're looking for a robust cross-platform journaling app, you'll love the features Diarium has to offer. When compared to competitors, it's clear that it is one of the most feature-rich journal apps for your devices.
To ensure you get the most out of your digital journal, you'll get daily notifications that remind you to check in with your journal.
When writing your entries, you can attach pictures, audio, videos, tags, people, ratings, and even locations – which means you'll never miss a thing.
Diarium can also be integrated with the weather, photos, calendar, and social media apps on your device.
This app also allows users to secure their diary entries and export entries to other apps.
5. Reflectly (Best Smart App)
Reflectly is a smart journal that uses artificial intelligence to help you structure your journal and reflect on entries. With these fantastic features, Reflectly is more than a journaling app; it's your digital mental health companion.
Ultimately, this app is designed to help users deal with negative thoughts and increase their positivity.
The team behind Reflectly understands that journaling is a fantastic means of improving your productivity and mental health – which is why they've given you all the necessary tools to achieve mental clarity.
If you're ready to take your journaling into the future, you can install Reflectly on your iPad by visiting the Apple App Store.
6. Diarly (Best Minimalist App)
Diarly is another fantastic journaling app for iPad! If you're looking for a minimalist app that helps you capture your thoughts in an increasingly modern world, you'll love what this app has to offer.
With the minimalist design, distractions are automatically hidden when they're not useful to what you're writing.
Despite the minimalist interface, this journaling app is packed with features that let you navigate through time.
While Diarly is optimized for iPad, you can also install it on your other devices. By installing Diarly on more devices, your data will be synced between devices, allowing you to journal from anywhere on any device.
You can install Diarly by visiting the Apple App Store on your iPad.
7. Moleskine Journey (Best Integrated App)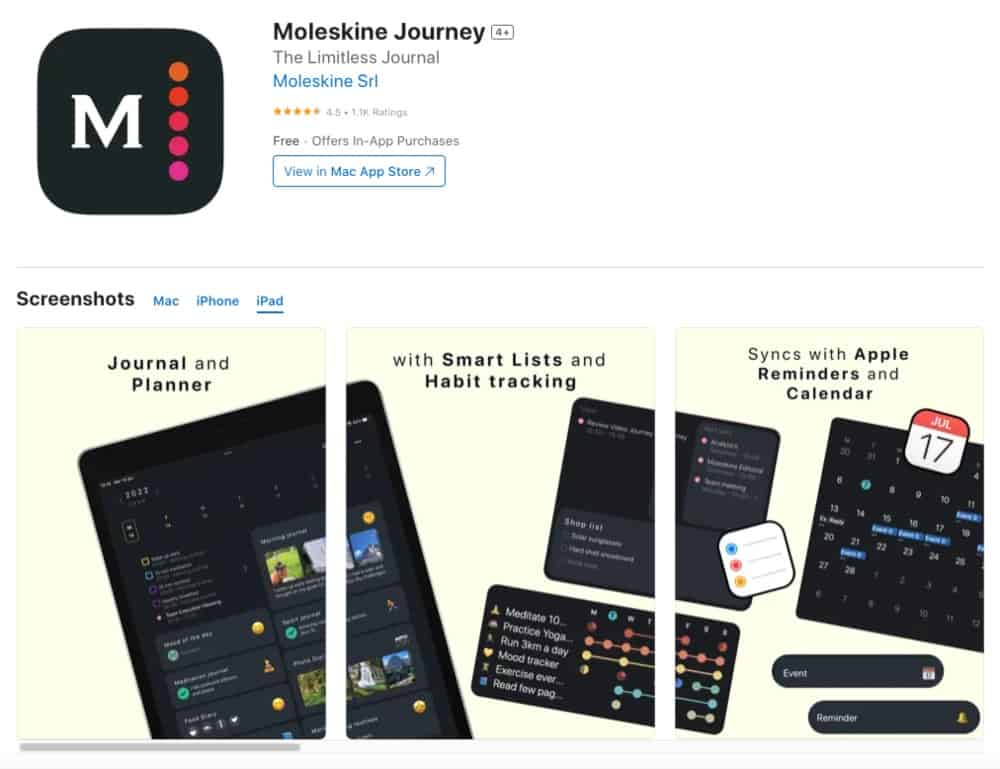 Moleskine Journey is one of the best iPad journaling apps because it combines journaling features with productivity tools and wellness tracking features.
With this app, you'll have more than a dedicated journaling app on your iPad; you'll have access to fantastic features like notes, reminders, and calendars. Essentially, you have all the tools needed for personal development.
If you're ready to strike the perfect balance between your professional and private life, this is the app for you! While the iPad app is free to download from the Apple App Store, Moleskine Journey is a subscription service.
Luckily, one subscription covers all your devices, allowing for a stellar cross-platform experience. Moleskine Journey is also available for Android, Windows, and Mac devices.
8. Daylio Journal (Best Non-Writing App)
While many of the apps on this list are geared towards writing your journal app, Daylio Journal takes a different approach to keeping a diary and capturing your day.
With this fantastic app, you can keep a journal without writing down any words. To create a diary entry, you can simply pick a mood and activities you've done. Your data will then be displayed in statistics and charts.
While there's a scale to help you select your mood, you can customize it with emojis and add more moods to better capture your feelings.
Although you can select your daily activities, you can also add notes like an old-school journal.
If you're ready to start keeping track of your life, you can install Daylio Journal on your iPad by visiting the Apple App Store.
There's also an iPhone app available for a cross-platform journaling experience.