LinkedIn is the most recognizable social platform for professional networking, and many believe it has no competitors.
The fact that LinkedIn has such a wide range of functions and uses makes it difficult to match, but there are some viable alternatives to some of LinkedIn's services.
Competing with LinkedIn in all arenas is difficult, but it's not impossible.
Here are 9 LinkedIn Competitors:
1. Xing
Xing is a social network focused on finding a job, though there is a component for building your network and sharing news and insights.
In terms of functionality and features, Xing is the closest alternative to LinkedIn. It is especially prevalent in German-speaking countries like Germany (where it was founded), Austria, and Switzerland, but it is gaining traction internationally.
The network has been around since 2003, only one year after LinkedIn, so it is a well-established and mature networking platform.
However, Trustpilot lists some complaints about bad customer service and users struggling to cancel their subscriptions, so think about that when you're signing up. It might be a good idea to read the reviews for yourself.
2. Facebook
A few years ago, Facebook launched BranchOut as a fully-fledged LinkedIn competitor.
BranchOut grew in popularity at a tremendous rate before Facebook sold it to the HR software company 1-Page, and nothing further ever came of it.
However, many people miss the fact that Facebook itself can be a powerful business networking tool.
Apart from the personal social aspect, it is easy to connect with colleagues and business people on Facebook. You can also use Facebook Groups to connect with others based on shared interests and share news and information.
Facebook also offers a very effective job marketplace where you can search for, or advertise, employment opportunities.
Apart from the privacy concerns and the bad reputation that Facebook has with many people, it is a viable and valuable alternative to LinkedIn, but only if you use it correctly.
3. Bark
Bark is a website that was explicitly founded to bring professional people in contact with specialized services in their area.
It isn't a networking website as such; you can't build your contacts and network (at least not simply) as you can with LinkedIn, and there's no functionality to add posts or chat with contacts.
However, what Bark does, it does well, and that is to put you in contact with professionals who offer the services you require.
You can simply open Bark's website and search for the service you're looking for to be instantly presented with a list of options from your area.
You can also join Bark as a professional and advertise your products or services for others to find.
Bark is a helpful platform for finding service providers or offering your own services to others.
4. Meetup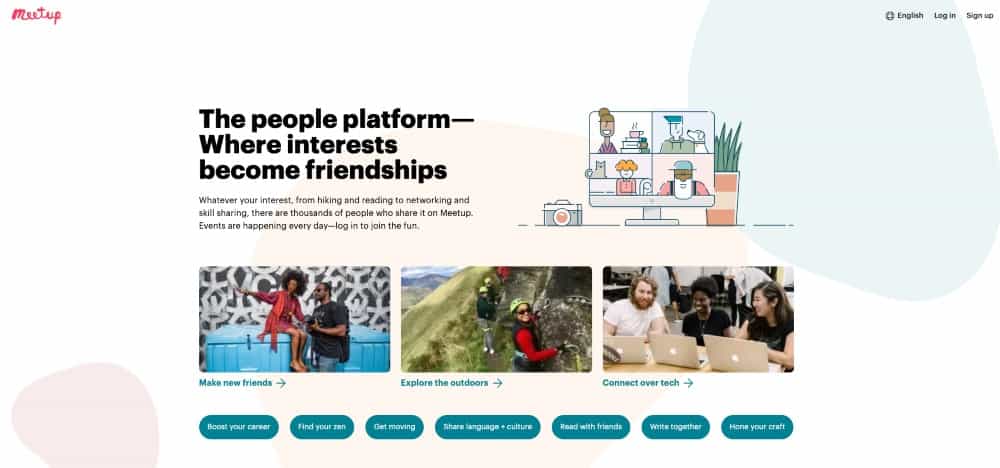 Meetup is an interesting service, though it isn't a social media platform in the classic sense of the word, and it isn't just for professional use, either.
When you sign up for Meetup, you will be asked a series of questions about where you're located, your qualifications and job experience, and the things you're interested in.
You will then be informed if someone with similar interests, qualifications, or job experience has a meetup in your area about anything you're interested in.
So instead of just connecting with someone on a social media platform, Meetup allows you to meet the contact (and other like-minded people) in person, either face-to-face or online.
5. Opportunity
Opportunity is a platform that offers two of the essential services LinkedIn is also known for: finding employment and locating skilled professionals in your area.
You can create a personal or professional profile on Opportunity. Professionals can get notifications if anyone requests a person with your particular skillset, or they can advertise employment opportunities.
Personal profile users can search the platform for professionals to perform a service or for employment opportunities advertised by others.
It seems that Opportunity is seizing the opportunity (pun fully intended) to become an even more powerful LinkedIn competitor since the service recently added the functionality to build your network by linking with other professionals you may know or share interests with.
This makes it an even more viable option to use and a worthy LinkedIn competitor.
6. Jobcase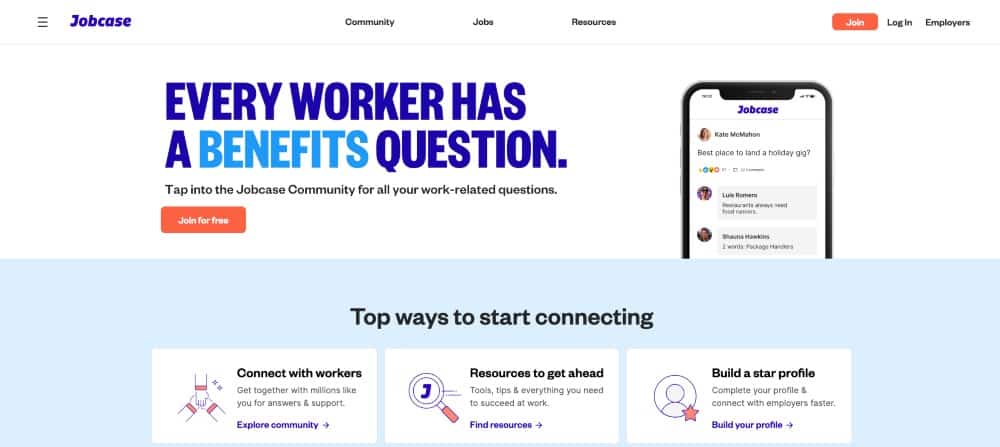 Though Jobcase is mainly a website for those seeking employment, it offers some other services too.
The number one purpose of Jobcase is to create your professional profile, like a résumé, where you can list your skills, knowledge, and experience. You can then use this professional profile to apply for jobs advertised by other Jobcase users.
But that's not all. Jobcase also offers the option to interact with members of the Jobcase community, much as you would on LinkedIn.
You can post questions or tips or help to answer other users' questions. With a user base of millions, there is always something going on on Jobcase's community pages.
You can find a job, learn something new, and build contacts, all in one place.
7. Slack
Slack is a chat app more than a social network, but it is entirely business-focused.
Businesses and enterprises can use Slack (which comes as a mobile app and a browser extension) to set up communication channels between team members in their companies.
This creates a central place where all members of a particular team can collaborate easily.
However, Slack also allows you to join topic-related channels, where you can communicate with people with similar interests or in related jobs from other companies, thereby creating an ideal business networking platform.
One common complaint from Slack users is that it can get quite distracting.
Unlike LinkedIn, which is a website or app that you can close when you have to, the purpose of Slack is to be open while you're working, which could lead to severe distractions from some channels.
8. Gust
One of the most specialized services on this list, Gust is a business networking platform created explicitly for startups that are looking for potential investors.
Gust helps you through every step, from benchmarking your new venture to finding out how well it will stack up and how much money you will be able to raise, to matching you up with the right investors and growing your business.
Due to Gust's startup-centric approach, the platform has many advisors and business experts that can advise you and help you to make the right decisions to get your venture started the right way.
9. Indeed
Indeed probably needs no introduction. Anyone who's ever done a job search on the web will probably have stumbled onto Indeed at some point, and that's with good reason since Indeed has over 250 million visitors every month.
When you create your Indeed account on the website, you can create either a job seeker or an employer account.
Employers can advertise positions that they have available (though there are fees involved), while job seekers can create an online CV or résumé to advertise their skills and experience, then search through the job database and apply for free.
Even though Indeed only offers one small part of LinkedIn's service, namely employment ads, it is such a well-established platform that it is much more effective at what it does than LinkedIn.
Indeed won't let you connect with like-minded people or old college friends to network with them. It won't let you post news or valuable insights for others to read.
But what Indeed will do is to put you in contact with companies and professionals that could offer you gainful employment in the industry of your dreams.
Job seekers can even review companies they've worked for before so that potential new employees will know what they're getting into before applying for a position.