If you've started or are planning on starting a blog, especially one that should be profitable, one of the first things you're going to want is traffic.
You'll need that traffic to build up your blog so you can get the exposure you would like for it and for it to make you money. But if you're brand new to making websites, ranking on Google may seem like it is out of reach and you want a quicker solution.
Pinterest has long been regarded as one of the best sources of traffic, and if you're looking for a quality course on Pinterest marketing, you've most likely come across Pinterest Traffic Avalanche.
So, in this Pinterest Traffic Avalanche review, we're going to cover everything you should expect from this course (including all the benefits and drawbacks) and ultimately, you'll hopefully know whether this course is for you or not.
Here's a quick snapshot of what I think of the Pinterest Traffic Avalanche course.
Pros
Up-to-date and you get lifetime access.
Beginner-friendly.
Facebook support group is very active and helpful.
Great Pin design tips.
Unique hacks to increase CTR.
Cons
Only effective for certain niches.
Pinterest algorithm changes frequently.
Results like the creators had are a lot less frequent these days.
Not much information on using Pinterest Ads.
You have to put in the work to see results.
What is Pinterest Traffic Avalanche?
Pinterest Traffic Avalanche is an online course taught by Lauren McManus and Alex Nerney from Create and Go. It is focused primarily on teaching beginner bloggers how to drive thousands of monthly page views to their websites for free (I.e. with organic traffic) through Pinterest Marketing.
In this course you will learn:
How to create and optimize your Pinterest profile.
How to design highly clickable pins.
Successful Pinterest strategies.
How to optimize Pinterest pins.
Automating Pinterest traffic with scheduling tools.
The course is hosted on the Teachable platform and the majority of the lessons are available in video presentation format. I.e. a slideshow with Lauren talking through the bullet points and occasionally adding examples to bring home the point.
This course focuses on content marketing on Pinterest, in particular blog posts, and how to generate thousands of page views of traffic per month organically through SEO and Pinterest optimization.
In total, there is about 6 hours worth of video lessons covering the various topics, as well as information in text form.
Who's behind Create and Go?
Now that you know what Pinterest Traffic Avalanche is about, it's time to look at the course creators and see if they're credible.
The Create and Go team is made up of Lauren McManus and Alex Nerney. The (former) couple have added Noah Riggs (an SEO) to their team as well, but he is mostly present in one of their other courses, the SEO Blueprint For Bloggers (my review is coming soon).
Before generating over $100,000 per month with their online business, Alex was a personal trainer and Lauren was an accountant.
They have a very relatable story, which is one of the reasons why they're so popular.
They wanted to be freed from their monthly paycheck and carve out a living where they could plan their days as they please and do more of the things that made them happy, and less of the things that did not.
As I said, very relatable, probably to 99% of people, but something almost all course creators say.
So what makes them different?
Well, before they started teaching people how to blog successfully and drive thousands of page visitors to their sites via Pinterest, they actually did it themselves, by building the successful blog, avocadu.com.
Avocadu generates the majority of its traffic through Pinterest, and currently brings in around 150,000 page visitors per month. Alex and Lauren used the findings from this website to create the Pinterest Traffic Avalanche.
They have since moved on to focus on Create and Go and other projects (with Cathy from the Create and Go team taking over on Avocadu) but at its peak, Avocadu was bringing in over 500,000 page views per month on a consistent basis.
You will find a lot of courses these days are thrown together by someone that hasn't gotten their hands dirty or doesn't have any "skin in the game".
I.e. most courses are all theory, but this one is built on actual practical advice and is constantly updated with the help of the successful students and the Create and Go crew's ongoing experience.
So, now that I've gotten all of that out of the way, is the Pinterest Traffic Avalanche course any good?
Pros of Pinterest Traffic Avalanche
One of the most important factors when looking into a course like this is if it is constantly updated to match the latest best practices on an ever-changing Pinterest platform. And that's one of the biggest pros of the Pinterest Traffic Avalanche course.
This course is kept constantly updated by the team at Create and Go, and as they've become a key figure in Pinterest marketing, they also have insider connections with people from Pinterest and Tailwind (an official Pinterest partner used for scheduling).
I purchased this course way back in 2018, so I can confirm that it is very well maintained, and when a change is introduced, the team is very quick to react, often also reaching out directly to Pinterest or their Tailwind contacts.
What that also means is that when you purchase PTA, you have lifetime access. So, if you're just looking to brush up your skills again in a year, or you want to know about the latest best practices, you have full access forever.
This goes for the content of the course, as well as the private support group on Facebook. The Create and Go team has 4 courses and all 4 courses share this one support group, but it's all related content and the discussions are generally also good to follow, even if they aren't all Pinterest-related.
The group is very active and you'll be sure to find some like-minded people, which is great for networking.
As this course is catered to both beginners and slightly more advanced Pinterest users, the interface and the way the course material is presented are very easy to follow and you can start almost any video lesson without needing to have watched all of the prior videos.
Courses like these often have some "secret" hack to take your profile to the next level, and while this is often just marketing jargon, PTA actually does have some great tips and hacks for designing your pins, as well as the strategy you should use, that I haven't seen covered much anywhere else for Pinterest. Which is another big benefit.
Cons of Pinterest Traffic Avalanche
With so many benefits, there are bound to be some negatives that need to also be taken into account and the Pinterest Traffic Avalanche course is no different.
In this part of this review, I'm going to cover the 5 biggest drawbacks to PTA that you should consider before purchasing.
The first con is that Pinterest is not the same as it was in 2017 (about the time when this course was first launched). A few years ago Pinterest was very easy to rank for in just about any niche, as they were very focused on building the userbase.
This meant you could get organic traffic to basically any website as the pins were being promoted by chronological user feeds as well as content just being promoted more readily as Pinterest needed to get content on the platform so that users would use it (much like TikTok was very easy to get views on as they were trying to grow the network, just before introducing ads).
Now though, Pinterest has found its place amongst the social media giants and has a certain userbase that is looking for certain types of content. This means that certain niches can find it much easier than others to get traffic.
Sites that are in the DIY, photography, food, etc. niches tend to perform much better than other niches like psychology, business, tutorials, etc.
These niches are more suited to search engines like Google or YouTube where the user intent is completely different from that of the crafty/idea-based user intent of Pinterest users.
While this is not a con for the Pinterest Traffic Avalanche course per se, it is a massive negative for Pinterest that needs to be acknowledged if you want to purchase this course (and there is no mention of this on the sales page, which is why I am adding it here).
Another con that is more a con for Pinterest, in general, is the big push toward paid ads on the platform and less organic traffic.
Back in April 2019, Pinterest went public and since then, they've made some massive algorithm changes that seem to have eaten up a lot of the organic traffic that brought bloggers to the platform in the first place.
If you just visit your Pinterest feed, you will see what I mean. There is a much larger presence of paid advertising as well as more "shoppable" content.
This move towards paid content and the algorithm updates over the past couple of years has drastically reduced the organic reach of many, especially those that have niches that are less crafty/idea-based.
This also means that the results that the creators of the course talk about and had initially are less common and hard to come by.
So, again, if you're not in one of these niches, it's probably best to look elsewhere for a different traffic generator.
Another negative of this course is that Pinterest Ads are hardly covered. You will only learn organic methods for growing your Pinterest account and driving traffic to your website. This is the first thing you see on the sales page though, and as the course is catered to beginners, most likely without an ad budget, this is probably more of a good thing than a bad thing.
But if you're looking for a course on Pinterest Ads, this is definitely not it. There is a single video on promoting pins, but you would be better off looking for a dedicated course on Pinterest ads if that is what you're looking for.
Lastly, this course requires you to put in the work.
You don't need the paid-for addition of Tailwind to be successful, but you do need to put in the effort of optimizing your profile, doing the research, creating pins, optimizing said pins, and then doing so on a consistent basis in order to find success.
You're not going to find a secret to skyrocket your traffic overnight here.
So, does the Pinterest Traffic Avalanche actually work then?
Does Pinterest Traffic Avalanche work?
The teaching in the course is some of the best available on Pinterest. Generally speaking, Pinterest Traffic Avalanche does work and using the same strategies taught in the course, I've had multiple websites reach over 10,000 page views per month consistently and only from Pinterest.
But that was before Pinterest went public and started making massive changes to their algorithm in 2020 since then I am still generating thousands of page views per month from Pinterest, but the majority of those page views are from old pins.
This is due to the niche of my site not being ideal for Pinterest users. The pageviews from Pinterest have reduced since these algorithm updates, and new pins hardly gain any traction.
At the same time though, sites in the DIY, photography, fashion, food, etc. niches are thriving!
So, the question that matters isn't if Pinterest Traffic Avalanche works or not, the question you need to ask yourself is, does your niche fit on Pinterest?
If the answer is yes, then Pinterest Traffic Avalanche definitely does work.
But if you're not in the crafts, DIY, hobbies, fashion, recipes, home decor, travel, or photography niches, then I would advise looking into other sources of traffic (like SEO).
Some more things to know about Pinterest
In this section, I want to share some personal experiences I've had with Pinterest.
The first is that the majority of the traffic I now receive from Pinterest is from pins I posted over a year ago. While I was receiving around 7 million impressions per month for both of my accounts a couple of years ago, they have now dropped to around 1 million impressions together per month.
Below you can see the two accounts recently (I would love to throw up some older graphs, but Pinterest analytics won't let me go farther than 18 months back).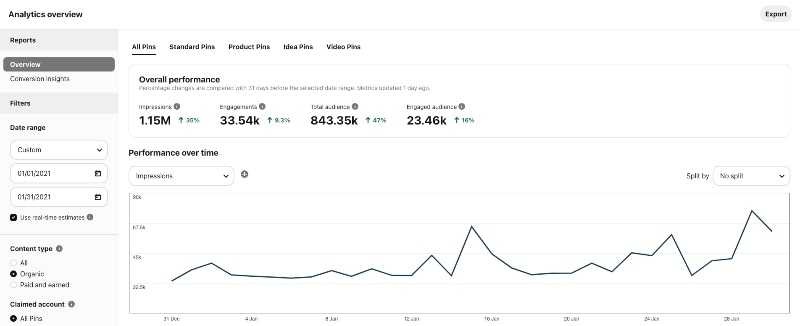 While the impression numbers may seem impressive, I've found the CTR on Pinterest to be a lot lower than when you appear in Google Search results for example.
For example, the CTR for the time period above is about half a percent, whereas on Google 2-4% tends to be more of the norm.
Sticking to the topic of click-through rates, not all types of pins perform the same. Some are more intended for engagement on the platform, awareness, etc, and others are more designed to get users to click through.
Here, for example, we have the analytics of a "photography" pin. I.e. it was just a photo cropped to the size of a pin.
As you can see it received a lot of impressions, over a million in 6 months, but it only had 756 link clicks (Outbound clicks are link clicks that go to your website, whereas Pin clicks are just clicked on the pin to enlarge the image).
This is a good example of awareness and engagement on Pinterest. While people were very interested in looking at the image and saving it to their profiles, they did not go further and click through to my website. The CTR here was just 0,07%!
In contrast, below is a pin with a clear call to action.
As you can see here there are actually more outbound clicks than the popular pin above, even though it was seen by much fewer people in the last 6 months.
In contrast to the pin above, this one had a much more palatable CTR of 2%.
The last thing I want to draw your attention to is this pin: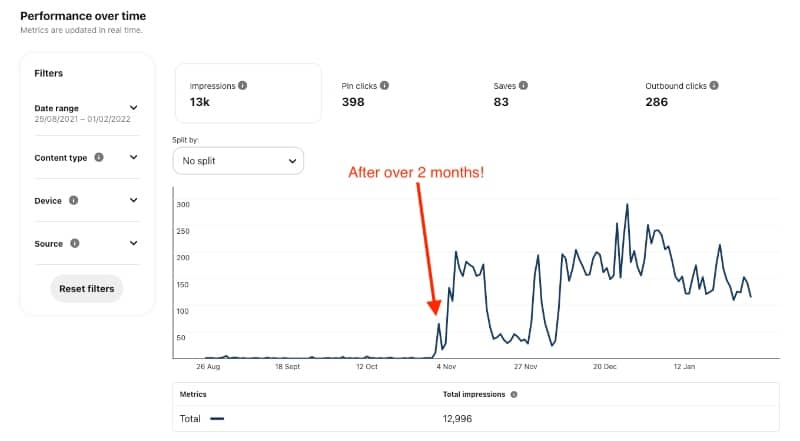 This is a great example of why you need to be patient and keep uploading.
Unfortunately, I cannot see the exact date when this pin was uploaded, but as you can see from the graph, the initial 2 or 3 months was a complete dud, before suddenly taking off.
This is a common theme for Pinterest, some pins gain immediate momentum, while others need to sit around for a couple of months before taking off.
Who is this course for?
This course is great for brand new bloggers that want to get traffic to their website within 2-3 months.
While Google and SEO traffic is the most consistent type of traffic, it generally takes at least 8-12 months for Google to fully understand what your website is about and start ranking your articles (what's known as "getting out of the sandbox").
Pinterest, on the other hand, is one of the search engines/social platforms that allow you to gain momentum in the shortest time span.
This is also for established bloggers that are looking to add an additional traffic source to their website as well though. I would add that if you are already quite familiar with Pinterest, then it's probably not for you, but if you are just starting out on the platform, then this course provides a lot of useful information.
Pinterest Traffic Avalanche is good for bloggers and website owners in the following niches in particular:
Crafts and DIY
Hobbies
Fashion
Recipes/Food/Drinks
Home Decor
Travel
Photography
If you're not in one of these niches, it doesn't mean you can't have success, but these are the more favorable niches for Pinterest as this is what the majority of Pinterest users are looking for.
Who is this course not for?
It's not all positive, there are quite a few categories of people that I would not recommend this course to.
These are:
Users with a Pinterest audience of more than a million (I.e. Pinterest experts/experienced users).
People looking for a shortcut to hundreds of thousands of page views overnight. You still need to put the teachings from the course to work and create the pins.
People who don't have much content on their website (if you only have 10 blog posts, your priority should be to get more content on your site first).
ECommerce websites without any long-form/blog content, this course isn't going to be much help as it is focused on content marketing.
Users that are looking for a course on Pinterest Ads. All of the teachings from PTA are focused on organic growth and Pinterest SEO.
Websites that are not in Pinterest-friendly niches, like mental health, business, tutorials, language, Q&A, etc.
How much does the Pinterest Traffic Avalanche course cost?
The Pinterest Traffic Avalanche course costs $197. This is a one-time fee that gives you lifetime access to the course content, as well as the private Facebook support group, and all future updates to the course.
The course comes with a 30-day money-back guarantee/refund if you're not happy.
You can also get Pinterest Traffic Avalanche as part of the Pro Blogger Bundle, which covers all of the Create and Go courses, for $797.
What's included in the course?
The course content is mostly in the form of video presentations and is broken up into about 11 modules.
These include:
Focusing on the right content
Setting up your account
Pinterest Search Engine Optimization
Creating viral content and pins
Pinning strategies
Using group boards
Automating Pinterest
Analytics
Pinterest ninja secrets
In addition to the learning modules, you also receive a variety of different workbooks and checklists.
These include a beginners checklist, viral pin checklist, pin schedule planner, as well as various useful resources for making and scheduling pins.
And then you also have access to the private Facebook support group as well.
Is the Pinterest Traffic Avalanche course worth it?
If you have a blog in one of the Pinterest-friendly niches, or you are looking to start a blog, then the Pinterest Traffic Avalanche course is definitely worth it. Even in 2022.
The insight into the platform and how to create pins that convert into clicks is top class and the constant updating of the course means that you can always stay ahead of the curve when new algorithm updates are rolled out.
Even for my website which is not very Pinterest-friendly, the traffic I received from Pinterest alone in the last 12 months was very much worthwhile.
Here's a breakdown:
As you can see, I received at least 12,604 website visitors from the US, Canada, and the UK in 2021 from Pinterest.
If we are going to work out the value of that traffic, we can take the average cost of Facebook ad link clicks in 2021, which was between $0.18 and $0.21 depending on the Quarter.
Throw that into a calculator and on the low end, that means I saved at least $2,268.72 on the US, Canada, and UK traffic by using Pinterest instead of if I had used paid ads on Facebook. And as the Facebook data is not just for those countries, it was probably even more that was saved.
If we take into consideration all of the traffic I received from Pinterest in 2021 (30,981 sessions) I saved around $5,500 by using Pinterest instead of paid Facebook ads.
(I don't run paid ads, but if I were to, that would be the value of that traffic from Pinterest alone!)
P.s. Those were the figures using Facebook ads as an example, they would be substantially higher with Google, where the average Google display Ad CPC was $0.31 in 2021.
Final thoughts on the Pinterest Traffic Avalanche course
As you can see from this Pinterest Traffic Avalanche review, this course is not for everybody and it is not going to magically drive thousands of visitors to your blog overnight.
It is, however, a great course that teaches you the ins and outs of Pinterest marketing.
So, if you have started a blog that happens to be in a craft/DIY/idea-related niche (like the ones listed above), you're not getting the traffic you were hoping for, and you're feeling frustrated after putting in all that time and effort into creating content, and nobody seems to be reading it.
Then the Pinterest Traffic Avalanche course is definitely worth checking out.
The course is constantly updated with the latest information and comes with a 30-day money-back guarantee if you're not happy with it.
P.s. You can also save by getting access to the course as part of the Pro Blogger Bundle.