Many Pokémon YouTubers host various channels that will delight, entertain, and educate you if you are a game fan. However, few are considered the best in the Pokémon community and have many subscribers to support their popularity.
The Best Pokémon YouTubers Include:
1. Folagor03
The most successful Pokémon YouTuber in terms of subscribers is Yoel Ramirez (aka Folagor03) from Spain, who has more people following his platform than the official Pokémon Company channel.
The only downside is that your understanding of his content will be limited if you do not understand Spanish.
He began uploading Call of Duty videos on YouTube when he was 16. He has since become famous for exploring Pokémon content and gained popularity for his engaging presentations.
Folagor03's videos focus mainly on Nuzlockes, playthroughs, and other franchises (e.g., Inazuma Eleven). He recently finished a Megalocke for one of the best games in the franchise, Pokémon Platinum, while also showcasing Pokémon Unite.
2. UnlistedLeaf
Michale Andersen, also known as UnlistedLeaf or Ando, is a popular Pokémon TCG (Trading Card game) YouTuber with an extensive collection. Most of his video content is based on him buying Pokémon cards and then opening them.
With over 2.5 million subscribers, this Australian deserves its spot as the second most popular Pokémon YouTubers on the list.
UnlistedLeaf is an incredibly likable showman that exhibits a lot of passion and enthusiasm for the game.
Even though he initially uploaded let's play Pokémon videos, he changed to TCG content in 2013 and never looked back.
To many people's envy, he has a suit with four of the most sought-after Generation I Pokémon characters of all time, the Kanto Starters, and the mascot itself, Pikachu.
Still, his content not only focuses on TCG but also includes some videos based on the history of the Pokémon game's products.
3. MandJTV
Michael Groth (aka MandJTV) is an American Pokémon YouTuber that has been around for over a decade.
He was obsessed with Pokémon as a young child and has since delivered diverse and creative content for viewers online, that include Top 10s, Pokémon Talk series, conspiracy theories, rap battles, and Pokémon Ultra Moon and Ultra Sun video content.
MandJTV's popularity is because he is one of the funniest Pokémon YouTubers and creates highly entertaining videos, especially when he dresses up as a character called Grunty Boi!
He also has other channels, like MandJTV Plays, in which he posts Pokémon gaming and playthroughs, as well as MandJTV Clips and MandJTV Extra.
4. MaxmoefoePokémon
Like UnlistedLeaf, Maxwell Joseph Stanley also hosts a Pokémon channel dedicated to TCG. Known by his channel, MaxmoefoePokemon, he focuses mainly on uploading card pack opening videos, collectible showcases, and challenge videos.
Other video content includes Pokemon-related analyses, trivia, news, tips, and lots more.
MaxmoefoePokemon is popular because of his witty humor, passion, and enthusiasm, which are evident in each of his videos. The only downside is that he does not upload content as frequently as other Pokémon YouTubers.
Besides Pokemon, he also sometimes features card-heavy franchises on his channel, like Yu-Gi-Oh, Digimon, and even My Little Pony.
5. Leonhart
Lee (aka Leonhart) hosts yet another Pokémon card opening and unboxing channel, which is not surprising since TCG is one of the franchise's most successful aspects.
He aims to give his viewers an experience, showcasing anything from vintage Pokémon card openings to unboxing the new Pokémon card sets before they're officially released.
Not only will you find everything you could want as a Pokémon card lover on this channel, but Leonhart also has some fabulous guests on his videos.
Guests like Jason Paige, who sang the now-iconic Pokémon theme, and Carol Monahan, former Sales Director for Wizards of the Coast.
Leonhart is exciting to watch, whether you are a previous or current Pokémon cards collector or want a safe, family-friendly unboxing and opening channel.
6. MunchingOrange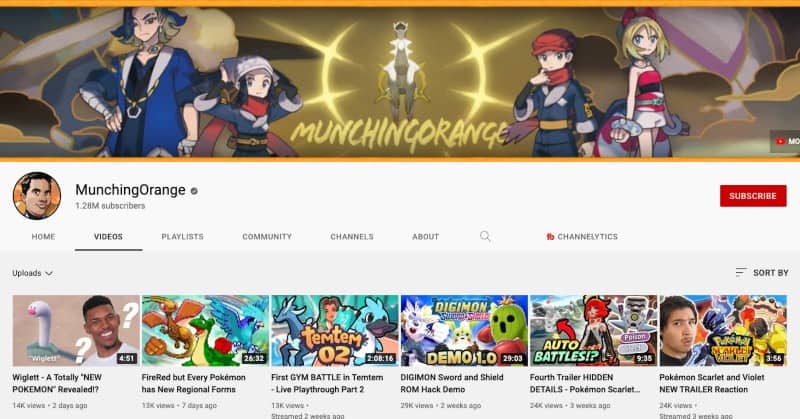 Known as MunchingOrange, the Puerto Rican Eriel Rivera is one of the most popular non-card Pokémon YouTubers.
He has been uploading Pokémon content since 2008, focusing on everything from lets plays, hacks, and walkthroughs to news and Top 10s.
MunchingOrange is also a prominent YouTuber for showcasing multiple Pokémon side games, including the online multiplayer Pokémon Unite, the fan-made Pokémon Xenoverse, and the 2009 spin-off PokéPark Wii.
Like many other Pokémon YouTubers, his latest videos contain information about Scarlet & Violet, the 2022 role-playing video game, which has nearly every fan excited.
Besides the content, a significant upside to following MunchingOrange is that he uploads at least one video daily, keeping his viewers entertained.
7. Lockstin & Gnoggin
Lockstin, an amalgamation of his birth name Austin Lockwood, is a Pokémon YouTuber considered a Pokémon lore expert. His content explains, explores, analyses, and theorizes about multiple aspects of the Pokémon franchise.
His show is called Gnoggin, hence the channel name Lockstin & Gnoggin. The channel offers some Science, History, and Math along with the Pokémon content, making it very educational.
He sometimes delves into the origins of the Pokémon design yet is also knowns to throw in fun shows that revolve purely around Pokémon merchandise.
Lockstin is known for his wacky hairstyle and unique videos, but a note of caution: he allocates a strict PG and PG-13 rating to his videos, so they might not be suitable for younger viewers. Another downside is that he does not upload content as frequently as other Pokémon YouTubers.
8. PokeTips
Michael (Mike) Dualey, more commonly known online as PokeTips, is an American YouTuber whose channel is dedicated to Pokémon guides, tutorials, playthroughs, and tips on being the best Pokémon trainer.
No wonder PokeTips has quickly become one of the most valuable sources for Pokémon content.
However, as good as his range is, he is not known for regularly uploading videos, often disappearing from social media for months.
On the upside, if you enjoy PokeTips and his channel, you might also like his Nuzlocke and Randomizer videos.
9. Dobbs
Ethan Dobbs (aka Dobbs) uploads Pokemon-related videos, including Top 10's, Animated Pokémon Parodies, Fact & Trivia videos, and more. He became popular in the Pokémon community for his friendly rivalry with fellow Pokémon YouTuber TheAuraGuardian.
Dobbs is also knowns for his hilarious vignettes, which he starts most of his videos off with, and his unique character and style. However, he avoids stepping in front of the camera, except during his reaction videos.
He keeps viewers entertained by uploading roughly one video every two weeks on Sundays. He also has another channel, Dobbs Gaming, if you want more of this host's content.
Final Thoughts On The Best Pokémon YouTubers
So if you're a Pokémon fan, it's definitely worth subscribing to one or more of these channels.
Not only will you get access to some great content, but you might also learn something new about your favorite franchise.
Pokémon is a franchise that has stood the test of time, and with the release of Scarlet & Violet, it doesn't look like it's going anywhere anytime soon.