There's something about watching someone else get pranked that's so darn satisfying. Maybe it's because we can all relate to being on the receiving end of a prank, or perhaps it's because we enjoy seeing someone else's misfortune.
Whatever the reason, prank videos are viral on YouTube. And there are plenty of channels dedicated to bringing you the best (and sometimes the worst) pranks from around the world.
The best prank channels on YouTube include:
These are only some of the great prank channels on YouTube, though. Let's look at them all in more detail.
1. Just For Laughs Gags
The Canadian silent comedy/hidden camera reality television show, Just for Laughs Gags is a hit with audiences.
The show uses a hidden camera to capture people's reactions to staged pranks. Each episode features multiple gags.
They have over 12 million subscribers. Just for Laughs Pranks is the perfect channel if you're looking to watch the creators carry out pranks on unsuspecting people in public.
With over 12 million subscribers, Just for Laughs is one of the funniest channels with the most wholesome pranks on YouTube.
2. VitalyzdTv
Russian-born Vital created this prank channel. He enjoys developing new and innovative pranks.
In 2012, he succeeded when his Miami zombie prank video went viral on YouTube. These videos propelled him into a promising future with the platform.
Today, he has 10 million subscribers and regularly posts hilarious pranks on YouTube.
3. Hooman TV
Hooman Nouri is an American YouTuber, vlogger, and prankster.
He has become well-known for his amusing pranks, especially shampoo. A handful of the shampoo prank videos have generated one hundred million YouTube views each.
His channel, Hooman TV, has over 10 million subscribers. While he hasn't posted in a while, there are many videos for you to enjoy if you're looking for a great laugh.
4. Roman Atwood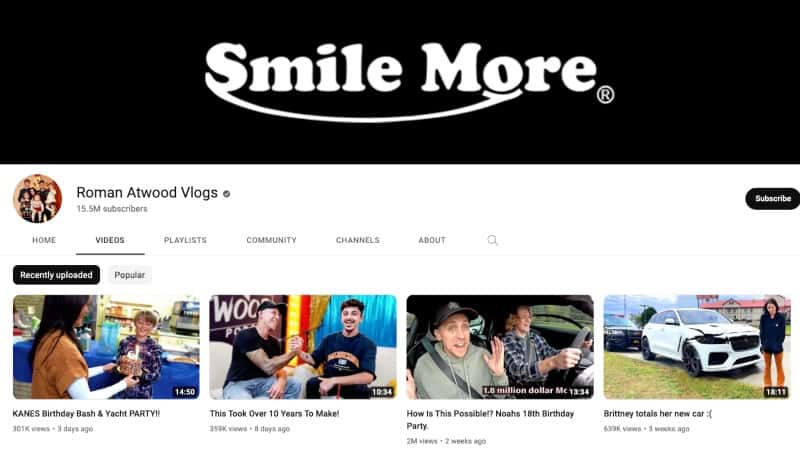 As one of the most famous pranksters, with over 15 million subscribers, on YouTube, Roman Atwood is considered a legend in the world of YouTube pranking.
However, his pranks are for everyone; you can find public, Christmas, Halloween, and more pranks on his channel.
So, if you're looking for a laugh, you won't regret visiting his channel.
5. Magic of Rahat
Magic of Rahat features a magician prankster who will make you laugh with his drive-through and delivery pranks.
With over seven million subscribers, his innovative channel is quite popular and will make your day.
He also posts videos where he performs magic tricks.
6. PrankvsPrank (Jesse)
PrankvsPrank is a channel owned by Jesse Wellens.
His popularity increased when he started posting videos of him and his then-girlfriend playing pranks on each other.
Jesse has over ten million YouTube subscribers and still posts funny videos and pranks.
7. Coby Persin
Coby Persin has over six million subscribers and posts real-life pranks.
He is one of the funniest pranksters on YouTube, and you're sure to laugh at the pranks he plays on strangers, like his fake celebrity pranks and uber pranks.
8. That Was Epic
Juan is the creator of the popular YouTube channel, That Was Epic which has almost seven million subscribers.
He posts some funniest pranks on strangers you will ever see.
His pranks also revolve around social experiments and giveaways, like cutting people's earphones and giving them AirPods.
9. Top Notch Idiots
Top Notch Idiots has over two million subscribers, and the creator has made quite a name for himself in the pranking community.
Opto started his channel in 2017 and has already garnered impressive stats.
He and his team post some of the funniest, lighthearted, and outrageous pranks to put a smile on your face.
10. Nelk
The founders of Nelk (or the Nelk Boys), Nick, Elliot, Lucas, and Kyle, combine their party lifestyle with footage of their pranks.
They are definitely not scared of getting into trouble. The police even arrested Kyle for disturbing the peace and pretending to be a police officer while filming a prank in Mississippi.
Their channel is not for the faint of heart since they make some crude jokes.
But still, with over six million subscribers, Nelk is one of the best prankster channels on YouTube and will definitely make you laugh.
11. Rémi Gaillard
With over seven million subscribers, Rémi has some of the best prank videos on YouTube.
From bringing Pacman and Mario Kart to life and playing pranks in animal costumes to taking on the likes of Ronaldo in a battle of football skills, he has done it all.
12. Ownage Pranks
Ownage Pranks is a channel on youtube that brings you the funniest prank calls with animations.
This channel has over five million subscribers; you can even request a prank call on their website.
They also have a prank caller app where you can send free prank calls to family and friends.
13. Ed Bassmaster
Edwin Rodriguez, better known to his YouTube fans as Ed Bassmaster, is an American comedian who rose to fame for his prank videos.
His channel features various skits in which he plays characters who pull pranks on unsuspecting people or put them into awkward situations.
The Ed Bassmaster Show, a CMT reality-TV prank series, has also starred Bassmaster.
He does prank videos as these characters: Teste, Skippy, Gerard Douche, a CIA agent, Hacker, Tequila, Mumbles, Bluetooth Man, Ugly Face, Bushman, and Zombie Face.
14. HowToPRANKitUp
To learn how to prank your family or friends, you must check out HowToPRANKitUP.
The two brothers will teach you how to pull off the best pranks!
15. JStuStudios
Justin Stuart and Andrew Scites are better known online as JStuStudios. They're American comedians, pranksters, and vloggers from Colorado Springs, Colorado.
Apart from pranks, like falling and Halloween pranks, they also post a lot of hilarious challenges on their channel, like obstacles and overnight challenges.
16. Jack Vale Films
Jack Vale loves making people laugh by creating entertainment for the whole family. He frequently posts so that you can look forward to new videos every two weeks.
Some of these pranks include drive-through, farting, and elevator pranks. Sometimes he gets his family together to prank strangers! You are sure to laugh.
17. FouseyTube
FouseyTube has some hilarious pranks on his channels, including pregnancy and drive-through.
While he doesn't take videos of him playing pranks anymore, there are over 40 videos of him pranking people on his channel that are guaranteed to make you laugh.
18. Jalals
Three brothers created Jalals, and their scary pranks will make you die of laughter.
Some of their best pranks feature them dressing up as scary nuns and Slenderman to scare people in public.
They have over four million subscribers and post compilations of the tricks they pull on strangers.
19. Whatever
Whatever has over three million subscribers and also posts funny prank videos now and then.
Some of their best pranks include their zombie, doing drugs in public, and cobra kai prank.
Final Thoughts On The Best Prank Channels On YouTube
So, if you're in the mood for a good laugh, check out any of these hilarious prank channels on YouTube. We promise that you won't be disappointed.
You may find your new favorite prankster to follow. Who knows? You might even get some ideas for your own pranks.
Happy watching.
FAQs
How Many Prank Channels Are On YouTube?
There are over 51 million YouTube channels worldwide, and while the exact number of prank channels cannot be accurately known, this figure must be in the tens of thousands, if not hundreds of thousands of channels.
This number is constantly growing as the popularity of pranking videos continues to increase.
Which Channel Is The Most Popular Prank Channel On YouTube?
There is no definitive answer to this question, as popularity can be determined in several ways.
However, some of the most popular prank channels on YouTube include PrankvsPrank, RomanAtwoodVlogs, and VitalyZdTV.
What Kind Of Pranks Do These Channels Typically Feature?
The pranks featured on these channels vary greatly. Some popular pranks include public pranks, hidden camera pranks, and social experiment pranks.
These channels often also feature various popular YouTube challenges.