YouTubers populate the globe, and fame is not localized to any specific place. If you're an Arizona resident looking for some local inspiration, there are plenty of great channels local to Arizona.
Top 6 YouTubers that live in Arizona:
1. Collins Key
Let's start with arguably the most popular YouTuber in Arizona. He almost hits the top 50 most Subscribed YouTubers in the United States and ranks 175 globally. We are, of course, talking about Collins Key.
Collins was born on May 9, 1996. Before his success as a YouTuber, Collins appeared on America's Got Talent and was the first ever magician to rank as a finalist.
In 2013 following his debut on America's Got Talent, he joined Demi Lovato for her concert tour. "Neon Lights" was the tour where he opened for acts like as Little Mix, Cher Lloyd, and Fifth Harmony.
Collins had already signed up for YouTube while accomplishing all of this, joining on August 9, 2011. At this point, Collins has amassed a following of over 23 million subscribers and has gained popularity by doing magic tricks that would typically include Devan (his younger brother).
With over 250 videos under his belt, the type of content you will find on his channel is typically geared toward children and consists of the following;
Food challenges that revolve around spicey meals
Magic tricks
Skits that involve slime
Reviews on various topics
DIYs
2. Just Ameerah (Ameerah Navalua)
Hailing from Scottsdale, Arizona, Ameerha Navalua published her first video entitled "annoying public restroom moments – funny skit" in 2016.
Her channel "Just Ameerha" now has a following of over 4 million subscribers.
If you think her subscriber count is impressive, you might be blown away by the over 1.10 billion video views.
At 19 years old, Ameerha is just getting started, and we should expect a lot more from this industrious YouTuber.
The videos that you will find on her channel comprise mainly:
DIYs
Reviews
Hacks
Comedy Sketches
Fashion
Travel diaries
Ameerah also has a second channel, like most other YouTuber stars, called "The Navalua Family.".
Although this channel is not as large as her main channel, having close to half a million subscribers, it is still quite popular. The best part is it only has 55 videos where she is featured alongside her parents and siblings.
3. FaZe Adapt
Born Alexander Hamilton Prynkiewicz on June 5, 1997, in Phoenix, Arizona, "Faze Adapt" (formerly AHDAPTING) joined YouTube at the mere age of 14 in December 2011.
Besides his channel, which has 6 million subscribers, he is also one of the leaders of Faze Clan. As of now, he has posted over 1,400 videos and has summed a total of over 1.1 billion views.
He achieved fame relatively quickly on the platform by creating content that consisted of;
Gaming
Vlogging
Reactions
Pranks
Faze Adapt's YouTube Subscriber Milestones
| | |
| --- | --- |
| Subscriber Milestone | Date |
| 1 million subscribers | June 16, 2015 |
| 2 million subscribers | March 24, 2016 |
| 3 million subscribers | September 14, 2016 |
| 4 million subscribers | July 6, 2017 |
| 5 million subscribers | August 21, 2018 |
| 6 million subscribers | September 1, 2020 |
His YouTube career started with him posting trickshot videos playing Modern Warfare 2. Throughout 2012 he continued to post short trickshot videos no longer than 20 or 30 seconds.
It's important to understand that YouTube content in 2012 did not hit the same mark of "quality" as what is now widely accepted. In 2012 Adhapt made it to the top 20 of the Faze trick shot recruitment competition but failed to be part of the five new members that joined Faze Clan that year.
Adapt subsequently joined Faze, and his first video to hit over 1 million views was titled "Faze Adapt: Hitmarker Rage #2."
He would then start to grow his brand and subscriber base by posting QA videos. He then started improving the quality of his content, and today his net worth has skyrocketed to around $4 million.
4. ExtremeToys TV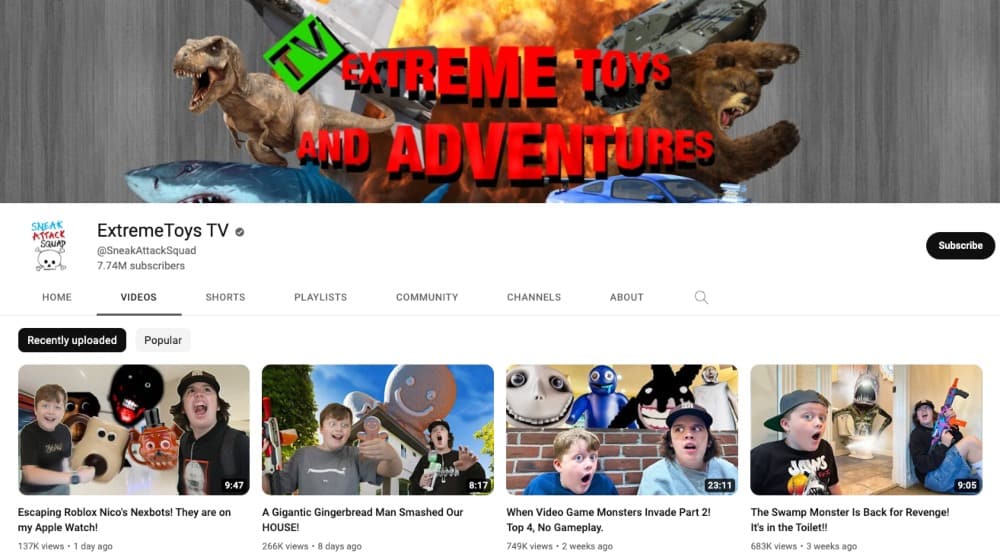 This YouTube channel has over 7.5 million subscribers and over 280 videos and is hosted and run by two kids called Cole and Ethan.
Also, hailing from Scottsdale, Arizona, the two brothers started their channel, ExtremeToysTV, in 2015. Compared with other channels, their video views are exceptional and have reached 4.9 billion views for those 280-plus videos we mentioned.
It is expected that by early 2023 they will have amassed over 8 million subscribers and close to 5.6 billion video views. The content is family-driven and fun, which centers around;
Fun adventures
Candy videos
Gaming videos
Nerf battles
Creature attacks
Obstacle racing
5. SomeThingElseYT
SomeThingElseYT is a channel run by Adam Ortiz Jr. He was born June 17, 1997, and besides being a famous YouTuber, he is also an animator, musician, songwriter, and rapper.
Having joined the platform In January 2009 under the name "Adamrockinrolland," only two videos were ever uploaded to the channel. Following that, a channel titled "AdamtheRandom1" was created where he would meagerly upload one video in 2013.
In 2014 Adam created the channel that would make him a YouTube star which is his current channel named "SomeThingElseYT.".
His content centered around animation and gaming, but as the animation posed for better content, Adam eventually decided to give up gaming and focus on animation altogether.
Since then, Adam has published over 60 videos and collaborated with other YouTubers, such as "Let Me Explain Studios" and "Stole Moms Credit Card To Buy N64.".
Adam has also posted numerous songs to Spotify, iTunes, and YouTube. These include;
I'm Something Else
Help! Oh Well: Take 1
6. Jaiden Animations
Jaiden Animations is another animation and gaming YouTube channel hosted by Jaiden, who, besides being a YouTuber, is an animator, artist, and comedian.
With over 100 videos, her subscriber base is well over the 11 million mark, which is tremendous considering the relatively small number of videos she has.
Born September 27, 1997, Jaiden was raised in Arizona, being of Japanese and German descent. She also has a younger brother named Jax, that often appears in her videos.
Jaiden joined the platform in February 2011 as a teenager and keeps to a posting schedule of between 1 and 3 months per video.
As a child, she enjoyed playing video games and drawing. She then participated in competitive sports such as tennis and karate in her adolescent years. Additionally, she took music lessons that included violin and piano.
Jaiden is humble, nervous when interacting with other people, and somewhat self-conscious, as she confesses in a few of her videos.
During her YouTube rise, she has had the opportunity to collaborate with many other famous YouTubers, including MrBeast (Jimmy Donaldson).
Jaiden's videos showcase;
Story-time animation videos about her life
Speed painting