Florida is a popular place for YouTubers to live. Many famous ones have chosen to make their home in the Sunshine State, and for a good reason – it has plenty of perks to offer content creators.
Florida is a great place to film videos and take pictures, from its beaches and theme parks to its ever-changing landscape. Plus, the weather is perfect year-round.
Here are the best YouTubers that live in Florida:
1. Zane Hijazi
Zane Hijazi is an exceptionally popular YouTuber hailing from Fort Lauderdale. He is known for his authentic humor that veers toward self-deprecating at times.
He is not afraid to be himself and doesn't take himself too seriously.
With over 3.5 million subscribers, Zane's vlog-style videos are a hit with many fans.
2. Heath Hussar
Heath Hussar, the best friend of Zane Hijazi, essentially creates videos where he films his life. He also enjoys taking up popular challenges and filming himself while completing them.
Heath is known for his authentic humor and genuine ability to make people laugh without too much effort.
Alongside his girlfriend and best friend, he's a part of David Dobrik's infamous Vlog Squad.
3. Jessi Smiles
Jessi Smiles is well-known for her beauty videos. She is also known for the hilarious stories that she relays during her so-called "story time."
Most of these stories are about her hilarious dating situations and other stories from her everyday life.
Jessi Smiles has a knack for storytelling and often gets herself into humorous situations.
4. Kathleen Lights
Kathleen Lights is best known for her makeup videos. Her makeup videos show her conducting reviews on makeup and beauty products.
She discusses her favorite products and why she enjoys them so much.
Kathleen Lights also posts videos of tutorials where she shows viewers how to use the specific products she is reviewing and how to bring out the best from each product.
She also has another channel where she performs hilarious sketches.
5. Jenny Lorenzo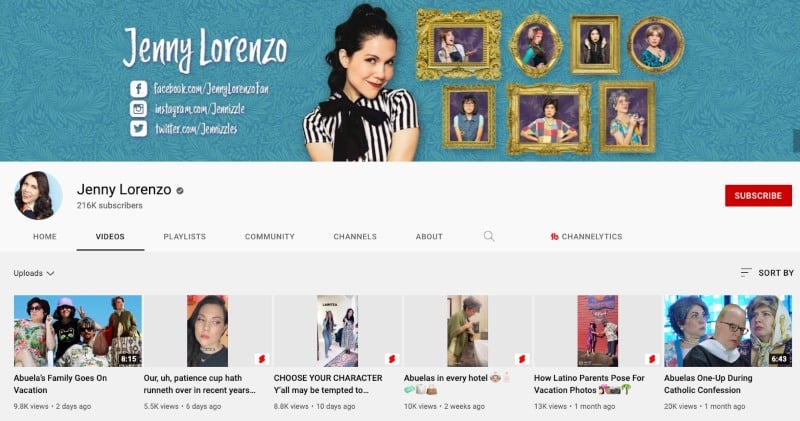 Jenny Lorenzo, best known for her "Amazon Abuela" video, documents life as a Hispanic person living in the United States.
Her most well-known character is "Abuela," inspired by a stereotypical Cuban grandmother.
6. Blue Gabe & Kelly Young
Blue Gabe and Kelly Young are two more Florida locals who host a Youtube channel about fishing.
If you don't fish, this channel will probably not excite you. However, anybody passionate about fishing will thoroughly enjoy this popular channel.
7. Venus, The Two-Toned Cat
Venus, the two-toned cat, is simply a cat with a striking face that features two contrasting colors and contrasting eyes.
While the video primarily shows the cat involved in mundane feline activities, it can be fascinating to watch.
This cat's unusual coloring can make it difficult to look away.
8. Pepe Bilette
Pepe Bilette is a YouTube channel dedicated to a puppet.
This might not sound too enticing initially, but this hilarious puppet with a Cuban accent is guaranteed to leave you laughing out loud.
9. Chonga Girls
The Chonga Girls is a channel specifically aimed at making fun of a stereotyped group of girls that hang out at malls.
These girls are known for wearing too much makeup, harsh black eyeliner, potent lipstick, and a significant amount of goop in their hair.
The girls on the channel have done an excellent job of making fun of this stereotype. Still, some elements are naturally exaggerated for comedic value.
10. Zak Catch Em
Zak Catch Em is another channel that focuses entirely on fishing. While this channel is not recommended for people with no interest in fishing, it can be extremely interesting for those who are.
The channel features videos about fishing that will inspire avid fishermen while teaching them how to fish in the most efficient ways.
11. Nina Santiago
Nina Santiago, a former stripper, is the ex-wife of Morlon Greenwood. Her videos usually consisted of trying out food and acting silly on camera.
However, her popularity grew as she started using her YouTube channel to call out her ex-husband for his transgressions. She also used to collaborate a lot with Trisha Paytas.
12. Baron Von Games
As the name suggests, Baron Von Games is another YouTuber with a channel devoted entirely to gaming.
He has over 425,000 subscribers, and his channel is extremely popular amongst avid gamers.
13. Blitz
Blitz is another YouTube Channel dedicated to gaming.
It hosts videos of games like Slime Ranchers. It has over a million subscribers and three thousand videos.
14. Traveling Robert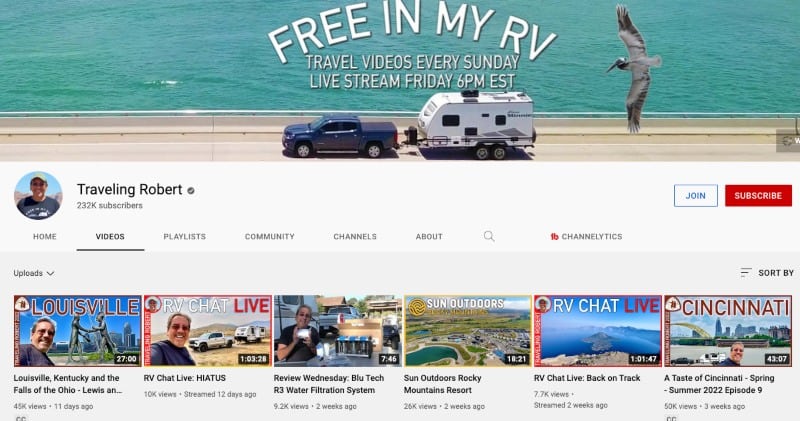 Traveling Robert is a YouTube channel run by two Cuban residents who immigrated to Florida. The channel is essentially a visual diary of two people traveling between states while documenting the differences between the individual states in the USA.
The differences between the states are documented in interesting ways, making for an entertaining experience for locals and immigrants alike.
This channel has over 200,000 subscribers, 59 million views, and one thousand videos. It is particularly interesting because it shows how these two immigrants make their way into a new country and integrate into American society.
15. Baby Ariel
Baby Ariel is an internet personality who gained fame through TikTok and Instagram. She has almost three million subscribers on her YouTube channel.
She uploads videos featuring vlogs, original music, stories, and parodies. Baby Ariel is a young entertainer with great potential.
16. Monster Mike Fishing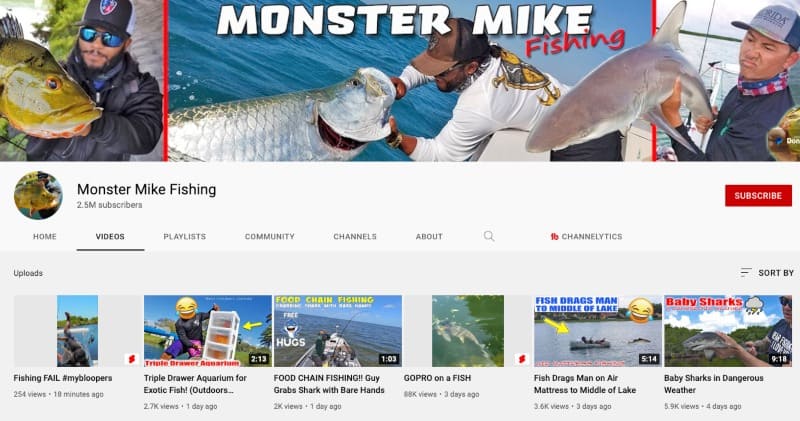 Another fisherman from Florida, Monster Mike, has over 2.3 million subscribers, with over 550 million views across his nearly 600 videos. His fishing videos are thoroughly entertaining while remaining extremely educational.
The entertainment value is such that even non-fishermen will enjoy watching them. He gives great tips, tricks, and DIY ideas for any avid fishermen.
Another great feature of Monster Mike's fishing channel is a new weekly video, so you know when to expect more.
17. Thomas Sanders
Thomas Sanders is known for being one of the top creators on Vine. He hosts a wide variety of content, often featuring other well-known YouTubers.
His videos include skits, reactions, and live streams. Thomas Sanders has over 3.6 million subscribers and over 355 million views of his videos.
18. BadBayHalo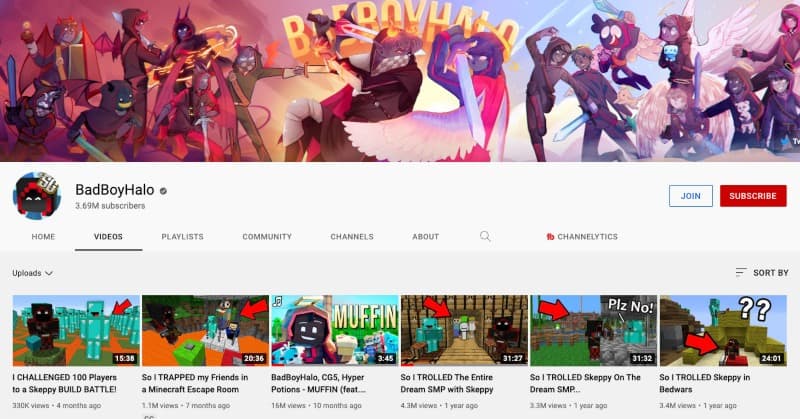 BadBoyHalo is a popular Florida YouTuber with over 3 million subscribers.
He has made over 400 videos focusing on games like Minecraft and streams over on Twitch. With this large audience base, it should be no surprise that he has an estimated net worth of $1.5 million.
Final thoughts on YouTubers living in Florida
Florida is a great place to be a YouTuber. With so many interesting places and people to film, it's no wonder many talented content creators call this state home.
From fishing channels to vloggers, there's something for everyone on YouTube who wants to watch Florida-based content.
Who's your favorite Florida-based YouTuber?