Basketball is one of the most popular sports in the world. People love to watch and play it.
But who should you watch if you're new to basketball, just want to get better, or be entertained?
Here are the best basketball YouTubers to help analyze, entertain, and improve your game:
1. JxmyHighroller
JxmyHighroller, also known as Jimmy Highroller or Grayson Anderson, lives in Washington. He started his YouTube career by listing high school basketball stars, quickly making him one of the most famous and viewed basketball YouTube content creators.
Jimmy follows all many aspects of the international basketball community.
His content ranges from explaining and analyzing significant happenings in basketball. His approach is simple and easy to understand for all viewers, irrespective of basketball knowledge.
He also touches on statistical information on basketball games and reviews on the industry. JxmyHighroller will appeal to many viewers if you want to know more about NBA as a whole.
2. Mike Korzemba
Mike Korzemba is an American YouTuber who shares content such as NBA conspiracies, what-ifs, and basketball-related things.
His content presents as NBA commentaries and discussions. He also owns another channel where he shares NBA 2K gameplay videos (if you're unfamiliar with NBA 2K, it's like Madden or FIFA, but for basketball).
Mike's channel is similar JxmyHighroller, and he also likes to create content specific to hypothetical questions.
He originally started with NBA gameplay and transitioned to creating NBA commentaries. One of his most popular videos, titled "7 Stories That PROVE Michael Jordan WAS NOT HUMAN (THE TRUTH!)," has over 8 million views.
3. Professor Live
Grayson Boucher, better known as The Professor, has been a basketball entertainer for over 20 years.
Born and raised in Keizer, Oregon, Grayson was interested in basketball from a young age. He started playing basketball at two years old and gained a passion early in school.
Since 18, he has continuously impressed crowds and fans with his technique and skills and started his YouTube channel in 2009.
One of his viral videos, Spiderman Basketball Episode 1, was released in 2013, and his YouTube channel gained over 100 million views.
The professor has become one of the most entertaining and noteworthy channels in basketball on YouTube. His Spiderman Basketball series has become one of the most viewed on YouTube and currently holds around 7 million subscribers.
He is often seen to be calling upon well-known athletes to the courts of Venice Beach and creating content with challenging in-game techniques or stunting.
4. ShaQtime
If you are browsing YouTube for a source of fun in the world of basketball, ShaQtime presents its content with hilarious moments of NBA games.
They are presented by Shaquille O'Neal, a former professional American basketball player who likes to show basketball's best and worst moments.
One of his most trending series on YouTube, known as "Shaqtin a fool," presents a humorous or funny series in which they expose some of the best and worst moments on the basketball court.
Another popular YouTube video is titled "Shaqtin' A Fool: Bad-Boys Edition."
5. By Any Means Basketball
Run by Coleman Ayers, Any Means Basketball is based on an athletic organization that aims to bring research and science-based training to basketball players across the globe.
The channel uses various training methods, from in-person mentoring to online content and programs.
Coleman Ayers includes various aspects of training, including professional techniques and many tips and tricks players can use to elevate their basketball performance. A well-known series, Attention to Detail, analyzes NBA players.
Coleman Ayers also markets and publishes the content of training programs such as the pick and roll package, efficient scorer package, or at-home academy.
6. Coach Lyonel Anderson, CSCS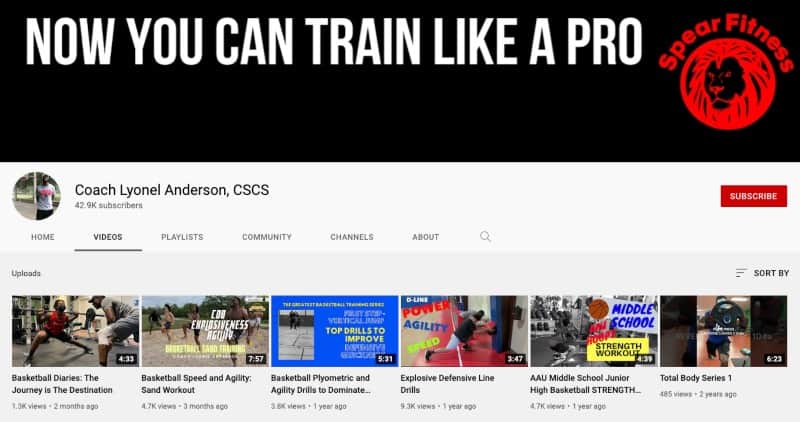 Known as a trainer, coach, and former professional player, Lyonel Anderson provides motivation and training guidance at a high level of basketball.
He's based in Houston, Texas, and while he isn't one of the most popular YouTubers in Texas, he is very successful within his primary field of basketball training and coaching.
Lyonel combines the three fundamental principles that he believes are required in a basketball match: explosiveness, conditioning, and aggression.
Coach Lyonel also touches upon aspects of nutrition for his clients that aid their athletic performance.
Coaching and training drills are provided for a vast skill and age group ranging from young athletes to professionals.
His videos include various training sessions such as home workouts, plyometrics, mindset education, and nutrition.
He reflects and combines his YouTube videos with high energy levels, motivational style, and expertise.
7. Thinking Basketball
Thinking basketball provides statistics with film study. Ben Taylor, the author of Thinking Basketball, provides his YouTube video with NBA analytics, nylon calculus, top 40s, and historical analysis.
Ben Taylor also touches upon general basketball analysis, history, philosophy, and theory.
Thinking basketball aims to create a factual and statistical analysis of professional-level basketball while presenting it unbiasedly.
Ben Taylor has been creating basketball content since 2010 and claims it is one of his obsessive hobbies and full-time commitments. He has additionally released a well-known book, "Thinking Basketball."
The presentation and communication style set Thinking Basketball apart from other YouTubers. He can explain relatively advanced topics in a way beginner players or fans can understand.
One of his YouTube series, the Greatest Peaks, is a well-known popular sports analysis series.
The channel delves into the systems and metrics used in NBA teams and discusses their management and performance.
8. NBA Storyteller
NBA Storyteller creates another approach to basketball on YouTube. Opposite to Thinking Basketball.
NBA storyteller bases his videos on creating narratives, personal perspectives, and emotional arguments.
This approach gives him a thoughtful yet entertaining and fun viewing experience. He does, however, also create some in-depth analysis content.
Also often associated with the mannerisms of John Bois. One of the well-known videos is "Derrick Rose never learned to walk" and "The Death of the Assist."
A popular video of his is also titled "Kobe Bryant BROKE ALL the NICKNAME Rules," which delves into why NBA players get their nicknames and why they have importance.
9. BBallBreakdown
BballBreakdown is a YouTube channel for basketball coaches that breaks down basketball games and provides highlights of NBA games.
Coach Nick, the founder of BballBreakdown, has been analyzing NBA games for over nine years. Coach Nick also has over 20 years of experience coaching entry-level basketball enthusiasts.
Many NBA fans enjoy engaging with his content as he can add essential aspects or views missed during a game and then explain them. One big selling point for Bballbreakdown is that he has a high upload frequency.
One of his popular YouTube series, known as "history of basketball," analyses and looks back on many players and events that happened in the past and breaks down and analyses them.
BballBreakdown answers many questions, such as how NBA players and coaches view the game or demonstrate basketball techniques to improve your performance.
10. AFunkyDiabetic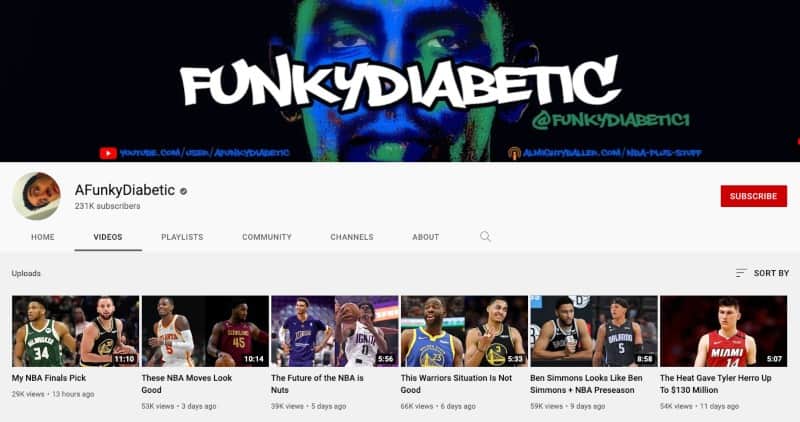 Many basketball fans swear by the AFunkyDiabetics. They enjoy his channel because it is closely associated with an informative, humorous, laid-back, calm presentation and communication style.
His video content ranges from tier lists to trade reports of various NBA players.
Afunkydiabetic is one of many viewers' favorite YouTubers, and there's no competition for some. His slightly informed, laidback, humorous, and calm style makes him appealing to many basketball fans.
Final thoughts on the best basketball YouTubers
Whether you're a basketball fan or just enjoy watching insightful and entertaining analysis videos, there's a YouTube channel for you.
The ten best basketball YouTubers we've listed offer something different, so be sure to check them all out and find the one that resonates with you the most.
We hope you enjoyed this roundup and found it helpful in your online search for quality basketball content.