Are you looking for the best fitness YouTubers? There has been an increase in the number of YouTubers creating fitness content recently.
However, not all YouTubers deliver the same content quality, which might make you wonder which offers the best fitness advice. So, who are the best fitness YouTubers?
Here are the best male and female fitness YouTubers:
1. Natacha Océane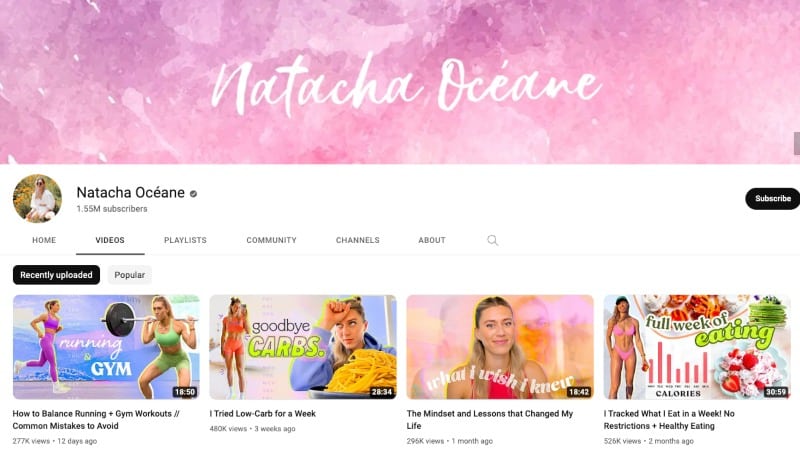 Natacha Océane is a British YouTuber and fitness expert. In addition to having a Ph.D. in biophysics, Natacha Océane creates easy-to-follow workout guides based on scientific research.
She also has an excellent way of explaining fitness in simpler terms to make it more accessible to everyone.
With a following of over 1.5 million, it's no wonder that Natacha Océane is one of the most recognizable fitness YouTubers.
She posts various videos explaining fitness and diet while debunking myths about the topic. She also takes on insane challenges, like running for 24 hours straight, and shares her experience with her fans.
2. Steve Cook
Another trendy name in the fitness industry is Steve Cook. Steven Cook is an American YouTuber and professional bodybuilder.
In 2014, he won Mr. Olympia in the physique category. Today, Steve Cook shares some of his top fitness tips and workouts for everyone to try.
Steve Cook often makes "a day in the life" videos and regularly films while training, allowing his followers to train just like him.
In addition, he shares details of his personal life, allowing his followers to get to know him more personally. Steve Cook currently has around 1.3 million subscribers on YouTube.
3. Hanna Öeberg
Hanna Öberg is a Swedish fitness YouTuber with over 970 thousand YouTube subscribers. With her adorable accent and beautiful family, Hanna shares fitness tips, recipes, and details of her daily life with her followers.
She has also released various training guides for the home and gym.
Hanna Öeberg has a history in bodybuilding and stage performance. However, she is currently training for the sake of it and to feel good.
Hanna is also a Gymshark athlete, and you often see her modeling in Gymshark fitness wear while creating videos.
4. Jeff Nippard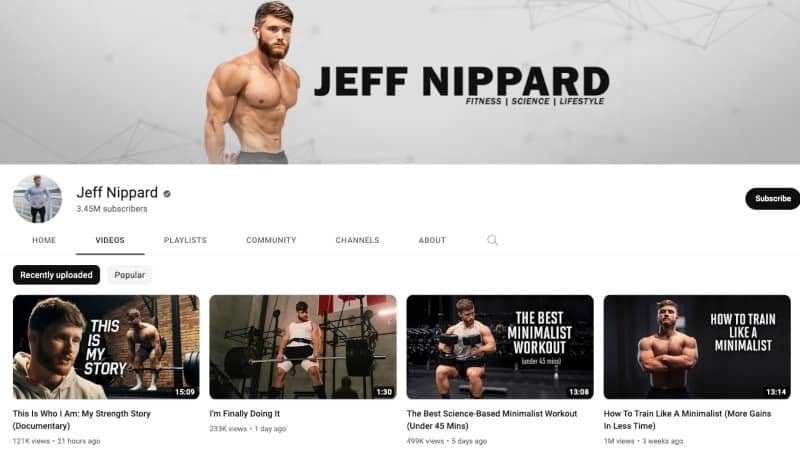 Jeff Nippard is a Canadian bodybuilder and powerlifter who prioritizes science-based explanations.
In addition to sharing his top training tips, Jeff often debunks fitness myths, helping his subscribers better understand fitness, diet, and body composition.
Jeff Nippard has an impressive 3.35 million subscribers on YouTube, and his followers appreciate the detail in which he explains every part of the fitness and health industry.
Of course, Jeff has also released various training guides, each with a science-based approach. He often shares his fitness journey and daily life on YouTube, where subscribers listen carefully to his expert fitness advice.
5. Stephanie Buttermore
Not only is Stephanie Buttermore the girlfriend of Jeff Nippard, but she is also a fitness YouTuber in her own right.
With 1.2 million YouTube subscribers, Stephanie shares her love for science-based fitness with the world. Her videos often contain content from her gym routines and daily life.
Stephanie recently shared her journey of overcoming extreme hunger and continues to share her experience with her subscribers.
Furthermore, Stephanie has released various science-based training guides, giving her clients an in-depth explanation of how the body works and how you can train it best.
6. Chris Bumstead
Chris Bumstead, popularly known as cbum, is a Canadian professional bodybuilder. Having won the Mr. Olympia bodybuilding competition for three consecutive years after being the runner-up for the previous two years, it's evident that Chris has a passion for fitness.
Chris Bumstead has 2.23 million YouTube subscribers and often shares training tips and techniques with them.
Chris's videos are lighthearted and energetic. He also shares details of his recovery and explains how to train your body for optimum muscle stimulation and growth.
He also shares daily life details and has a growing and loyal community.
7. Chloe Ting
One cannot discuss online YouTubers without mentioning Chloe Ting. This Bruneian YouTuber rose to fame in 2020 when her at-home free workout guides kept many people sane during hard lockdowns and Covid restrictions. 
Chloe Ting now has 24.2 million YouTube subscribers and continues to make free workout guides.
Her guides are easy-to-follow and energetic. While they aren't the most advance, they are perfect for those who want to get more active and don't want to go to a gym to work out.
Chloe Ting has inspired many other YouTubers who have tried and commented on her 2-week challenges in hilarious ways.
8. Ross Edgley
Ross Edgley may not have the biggest YouTube following on this list, but he deserves a spot here, regardless. Ross Edgley is a British YouTuber, athlete, and author.
He is the only person ever to swim around the island of Great Britain and shared his journey with the YouTube community, earning him a great amount of respect.
Ross shares his extreme fitness challenges with 165 thousand subscribers on YouTube.
In addition, he has inspired many others who have read his books, the most famous of which being The Art Of Resilience: Strategies For An Unbreakable Mind And Body.
9. Cassey Ho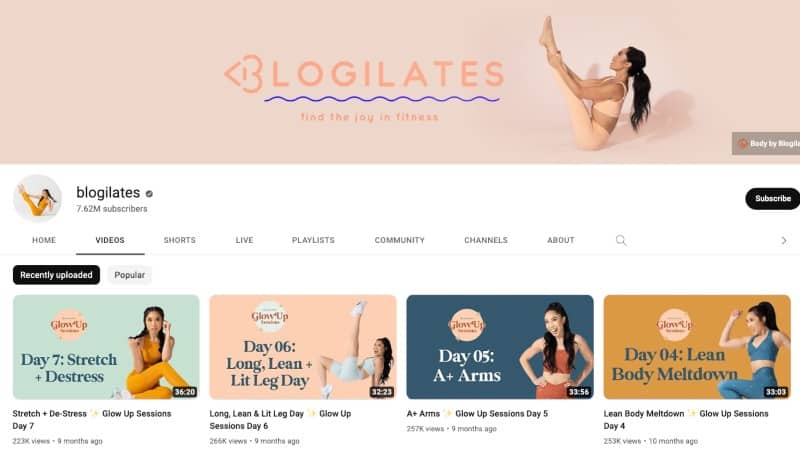 With a YouTube subscription list of 8 million, Cassy Ho is probably one of the most famous Pilates instructors in the world.
Popularly known as Blogilates on social media, Cassy shares at-home workout programs and recipes for the world to enjoy. With a history in Pilates instruction and fashion design, Cassy's videos primarily focus on Pilates.
However, she presents her videos in a fun way for everyone to enjoy. Her content is energetic while also helping you to unwind and relax.
In addition to making YouTube videos, Cassy has a thriving business designing sports clothes and gear.
10. Nick Bare
Nick Bare is an American YouTuber with over 890 thousand subscribers. He is a professional athlete, YouTuber, and author.
Nick Bare shares details and advice on training, nutrition, and fitness on his YouTube channel. He also takes you on his journey as he trains for Ironman competitions and other fitness events.
In addition to making YouTube videos, Nick Bare owns a sports nutrition company and manages a podcast where he shares even more details about fitness and training.
Nick has also released online programs with detailed explanations of each exercise and training phase.
11. Sarah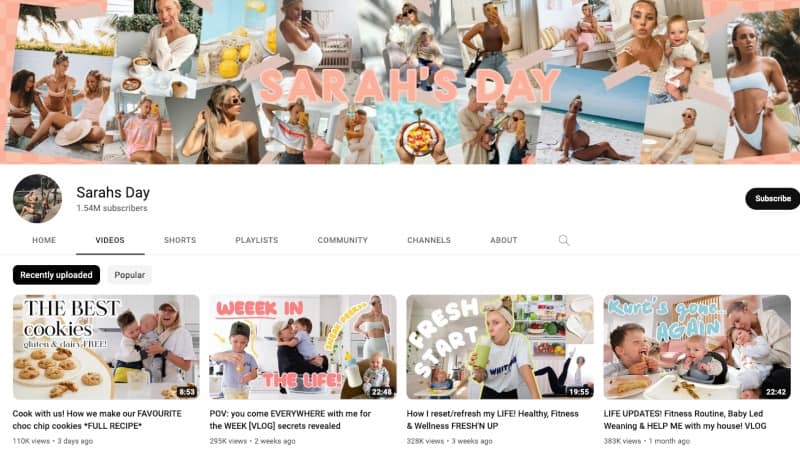 Sarah is an Australian with a YouTube Channel called Sarah's Day.
Sarah posts YouTube content with her family and team about training, intuitive eating, and holistic living. Sarah shares plenty of recipes and has released a cookbook as well.
Sarah's Day has 1.54 million subscribers on YouTube, and she makes weekly videos sharing her journey in the fitness industry. She has also released various fitness apparel and workout guides.
Moreover, Sarah shares excellent gluten, dairy, and refined sugar-free recipes.
12. Bret Contreras
Bret Contreras is known as the Glute Guy and often features in the videos of other fitness YouTubers. However, he also has his own YouTube channel, where he shares tips for growing your glutes and other muscles in the body.
Bret Contreras also makes informative videos to help subscribers understand the mechanics behind training glutes.
As the name suggests, Bret Contreras is an expert in the glute area. Many of his guest appearances on other YouTube channels have him taking fitness influencers through one of his glute workout guides.
Bret is also an author and fitness coach when he is not busy making YouTube content for his over 400 thousand subscribers.
13. Pamela Reif
Lastly, and certainly not least, we have one of Germany's largest YouTubers, Pamela Reif. With over 9.3 million subscribers, she is one of the most popular fitness YouTubers and influencers on the planet.
In her fitness videos, she often collaborates with popular celebrities like Jason Derulo, Ofenbach, Alle Farben, and more, with them trying to keep up (not always successfully).
Her videos are short, often only 10-15 minutes in length, but they're often very intense, depending on the style. You'll find mostly core, booty, and leg workouts here, as well as dance fitness and stretching.
As Pamela rarely speaks in her videos, they're accessible to viewers all over the globe.
Final Thoughts On The Best Fitness YouTubers
These fitness YouTubers will help you get in shape and meet your fitness goals.
They provide workout routines, healthy recipe ideas, and motivation to stay on track.
Check out these channels if you want some inspiration to get fit.