YouTube has become a truly global platform, with thousands of creators having millions of subscribers, but which are the most subscribed to Youtube channels in 2023?
In this article, we're going to look at who is the most subscribed YouTubers in countries like America, the United Kingdom, Australia, and Germany, but also who are the most popular YouTubers in specific niches like music or Minecraft gamers.
When starting a new YouTube channel, these massive YouTubers can be a great source of inspiration and motivation. Helping you keep persevering as you grow your channel and possibly achieve a large following like the incredible creators below.
I was curious as to what the most popular channels were, and while putting this article together I was shocked at how many channels I had never heard of, and how popular a certain niche is, but more on that later.
If you're looking for a specific list, check out the table of contents, and in the meantime, let's get started with the most popular YouTube channels in the USA.
10 Most Subscribed To YouTube Channels In America
With over 320 million people in the United States of America, odds are we'll find some massive Youtube channels from the region.
Of course, YouTube was also made in the USA and their parent company Google (Alphabet Inc) was as well, meaning it would make sense if some of the largest YouTubers are also based in America.
While some of these names should sound quite familiar, you may be quite surprised at what channel is the most subscribed to YouTube channel in America.
let's start this off in descending order…
10. Billie Eilish
Billie Eilish burst onto the scene a couple of years ago and, since then, has developed a distinctive style that has been adopted by millions. With over 45 million subscribers, the successful musician is climbing the YouTube rankings and isn't stopping anytime soon.
9. Taylor Swift
Taylor Swift managed to release two full albums in the past year, and has gotten the rights to her music from her old label, she's redoing her older albums. This means there will be plenty of new and old content coming to her channel and the already 46 million subscribers will most likely be set to increase.
8. Ariana Grande
Ariana Grande is a sensation and it shows with her over 51 million YouTube subscribers.
7. EminemMusic
Sticking with musicians, we have one of the most successful rappers of all time, Marshall Mathers, a.k.a. Eminem. With 52 million subscribers and still releasing new tracks to his channel, the momentum is going well, and doesn't look like it will be slowing down anytime soon.
6. Marshmello
With over 55 million subscribers, the anonymous producer and DJ are taking the music industry and YouTube by storm. Marshmello has one of the largest YouTube channels in the USA, but he's a worldwide hit as one of Spotify's top 10 most listened to artists in the world currently.
5. Dude Perfect
Let's move away from musicians and focus a little bit on trick shots. This is what Dude Perfect focused on and what has made them one of the most popular YouTube channels in the US. With over 57 million subscribers, the popularity of these 5 guys has even landed them a show on traditional television.
3. 5-Minute Crafts
What can we say about 5-minute crafts? This channel delivers on what it says.
While the videos may not be 5 minutes in length anymore since YouTube monetization is higher for longer videos, the channel provides daily hacks and ideas that you can try at home.
With over 77 million subscribers, you know there is someone trying some of the hacks right now.
3. WWE
Like theEllenShow, the WWE is the perfect format of television to translate into short bite-sized snippets that can be used for YouTube.
The wrestling organization is so successful that it's amassed over 89 million YouTube subscribers, making it the third most popular YouTube channel based in the USA.
2. MrBeast
Jimmy Donaldson, better known as MrBeast, has proven that generosity can get you to the top. Pioneering the popular donation stunt genre, and being the king of trend jacking, Jimmy has amassed over 102 million subscribers and it looks like he is only getting started.
1. Cocomelon – Nursery Rhymes
If this was a surprise to you, then you probably don't have any kids. Jokes aside, the nursery rhyme/children's songs niche is one of the most popular YouTube niches and it's growing at a massive rate.
Cocomelon has over 138 million subscribers, making it the most subscribed to YouTube channel in America, and with this niche growing at a massive rate there is plenty of growth still to come.
10 Most subscribed To YouTube Channels In The UK
Let's hop across the pond to the United Kingdom.
With a substantially smaller population in comparison to the US (around 67 million), we shouldn't expect quite the same substantial YouTube subscribers counts as in the previous list. Or should we?
These are the 10 YouTube channels in the UK with the most subscribers.
10. Miss Katy
Miss Katy is a children's channel with over 22 million subscribers. Catered to a Russian audience, it may come as a surprise to see it near the top of this UK list.
9. Mister Max
Mister Max is the brother of Miss Katy, and also has a children's channel that caters to a Russian audience and is based in the United Kingdom.
With over 23 million subscribers, Maxim holds a slight advantage over his sister.
8. Coldplay
There is no need to introduce Coldplay, the band has been around for ages and it seems like every song turns into a ballad.
They've partnered with the extremely popular Korean band BTS, which has seen their views and subscriber count soar on YouTube, making them one of the most subscribed channels in the UK.
7. KSI
Rapper, boxer, but probably most recognizable as YouTuber, KSI is a man of many talents.
JJ has amassed a massive following across social networks and has over 23 million subscribers on YouTube. Enough to put him in good company with one of the UK's most decorated singers in the next spot.
6. DanTDM
Another gaming channel is high on the list of popular YouTubers in the United Kingdom.
DanTDM has over 26 million YouTube subscribers with some of his Minecraft videos exceeding 50 million views each!
5. Adele
Adele has almost as many Grammys as she has millions of YouTube subscribers. That's to say, over 28 million YouTube Subscribers.
And even though she's definitely a musician rather than a YouTuber, with a new album to be released soon, she may be climbing even higher on the table in the coming months.
4. NoCopyrightSounds
Heading back to music, we have NoCopyrightSounds. Unlike the other music-related channels we've featured already, NCS is a British record label that releases royalty-free electronic dance music.
If you're a YouTube creator and you're looking for some great sounds to use in your videos, then check out their channel and maybe even join the already over 32 million subscribers they have.
3. One Direction
One of the most popular bands this millennium, of course, One Direction will feature as one of the most subscribed YouTube channels in the UK.
With over 37 million subscribers, the guys have leveraged their popularity to build an audience across multiple platforms. Harry Styles alone has over 46 million followers on his Instagram and over 13 million subscribers on his YouTube Channel.
2. Ed Sheeran
Undoubtedly one of the best songwriters of his generation, Ed Sheeran is a musical talent and the most subscribed musician on YouTube in the United Kingdom.
Maybe it's his ability to release hit after hit, or his general likeability that has drawn in over 52 million subscribers.
1. PewDiePie
Yes, Felix Kjellberg, better known as PewDiePie, was probably the big name you missed from the most subscribed YouTube channels in America, and for good reason.
The Swedish YouTuber is based in Brighton, the seaside town in the south of England, meaning he's a part of our UK YouTubers list.
There's a lot to say about Felix, but if you're going to learn anything from him to grow your own channel, it's to just keep on going. He didn't earn over 111 million subscribers by resting on his laurels.
10 Most Subscribed To YouTubers In Australia
If we head down under, there are plenty of incredible YouTube channels providing great entertainment and information to viewers on the platform.
In Australia, you can even find two of the most popular DIY channels, check the list out below if you haven't guessed them already.
Top 10 most subscribed to YouTube Channels in Australia:
The biggest takeaway here is that kids' song channels as a niche are universally popular around the globe.
Top 10 YouTube Channels In Canada
Canada's relatively small population in comparison to the US really doesn't show when we look at the biggest channels in the country.
You'll find some of the biggest names in tech, as well as some of the most popular singers of this decade.
I'm sure you can guess who the most subscribed to channel is in Canada, but just in case, here's the list.
10 Most subscribed YouTube Channels in Canada:
10 Most Popular YouTubers In Germany
As I am currently based in Germany, I thought it would be appropriate to add some "local" channels to this list.
I've lived in this country for a number of years, and I actually had never heard of the most popular YouTube channel.
But it won't surprise you to find some more children-focused channels ranking high, even in Germany.
Top 10 most subscribed YouTubers in Germany:
Top 10 YouTube Channels With The Most Subscribers In India
If one thing the PewDiePie vs T-Series battle showed us, is that there are tons of massive YouTube channels in different countries and languages that we had never heard of.
Another thing that it showed us was the power of labels and large production companies to use the YouTube platform to reach people at such a speed, that regular creators have no chance to compete.
This is heavily the case in India, with the 10 most subscribed channels all being these large companies or music labels, releasing content in bulk.
Top 10 YouTube Channels with the most subscribers in India:
10 Most Subscribed Music Artists On YouTube
Let's head away from countries and move to a specific genre.
With the number of music labels we've already seen, it left me wondering, who are the most subscribed musicians on YouTube?
And by this I mean the person/band's channel (even if it's managed/run by the label, I'm looking at channels that have one artist/band on them).
Top 10 most subscribed-to music artists on YouTube:
While for the majority of the western world 8 of those names should sound familiar, numbers 1 and 3 may sound quite foreign.
BANGTANTV is the YouTube Channel of the massive South Korean band BTS (who've broken all kinds of YouTube records) and what I found surprising was that BLACKPINK was even more popular and is the most popular band/artist on YouTube, in the world.
What this shows me are two things; 1). while YouTube is a global platform, even channels that are that popular aren't being promoted to everyone, and 2). I wouldn't mind getting some more diverse content in my feed every now and then, what do you think?
Top 10 Most Subscribed Minecraft YouTubers
If you are going to start a YouTube channel in one of the most popular and competitive niches on YouTube, it really can pay to focus on a specific game within that niche.
Minecraft is one of the most popular games online and some of the most popular gaming channels on YouTube focus mainly on this game on their channels.
These are the most subscribed Minecraft YouTubers:
P.s. I left out some of the big guys, like PewDiePie, Mikecrack, etc. as the majority of their recent content did not include enough Minecraft.
If you're into Minecraft, read this article on how to make money playing Minecraft.
10 Tech YouTubers With The Most Subscribers
Sticking with niches, I had to take a look at one of my favorite niches, tech. Just to be clear, these are channels that review, give tutorials on, unbox, and talk about the latest tech.
I excluded technology-based channels and build things, etc. as these are not quite the same niche.
Now that I've gotten that out of the way, I was surprised to see who the most subscribed to Tech YouTuber is, and even more surprised to find out that I have only heard of 4 of the top 10! How many do you know?
10 Most subscribed to Tech YouTube channels:
Top 10 Most Subscribed YouTube Channels in the World
No top 10 list is complete without including the most subscribed channels in the entire world.
Many of these channels have already appeared in their respective country or niche, but it is interesting to see how they rank in comparison and just how many music/children-related channels have so many subscribers.
10 Most subscribed YouTube Channels in the World:
The Most Subscribed To YouTubers in the World
Having seen all of those large companies in the top 10 before, it left a sour taste in my mouth.
For this reason, I've filtered my selection and removed the kid's nursery rhyme channels, the large music labels and film companies, and the massive production companies that are just pushing out content in the thousands.
What that's left me with are the real YouTubers, the channels that actually put the "YOU" in "YouTube"…
Was still shocked to not have heard of many of them though…
Top 10 most subscribed to YOU-Tubers in the world:
Now you've seen many of the most subscribed YouTube channels in the world. If you want to grow your channel to one day reach these heights, one thing that we have seen is that you need to keep uploading.
You increase your reach and you learn as you go.
What you should also do is optimize your videos so people can find you more easily when you aren't in the million sub-club. For YouTube SEO and optimization, I recommend the free TubeBuddy browser extension.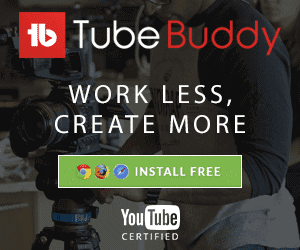 Sources: YouTube, HypeAuditor, WikiPedia, SocialBlade