Let's look at the best free tools for YouTubers and how you can use them to grow your YouTube channel and create better videos.
There's an old saying that to do a job properly, you need to use the right tools. This is also true for YouTubers, but this doesn't mean that you need to have the most expensive tools… or paid tools; sometimes, free tools can get the job done just as well, if not better.
Before we get to the free tools, let me get something off my chest.
I hear it far too often… excuses.
I'm not growing on YouTube because I cannot afford 'X.'
I need to hire a graphic designer to get better thumbnails.
I'm not a video editor, and I cannot afford Premiere Pro/Vegas/Final Cut, so I cannot create YouTube videos. Etc.
Simple excuses that don't make any sense at all. The most popular YouTubers didn't get to where they are by using the most expensive software or by hiring experts to do the work for them. They learned with what they had & grew their audience with their personality, unique ideas, or simply the sheer will and determination to make it.
So, no more excuses.
If you think you're lacking a piece of equipment, look at my budget-friendly YouTube starter kit for the cheapest way of creating high-quality content for your YouTube Channel.
Spoiler alert: You can do it for free or spend a little on lighting & a cheap mic.
Now that I've gotten that off my chest, there are plenty of free tools for YouTubers to accomplish whatever you're looking for.
I'd even recommend these free tools for established YouTubers & people with a higher budget; they're that good.
Best free tools for YouTubers
I've outlined 7 of my favorite free tools, and we're going to take a look at each of them below and just some of the many ways you can use them to expand your reach, create better content, and grow your YouTube channels.
1. TubeBuddy
TubeBuddy is the first on this list because it's the tool I recommend the most.
This free Chrome, Firefox, and Safari browser extension can do so much; you're handicapping yourself simply by not installing it. It's also certified by YouTube so that you won't get into any hot water.
What makes TubeBuddy so great is the SEO functionality.
When uploading your videos, you'll be given various options to see what you still need to do to upload an optimized YouTube video. You'll see live character limits, an SEO checklist & even receive suggested tags from TubeBuddy to help your videos rank higher & get more views.
While scrolling through YouTube, you'll also be able to spy on the competition.
You can see exactly what tags are being used on videos, where the video ranks for the tags, and stats for said video & channel plus if you think the tags will fit your video well, press the copy button & paste them into your tag section.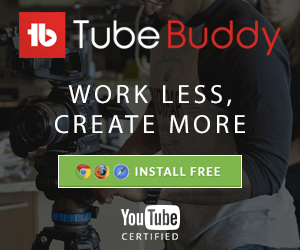 2. Streamlabs OBS
When it comes to live-streaming on YouTube, one of the best options is free.
It's called Streamlabs OBS & with it; you'll be able to start live streaming to YouTube (or Twitch) within a matter of minutes.
The setup is one of the best features of Streamlabs OBS. Once you've finished installing the software to your PC, a quick start wizard will guide you through the layout and how to make your live stream more interactive and engage with your viewers.
Set up a chatbot to thank new subscribers & donations on your stream, and install great-looking themes to make your live stream pop & be more interactive, plus there are loads more details and options.
The great thing about Streamlabs OBS is that you can make it as technical as possible. You can fine-tune settings if you're familiar with them or roll with the quick setup settings and start live streaming; no technical knowledge is required, which is a massive benefit over the regular OBS.
Live streaming is the primary function of Streamlabs OBS, but it can be a useful free tool even if you never plan on streaming live. Why? The screen recording function, that's why.
Record your screen and create videos to upload to YouTube with Streamlabs OBS. You can incorporate your webcam, external audio devices, specific monitors, etc.
It's a powerful tool, and whether you're using it for live streaming or to record your screen, it's free.
3. Lightworks
To create high-quality videos, you'll most likely need editing software. iMovie is great for getting started, and you can create engaging content with it, but you're limited to using Apple devices. So, what is the solution if you're using Windows?
Lightworks is.
It's available on Windows, Linux & Mac systems, so you can create high-quality videos regardless of which system you're using.
Lightworks is a non-linear video editing software. This means you'll have to get used to how it works to harness its extensive power & capabilities. Once you've gotten over some of the learning curve involved, you'll be able to create videos that you would only imagine could be made with higher-end editing software like Premiere Pro or Final Cut.
The catch? The free version only allows for exporting in 720p.
If you need HD or 4k, try HitFilm Express for another free video editing software.
With HitFilm, a benefit is that you only have to pay for additional extensions that you need.
And if you are editing your YouTube video and need to include some B-roll to cover a section, you can also find free stock video footage from these great sites.
4. Canva
Thumbnails can make or break your videos.
Your thumbnails are, after all, the first thing that a potential viewer sees. If they're bad, hardly anyone will click through to watch your video.
This is where Canva comes in, though; the easiest way to create thumbnails that stand out and pop.
Canva is a web-based graphic design tool that allows you to create captivating images for free.
You can create YouTube thumbnails and design custom YouTube channel art and even an end screen to show at the end of your videos.
5. YouTube Creator Studio (and App)
When it comes to free tools for YouTubers, you don't have to look very far for some of the best. YouTube itself provides a variety of useful tools & resources to help you become a success on the platform.
From the YouTube Creator Academy to the very detailed analytics you can find in your YouTube Creator Studio, you'll learn a lot about what to do to grow & how your audience reacts by paying attention to what YouTube provides you.
For example, if it shows that people are leaving a specific video after 4 minutes, you can go to that video and see what could be causing them to leave. Perhaps you went too far off-topic, the delivery became boring, or you mentioned they should like and subscribe and hadn't yet given them a reason to. You can take this learning and then improve your videos for the future.
Another useful tool is the YT Studio app on Android or iOS devices. This mobile app allows you to edit titles, descriptions, tags, etc., without logging in via your computer. You will also be able to harness some analytics & check your stats while on the go or when you wake up.
Warning: checking your real-time views can become addictive.
The best feature of the YT Studio app is quickly replying to comments.
You no longer need to head into a video to reply to a comment; you can do it on your phone.
Whether the comment was on a video you posted a day ago, or a year ago, new comments appear in chronological order, so you know exactly what's happening on your channel.
You can engage with your community with ease.
6. VidIQ
Like TubeBuddy, VidIQ allows you to gather statistics and information about your competition and rank higher through SEO.
VidIQ is also a free extension & offers a few useful additional features.
My favorite is the ability to see the subscriber count of people commenting on videos without visiting their channel. This can be very useful if you want to connect and collaborate with people within your niche.
You'll also be able to see the like ratios for videos in search results, which can be a useful tool if you're looking for video ideas, as you can find videos that rank well but have poor ratios, see what people don't like about them, and then create better or more comprehensive videos.
7. YouTube Audio Library
I already mentioned how YouTube provides some great free tools to its users, another one of these is the YouTube Audio Library.
It's pretty self-explanatory… it's a library of free music you can use in your videos.
Remember to pay attention to the attribution, as some tracks require you to include a link in your description.
You will also find various sound effects, which can add some spark to your videos.
You can access the YouTube Audio Library from your Creator Studio.
P.s. Another great source for free music is the NoCopyrightSounds Channel; you'll find links to the tracks in their video descriptions, and all you need to do to use a track is give them attribution in your video description.