Looking at full-time professional YouTubers, there may seem like there is no way to start a YouTube channel on a budget. Expensive cameras, video editing software & other gear make it seem like an expensive platform to get started with.
That most definitely doesn't have to be the case, however. You see the secret to being successful on YouTube is a mixture of good content, an engaging personality, and mastering YouTube SEO (Search Engine Optimisation).
The content is what people are looking for, the YouTube SEO is what brings the viewers to your videos & your personality is what turns viewers into subscribers.
The great thing about YouTube is that there are so many people that use it, around 2.6 billion active monthly users, you are going to find viewers that relate to your personality. Regardless of whether or not you're an introvert, extrovert, arrogant, humble, etc., you will find people that would like to subscribe.
I've yet to meet anyone that can record a video using only their personality, however, so you're still going to need equipment to record your content.
In this article we're going to look at the 5 main types of equipment you're going to need to start a YouTube channel & how you can start a YouTube channel for free (you will need a computer or smartphone though).
There are numerous different types of YouTube videos & channels you can create. If you're not sure about where to start, check out the 20 most popular YouTube channel types for some inspiration.
Now get a picture of what you want to create so we can get started and get to the gear.
The Best Cameras to start a YouTube Channel on a Budget
If you are going to be present in your videos or you plan on recording other people, objects, or places, you will need a camera and you have a few options.
Free YouTube Camera Options
Smartphone
Most people have a smartphone these days. The built-in camera from your mobile can provide brilliant picture quality without having to spend an extra cent! If you have a newer model, you can even experiment with high-quality slow motion, recording in 4k & other more.
This doesn't mean necessarily that you need a brand-new smartphone though. I still use an older Samsung Galaxy S6 to shoot secondary video & it still produces great quality!
Webcam
Webcams do not provide the best image quality; let me get that out there. If you're starting a gaming channel or you're going to be presenting something where you are not the primary focus of the video, however, then webcams can be great for YouTube.
You can easily record yourself in front of the screen while presenting.
Most laptops come with built-in webcams that will be able to provide the required quality & you could also get a webcam quite cheaply for your desktop computer if it doesn't already have one.
The Logitech C920, for example, provides great quality at a good price, you can check it out on Amazon by clicking here.
Affordable Camera Options for YouTube
For under $400 you can get one of the most complete compact cameras on the market. This camera is great for both beginners & experienced photographers & videographers. Capturing 20.3 MP images, capable of shooting 4K video, 120fps slow motion in 1080p & whilst having a 30x optical zoom & a flip screen, make it a great all-rounder for just about all video capturing situations!
Pros:
4K Video.
120fps HD Slow Motion.
Flip Screen for vlogging.
Cons:
Struggles in low-light situations.
Cannot change lenses.
No shotgun mount (No mount on top of the camera for 'shotgun' microphones).
This is a great option for anyone starting out & if you upgrade later on down the line can function brilliantly as a secondary camera.
Check out the Panasonic ZS70 by clicking here.
For those of you that are looking for a DSLR (Digital Single-Lens Reflex camera) that allows you added control over your video & images. The Canon 1300d (also known as the T6) is a great DSLR camera that provides the customizability you can expect from a camera with interchangeable lenses whilst having a quick autofocus system, 18.7 MP CMOS sensor & HD video recording.
Pros:
Good in low light conditions.
Changeable lenses.
Great autofocus system.
Shotgun mount.
Cons:
No flip-screen.
Cannot shoot 4K.
No slow-motion functionality.
The 1300D is a good camera that provides a lot of control over how your images & videos will look without having a hefty price tag. Whilst it may not be able to shoot in 4K, HD is still a very good quality & a norm for YouTube use.
Check out the Canon 1300D by clicking here.
Recommended Camera for starting on YouTube on a Budget
If you only have $20 to spend, I'd recommend spending it on a good tripod for your smartphone. As mentioned above, the video quality from your smartphone is more than good enough to record your videos. To avoid shaking and to get a good angle, you should use a tripod.
This one from Amazon comes with remote control, so you can start and stop filming without having to manually stop or start recording from your device. It also has a rotating mount. Meaning you can also use this tripod to shoot vertical videos for your IGTV channel! Check it out on Amazon by clicking here.
If you are looking for the best of the best, however, a premium quality lens can elevate your video production quality greatly. While you don't need it when you're starting out, once you do go professional, these lenses are the top contenders for each camera system.
The Best Audio Equipment to start a YouTube channel on a budget
Often overlooked and not considered, good quality audio can often be the difference between an average video & a great one.
Free Audio Options for YouTube
There aren't many great free options for audio as you'll be capturing the audio from your smartphone or camera. You can, however, make the audio sound better by removing noise using Audacity. Audacity is a free, open-sourced software designed for Windows, Mac & Linux, it's easy to use and there are hundreds of great tutorials online.
Best Affordable Audio Options for YouTube
Lavalier Microphone
A Lavalier Microphone, or lapel mic, is probably the cheapest option for recording high-quality audio and removing background noises. These mics clip onto your shirt & can be connected to your smartphone, camera, pc, tablet, etc.
This Lapel Mic is a good option from Amazon.
Desktop USB Microphone
The Blue Snowball Desktop Microphone presents great value for money. You can get this Mic for around $50 & it allows for the capturing of high-quality audio. Whether you're recording vocals & instrumentals or just streaming live, the Blue Snowball will record precise audio with an easy plug-and-play system, meaning you can get started right away.
Check out the Blue Snowball by clicking here.
Recommended Audio Equipment to start a YouTube Channel on a budget
If your videos aren't mainly audio-focused, like music or ASMR, a lapel microphone will provide good enough audio to make great videos. Adding in Audacity to remove any excess noise & you'll be on your way to crisp sound.
Best Lighting Equipment for YouTube
The real secret to great video is good lighting. Even huge blockbuster films invest a lot of time & money into the manipulation of light & lighting, luckily for YouTube, there are easier ways to get great lighting for your videos.
Free Lighting Options for starting on YouTube
Natural lighting is by far the best lighting, and it's free! If you're going to be filming objects or places, try for the golden hour. The golden hour appears twice a day, just after the sun has risen and around an hour before the sun has set.
Using natural light does however also have its shortcomings, for one, you can only film during the day, and lighting conditions can change with clouds moving over or with a shower of rain.
Best Affordable Lighting Options for YouTube
As mentioned, unfortunately, you often can't rely solely on the power of the sun. That's why a pair of light boxes will do wonders if you're planning on shooting indoors where the natural light isn't good enough.
This Studio Lighting Kit on Amazon is great value for money.
Recommended Lighting for YouTube when starting out
Starting out, I'd recommend taking advantage of the natural powers of the sun. As your channel grows you can learn what specific lighting you may need and you may find that natural lighting is really all you actually need.
Best Budget YouTube Video Sets
Now, this shouldn't be as elaborate as you may find on a movie set or TV Show. For YouTube, this is simply the background that may be visible in your videos.
Free YouTube Set Options
An uncluttered wall can provide a clean backdrop. An interesting color painted on the wall will help you stand out further. Alpha M does this nicely with a clean black/dark grey background & the same can be said for Lewis Hilsenteger at Unbox Therapy which utilizes a crisp grey background.
You could also hang a picture, use pillows, or do pretty much anything else you can find around the house to create your set. Get creative.
Best Affordable YouTube Studio Set
Remember that studio lighting kit I mentioned earlier?
Well, it also comes with 3 backdrops that you can use in your videos, a white background, a black background & a green backdrop that you can use as a green screen to add pretty much any background using keying techniques.
Keying is the process of replacing a specific background color with an image or color using video editing software like Adobe Premiere Pro.
Recommended YouTube Set when starting out
Much like lighting, I'd recommend starting off with what you have. Whether that's a clear wall or an interesting backdrop. Starting off with these backgrounds will allow you to investigate what would be the best option if you are going to use a fixed set for your YouTube channel.
Best Software to start a YouTube channel on a budget
Now that your videos have been filmed you're going to need some video editing software to turn it into the next viral hit. Don't worry too much about editing when you start though. You basically want to just cut out bits that you don't need in your video and put multiple videos together to make one awesome YouTube video.
Best Free Software for Starting on YouTube
iMovie is an easy-to-use free editing tool if you're running an Apple device.
Lightworks is a more complicated editor that provides features you'd only expect to find only on expensive high-end software like Sony Vegas & Premiere Pro.
It's free though, and once you've gotten used to the unusual workflow, you'll be pumping out high-quality YouTube videos in no time!
Affordable YouTube Software
If Lightworks isn't for you, you can try HitFilm Express. Another professional-grade editor, the interface may be slightly more familiar if you've used other video editing software before.
The basic software is free & you can create some create videos with it, but to get the most out of HitFilm Express, you can purchase additional features for a small fee.
What's good is that you can purchase features individually. This means you don't have to pay for a bunch of functions you'll never use.
Recommended YouTube Software on a Budget
If you've got a mac, start out with iMovie, otherwise, download Lightworks and get familiar with the unusual interface by following the numerous tutorials available online.
Streamlabs and OBS Studio are two more free open-source software that allows you to easily record your screen & live streaming on YouTube or Twitch. The software allows you to create professional-looking live streams quickly & easily. Find out more about OBS Studio here and Streamlabs here.
Once you've got your videos ready to upload. Check out TubeBuddy, the free browser extension that provides all sorts of useful features when uploading your videos, like showing you the character limits, recommended tags, and much more powerful features to get your videos to the top of the search results.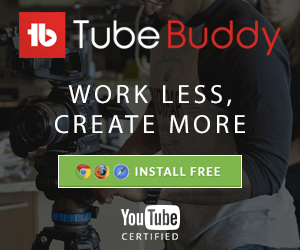 Find out more about TubeBuddy here.
The Under $200 YouTuber Kit
*Prices are at the time of writing.
Now you should have a good idea of how to start a YouTube channel on a budget that looks professional. If you enjoyed this article, please share it with someone that may also find it helpful.