While many fantastic apps are available for iPad, many people are unsure about the best iOS productivity apps.
From ClickUp to Trello, plenty of fantastic apps can help you manage your tasks, streamline your workflow, connect with others, and take your productivity to new levels.
The best iPad apps for productivity are: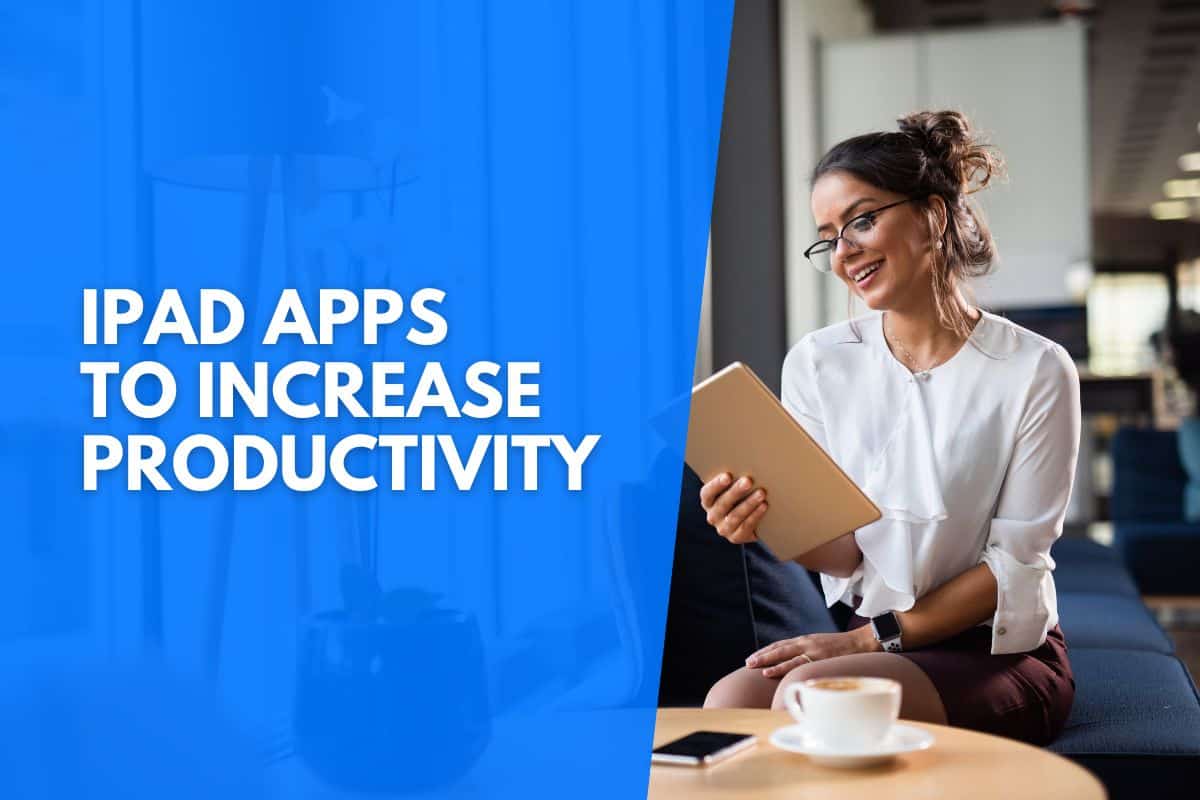 ClickUp (Best Free App)
ClickUp is an all-in-one productivity app that allows you to manage tasks, create lists, work on documents, chat with others, set goals, and more! Whether you work solo or with a large team, you'll be able to customize this robust app to suit your professional and personal needs.
By helping you see your work on your terms, ClickUp expertly boosts your productivity.
While there are paid subscriptions for teams, businesses, and enterprises, ClickUp is free forever for personal use.
With a Free Forever account, you get unlimited tasks, unlimited members, collaborative documents, 100MB storage, whiteboards, real-time chat, native time tracking, Kanban boards, in-app video recording, and 24/7 support.
You can install ClickUp by visiting the Apple App Store on your iPad. ClickUp also has dedicated apps for iPhone and Apple Watch, empowering you to manage your tasks wherever you go. Users can sign up for free and start using ClickUp on their iPad within seconds.
Omnifocus (Best Paid App)
Omnifocus is a robust task management platform designed for busy professionals. This app features many comprehensive tools that can help you expertly navigate your schedule and complete upcoming tasks.
This brilliant app lets you keep track of everything from anywhere – especially when you install Omnifocus on your other Apple devices.
If you're wondering why Omnifocus is the best-paid productivity app for iPad, it's because Omnifocus is designed to seamlessly integrate with Apple devices.
Due to this, Omnifocus becomes a seamless part of your iPad's workflow. Ultimately, this app is designed to help you see the bigger picture, effectively reducing your stress and increasing your productivity.
You can install Omnifocus by visiting the Apple App Store on your iPad. Omnifocus can also be installed on your iPhone, Apple Watch, and MacBook for a premium cross-platform experience.
Omnifocus is a paid app with Standard and Pro accounts available as in-app purchases. However, users have a two-week free trial to test the platform before committing to a plan.
Todoist (Best To-Do List App)
If you're looking for a minimalist to-do list app, you'll love what Todoist offers. Regardless of how many tasks are on your to-do list, Todoist will help you complete your projects on time.
To help you stay on track, Todoist provides a concise overview of your upcoming tasks at the start of every day.
By adjusting the priority levels of your tasks and setting reminders, you can ensure you work on important tasks first. Todoist also allows you to assign tasks to others, turn emails into tasks, and seamlessly customize the platform.
You can install Todoist by visiting the Apple App Store on your iPad. You can also install Todoist on your iPhone and Apple Watch to take your to-do list wherever you go.
Evernote (Best Notes App)
Evernote is a dynamic note-taking app that's perfect for those who want to plan ahead and boost their productivity.
From simple tasks to complex projects, Evernote can handle it all! With this all-in-one notes app, you can track everything you must work on.
If you're looking for an iPad app that will become your personal planner, notes archive, and task manager, this is the perfect app for you.
What's great about Evernote is that you can seamlessly incorporate audio, images, PDFs, and other documents into your notes and work. You can even use Evernote with your iPad's dictation features for hands-free note-taking.
You can install Evernote by visiting the Apple App Store on your iPad. You can also install Evernote on your iPhone to sync your notes across devices.
Adobe Lightroom (Best Photo Editing App)
Adobe Lightroom is one of the most boost photo editing apps to boost your productivity! While the iPad and iPhone are capable of shooting professional photos, you need a professional photo editor to match.
Whether you're updating your LinkedIn profile picture or working on a task that requires image editing, Lightroom will streamline your iPad's workflow.
With this iPad app, you can edit images, and use presets for a consistent look across images. With handy step-by-step tutorials, you can level up your skills on this iPad app.
Once you've mastered this app, you'll be able to fine-tune any photo to the last detail. You can install Adobe Lightroom by visiting the Apple App Store on your iPad.
Zoom (Best Video Conferencing App)
Zoom is more than a fantastic video-conferencing app; it's a unified platform for communication and collaboration.
With this brilliant iPad app, you can host virtual meetings, chat with your team, use the VoIP phone system, access email and calendar functionality, and use an online whiteboard. Overall, these features help you stay connected with team members while you work.
The great thing about Zoom is that it's used across industries. From education to retail, countless teams use this software to stay on the same page.
With this award-winning app, you'll be able to streamline any work that requires communication. You can install Zoom by visiting the Apple App Store on your iPad. Zoom can also be installed on your iPhone.
Productive (Best Habit-Tracking App)
Productive is a unique habit-tracking app that will help you build healthy habits, track your tasks, and achieve any goals you set for yourself.
With the habit management features, you can create, complete, and pause habits as needed. You can even participate in weekly challenges that will help you crush your productivity goals.
Over time, you can track your habits and analyze your progress with helpful statistics. Users can also customize the app to suit their needs.
You can install Productive by visiting the Apple App Store on your iPad. The app can also be installed on your iPhone and Apple Watch for a cross-platform experience. New productivity highs await you on Productive.
Trello (Best Teamwork App)
For those looking to boost the productivity of their whole team, Trello is the perfect iPad app to use. Regardless of how your team works, Trello will allow your team to reach new productivity levels.
Trello allows you to instantly onboard team members. Each team member will be able to customize this platform to suit their professional needs and track any task, project, or workflow.
As you use Trello, you'll be able to customize the platform to suit your needs. When you first sign up to use Trello, you'll start with a Trello board, a few lists, and information cards. However, as you start using more features, you'll be able to expertly manage your tasks and projects on your iPad.
Trello can be installed by visiting the Apple App Store on your iPad. Trello also supports iPhone.
While there are many alternative tools to Trello, few can boast the near-universal support you get with Trello. It's usable and productive on just about any device you can think of.