Setting up meetings and scheduling appointments is an essential aspect of many businesses.
Scheduling apps can help with this, and some of the best ones can make scheduling and planning a breeze.
But knowing which scheduling apps are best for your business can make all the difference by reducing the amount of stress and time required to set appointments.
Find the perfect scheduling app: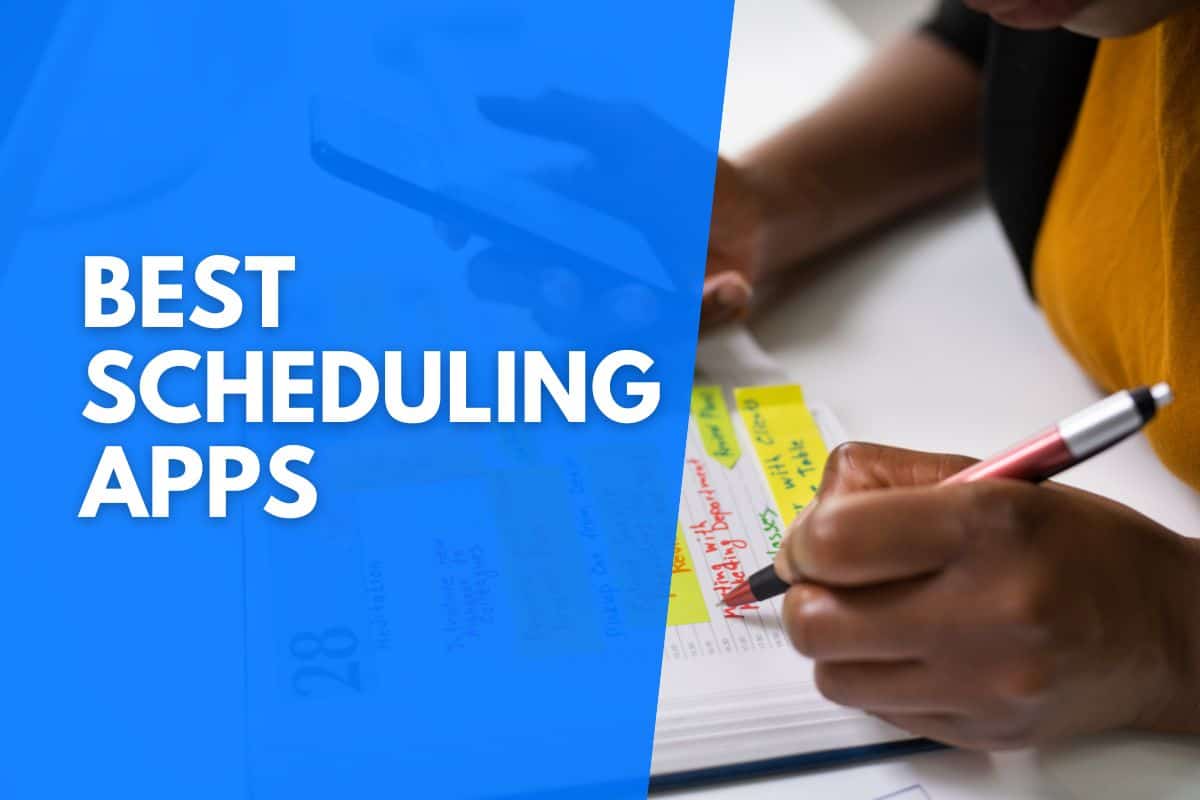 2 Best Free Scheduling Apps
Google Calendar
Google is a big part of many people's daily lives, so it shouldn't be a surprise that Google Calendar is one of the best scheduling apps around. It offers a wide range of functionality and integrates with many other apps and software.
Google Calendar allows you to schedule meetings and appointments with co-workers and clients. It updates your schedule and theirs and sends email notifications and reminders to ensure you don't miss an appointment again.
Group meetings, gatherings, or one-on-one appointments take only a few clicks to set up, and you don't have to spend time drafting emails because Calendar does it for you.
The meeting details are highly customizable. It allows you to choose the format of the meetings, as well as the location, time, and subject and sends automatic email invites and confirmations to participants.
It integrates with various software, and Google Workspace offers paid plans for additional business features.
Calendly
Calendly is a powerful scheduling software that promotes organization and business growth through its many features.
It allows you to automate the booking and scheduling process by setting appointment parameters and optimizing meeting times. Clients and co-workers can also choose the times that suit them.
Calendly allows you to view all your appointments and their details in one place. It automates reminders about meetings and makes finding the optimal meeting time for groups much more straightforward.
Automating these processes takes much of the admin out of the picture and lets you focus on your next task without worrying.
You can apply saved meeting parameters to new meetings and set recurring appointments. Calendly can also handle customer payments. The calendar and other features can be embedded in emails and communications for easier scheduling.
One of its best features is the analytics feature, which can provide valuable insights into your business that allow you to make informed decisions.
The free plan is powerful although slightly limiting when accepting paid appointments, if that is something, you may need to look into a paid account or a Calendly alternative.
3 Best User-Friendly Scheduling Apps
Bookafy
Bookafy is a highly customizable, highly integratable scheduling software that works for any business. With Bookafy, you can schedule appointments, set the type of appointment to anything you like, and set any period of time for an appointment.
You can choose between schedule views to see what's happening by day, week, or month, allowing you to plan ahead or focus on the tasks at hand.
Bookafy allows you to customize themes and email signatures to improve the look and feel of your business for potential and existing clients.
Multiple users and group meetings make Bookafy even more helpful, so you can schedule appointments with your co-workers, employees, and clients.
Each user has customizable themes and their own user account to keep schedules separate and allow customers to coordinate more efficiently with their preferred professional.
Bookafy integrates with various other software so you can update your schedules and calendars all at once.
This prevents double bookings and gives accurate information about what's coming up. Bookafy also integrates with payment software to automate the payment process and reduce time and resources wasted on admin.
Zoho Bookings
Zoho Bookings offers many scheduling features that allow users to plan their day effectively. At the same time, clients and co-workers still feel as if they are in control of their appointments.
Zoho Bookings syncs all your calendars to display your latest list of meetings and give others an updated view of your availability.
It sends notifications and reminders to keep you on top of things so you can attend all your meetings. Your calendar themes are also customizable to give clients a better experience, and it even provides you with a bookings page that clients can use to book appointments.
Zoho Bookings allows you to set up payment options so that customers can pay when they book instead of having to communicate with you about payment and invoicing.
Clients can specify their appointment details so that you can plan for those meetings without extra, unnecessary communication that takes up your and your client's time.
You can integrate Zoho bookings with a variety of other software to manage all aspects of your business, from scheduling to optimizing performance.
It automatically accounts for differing time zones and displays the correct time for each person's location for long-distance communications.
YouCanBook.Me
YouCanBook.Me is one of the most user-friendly scheduling apps around. You can sync all your calendars, create a booking page, and customize it however you please.
You can set the length of appointments, and clients can choose the slot they want based on your always-updated calendar.
YouCanBook.Me lets you send and receive notifications about bookings and appointments and customize your bookings page to provide your clients with the best experience. You can easily share your bookings page via a link or embed it into your website to make it look more professional.
The software updates the times displayed for different time zones and allows you to set your availability. This makes it easier for customers and co-workers to set up meetings and book appointments without trouble.
It is integratable with various other software and allows for payments and business management. All of these features help make your life easier so that you can focus on what's important.
2 Best Paid Scheduling Apps
Square
Square is an excellent scheduling app for businesses when client bookings are a large part of their day-to-day. It's free (though it does offer paid plans) and allows clients to make bookings according to your schedule.
It sends confirmations to clients automatically and updates your calendar to provide accurate information for you and potential clients.
Square manages recurring appointments, which are common in many businesses. For example, personal trainers, healthcare practices, and dog groomers. It integrates with other software like Calendar and saves you time by eliminating the need to draft replies to each booking you receive.
It also includes business management features to track all aspects of your business and keep client information and transactions secure but available to you.
Managing your entire business through one scheduling app doesn't get much easier than with Square. It also has a mobile app for both Android and iOS, so you can manage your business through your phone from anywhere at any time.
Calendar
Calendar makes organizing your life easy with its sleek appearance and easy-to-use features. Calendar can sync all your calendars at once, allowing you to view everthing from one dashboard, making it easier to plan the day ahead.
It allows you to easily create meetings and schedule appointments with co-workers and clients.
Setting up team meetings is simple, as Calendar will enable others to choose a slot out of your preferred available time and automatically updates the calendars of each person attending the meeting.
You can integrate Calendar with other software to automate and simplify the scheduling process. It also provides useful personal calendar analytics based on your appointments and bookings and makes it easier to optimize your workday based on the information.
You can set up video call meetings with integrated software at the click of a button, and Calendar also integrates with payment-handling software for clients to pay when they have booked.
This reduces the need for admin and manual invoicing and leaves more time for you to be productive.