In this article, we're covering the 10 best side hustles to make money with a car. If you have a vehicle and are looking for a way to make some cash on the side, then I have you covered.
Side hustles are usually thought of as something you do on the side, but they can actually be a great way to earn a full-time income. If you have a car and you're looking to make some extra money, there's no shortage of opportunities to turn your vehicle into a great income generator.
Here are 10 of the best ways to use your car to earn some cash on the side:
1. Drive for ride-sharing apps
Ride-sharing apps such as Uber and Lyft allow drivers to work flexible hours. Drivers can set their own schedules and take any time off they may need. Whether you're looking for a little extra money or a full-time opportunity, these apps can help you make the most of your spare time.
After expenses, drivers can earn between $8.55 and $11.77 per hour with these apps.
Uber is only one of the main players in this game, there are many Uber alternatives as well.
2. Drive people to the Airport
Ride-sharing apps aren't the only way to make money with a car. Many people are turning their cars into taxis by driving people to and from the airport.
Due to the high price of parking often found in airports, more and more people are using personal shuttle services to get them to and from the airport.
This is another great way to make money with your car and is similar to ride-sharing apps, except you only travel from the pick-up location to the airport, or vice-versa, and the rates can be quite a lot higher per ride.
3. Become a driver for the elderly and disabled
If you have a car, you can get a side hustle driving elderly people to and from destinations with sites like ElderCare.
These jobs often entail taking an elderly or disabled person to and from places like doctor's appointments and grocery stores, but some businesses also allow for more specialized trips such as airport transportation and shopping trips.
Rates are very competitive and the hours are flexible, making this a great opportunity for anyone looking to earn money with their car.
4. Deliver food
Uber has a number of different services, including Uber Eats. This service allows restaurants that don't normally deliver to offer customers the option to have food delivered directly by an Uber driver.
You must drive a newer model car to be eligible for Uber Eats and rates vary, but you don't have to be restricted to Uber Eats, there are a number of different services you can drive for, like Postmates, DoorDash, and Grubhub.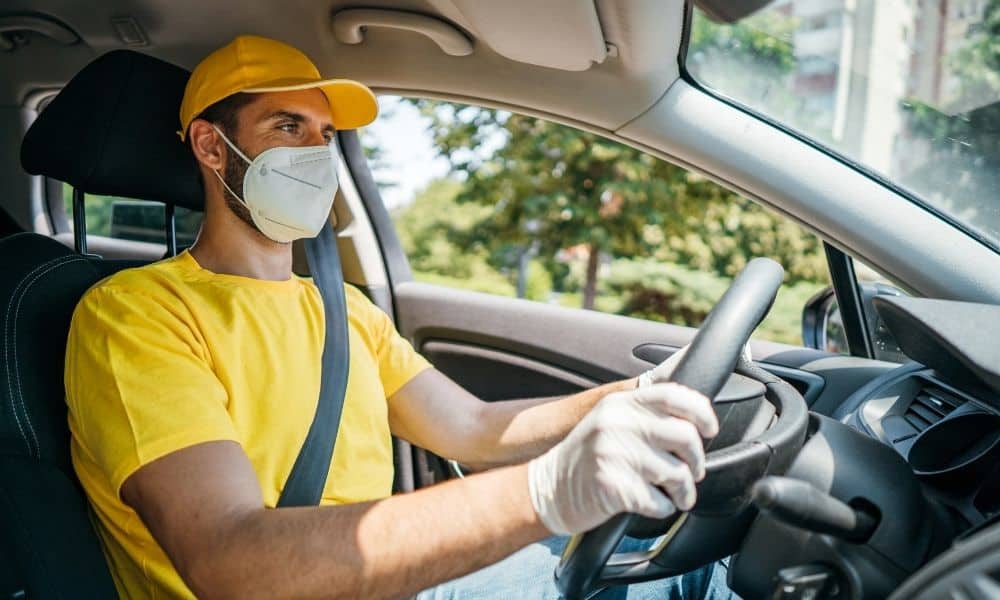 5. Deliver goods
While UberEats allows drivers to deliver food, there are also other companies like AmazonFlex that offer delivery services for goods.
As an independent contractor with AmazonFlex, you can be your own boss and set your own schedule by delivering packages ordered through Amazon Prime Now.
You must drive a car that is either a four-door sedan, a pickup truck with a covered bed, minivan, or van, in order to be eligible for Amazon Flex and you can earn between $18-25 per hour.
6. Rent out your driveway
Parking space is at a premium for most people. Whether you live in the city or in a busy area, there is always room to make money with your driveway.
Parking apps like JustPark allow drivers to rent out their own personal parking spaces on their property by offering it up as paid parking for others who are looking to park close by.
You can list your space for free and make money with your car by renting out the space when you don't use it.
7. Help people move
Moving is often a stressful time for everyone involved. More and more people are turning to apps such as TaskRabbit to find willing drivers who would be happy to help them move.
TaskRabbit is also great for finding other jobs that may require a car to get around with, like all sorts of deliveries.
8. Rent out your car
Companies like Turo allow drivers to list their cars for daily rentals at competitive rates.
Anyone with a car newer than 12 years old is eligible to be a Turo host and you can rent out your daily driver when you don't need it.
Drivers set their own rates, choose the types of cars they want to list for rentals, and manage any reservations that are made through the app.
This would require a little bit of extra work on your part, but it can be a great way to make money with your car.
9. Sell advertising space on your car
Companies such as Carvertise or Wrapify allow drivers to make money with their cars by selling advertising space on the exterior of their vehicles.
You can choose which type of advertisements you want to display and you can choose from the available brands in your area.
If you have a car made after 2010, this is an easy way to earn some cash without having to do any extra work.
10. Collect freebies and flip them
You can find free furniture and items that people are throwing that are still in perfectly good condition on websites like craigslist.
Often the owners just want to get rid of it and don't want to deal with the hassle of selling them. This is where you can benefit from a car.
A lot of the time some of the best things are given away in locations where the residents would have to pay extra to dump them, you can use this to your advantage to find items that you can clean up a little and then flip and make a profit.
Final thoughts on the best side hustle with a car
To summarize, our list of the best side hustles with a car has covered everything from delivering food to renting out your driveway.
The truth is that there are many different ways you can make money by using your vehicle. While some may be more lucrative than others, it's important to remember that sometimes even small amounts of extra cash can really help when they're needed most.
What do you think? Which of these side hustles with a car will you try first?