Uber has the greatest name-recognition for rideshare services across the United States and much of the rest of the world. However, there are many Uber alternatives that offer cheaper, greener, more convenient, and principled mobility options.
In the United States, you can use Lyft, Via, Wingz, Ziro, and Flywheel for your mobility needs. Elsewhere, Bolt Drive, FreeNow, Grab, DiDi, and Ola Cabs are other great rideshare options.
If you're unhappy with Uber's prices, unpredictable price surges, questionable safety records, and poor driver remuneration, these apps may be what you need in mobility services.
5 Best Uber alternatives in the United States
1. Lyft
With almost a third of the market share (32%), Lyft is the second most popular ridesharing service in the United States. Its headquarters are in San Francisco, and it operates in over 600 cities in the United States and 10 in Canada.
Lyft is not limited to private vehicle ridesharing. It also offers vehicle-hire services, motorized scooters, food delivery, luxury vehicle options, and a bicycle-sharing system.
Lyft makes money by taking a commission from each booking made on its app. The pricing is not fixed but dynamic and based on supply and demand.
The best thing about Lyft Rideshare is that it provides the best working conditions and remuneration for its drivers. So if you want to make sure that your driver earns sufficient money, Lyft is your best option by far (and if you're looking for a good way of making money with a car, Lyft is a great option).
The only downside to signing up with Lyft is that its coverage is not as extensive as that of Uber.
2. Via
Via is a low-cost ridesharing company that offers an app to connect its drivers and riders. What sets it apart from other ridesharing services is its 'Corner to Corner' service.
Unlike other 'door to door' options, Via matches you with a driver in your area and other passengers who are heading in the same direction as you. Its sophisticated algorithm is then able to calculate the quickest route for all passengers.
The app lets you know where to go to get picked up and where it will drop you off. You will have to walk a maximum of two blocks at the start and end of your ride.
Compared to both Uber and Lyft, Via charges a much lower service fee for each fare. For example, in Chicago and Washington DC, Via charges a 15% service fee for each fare, while in New York City the charge ranges from 10% for their Blue Mode and 20% for Flex.
3. Wingz
Wingz is a rideshare company that specializes in airport transportation. What sets it apart from other ridesharing services is that it only provides pre-scheduled rides.
This means that you don't have to worry about price surges because the prices are fixed when you book your service.
The Wingz app allows you to personalize our ride with requests for car seats, phone chargers, extra luggage space, and traveling pets. If you're flying, it also allows you to add your flight details so that the driver can keep track of your departing or arriving flight.
With the ability to book your trip anywhere from between two hours to one year in advance, you can rest assured that all of your transportation needs are covered.
4. Ziro
Ziro is a recently-formed ridesharing service that offers one of the best ridesharing deals for its drivers.
The company earns money by collecting just the booking fee without commissions.
This means that the driver is able to retain all other costs including waiting, cancellation, cleaning, and damage fees, as well as the fare itself and tips.
The major drawback for Ziro is that it only operates in the San Francisco Bay area. However, if that is where you live or are visiting, it's one of the most ethical ridesharing options available
5. Flywheel
Unlike the other Uber alternatives on this list, Flywheel is a taxi service that uses standard taxi rates and employs professionally-licensed and insured taxi drivers.
This means that you don't have to worry about price surges or drivers who don't know their way around the city.
You can use Flywheel in San Francisco, Houston, Fort Lauderdale, and Washington DC.
5 Best Uber alternatives elsewhere
What happens if you live in another part of the world, or need a ride while on vacation? Here are five of the best Uber alternatives from around the globe.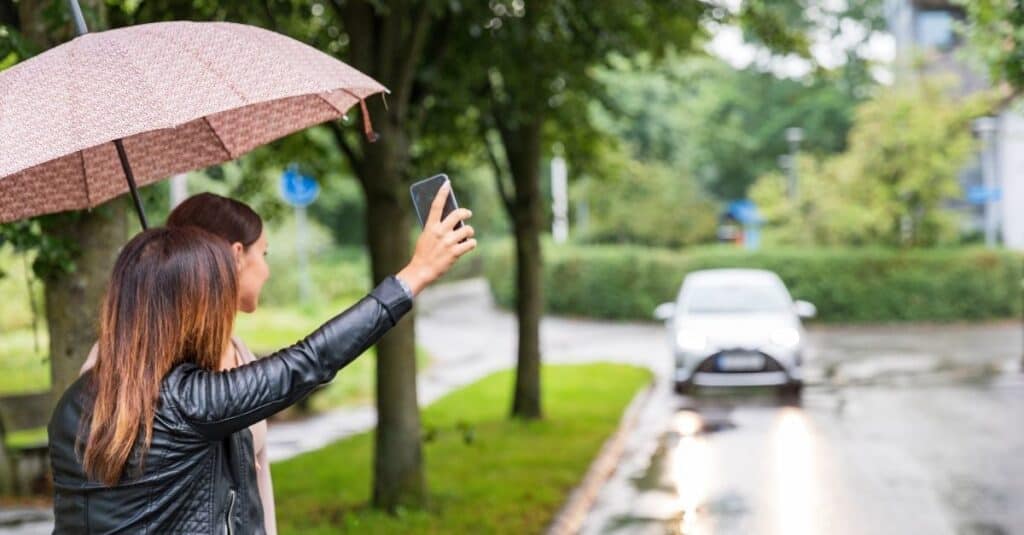 1. Bolt Drive
If you live in Europe, then Bolt is one of the best options for ridesharing.
Bolt Drive offers ride-sharing services, as well as vehicles for hire, and food delivery. Its micro-mobility services provide small and lightweight vehicles that typically travel below 15 mph (km/h).
Unlike rickshaws and similar vehicles, these are passenger-operated. This means that you can hire bicycles, e-bikes, electric scooters, electric skateboards, and pedal-assisted bicycles.
Its headquarters are in Tallinn, Estonia and it operates in around 300 cities across 45 countries throughout Europe and Africa including the United Kingdom, South Africa, Tunisia Russia, and Kenya.
Bolt proclaims to have positive environmental credentials and according to Euronews, it has operated as carbon neutral since September 2019.
2. FreeNow
FreeNow is an online taxi service that operates in over 100 cities across Europe including London, Milan, Dublin, Paris, and Madrid.
This makes it one of the largest vehicle hire companies across the continent.
You can use the FreeNow app to hail a taxi or, if you love the idea of micro-mobility, you can book and ride an eScooter from the app as well.
The best thing about FreeNow is its commitment to being the first mobility platform to become carbon net-zero.
This means that it aims to make 50% of its vehicles fully electric by 2525 and its emissions 100% neutral by 2030.
3. Grab
Grab is a service that operates throughout South-East Asia including Singapore, Malaysia, Indonesia, Thailand, Vietnam, and the Philippines.
Not only does it offer rideshare options, but Grab also has a widespread network of taxis and coaches.
It has recently expanded to other mobility services and its all-in-one platform lets you use Grab to:
Collect and deliver your food order to your door
Do your grocery shopping and have it waiting at your door
Send packages, documents, and bulky items
Perform cashless payments online and in-store
Get insurance and invest your money
Search for and book hotel rooms
Discover and send a gift card
What's more, all transactions help you earn points as part of Grab's reward program.
4. DiDi Chuxing (Didi Australia)
DiDi is a Chinese mobility app that operates across Asia, South America, and Russia. It is also one of Australia's most popular taxi and food delivery services.
Having launched in Melbourne in June 2018, you can now use DiDi in 28 cities across the country including Sydney, Melbourne, Perth, Adelaide, Brisbane, Newcastle, Geelong, Gold Coast, and Busselton.
DiDi is approximately 10% cheaper than Uber in Australia, and it gives users a generous $20 referral voucher. For the first month, DiDi also offers 50% off most rides in capital cities.
5. Ola Cabs
Ola Cabs is India's most popular rideshare service and one of the world's largest ride-sharing companies.
Although it was founded in Mumbai, it now operates in more than 250 cities across India, Australia, New Zealand, and the United Kingdom.
Ola has one of the widest range of vehicles on offer, including:
Bicycles
Motorcycles
Auto-rickshaws
Metered taxis
Electric cars
Final thoughts on the best Uber alternatives
It's clear that Uber is no longer the only ride-sharing game in town. Whether you're looking for a more affordable option or one with more features, there are plenty of companies vying for your business.
In the United States, Lyft, Via, Wingz, Ziro, and Flywheel are all solid choices. And if you're not in the US, don't worry – there are plenty of other great companies out there, like Bolt Drive, FreeNow, Grab, Didi Chuxing, and Ola Cabs.
No matter where you are or what your needs are, there's sure to be a ride-sharing company that's perfect for you. So go ahead and try out a few of them – you might be surprised at how much you like them.