Today we are going to cover 22 creative business video ideas for your YouTube marketing to help you build and grow a social presence for your company and to connect with your customers.
For many small businesses and even medium-sized businesses, creating video content can seem like a luxury reserved for larger corporations with multimillion-dollar budgets.
In this article, I want to show you that this isn't true, you can create videos for your business regardless of size, even if you're a solo entrepreneur or a one-man show.
Let's get started, here are 22 creative business video ideas for YouTube.
22 YouTube business video ideas
1. Make a behind-the-scenes video
This can show some clips of a business meeting, how your products are packaged, or even the creation process itself.
It doesn't have to be a complicated video breaking down the detailed intricacies, an over-the-shoulder video works just as well.
2. Take customers on a virtual office tour
Similar to a behind-the-scenes video, this shows where the magic happens.
This is where you can also highlight what tools you or your team use to get the job done, as well as the places and spaces used for unwinding and relaxing during breaks.
3. Interview an employee
Put the spotlight on an individual employee & let your customers get to know them better.
Don't only focus on work though, dig deeper and ask questions about their hobbies, motivations, etc.
This ties human faces to your business.
4. Vlog a "day in the life of"
By vlogging a day in the life of yourself or an employee you can highlight an individual job type, showing what a specific employee generally does in your business, or what your day generally looks like.
For example, a day in the life of a security analyst, or a product manager.
These tend to be quite popular videos as many never get a chance to see behind the curtain.
5. Make an explainer YouTube video
This can be a video explaining the benefits of your product/service and how it solves the problems of your customers.
These videos focus on guiding the viewer through how your product/service solves their problem, which ideally would then convert them into a customer.
6. Create a Product/Service Video
Sometimes quite similar to an explainer video, the product video focuses more on the actual product/service and the benefits/value it brings, without really putting the focus on customer problems.
These videos basically showcase what your product is.
7. Create a commercial
The key to creating good social media commercials is not to focus on how your product works, but more on how it will improve the lives of your potential customers.
To create great social media commercials though, you want to make it as shareable as possible. This could be done by making your video more relatable, using humor, or just hopping on a trending topic.
8. Make a YouTube Video answering common questions that you receive
These could be questions people ask over the phone, by email, in person, or even through your website.
To find questions people are asking online in relation to your business, head over to your google search console and then look at what are the most common search queries people are typing in to find your website.
If you're just starting out, you can also look into some common questions in your industry & then provide insightful answers.
9. Share company events & highlight your company culture
Film parts of your annual Christmas party, a summer party, or any other company event to showcase the company culture to potential customers or to attract new employees.
10. Hype up a job opening
If you're hiring, make a video showing how awesome the available position is.
You can showcase your company culture, and work benefits, and even include what your ideal candidate could look like, and this can go more in the direction of their personality and hobbies, as opposed to their resume qualifications.
11. Bust common myths you've heard in your industry
There's probably a lot of false information going around within your industry. Make a video and set the record straight.
This not only helps in clarifying the information but also sets you up as an expert in the field when you provide solid proof.
12. Share your business story
This could be your company history, your own personal history, why you started your business, or the mission & vision you have for your company.
13. Tell a customer's story
Interview a customer that your company has helped and upload it to your YouTube channel.
Video testimonials are some of the best forms of social proof, by telling different stories you can position your business to a variety of different people.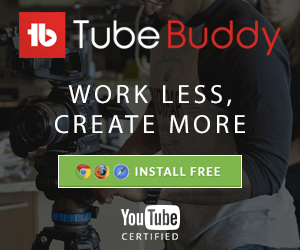 Whatever video ideas you choose to go with, use TubeBuddy to optimize and rank your videos to get the most out of your video and maximize those views, download the free browser extension here.
14. Make an unboxing video
Even if your business isn't a physical product, or you are service-based, you can still create relevant unboxing videos.
This could be a tool used for whatever service you provide, or if you have an app, for example, you can film a smartphone unboxing & highlight some features of the product in relation to your app – you could then even include some affiliate links & earn some additional revenue.
15. Review a product related to your industry
For example, if you have a fitness clothing brand, you can review fitness apps. These align well with your business, because people interested in these apps, will most likely also be interested in sportswear & this way you can reach those potential customers whilst associating your brand more with that industry.
16. Host a Q&A video session for your Business
Similarly, to answer a specific question, a Q&A session can cover multiple questions that might not fill up one video.
And even if you're just starting out, you can still answer common questions found within your industry.
A great place to find these types of questions can be done by simply visiting competitors' FAQs page, and then searching for similar results, or to use a Q&A site like Quora.
This type of content is also great to cut up into short clips to share across your other social media channels.
17. Interview an expert in your field
Associating your business with experts in your field is a great way to build up your own social authority in that industry.
These experts could be both in-house or external, and you can connect with them through expos, local contacts, social media platforms like LinkedIn, and so on.
18. Make a conference/expo recap video
If you visited or participated in a relevant trade show, conference, or expo, upload a video sharing a recap of what happened, your insights or opinions, or interview relevant speakers or experts while you're there.
19. Teach something in your industry
Provide value to your potential customers by teaching things related to your business.
If you're a clothing brand, for example, this could be how to find the perfect fit for whatever type of clothing you produce or design.
20. Share industry insights
Become the place viewers head to for the latest news and insights within your industry by hosting regular videos on these topics within your niche.
You can highlight your own findings, leave your opinions on the news, and share where you see the industry heading.
21. Share the values of your company
Create a video showcasing what values your company considers important, while also showing how you implement these values.
This could be locally sourced products, giving back to the community, solar power, and so on.
22. Thank your customers
Showcase what you've achieved together and thank them for helping build your business. This could be brand expansion, new benefits created from your products, being able to increase the quality of your products without having to increase the price, press mentions, and the list can go on and on.
Final thoughts on creative business video ideas
Now that have been 22 creative business video ideas for YouTube. There are many ways to market your small business without having to break the bank.
You can make a high-quality video with a smartphone these days, and these videos are more "social" ready and can be easily uploaded to other social networks as well.
The real difference that makes a good business video is the idea, but hopefully, we've solved that with these 22 video ideas for small businesses.
Looking for fun video ideas for your channel? Read this.