Gamer or not, most people have heard about Clash Royale. Many players even started using YouTube to share their knowledge and skills, which is not surprising since it won Best Game at the Google Play Awards and Best Upcoming and Multiplayer Game at the International Mobile Gaming Awards in 2016.
In 2020, it also won the Best Mobile eSport at the Pocket Gamer Mobile Games Awards.
The best Clash Royale YouTubers include:
1. MOLT
If you're an experienced Clash Royale player, you have probably heard of or seen MOLT on a YouTube video. With over 2.5 million subscribers on his channel, it is understandable why MOLT makes this list as one of the best Clash Royale YouTubers.
Clash Royale is a dynamic game with units that are constantly assessed to maintain a balance, which increases the rate at which the best decks change.
This game feature makes MOLT valuable since they keep players updated with the latest changes and ideas for new decks.
If you are watching and learning from experienced players, it would be no surprise if you have already subscribed to MOLT.
MOLT has successfully kept audiences' attention with an abundance of skill and charisma, and there is always something to learn when watching one of his videos.
2. Orange Juice Gaming
Arguably more famous than MOLT, Orange Juice (aka OJ) has about 300,000 more subscribers, but his channel focuses on two of SUPERCELL's games: Clash Royale and Brawl Stars.
Like MOLT, OJ is probably familiar to most serious players for helping them increase their knowledge and skills in Clash Royale. OJ puts out top-class videos daily, giving viewers both quantity and quality.
Nowadays, simply producing content of yourself playing Clash Royale is not enough. That is why OJ's channel is a step above many others' since he also includes unique content vastly different from others.
One example is where OJ is seen hosting a game where contestants (some of whom are YouTubers mentioned on this list) face a series of challenges involving Clash Royale gameplay. These creative videos keep people coming back to his channel.
3. HaVoc Gaming
HaVoc's channel features videos on two SUPERCELL games: Clash Royale and Clash of Clans. You'll find titles like Sussy Clash Royale Memes, A Decade of Clash of Clans History, 10 Types of 2v2 players in Clash Royale, and two episodes of Reviewing Clash Royale Ideas from Reddit.
HaVoc makes it clear that he does not like to focus his video content solely on Clash Royale gameplay – he prefers to make it educational with exciting facts about the game.
So, if you want a break from Clash Royale gameplay, do yourself a favor and check out some of his videos.
HaVoc Gaming is genuinely a breath of fresh air over the battlefield of Clash Royale content and its creators.
4. Clash with Ash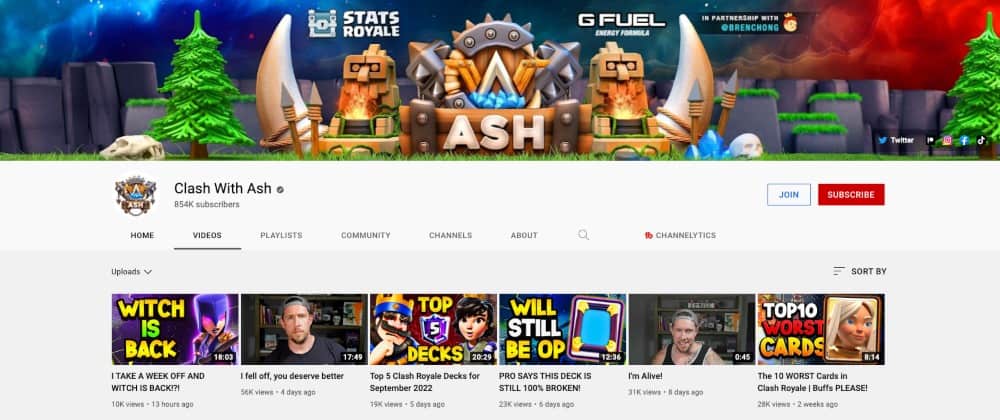 Clash with Ash, or CWA for short, comes highly recommended to any Clash Royale gamer, regardless of your skills or experience with the game.
CWA keeps his content relative by often showcasing other pro players' games, enabling him to serve as a commentator of the game rather than merely commenting on his gameplay, as most other YouTubers do.
It is not to say that other Clash Royale channels that contain running commentary of the host's playmaking decisions and tactics are wrong, but that it is simply different from others and makes for an enjoyable approach to viewing.
This style of content ensures variety that appeals to a more significant number of viewers and previews cycle, bridge-spamming, beatdown, and other decks.
5. B-rad
Another Clash Royale YouTuber that will keep you entertained for a very long time is B-rad. He has many different videos, some of which are pretty interesting. For example, he once added all the Clash Royale cards into a random generator to create decks for him to play in one video.
Some of his videos focus on mastering (as per mastery) a specific unit or spell. In another video, he challenges some of his subscribers to 1v1 battles.
It's a lot of fun to watch B-rad. Unfortunately, he only uploads a video about once a week, but I'd recommend him to anyone who wants diverse Clash Royale content and gameplay.
6. InShane
Shane, the host of InShane, is another energetic Clash Royale YouTuber to watch. The standout feature of his channel is the videos, which contain enjoyable content and advanced visual effects.
The latter include explosions, camera changes, zoom, and pop-ups that create dramatic moments in each video.
Shane is a solid content creator to follow for regular, relevant content that keeps you up to date with all things related to Clash Royale.
He uploads a video every 1-2 days, and he also has a good understanding of the game and keeps up with the professional standard of play-by-play commentating.
7. KFC Clash
The YouTuber with probably the wackiest Clash Royale content is KFC Clash. The type of videos and his personality makes the videos highly entertaining.
You will find videos on this channel that rip off other Clash Royale and Clash of Clans YouTubers and off-meta videos with conditions like playing Clash Royale with only spells or the cheapest cards available.
In June 2022, KFC shared a very vulnerable, honest opinion about how he has been chasing numbers (subscribers) rather than just being himself online.
Two months later, he returned with the hilarious video called Clash Royale YouTubers Be Like that cracked up thousands of viewers. He also shared a video about visiting another famous YouTuber, B-rad, which was entertaining.
Occasionally dropping in or subscribing to KFC's channel will be a win.
8. World of Clash
The World of Clash host is known for posting videos about the units (even The Log) found in both Clash Royale and Clash of Clans. If all you want is Clash Royale gameplay, then World of Clash is maybe not the channel for you.
Even if you do not play Clash of Clans anymore, his videos are still enjoyable to watch.
If you're looking for interesting, funny videos portraying the origin stories of Clash units, you won't find a better place than World of Clash.
Final Thoughts On The Best Clash Royale YouTubers
Whether you're a Clash Royale beginner or an experienced player, there's something for everyone in the above list of Clash Royale YouTubers.
These creators provide entertaining and informative content that will keep you coming back for more.
So if you're looking to improve your skills or just want some laughs, check out at least one of the channels on this list.
As we covered in our rundown of the best Rocket League YouTubers, the platform is so popular that you can find just about anything.