Since the game Rocket League was released in July 2015, people have been surprised and delighted by the concept of cars bumping a ball.
It is an innovative game with a surprising origin, but it has also risen in popularity due to online communities and platforms dedicated to the game.
The Best Rocket League YouTubers to watch include:
1. Musty
In 2016, aMustyCow flicked the ball in Rocket League in a way no one has seen before. 
After dribbling the ball and hitting it into the air, he jumped and tilted the car forward.
Until this stage, it is pretty standard procedure in Rocket League to hit the ball with the back of your vehicle, but what he did next revolutionized the game: he flipped the car backward, causing the nose of the vehicle to rise, knocking the ball forward quickly.
This action was completely unorthodox, and very soon, fans worldwide started calling this "The Musty Flick."
Having a move in Rocket League named after you means a lot and no doubt portrays what kind of impact and popularity Musty has achieved.
Musty is also a part of NRG – one of the world's best pro Rocket League teams.
On his channel, you will not only find videos about the Musty flick. He also features other Rocket League YouTubers' videos.
2. SunlessKhan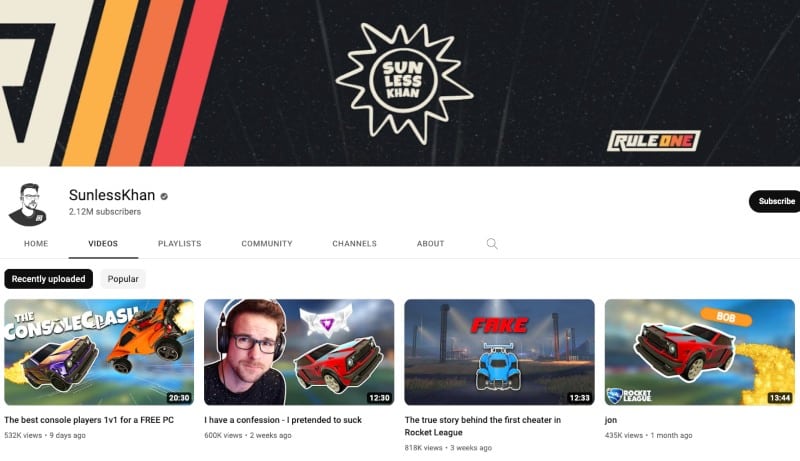 SunlessKhan has a wide variety of appealing content. From reporting on updates, new seasons, and cars to the world's longest Rocket League match and trivia.
He even reported on someone playing Rocket League with their feet.
Sunless' videos include something for everyone, and it is always entertaining. Although Sunless does not update his content nearly as often as other YouTubers on this list, getting that notification of a newly uploaded video is a joy.
3. Jon Sandman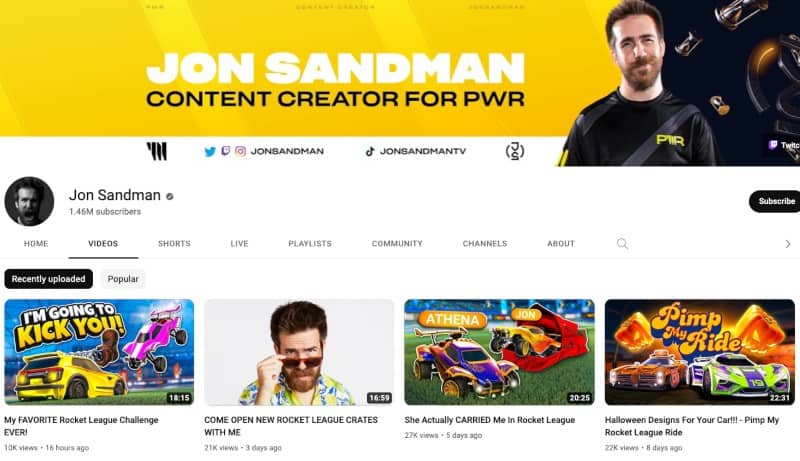 If you enjoy more ecstatic content creators, Jon Sandman is your pick. He is jolly, enjoys shouting, and draws you in with his dramatic reactions.
Jon is not a Rocket League YouTuber that you will necessarily rush to if you want to learn how to air dribble or flip reset, but you're going to see some good ol' fun and exciting Rocket League-related content.
Anyone can watch Jon play a regular game of Rocket League and enjoy it because he is so exciting to watch.
On his channel, you will find content alongside other Rocket League YouTubers and pros, and they are always having a ball – and so will you.
4. SquishyMuffinz
Mariano Arruda, aka Squishy, is a professional Rocket League player and YouTuber. He has been part of the notorious NRG team since early 2021.
A busy schedule is standard for any professional athlete, which is no different for professional Esports players. Yet, Squishy still dedicates time to uploading a few weekly videos.
Squishy offers his subscribers content that is based almost exclusively on gameplay. His technical abilities and conversation during gameplay are critical to keeping viewers engaged, and he makes each video highly educational.
5. Mertzy
Another top-tier Rocket League YouTuber to meet your gameplay needs is Mertzy, an excellent player that frequently uploads content.
Most of his videos involve a pro, a high-level tournament, or himself proving his freestyling skills.
The videos in which Mertzy plays 1v1 against pros are incredibly entertaining and educational. If you like analyzing play styles or top players' techniques, watching these will be of great benefit to you.
His style of play is a prime example of what is possible in Rocket League, motivating you to want to play more and develop your skills further.
6. Lethamyr
Lethamyr is also an excellent player, joining the pro team Spacestation Gaming early in 2021. He is also a coach and a popular Rocket League YouTuber.
The content you will find on his channel mainly consists of him playing custom maps and game modes with a group of people.
Renditions of minigolf, Pacman, Fall Guys, and Ninja Warrior have all earned thousands of views and are worth the time if you like any of these titles.
Lethamyr uploads videos daily and gives any game fan ample content to enjoy. You can get early access to all his custom maps via a Patreon subscription.
7. JZR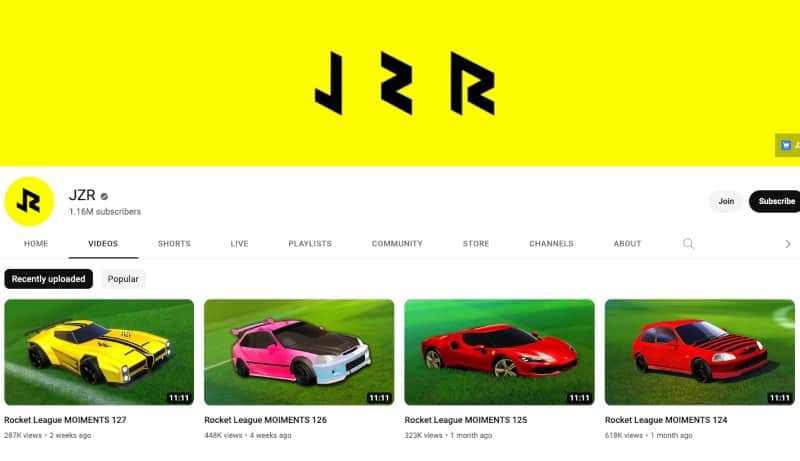 JZR is a retired pro Rocket League player and has been part of several teams from 2015 until his retirement in 2019. He is currently described only as a streamer, but watching him play is as entertaining as watching a pro.
His freestyling skill is of the highest quality. Most of his videos, called Rocket League Moments, are exceptional examples of aerial superiority, leaving you in awe.
He does not upload often, but you are guaranteed quality content that will not waste your time when he does.
8. Pickapixel
You may know Pickapixel from Minecraft, where he had the username Pixel. After numerous YouTube channels, including Minecraft and a small amount of Fortnite, he finally settled on Rocket League.
With daily uploads, there is plenty of Pickapixel's content to consume and enjoy. He shares his giveaways, drop openings, trade-ins, and gameplay in his videos.
In an interview with Gfinity in February 2018, Pickapixel said he would have 1 million subscribers in five years. Whether he reaches this milestone, only time will tell (but he's almost there).
9. CBell
CBell recently completed a 30-day challenge: a series of daily videos to track his progress to reach the top rank in Rocket League, which is Supersonic Legend.
CBell is a more composed, laid-back Rocket League YouTuber than others on this list.
People seem to relate to him since he is constantly in Grand Champ rank and has a dry sense of humor, which translates into highly entertaining videos.
10. Rizzo
If you have watched most of the other Rocket League YouTubers on this list, you would have seen Rizzo in some of their videos.
He has often been invited to team up with others to compete in tournaments, which is not surprising since he is a brilliant Rocket League player.
Rizzo is now a retired pro player with quite a bit of tournament success, playing for teams such as Gale Force Esports, NRG, and Spacestation Gaming.
Rizzo uploads daily videos to YouTube, which keeps his subscribers coming back for more. There are a lot of 1v1 videos that need some gameplay tips.
Final Thoughts On The Best Rocket League YouTubers
As you can see, there are a variety of Rocket League YouTubers to choose from.
Whether you want someone who uploads daily or someone with more relaxed content, there is a channel for you to watch.
These YouTubers have put in the hours to get where they are, so if you are new to Rocket League and looking for guidance, check out their channels.
Don't forget to subscribe to your favorite Rocket League YouTuber.
And if you can't find a channel you relate to, don't limit yourself; maybe try looking for a Roblox YouTuber or something like Madden or Basketball.
FAQs
Who Are The Best Rocket League YouTubers?
The best Rocket League YouTubers are Musty, SunlessKhan, Jon Sandman, SquishyMuffinz, Mertzy, Lethamyr, JZR, Pickapixel, CBell, and Rizzo.
Who Is The Number One RL Player?
Gabriel "Caard" Cardoso was the highest-earning Rocket League player in 2022, earning $262,800 for the year.