This post was sponsored by Ahrefs, however, all opinions are my own.
With thousands of tools available, finding the right ones that suit your needs and can actually help increase your website traffic can be tricky. Many "free" tools are freemium, and you're hit with a paywall just before you get to the useful information.
I've been involved in digital marketing for nearly ten years and have been doing SEO for much of that time.
I've been through more than a fair share of the premium and free tools, and from my experience, these are the only free tools you need to start seeing meaningful increases in your website visits.
In this article, I'll be breaking things up into four categories:
Free Keyword Research Tools
Finding the right keywords to write about is fundamental to increasing your website traffic.
If you target a keyword "out of your league," you won't rank, and if you optimize your article for a keyword that only gets one or two searches a month, you're just wasting your time.
If you want to see meaningful traffic to your site, you need to spend time researching the right keyphrases.
Luckily, there are many free tools for keyword research available. These six are the only ones you need to start seeing results like this:
Ahrefs' Free Keyword Generator
With the free keyword generator from Ahrefs, you can find phrases and questions around your main keyword with search volume and estimated difficulty.
This tool shows the first 100 keywords to get a solid list of keyword ideas for your niche/topic.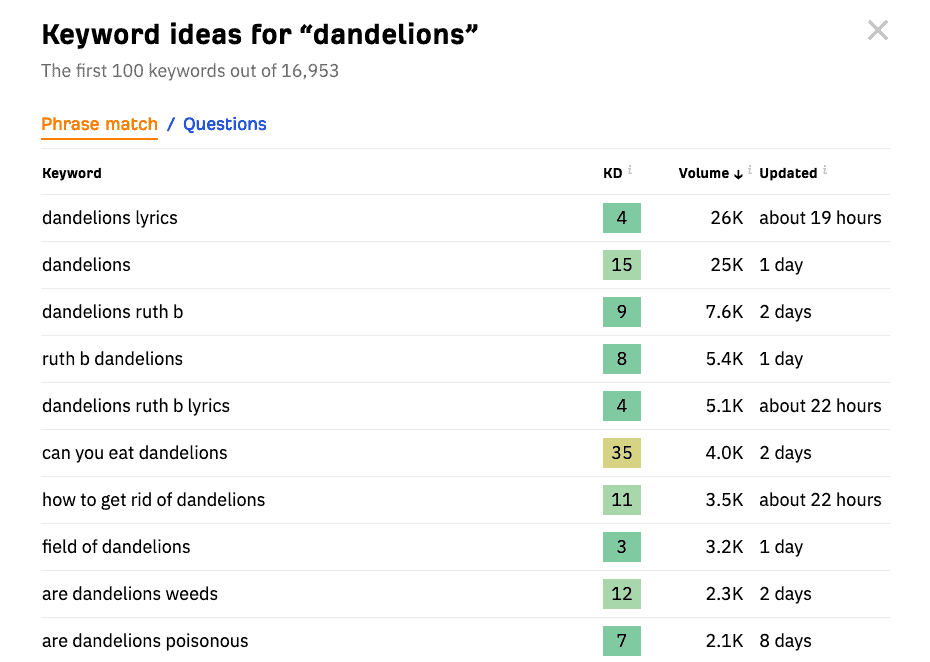 You can then take all of the relevant keywords and pop them into a spreadsheet.
While the KD score is a good indicator, you should check the actual search results to gauge the difficulty for yourself.
This is where the next free tool shines and is an incredible time saver.
Ahrefs' SERP Checker
Ahrefs' SERP Checker gives you a quick overview of the top-ranking articles for a particular keyword in your target country.
You can take the phrases and questions you've found with the keyword generator and quickly assess their difficulty for yourself. The top three results show important metrics like DR (Domain Rating), UR (URL Rating), number of backlinks, unique linking domains, page-specific traffic, and the number of keywords that the page is ranking for in your target country.
The SERP checker also shows the position of SERP features, like featured snippets, videos, people also ask boxes, etc.
All of this together is more than enough information to gauge whether the keyword is something your website can rank in the top three for.
For a quick overview, I like to look at DR and Traffic. Ideally, the DR should be lower than your website's DR, but anything below a DR of 20 is not too difficult to outrank, and traffic of 100+ is also a good sign.
Using the "dandelions" search from before, I've found this question as an example: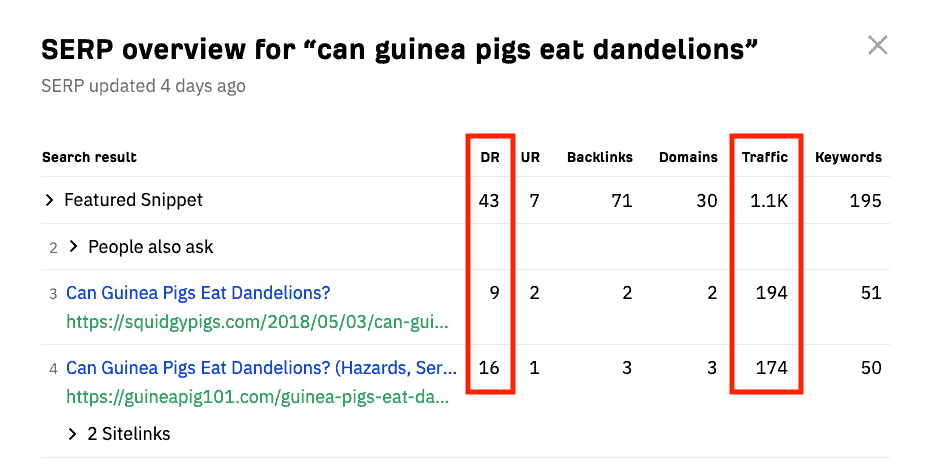 If I had a website focused on guinea pigs or small pets, this would be an ideal keyword to write about. Two of the top three sites have DRs below 20, and the traffic to these pages is estimated at over 100.
Now it's just a matter of checking the other keywords on your list, but before you do that, you should check out our next free tool to make the most of these search results.
Ahrefs' Website Traffic Checker
The free website traffic checker from Ahrefs provides website or webpage-level data and estimates for global search volume, the countries with the most traffic, and the other top keywords (including the ranking position and estimated monthly search volume for that specific keyword).
I like to use this to check the other top keywords these articles rank for. These are likely related topics we should also cover in our article, which can increase our coverage of keywords without having to write standalone articles.
In our previous example, if I take one of the pages in the top ten SERP results, we can find a great keyword to include potentially as an H2 or H3 in our competing article.
P.s. If you want to see this page's DR, just throw it into Ahrefs' Website Authority Checker.
As you can see, this example has a DR of 10, another good indicator that we could rank higher fairly easily.
Google Trends
Google Trends is a free tool that analyzes the popularity of search terms over time. You can use it to gauge and compare interest in topics and help you make better planning decisions.
Trends show current interest levels and can be filtered for specific countries. This is very helpful for deciding on specific head terms, i.e., main keyword topics.
For example, we can see that people in the United States are more interested in hamsters than guinea pigs; there is more search demand, so higher traffic potential.
You can also be hyper-specific by looking at the regional level, which can be useful for writing location-based content.
For example, we can see that lawn is a more popular search term than grass in most of Florida, but if I had pages targeting the Fort Lauderdale surrounding areas, it would make more sense to use grass.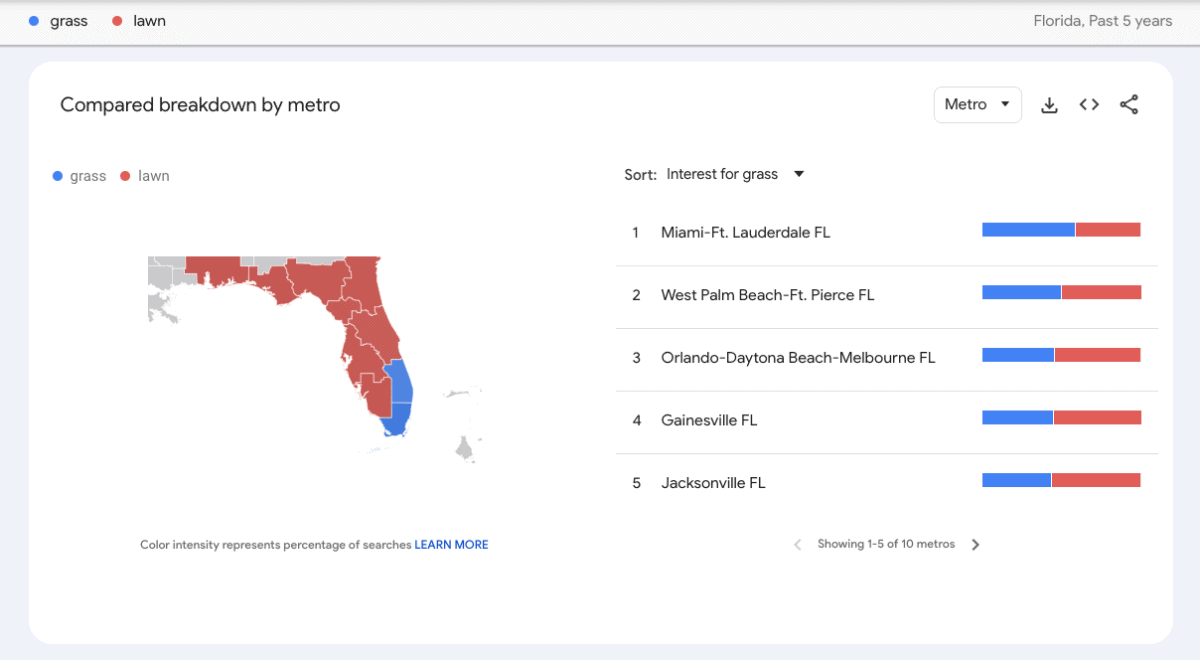 It can also be used to judge the seasonality of topics and help you round out your traffic (topics with winter highs and topics with summer highs).
For example, if we had a gardening-related website, most topics have summer highs, but "douglas fir" spikes during winter in the northern hemisphere.
This is because Douglas fir is a popular pine tree commonly used as a Christmas tree, so interest spikes at the beginning of December every year.
Google Search Bar (With Search Operators)
One of the most powerful tools for keyword research is Google itself, but you are only harnessing 1% of its power if you don't use search operators. That topic is an entire article in and of itself, so I recommend reading up on search operators if you're unfamiliar.
I like to use one search operator in particular for keyword research on Google. The "site:domain.com" operator, as well the exact match operator ("your keyword").
I use this for Quora mostly, but you can also use it for other forums, like Reddit and popular niche-specific forums.
Using the "site:quora.com" operator, we're returned with all the articles indexed on Google from that domain. This isn't all that helpful, but if we use the exact match operator, it returns all of the indexed articles containing that specific term on that domain.
Here's an example continuing with our pattern of guinea pigs.
As forums are generally easy to outrank, if we find a relevant quora page getting traffic, we know it warrants a look and could be a good topic to cover.
We can take this URL and put it into Ahrefs' website traffic checker (that we mentioned earlier) to gauge the keywords we can target and how much traffic this particular page is getting.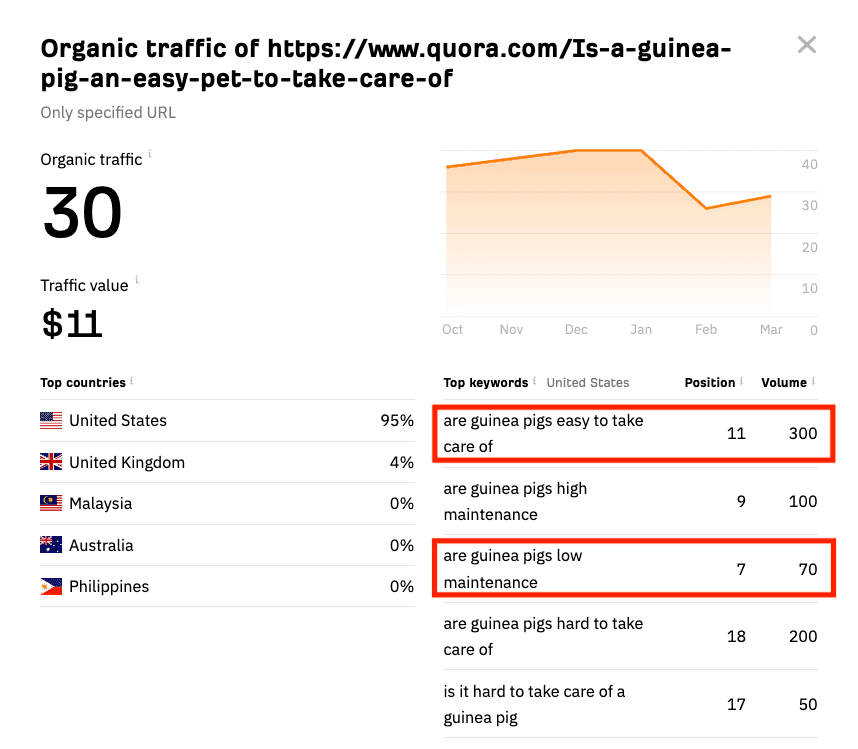 Bingo! We've found a couple of great keywords that would be relatively easy to rank for.
We can take this a step further, though, by actually visiting the Quora page. On Quora, you can see the number of views a question has received; while this doesn't show how many have come from organic search results, what it does tell you is how much interest there is in a particular subject.
The more interest there is, the better, as you can also tap into other traffic sources, like social or Google Discover.
To see how many views a question has received on Quora, open the page in your browser and then select the information icon (i).
On the right, you will see the "Question stats."
As you can see, this guinea pig question has been seen over 18k times since it was asked (scroll to the bottom to see when it was posted).
Now it's just a case of rinsing and repeating with the remaining pages you find.
Keyword Permutation Generator
The keyword permutation generator tool is fairly easy to use and can help you stay on top of repetitive terms. What it does is provide you with all the possible variations of three keywords or phrases.
While it only gives you mixed phrases, you can use that information systematically without forgetting a specific keyword.
I find this is most useful when doing programmatic-style content, round-ups, and listicles.
Just add your variants in the columns on the left, and hit generate to get a list of permutations. Here's our guinea pig example again, but this time I spiced things up by adding gerbils, hamsters, and chinchillas to the mix, as these could be shoulder subjects to cover as well.
Many of these terms will show no search traffic when you check them in the free keyword generator, but you can use them to add context by sprinkling them into your article where it may make sense. And as these terms show no search volume, you won't have any other sites competing for them.
Many zero search volume keywords do actually get traffic, but as it's difficult to tell which ones will exactly, it's best to optimize around a keyword that shows search volume and then sprinkle these in where they make sense.
You can later re-optimize the article if you find some winners… I'll show you how to do that later; first, let's jump into some free tools for building your website's authority.
Free Authority Building Tools
Authority building, link building, whatever you want to call it, getting other websites to link to your website is a tried and tested way to increase your website traffic and get Google to love your content.
Just look at Forbes; their topical authority didn't land them the top spot for "best adult diapers," their website authority did!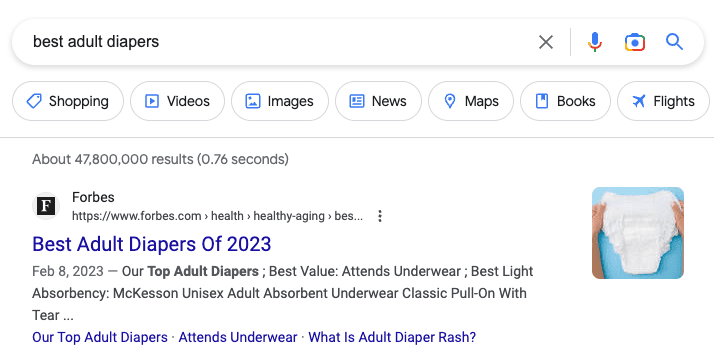 Now you don't need the millions of backlinks Forbes has to move the needle; some strategic niche-relevant links, mixed with a few backlinks from high authority sites, will be plenty to see an impact in your rankings and website traffic.
These seven free tools are all you need to land the links of your dreams. And I've landed DR80+ links using most of them.
Ahrefs' Backlink Checker
The backlink checker from Ahrefs allows you to see the top 100 backlinks to any webpage. This comes in handy for most link-building techniques, but it really stands out if you do the shotgun skyscraper technique.
All you need to do is throw your competitor's URL into the backlink checker, and you'll get back a list of sites that you can then reach out to for a link to your even better article.
For example, if I made the ultimate guide to caring for a guinea pig, I could type in the relevant keyword I want to rank for in Google and then list the top-ranking articles in a spreadsheet.
Then I can put those articles, like this one from Petco, into the backlink checker and get a list back like this:
I can then open up another spreadsheet and add all of the relevant pages linking to that article to the sheet, and then do the same for the next top-ranking article until I have a nice long list of potential sites that may want to link to my ultimate guide.
Ahrefs' Broken Link Checker
Possibly the most powerful free link-building tool is the broken link checker from Ahrefs. As the name suggests, you can use it for broken link building, but I like to use it for a completely different reason.
First, let's look at broken link building. There are many ways to go about it, but let's look at a simple method to find great link opportunities.
Find a popular site within your niche, and throw the domain into the broken link checker. Let's stick with the guinea pig example, and we can put Burgess Pet Care into the checker to see if they have any broken links.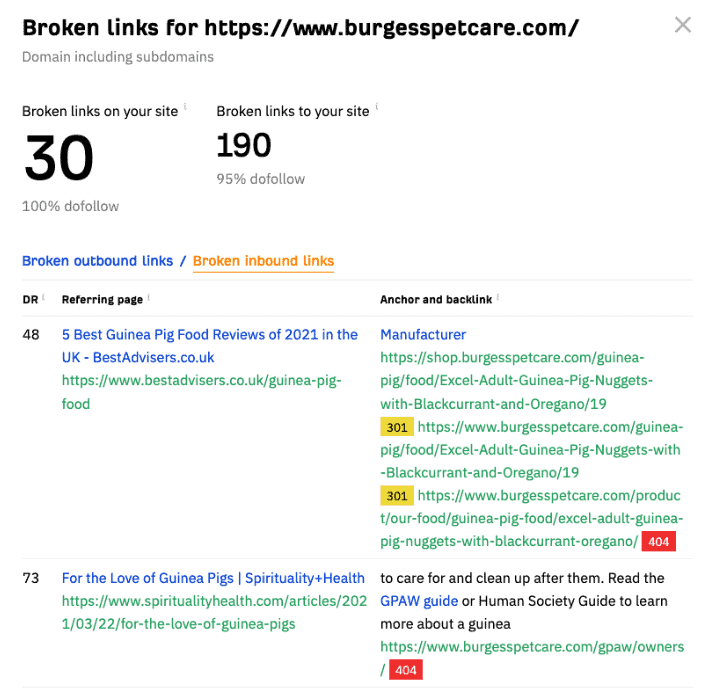 Bingo! Under the "broken inbound links" tab, we can see all of the websites linking to Burgess Pet Care pages that are returning 404 errors. Right at the top, we have a DR48 and a DR77 site that we can contact.
While it would be great if we could suggest our like-for-like article to link to instead of the broken page, we can also take an alternative approach, and this is how I prefer to use this tool.
Instead of asking for a link, just let them know there is a broken link. No strings attached (this can also be done to the main page you searched, for this example, Burgess Pet Care, as you can see above, they have 30 broken internal links).
Once you get a response, you can make your pitch. I would find a relevant yet outdated article on the site I want a link from. I'll offer to update it for them for free (you can even use some of the tools here to find additional keywords to help it rank and make this clear in your pitch so the person you're talking to understands the value you're giving them).
You can now think about putting a relevant link back to your site in the article you're updating or pitch them another topic they haven't covered yet where you can add a link.
Build these relationships, and later on, you can leverage them to get better and better links.
Now you're probably thinking, but David, how do I contact these websites?
Just visit their contact page; otherwise, use Hunter.io.
Hunter.io
Hunter is my go-to resource for finding email addresses when websites just don't want to list them publicly.
The browser extension allows you to quickly check for an email address while on a website, and the free plan allows you to make 25 searches a month. While that isn't much, if you search around for contact pages and only use it when you really need to, it can get the job done.
If you do happen to run out of free credits, my next go-to place to reach out to sites is LinkedIn; just look for the person associated with the site, or if it's a big publication, look for contributors, people on the content or SEO team, and sometimes also marketing.
And lastly, if all else fails, head to the site's footer, and you'll often find their social handles. Reach out to them over Instagram, Twitter, or Facebook if they have them; these tend to have the highest answer rate, from my experience.
HARO
Help a Reporter, a.k.a. HARO, is a free way to land backlinks from high-authority publishers.
Journalists are looking for expert answers to their questions, and you can provide this to them. And, more often than not, they will link back to your website as a source.
Signing up as a source is free, and every weekday you will receive three emails containing the journos requests. If you find a question relevant to your niche, you can answer it and potentially get a link back as a source.
I did a quick search of the HARO emails I've received, and yes, there are plenty of large publications asking about guinea pigs, including the Dodo, see for yourself.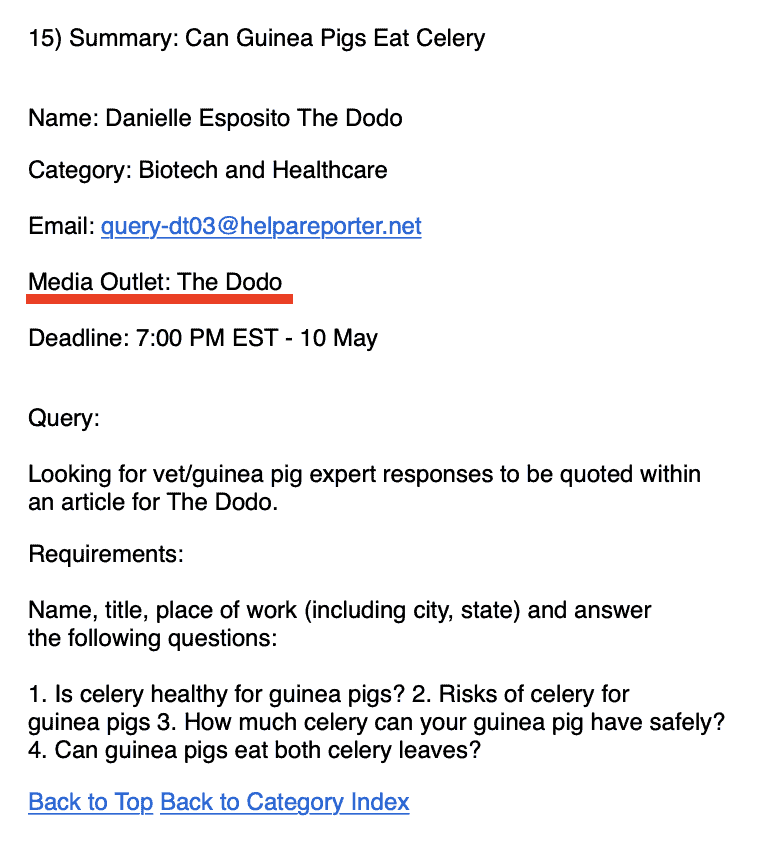 Wayback Machine
The Wayback Machine is the internet's archive. You can type in any URL and see how it looked in the past.
This is particularly useful if you're doing broken link-building, as you can see exactly how the broken page looked in the past.
Then you can rebuild your own version of it and pitch all of the sites linking to the broken page with your fresh and improved (and working) page.
Google Alerts
Google Alerts is a mention monitoring tool that is free to use. While there are many features you can use it for, it's great for finding unlinked mentions. I even used it to land a DR86 super-relevant backlink to one of my sites.
I recommend monitoring things like your name/alias, your brand name, website address, and business name if that is different from your brand name.
Then you can choose how often you want to receive emails (once a day is more than enough) and then reach out to any of the sites mentioning you but not hyperlinking that mention.
Ahrefs' YouTube Keyword Tool
This one is out of left field, but I've gotten a DR88 backlink doing it… the method is to create videos on YouTube. But, like keyword research for your website, you need to know what people are looking for before you make that video.
This is where the YouTube keyword tool from Ahrefs comes in handy. Like it's web-counterpart, you get a list of 100 keyword ideas around your keyword and estimates on how often it's searched for on YouTube.
While we can make a video on the top results, what I look for here are embeddable topics, things that other sites would find value in embedding on their website.
Continuing our guinea pig example, here are three terms that would make for great embeddable topics: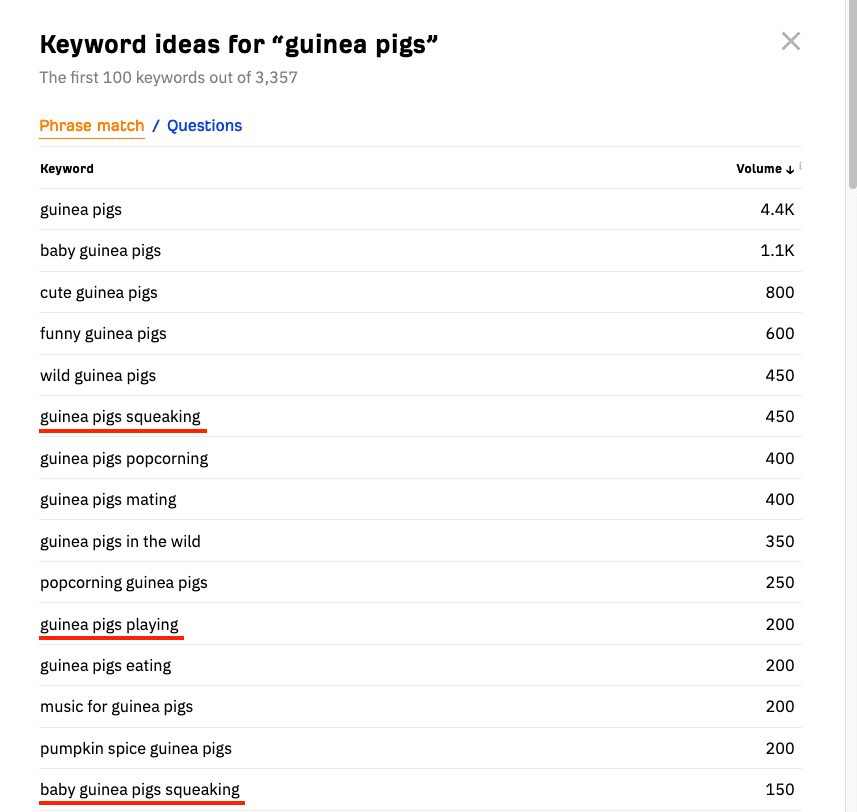 We can use the keyword generator tool again to assess the Google search traffic for these three terms; if we just take the first one, "guinea pigs squeaking," as an example, we can see that there is some great search volume.

Publishers will be very likely to write about this topic, or a similar topic, like why guinea pigs squeak, and for their article, they will want to embed a video so visitors can hear the sound.
Incorporate good YouTube SEO when uploading your video to appear at the top of the SERPs for both YouTube and Google.
Then once a month, you can take the video URL (use both the long and short YouTube URL) and check for sites that have embedded it using Ahrefs free backlink checker that we mentioned before.
Here's an example of a guinea pig video:
Now all you need to do is visit that website, thank them for embedding your video, and ask for a link back to your website as the source (it needs to be relevant, though, this doesn't work if you just throw random videos onto YouTube).
Free Tools For Technical SEO
While link building and content creation are often the more celebrated aspects of SEO, technical SEO is a fundamental aspect of your website's health that can derail it all if not taken proper care of.
There's quite a bit to keep an eye on, but with a few useful free tools, you can make sure your site is in optimum condition to rise to the top of the SERPs.
Ahrefs' Website Checker
The bread and butter of technical SEO is having a reliable auditing tool to diagnose existing problems and nip potential problems in the bud before they negatively affect your site. This is where Ahref's Website Checker comes in.
If you confirm your website ownership (Google Search Console verification is the easiest method, but there are other ways to confirm ownership), you get access to an auditing tool that checks for 100+ common SEO issues; you can see all of your site's existing backlinks, as well as the keywords you are ranking for.
The audit feature is what we're here for, though. As you can see below, it's fairly intuitive, with the top issues listed and quick links to other issues.
The most common issues I've found across multiple sites include:
Broken images
Orphan pages
404 errors
HTTPS to HTTP redirects
Redirect chains
Missing or multiple H1 tags
Noindexed pages that should be indexed
Fixing these issues is generally quite straightforward, and Ahrefs Website Checker even tells you how if you click the info icon on the right of the issue.
Lastly, these audits can be run regularly, anywhere from daily to once a month. I recommend sticking with once a week for most sites, as there may not be many changes between site crawls.
There are several advanced features you can also activate (or deactivate) depending on your site's architecture. For most websites, the default settings are probably best, but you can consider toggling two settings to the on position if you wish.
The first is checking for the HTTP status of external links. With this setting on, the crawler will check the outgoing links on your site and report on their HTTP status, which can be useful as you do not want to be linking to many sites that are not secure.
The second option to consider is the user agent. This allows you to select what version of your site should be crawled, desktop or mobile. As Google uses mobile-first indexing, ideally, you should be selecting the mobile version of your site to be crawled.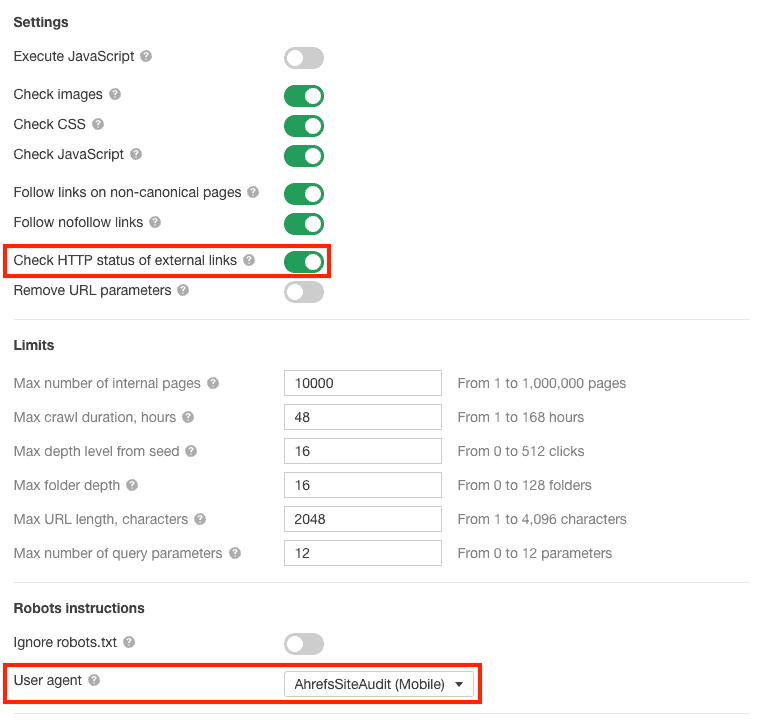 While most sites are fully responsive these days, some elements may not load, or load slower, on mobile than on desktop, which can affect your site's performance and traffic.
PageSpeed Insights
Site speed is important, not just for your rankings but also for user experience. No one wants to visit a website that takes years to load. This is where PageSpeed Insights come in clutch.
You can see the mobile and desktop performance (which is why I prefer it over similar tools).
While getting 100 scores across the board is nice, it's not the be-all-end-all result you're looking for. What you do want to look out for are the diagnostics that appear below your score and look at what may be causing issues with your page speed or your Core Web Vitals scores.
Just select one of the dropdowns on the right, and it will provide some more information so you can find and fix the problem on your site.
P.s. check multiple article pages, as well as your home page, as these often can have different elements that result in different scores.
Link Whisper Free
Link Whisper Free is a WordPress plugin for managing internal links. These links are an important part of your site architecture and help you pass context and link equity to your most valuable pages.
While LinkWhisper can also be used to find orphan posts, I prefer it to find "Dead ends."
These articles have incoming internal links, but they're not linking to other articles on your site. This effectively causes "blockages" to the link equity flow across your site, which affects your site's ability to rank.
ShortPixel
Another technical SEO problem that causes your pages to load slowly and costs you website traffic is oversized images. ShortPixel solves this by compressing your images without reducing the image quality by much.
This is another WordPress plugin with a decent free tier allowing you to process 100 images a month. If you have a large archive of images, you can grab a pay-as-you-go plan to process those, but after that, for most websites, 100 free credits a month may be enough.
As you can see below, it does a fantastic job of image optimization (most of these images were at about 90kb when uploaded, and now some are below 20kb, and I can't make out any loss of quality).
Free Tools For Content Optimization
Making your content the best it can be is key to standing out and rising to the top of the SERPs. Like the other tools already discussed, though, there are some great free tools for content optimization that can make your pages stand out, rank higher, and get more visitors.
These are my top eight free tools to elevate your content.
Google Search Console
GSC (Google Search Console) is a free tool from Google that helps you monitor your website's performance in search and can also help you diagnose problems with your site's appearance in search results.
What it also can do is provide you with valuable content optimization insights to improve your existing articles. This is what I like using it for the most.
When updating an article, take the URL and put it into your search console to assess performance. You can do this in Performance > Search Results > + New, then select "Page…" and type in the article URL you're updating.
Next, select the + New option again and then select "Country…" and type in the main country you're targeting. This will filter out all countries that aren't meaningful to you (if you're monetized with display ads, for example, then targeting the US generally means much higher ad rates).
Now scroll down to the "Queries" section and sort by impressions. This will give you a list of the search terms people use where your article appears in the top 10 results (or first page) on Google.
Ideally, you want to optimize your title for the keyword with the highest impressions (sometimes this doesn't make sense, though, for example, if the keyword with the most impressions shows search intent that you can't match, like navigational search intent to a different domain).
The remaining keywords can be used as sections in your article.
If you haven't added them naturally within your content already, you can sprinkle them in lightly. The presence of a keyword within your content is a ranking factor (but don't keyword stuff!).
Ahrefs' SEO Toolbar
The SEO Toolbar from Ahrefs can be used in Chrome and Firefox browsers and provides excellent content information when looking at competing articles.
At a glance, you can quickly see how many words the article is, the heading structure, published and updated dates, images present, meta-title, and meta-description.
This can all be useful in gauging how long your article should be and what topics should be covered to rank above the competition.
I like to grab the top five results for a specific keyword and then throw all of their headings into a spreadsheet and compare the similar ones (normally, these are needed), and then the headings that only some or one of the competitors have I will use my best judgment on whether it's needed or not (or check the traffic potential using the keyword generator).
I'll also include the number of images each page has and the word count, and then I will use the backlink checker to see if they have any relevant backlinks.
Canva
Canva is a free online graphic design tool and something I use daily. It can help you get more traffic in several ways, and you don't need to be a graphic designer to use it.
You can use Canva for:
Designing featured images (to get more Google Discover traffic)
Designing pins and graphic posts (to get more social traffic)
Designing infographics, charts, and tables (for more Google Image traffic)
Adding custom stock images to your articles (to break up text and improve reader experience)
Creating digital products to act as an opt-in for an email list (to get more email traffic)
There are so many uses for Canva… You could even use it to create YouTube videos!
Best of all, you can browse their template library for thousands of free templates for just about every topic. For example, here are some infographics that could serve as a great starting point: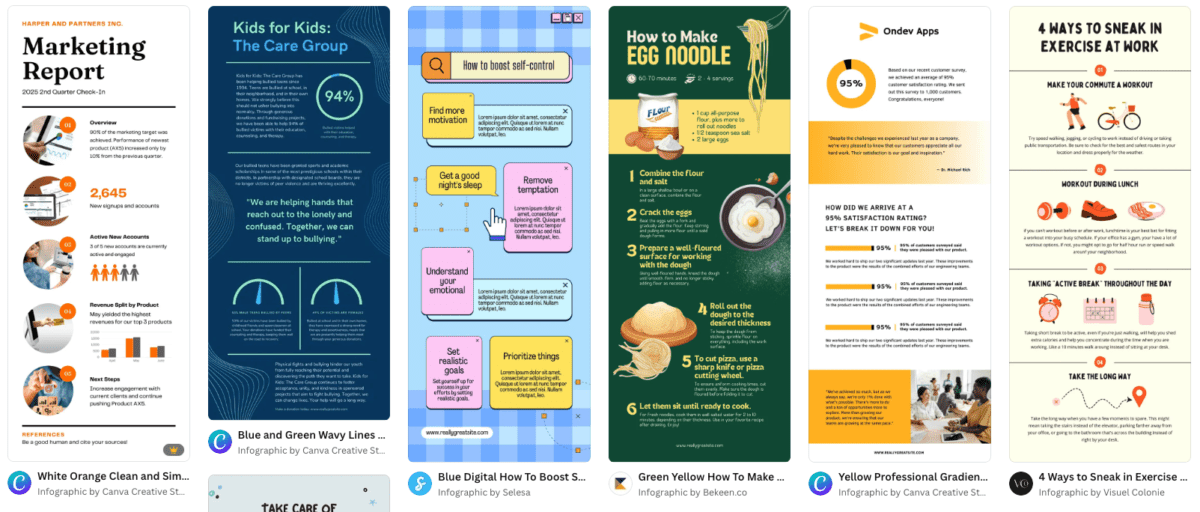 Grammarly
Even the best writers occasionally make grammatical errors or miss a typo. If they're not using Grammarly, that is.
The free Grammarly extension is a spelling and grammar checker that you can use in Google Docs (where I prefer to write my drafts) or directly in WordPress.
Fixing your grammar will lead to a more enjoyable reader experience, which can also increase their on-page time, possibly helping with your page ranking on Google if they don't bounce back to the SERPs immediately.
AlsoAsked
AlsoAsked provides a quick overview of "people also asked" questions related to your topic.
This can help unearth some topics you may have missed using other methods and can help give you a sense of what type of questions searchers are asking to provide more useful answers and content.
The free plan is limited to 3 searches per day, but each provides a fair bit of information, as you can see above.
ChatGPT
While ChatGPT prompts are flooding the internet, and there are many things you can use them for, I'm a simple man, and I find writing contextually relevant internal links challenging sometimes. This is the main thing I use ChatGPT for these days.
Google says: "Good anchor text is descriptive, reasonably concise, and relevant to the page that it's on and to the page it links to."
And their examples are even more clear:
Back to ChatGPT, while the prompts I use differ depending on where and how I want to insert an internal link, it looks something like this (yes, we are going to use guinea pigs as an example again):

Perfect, now I'd just hyperlink the "guinea pig nuggets" section, an article I would have on guinea pig nuggets.
RankMath SEO
RankMath is my go-to SEO plugin for WordPress. It comes with a generous free plan that is more than enough for most users. What it also does is consolidate a lot of other features from other plugins into one lightweight plugin.
This makes your site more secure from hackers, as there are fewer points to attack, and your website loads faster, as fewer plugins need to load.
Some of the top features of the free RankMath plan include:
Google Analytics and Search Console code integration
Redirections
Breadcrumbs
XML and HTML sitemaps
Schema Markup (FAQ, ContactPage, AboutUs, Article, etc.)
Instant Indexing to Bing and other search engines
Edit metadata with the snippet editor
All of these features can have a positive effect on your website traffic.
MarketMuse
MarketMuse is an automated content audit tool that compares your content with the top-ranking content for your target keyword.
While the paid plans are quite high, there is a free plan that lets you audit ten pages/month, which can be useful when optimizing your most valuable pages.
The tool gives your content a score versus the top-ranking pages and then provides topic frequencies of how often keyphrases should be included in the article based on the top pages.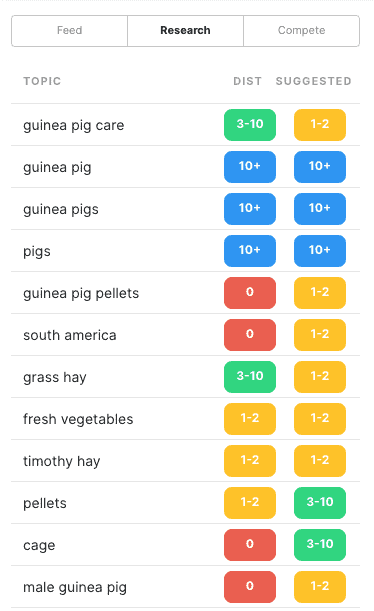 While you shouldn't overoptimize and only use this as a guide, it helps to get a good overview of the specific topics you can include throughout your article.