Tired of constantly having to keep the YouTube app active on your phone so that you can listen to your favorite song? Ever wished it was easier to play a video in the background while multitasking on your device or even when locking your screen?
Well, there is good news for all YouTube viewers out there – this article will cover some easy-to-follow methods to play a YouTube video in the background for smartphone users.
These methods include using YouTube Premium, specific browsers, third-party apps, and the picture-in-picture feature for Android and iOS.
4 Ways To Play YouTube Videos In The Background
There are many methods to play a YouTube video in the background. Some work for both android and iPhone users, while others may be specific to only Android or iPhone.
Here are a few of them.
Method 1: Use YouTube on Google Chrome (For Android)
This method is the easiest but only works for android users.
You can use this method to listen to YouTube videos while using other apps and even when the phone is locked.
Step 1: Open YouTube On a Browser
Open any browser on your phone, e.g., Google Chrome. Go to the website www.youtube.com.
It will now load the mobile version of YouTube, which you can see by the "m" in the URL as shown below:
Step 2: Enable The Desktop Version
Click three dots at the top right and enable the Desktop Version option.
Step 3: Open And Drag The YouTube Video
Open the YouTube video you want to listen to in the background. Drag it to the bottom right corner of the screen.
Step 4. Play The YouTube Video In The Background
After dragging the video into a corner, close Google Chrome, and the Control panel will show up on top of your screen.
Click the play sign, and the video will start running in the background.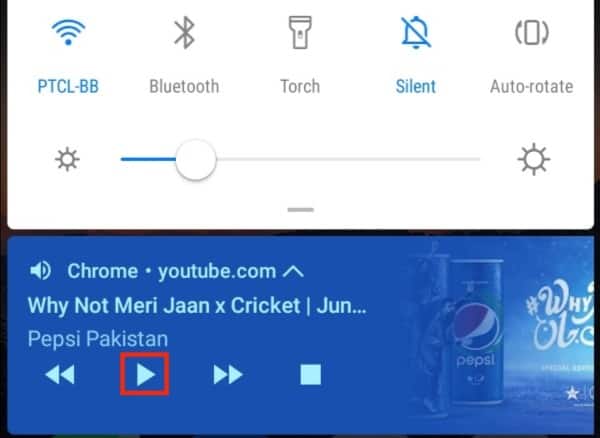 Method 2: Use YouTube Premium
YouTube Premium is a paid membership that allows you to watch ad-free videos, download YouTube videos legally, and play them in the background. 
It is available for both Android and iPhone. YouTube Premium lets you lock the phone or open another app while playing a YouTube video in the background.
There are different plans from which you can choose. For example, YouTube Premium Individual Plan costs $11.99/month, while the Student Plan starts at $6.99/month.
It's easy to join, and if you ever get tired of it, you can cancel YouTube Premium in a few easy steps.
Method 3: Use The Picture-in-Picture (PiP) Feature
You can use another feature called Picture-in-Picture to play YouTube videos in the background.
YouTube Picture-in-Picture feature for Android
The PiP feature has been with Android for years. However, it is only available globally to U.S. residents and YouTube Premium members.
Follow these steps to enable the PiP feature and watch a YouTube video in the background.
Step 1: Go To Settings
Go to your android settings—Click Apps & Notifications, and then Advanced.
Then tap Special App Access.
Step 2. Enable The PiP Feature In The Settings
You will see the PiP feature. Tap on it.
Now select the YouTube app and tap the Allow Picture-in-Picture option.
Then open YouTube and go to settings.
Tap General and then again click Picture-in-Picture to activate the feature.
Activating YouTube Picture-in-Picture For iPhone
The PiP feature only works for iPhone and iPad if you have YouTube Premium and iOS 15.0 or later.
Follow these steps to enable the PiP feature on your iPhone or iPad.
Step 1. Go to settings
Go to your iOS device settings—Click General, and then Picture-in-Picture.
Now tap Start PiP Automatically.
Step 2. Enable the PiP feature on YouTube
Now open YouTube and go to settings.
Click General and then tap Picture-in-Picture to enable the feature.
Method 4: Use 3rd-Party Apps To Play YouTube Videos In The Background
Installing a third-party application is the most convenient method to play YouTube videos in the background.
Many applications can help you with that. Here are two of the best options.
1. Tube Floating
Tube Floating is an application that only works on android devices and is not compatible with iOS devices.
If you are using an android, you can easily download this free app from Play Store.
It minimizes your YouTube videos and turns the display screen into a small app icon that you can press to open the video.
2. NetTube
NetTube is another application exclusively available for iOS users.
It lets you play the YouTube video in the background, but the application comes with a free and paid version, and the videos played in the free version also contain ads that can be annoying sometimes.
Final Thoughts
Playing YouTube in the background on your mobile device is a great way to free yourself from having to keep YouTube open continuously. With this handy trick, you'll be able to save battery life and multitask efficiently.
You can accomplish this by utilizing picture-in-picture mode or turning off the screen while playing audio only through a browser.
However, there are certain restrictions to remember when doing this, such as needing a premium subscription.
But overall, if you keep in mind these few points and incorporate them into your daily routines, it'll be much easier and more convenient for you to enjoy soundtracks anytime, anywhere.