Starting a YouTube channel can be the beginning of a huge and awesome journey. YouTube can offer a wide variety of things to yourself or your business. These could be allowing you to express yourself more creatively, bringing in extra viewers to your business or connecting with a community that shares your interest, and that's just the start! With enough time and dedication, just about anyone can become a successful YouTuber.
In this article, we're going to look at how to set up your YouTube Channel from scratch & uploading your very first YouTube video.
If you want to read this later, please save it to Pinterest.
Popular WRONG YouTube Myths
Before we get started though, let's look at three myths related to starting a successful YouTube channel in 2020.
Myth #1 – You need to invest in expensive equipment in order to be successful on YouTube.
This is often used as both a myth and an excuse why not to start a YouTube channel. There are so many successful YouTubers that do not use expensive gear and equipment and many of the very top YouTubers started off using whatever they had available. Some channels do not even use cameras at all. It all comes down to the type of benefit, entertainment, information, education, etc., that you can offer your viewers.
If you do want to film with a camera, modern smartphones provide a rather excellent video quality without having to purchase any additional cameras or gear. If you were to invest in one thing, I'd recommend a simple smartphone tripod like this one from Manfrotto or a Gorillapod that can be mounted to just about anything.
Myth #2 – Only certain niches can be successful on YouTube.
Picking a niche is very important, as this gives your channel some identity and direction. Which in turn persuades viewers to subscribe for more awesomeness. When picking your niche, don't pay attention to which other niches are successful, look at what interests you, what you're good at and what you can provide your viewers through that niche. If you can provide value to your viewers, you'll gain subscribers and your channel will grow.
Being successful really only depends on what goals you're setting out for your channel. If your main goal is to bring people to your website or to grow a community around a specific topic, you're going to find that it doesn't matter which niche you're in. Of course, you can optimize things by niching up or niching down to find the best balance for your channel.
Myth #3 – You need millions of subscribers to have a successful YouTube channel.
Similar to picking your niche, sub count can be quite irrelevant to being successful. If your main goal is only to get a million subscribers, then that number does matter, but it's not something that really should be an objective. It can be a great benefit, don't get me wrong, but it shouldn't be the main focus.
If your main objective, for instance, is to make money using your YouTube channel, the YouTube ad revenue you get once you've passed 1000 subscribers is really not the best way to monetize your channel. Other ways that provide a far greater return with far fewer subs and views would be affiliate marketing, sponsorships, partnership, products, etc.
Related: 35 Best tips to grow your YouTube Channel
How to set up your YouTube Channel
Once you've decided on your niche, Channel name, content ideas, etc. It is time to set up your YouTube Channel. This is quite a simple and straightforward process and shouldn't take too long.
Step 1: Create a Google & YouTube account.
As YouTube is owned by Google, you will need to create a google account to use as your YouTube account. You can set up a Google account by clicking here.
Now that your Google account is set up you can head over to YouTube. In the top right-hand corner of the screen, you'll see your account thumbnail.
You'll now be presented with a drop-down list. Select 'My Channel'.
An option will then pop up with how you want to use YouTube, this will be your channel name. If your channel is just your name, go ahead and click on the 'create channel' button. If you want a custom name, click on the 'Use a business or other name' button.
In the next field, you can enter your channel name and then hit 'create'.
Now pat yourself on the back, you've officially got a YouTube channel!
Step 2: Inserting YouTube Channel art.
Now that you've set up your YouTube account and have a channel, you're going to want to add some imagery… meaning channel art and icon.
First, we need to click on the 'customize channel' button found at the top of your screen.
To add your YouTube cover image, a.k.a. the channel art, click on the 'Add channel art' button at the top of your channels page. Select an image with the dimensions 2560 x 1440 and upload the file.
These dimensions are important as your cover will show differently on different devices. On a TV screen, for instance, the cover will be full screen. Canva is a great free option for designing YouTube graphics.
Your channel art is live and now it's time to add an icon/profile picture to your YouTube channel.
Hover your mouse over the icon avatar image on the left side of your channel art and then click to edit. This will take you to your Google account where you can upload and change the image. It can take a few hours for these changes to be visible on your YouTube channel, so no need to redo it if it doesn't change immediately.
Now that all of that is complete, your channel is really starting to take shape!
Step 3: Filling out your YouTube About Page.
As things are really starting to come to life, it is time to fill out your 'About' page.
Click on the 'About' tab, then click on the 'Channel Description' button. Here you will have 1000 characters to tell your viewers who you are, what you're about and why they should subscribe. You can also include keywords here related to the videos you are going to be making.
Below your channel description, you can add an email address for business inquiries and beneath that your country.
Further below it's time to finally add your social media and website links. You can add just about any link here. These links will be visible in the about page and also visible on the right side of your channel art.
Step 4: Customizing your Channel Layout.
In order to make your channel stand out further, you can adjust the layout. Back on the home page, you can add sections.

These sections can then be filled with your recent uploads, popular videos, playlists, etc. To add one of these sections, click on the 'Add a section' button and select what type of block you want to add.
On the right, you can add recommended channels or featured channels. First, click on the 'Add channels' button.
Then you can change the section title by editing 'Featured channels' to whatever you'd like. Beneath this, you'll enter a channels username or URL and then click on the '+add' button. To add more channels, simply repeat this process and then click 'Done' when you're finished.
Customizing your channel will be a little bit easier once you've got a few videos on your channel, but you can get ahead of it by creating a few sections to fill up your home screen a little bit.
P.s. You can also make a playlist with other user's videos that will show on your channel, this can be useful if you have multiple channels, or do not quite have enough videos on your channel yet.
Step 5: Verifying your YouTube Channel.
Verifying your account allows you to upload longer videos, use custom thumbnails, live streams, and more useful features.
To verify your account, you'll first need to open the creator studio.
Once in the creator studio, scroll down to your 'channel' tab on the left, select it.
There will then be a verify option below your name.
The process is rather simple and quick. You can choose between being called with an automated voice message or you can receive a verification message via text. Select whichever you prefer, indicate the country you are in and then enter your phone number in the field below.
You should then receive a verification code to enter, confirm it and voilà.
You're now verified & you have a pretty great looking channel.
All you need now is some videos!
How to Upload your first YouTube Video.
You've set up your channel and finished putting the finishing touches on your first YouTube video. It's time to upload and watch the views, subs, and likes come rolling in. There are a few things that you're going to need to do though.
Step 1: Uploading your files.
Click on the camera button in the top right of your screen, then select 'upload video'.
First, you can choose whether the video should be uploaded as a public, private, scheduled or unlisted video. By default, 'public' should be chosen.
Next, you will either drop the video file into the designated area or click in the middle area and select your file. Once you've dropped your file or selected it, the uploading will commence and you'll be taken to the next screen.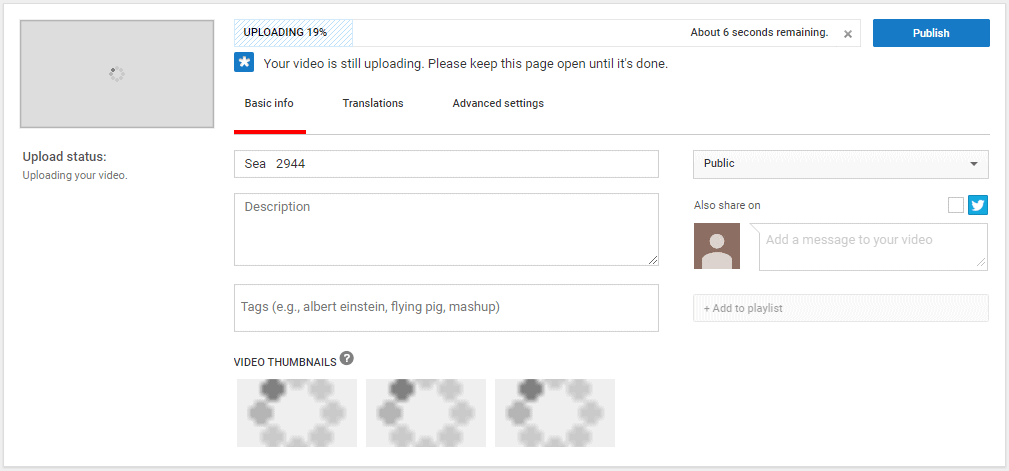 Step 2: Inserting a title & description.
Whilst you're waiting for your video to upload you can fill out information regarding the video. Two very important pieces of information are your YouTube video title and description.
Under the 'basic info' tab, the first field will be already filled out with the name of the clip you've uploaded. Simply change this to the title that you would like for your video. You have up to 100 characters to make a clickable and accurate title. Remember to always use relevant keywords to help in search results.
Beneath this field is where you will insert your video description. The description should best describe what your video is about and should include keywords and phrases to be found in search. You can include up to 5000 characters here.
In the description area, you can add links to your website, affiliate links (with disclosures), social links, links to other videos, etc.
This is also an area where you can strike up a conversation with your audience by asking questions or posting statements to provoke a discussion in the comments.
Step 3: Tagging your YouTube video
Tagging your video is one of the best ways to improve your videos SEO (Search Engine Optimisation), which results in being found easier in search and through discovery.
The field below your description is where you can enter tags. These can be up to 500 characters and you should use as many of these characters as you can.
The best tags are keywords and search terms that relate to your video. These can be individual words, phrases or even completed sentences. Separate your keywords by using the comma (,) symbol.
Step 4: Uploading a Custom Thumbnail
Your thumbnail is the cover image that is first seen when scrolling through YouTube. This means it can be your first point of contact with a potential viewer and is a very important factor determining whether it's your video that will be clicked on, or someone else's.
To upload a custom thumbnail, click on the 'custom thumbnail' button and then select the image you want to use as your thumbnail.
YouTube thumbnails should have the dimensions 1280 x 720, be less than 2mbs in size and you can easily create great thumbnails using Canva for free.
Step 5: Advanced Settings
You can access advanced settings by clicking on the 'Advanced Settings' tab, here you will be provided with a range of new options.
In the advanced settings, you can alter a number of settings, like turning off comments, choosing your video category, editing the videos license rights, age restrictions, and more.
We're just going to change the category, set the video language and the recording date.
P.s. If you want to translate your title & description to another language, you can do that through the translate tab.
To choose your category, click on the button beneath 'category' and then select the most applicable category for your video. If your video falls into two categories, select the most applicable option.
To set your video language, click the 'select language' button and then either enter the language the video is in or choose it from the list.
To set the videos recording date, either choose a date by clicking on the field below 'recording date' or if the video was recorded/made on the same day of uploading, click on the 'today' button.
All that's left to do is hit the publish button and watch your video go live.
Now congratulate yourself, you've just uploaded your first YouTube video!
---
Install the TubeBuddy extension for free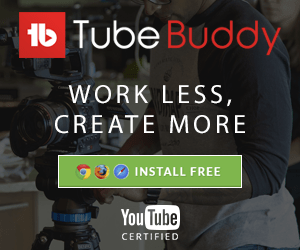 TubeBuddy is the best way to make sure your videos are as optimized as possible. With the free browser extension, you can see what tags competitors are using, to gain insight or inspiration. When uploading videos, TubeBuddy suggests relevant tags you should include. When researching your video keywords, the free browser extension gives you a clear rating so you know whether a keyword is too competitive, or if the term isn't searched enough to grow your channel. These features and more are all available with the free version, with the affordable paid plans offering even more powerful features.
Find out more about TubeBuddy & download the free extension here.
---
Related Articles:
If you enjoyed this article, please save it to Pinterest.
If you've enjoyed this article and found the information provided useful, share it with someone that may also find it beneficial.
Let me know if you have any questions or struggles with YouTube down below in the comments. If you have any tips of your own you'd like to share for YouTube beginners, I'd love for you to share them below. 😁
Cheers,
David Woutersen
Out of the 925