You have created your YouTube channel and now it's time to upload your first YouTube video. In this step-by-step guide, that's what we're doing as we cover exactly how to upload a video to YouTube.
Uploading videos to YouTube is one of the first steps you can take to growing a YouTube channel and can be the start of something great. It doesn't have to be a complicated procedure, even though there may be some options and buttons you don't understand. I've put together this beginner-friendly guide so that you can get your videos uploaded without requiring an engineering degree.
And in case you have some questions about video uploads, I've done my best to tackle the most common ones towards the end. Now, let's get that video of your uploaded!
How to upload a YouTube Video
If you have not yet created your YouTube channel, this is the time for you to do it. You can follow my step-by-step guide here and then you can come back and we can upload your first video.
If you already have your channel up and running, nice job, make sure you are signed in to your YouTube account, and then we can begin.
Step 1: Upload your files.
Click on the camera button in the top right of your screen, then select "Upload Video". 
Next, you will either drop the video file into the designated area or click in the middle area and select your file.
Once you've dropped your file or selected it, the uploading will commence and you'll be taken to the next screen.
Step 2: Insert a title and description.
While you're waiting for your video to upload you can fill out information regarding the video.
Two very important pieces of information are your YouTube video title and description (#1 and #2 below).
Under the "Details" section, the first field will be already filled out with the name of the clip you've uploaded. Change this to the title that you would like for your video. You have up to 100 characters to make a clickable and accurate title.
Remember to always use relevant keywords to help your video get found in search results. Here the TubeBuddy browser extension is a great help, you can install it for free here.
The next field, "Description", is where you will insert your video description. The description should best describe what your video is about and should include keywords and phrases to help appear in search results. You can include up to 5000 characters here.
In your YouTube video description, you can add links to your website, affiliate links (with disclosures), social links, links to other videos, etc.
This is also an area where you can strike up a conversation with your audience by asking questions or posting statements to provoke a discussion in the comments.
Step 3: Upload a Custom Thumbnail
Your thumbnail is the cover image that is first seen when scrolling through YouTube. This means it can be your first point of contact with a potential viewer and is a very important factor in determining whether it's your video that will be clicked on, or someone else's.
To upload a custom thumbnail, click on the "Upload thumbnail" button (marked as #3 in the image above) and then select the image you want to use as your thumbnail.
YouTube thumbnails should have the dimensions 1280 x 720, be less than 2mbs in size and you can easily create great thumbnails using Canva for free.
Step 4: Add your YouTube video to a Playlist
To add more context to what your video is about and to group similar videos on your channel, add your YouTube video to an appropriate playlist.
Click on "Select" in the Playlists section. Then select an appropriate playlist.
If there are no appropriate playlists, then create a new one by selecting "New Playlist" at the bottom of the dropdown menu.
Now it's time to add some advanced settings, so go ahead and select "Show More" as highlighted in the image above.
Step 5: Add meta tag to your YouTube Video
Tagging your video is one of the best ways to improve your video's SEO (Search Engine Optimisation), which results in being found easier in search and through discovery.
Once you've clicked to show more, the Tags field will appear (as well as some more options). The "Tags" field is where you can enter your video tags (also known as "meta tags").
These can be up to 500 characters and you should use as many of these characters as you can. The best tags are keywords and search terms that relate to your video. These can be individual words, phrases, or even complete sentences.
Separate your keywords by using the comma (,) symbol.
Again, this is another job that TubeBuddy can help with. It's a great tool for finding relevant keywords.
Step 6: Configure Advanced Settings (Easily)
Now that you've added tags, you can add additional advanced settings by scrolling down.
You generally don't have to worry about most of these, so here are the most important ones, followed by an explanation:
Video language: Select whichever language your video is in. This will be the default language of the video, you can add additional translations later if you want to and if they would be helpful for potential viewers.
Video location: Videos can be searched for by location, so add a relevant location. This is most useful when making videos that have a location element. Like a travel video, or a video for your business that has a physical address.
Allow embedding: This option is automatically checked and you should leave it checked. This allows people to embed your video on their websites and you can gain more views that way (you can also embed it on your own website if you have one).
Publish to subscriptions feed and notify subscribers: This option is also automatically checked and you should also leave it checked. This means your videos will be pushed to the "subscriptions feed" of people who have subscribed to your channel and people who have clicked the bell notification will get a notification. Both helping you get more initial views on your video.
Category: This is not that important, as mentioned in this article, but it can help add context to some videos. This is especially useful for gaming videos, as you can then also select the exact game and have a better chance of being found by people interested in that specific game.
In the advanced settings, you will find some additional options, like turning off comments, editing the video's license rights, age restrictions, and more, you can change these if you wish, otherwise, leave them as is, and select next.
Step 7: Add a Video End Screen
Click "Add" next to the video end screen option.
In the top left corner, select the "+ Element" option and add some elements to your End Screen. You can add playlists, a subscribe button to your channel, other videos, and you can even link to external websites (when you're accepted into the YouTube Partner Program, so not something you will have immediately available).
I recommend adding a link to subscribe to your channel, a link to your latest video, and a video link where YouTube selects your most appropriate video for the viewer automatically. If you only have this one video currently, don't worry, these will populate once you have more content on your channel.
Next, click "Save" and then "Next".
You'll then see the YouTube checks section. If you have no copyrighted material in your video, this will show that no issues were found and you can click on "Next" again.
Step 8: Publish or schedule your video to YouTube.
The last step is to publish your video. If you want to have your video appear at a specific time, then you can select the publish option. If you want your video to be private or unlisted, then you select either of those options (this post covers the differences between unlisted vs private videos on YouTube).
For this guide, we're going to select the "Public" option so that the video goes live as soon as we click the "Publish" button.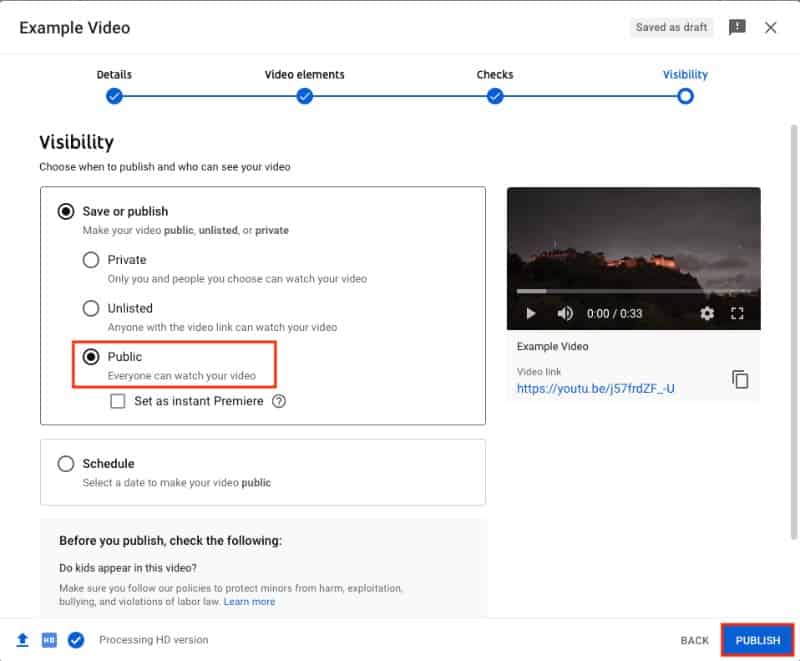 If select whichever option you prefer and then hit the publish button and watch your video go live (or the schedule button if you choose to schedule it).
Now congratulate yourself, you've just uploaded your video to YouTube.
P.s. You can also Premiere your video on YouTube for both immediately published videos and scheduled ones. Here's all you need to know on YouTube Premieres.
P.p.s. If you want to translate your title and description to another language, you can do that through the translation tab in your YouTube studio once the video is published.
How to Upload a Video to YouTube: FAQs
Whether this is the first video you're uploading to YouTube or one of many, there are a number of common questions that get raised about uploading to YouTube. In this section, I'm going to do my best to finally set these to bed.
Can you upload a video to YouTube without a channel?
You need to set up a YouTube account from your Google account, in order to log into YouTube. You CANNOT upload a video to YouTube without a YouTube channel. If you have not set up a channel, when uploading your first video, you will be prompted to create a YouTube channel. This will act as the archive for your YouTube videos, and you can customize your channel to make it more personal, as outlined in this article.
If you do not want your videos to be seen by people on YouTube, you can set them to unlisted, you can find out more about unlisted videos and how to upload them here.
If you only want people you invite to see your videos, you can then upload and share them as private videos, this guide shows you how.
How many videos can you upload to YouTube for free?
YouTube does not limit the number of videos you can upload. This means you can upload an unlimited number of videos to YouTube for free.
How long can a YouTube video be?
Channels that have not been verified can upload a video with a maximum length of 15 minutes. Verified channels can upload videos with a maximum duration of 12 hours.
In the past, this maximum length was longer, which is why you may see some older videos that are longer than 12 hours.
Follow this guide to verify your YouTube channel if you have not done so already.
What is the maximum size video I can upload to YouTube?
The maximum size of a video you can upload to YouTube is 256GB. If your video file is larger than that, try compressing it in the H.264 codec, common with most video editing software like Adobe Premiere Pro and Final Cut Pro.
If you're having trouble uploading a file size larger than 20GB, make sure your browser has been updated.
Why is my YouTube video blurry when i upload it?
YouTube videos are often blurry immediately after uploading as YouTube displays a low-resolution version of your video while it processes the high-quality version in the background. This can take a couple of minutes depending on the size and length of your video.
To avoid this, upload your video and either wait a few minutes before publishing it to allow it to process in the background. Or schedule your video at least an hour in advance, this will give it enough time to process the high-quality version.
P.s. It could also be that your internet connection is slow and YouTube automatically sets your video resolution to a lower resolution, like 360p or 480p. Don't worry, if you uploaded your video in a higher video resolution, others will be able to see the higher resolution. You can check this by selecting the gear icon in the YouTube player and checking what playback resolutions are available.
If only low-quality resolutions are available, then your video is most likely still processing in the background.
P.s. if you haven't installed TubeBuddy yet, now's your chance: